by B.B. Pelletier
I'll test accuracy today. I want you to remember the price of this pistol – that it is less than half the cost of a Benjamin HB17. I've heard from shooters who love their 1377s and from a few who think the HB17 is far superior. In fairness, the 1377 lovers outnumber the Benjamin fans several times, as the price would seem to dictate. So one of my big questions was, "Is the 1377 a credible air pistol, all things considered?"
Sight adjustments
The pistol shot high at 21 yards, as several readers said it would. When I adjusted it as low as it would go, it shot below the point of aim, which is also good. I fiddled with the sights for a while until I got them where they needed to be, which turned out to be where I started! You see, I had started shooting with my glasses on, but when I tool them off, the front sight became sharp and in-focus, and it was easy to align with the rear. Until I did that, I got lots of vertical stringing.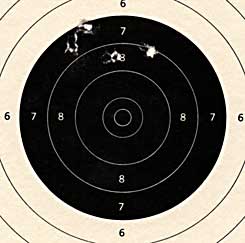 Initial groups were high, but not due to the sights. I was unable to see the sights clearly through my glasses. Once I took them off, the problem went away.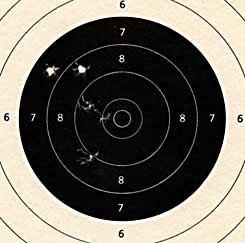 Many of my early groups were strung out vertically, like this group of 5 RWS Superdomes.
I started shooting RWS Superdomes, then switched to Beeman Kodiaks and finally tried Crosman Premier 7.9-grain pellets. After I switched to Premiers, I started settling down. After discarding my glasses, I adjusted the sights a bit and got them pretty well centered for 21 yards on 6 pumps. Then, the groups tightened up!
The average group of Premiers was just larger than six tenths of an inch and there really was no "best group. They seemed to shoot where expected once the sights were fully seen and understood.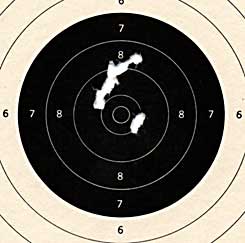 An average group of five Premiers at 21 yards is 0.622″ center-to-center. That's not bad for open sights on a $55 air pistol!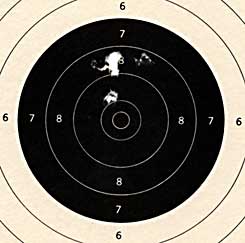 The best group of five Premiers measures 0.591″. Not much different than the average.
After trying a great many groups of Premiers, I shot a single group of Superdomes, and bested the best of the Premiers by a couple of thousandths. Too close to call, really.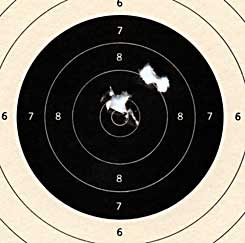 The best group of 5 RWS Superdomes measures 0.584″. They beat the Premiers by a thin margin, though it's really too close to call.
At the end of testing, I shot a final group of RWS Superdomes, and darned if I didn't beat the best group of Premiers! This is one of those airguns that simply shoots a wide selection of pellets, so leave nothing untried.
The 1377 shoots!
The point is that the Crosman 1377 really shoots! For not much money, you get both power and accuracy in a simple package. People are always asking about guns like that, so I have to tell them this is a world-beater. I don't know where you can find this kind of value in an air pistol anymore.
The downside
The 1377 isn't perfect. It has two obvious flaws that most people will notice – the trigger and the grips. The single-stage trigger is stiff and slightly creepy – breaking fairly consistently at 5 lbs. 2 oz. The grips are loose on the gun and no amount of screw-tightening can help them. One reader told us he installed shims under the plastic panels, but many simply swap them for a custom pair of wood panels from Ralph Brown. Either way will fix the problem, which is more annoying than functional.
With both of those problems I still managed to shoot some nice groups, so the problems aren't insurmountable. And, given the strength of the aftermarket for this pistol, they can be resolved in a number of different ways.
I'm very pleased with the performance of the 1377. It makes me wish Crosman would bring back the 1322, because it upholds more than a half-century of air pistol-making.