by B.B. Pelletier
Just a reminder for all of you within striking distance of Fredrick, Maryland, don't forget the combined firearm/arign show to be held on September 14th and 15th. Here is the info.
Going to kick back and enjoy myself today after all the testing I've done over the past several weeks. Today, I'm going to share with you a very special version of Daisy's popular No. 25 pump gun.
What do you mean "pump" gun?
Let me first clear up any confusion about that label "pump" gun. The No. 25 is not a pneumatic airgun. It's powered by a BB gun mechanism that's a combination of a catapult and a spring-piston. The air tube on the end of the piston actually pushes the BB off its seat and accelerates it to 50-80 f.p.s., then a blast of compressed air from the piston exits the tube, pushing it up to the final velocity – which in a No. 25 can be as much as 375 f.p.s.! It's generally accepted as the most powerful of the common BB guns.
Pump-action
In this case, the term "pump" refers to the gun's action. You pull a pump handle straight back, then push it forward to cock the gun. I already reported on the No. 25 pump in November 2005, and you can read that report for more historical information. But know this – the No. 25 is probably one of the two most popular BB guns of all time, with 20 million being made from 1914 to 1993 (the 25 production ended with the commemorative model in 1986, but the model 225, a variant, continued until 1993).
1936 – the most beautiful model
The most popular No. 25 is the 1936 model that continued until 1952. It's blued steel and stocked with a gumwood butt and pump handle. The reason for the popularity is the engraving on both sides of the receiver. Unlike later guns, this engraving is real – not just painted on. There are several variations of the actual engraving style, but most guys just notice that it's there. And the 1936 gun always uses steel BBs, unless the shot tube was swapped for a lead BB tube at some point. So, there's never a fear of ruining the gun by shooting steel BBs.
The Daisy No. 300 scope
A more special version of the 1936 varaition comes with the Daisy No. 300 telescopic sight – a huge scope in the style of the buffalo guns of the 1870s. Just the 2x scope, by itself, will command about $150 at an airgun show. However, there's one more version of the 1936 No. 25 that collectors really search for: the No. 325 2-Way Target Outfit that's the subject of today's blog. It comes in a box with the No. 300 scope, a Daisy steel (!) BB trap and a second shot tube for elastic (cork) balls. In other words, an indoor/outdoor gun.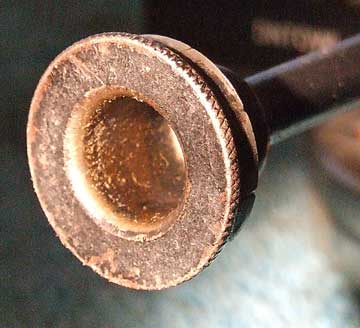 Outfit includes a special shot tube made just for large cork balls. They are muzzle-loaded one at a time and the tiny puff of air blasts them out.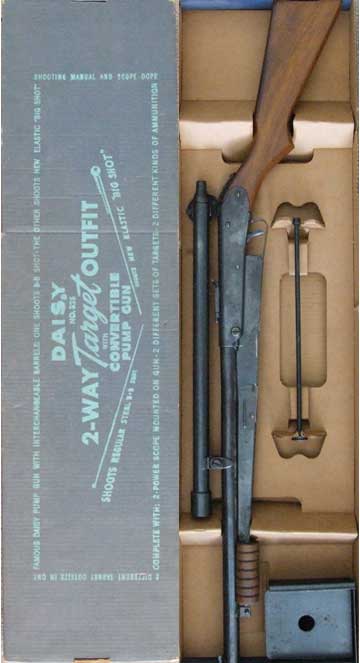 The 325 outfit came in a blue cardboard box. Inside was a Daisy 1936 version of the No. 25 pump gun, a separate cork-ball shot tube, Daisy No. 300 telescopic sight, a Daisy steel BB trap, ammo for both shot tubes, Daisy "Scope Dope" manual and an instruction manual for the BB gun.
Daisy's No. 325 2-Way Target Outfit
I searched for several years before locating my 325, and the only reason I got it is because the owner had just purchased a slightly better one. I'd seen a partial outfit (gun with target trap and nothing else) in a ratty box for $350 at the big flea market in Carlisle, Pennsylvania, in the mid-1990s; but, by then, I'd attended enough airgun shows to know that was too much. Even today, I think it would be too much because you can buy a nice working 1936 No. 25 for about $100 at any good show.
A nice 325 outfit like mine is worth $400 or more. The box, alone, is worth a lot because they're flimsy and don't last. The Daisy target trap will sell for $75, alone, and I've never seen a shot tube for the big cork balls even offered. If it was, they would want at least $75.
Removing rust
My gun has good bluing coverage, but it also has the freckling of rust that's so common to blued BB guns of this era. So, in this report, I'm going to try to remove some of that rust with a cotton cloth and Ballistol. I had good success using Ballistol on a nickel-plated Daisy Buzz Barton some time back, so I'm going to try it again on this gun, and this time you'll get to watch.
The receiver is freckled with rust. A long exposure faded the blue to gray, but this receiver actually has a lot of deep blue.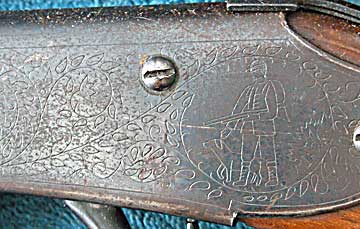 Look what 10 minutes of Ballistol on a soft cotton cloth has done! Some of the freckles still show as a dull patch, but the rust is gone!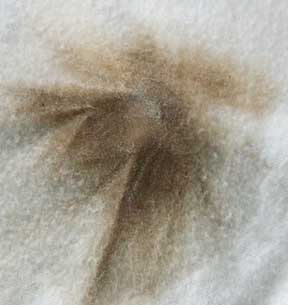 Using just a single finger to rub the Ballistol around the receiver produced this rust stain in 10 minutes.
More on the scope
The No. 300 scope was made for both the No. 25 pump gun and the Red Ryder. There are, however, two different rear scope mounts – one for each type of gun. The correct rear mount for the No. 25 has a strap to fit over the gun's backstrap–a la shotgun-style. The scope has a unique elevation adjustment via a cam at the rear. Since the front mount is on a swivel, no stress is passed to the scope tube. And, the 2x magnification really does work!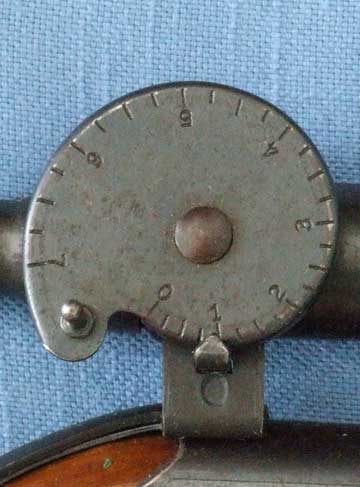 The scope adjustment cam is down for a close shot.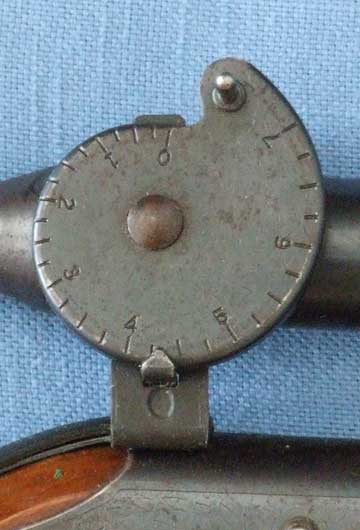 Cam is up for a distant shot. Isn't that cool?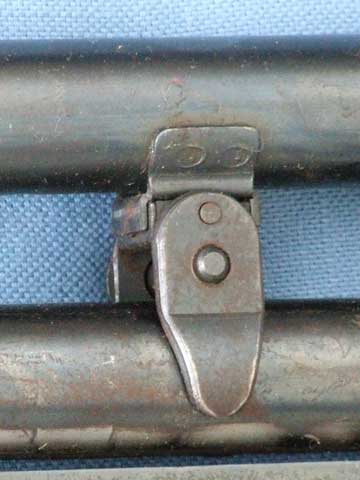 The scope is free to tilt up and down because the front mount is a swivel.
Airgun makers often ask me what kind of new guns they should think about making. As I try to explain the neat things from the past, like this scope, they usually default to other considerations like maximum velocity and camouflage stocks. Did no one besides me actually PLAY with these things when they were kids?
Uh-oh!
As I examined the gun in the kit I discovered a couple of faults. The trigger return spring is broken and so is the air tube–common faults among vintage No. 25s. Fortunately, I have a second No. 25 with a 300 scope mounted, and that one works perfectly. It has even more deep blue finish than the one from the box, so I simply swapped them. The broken gun will go off to Jim Coplen in Minnesota for some work. Jim is also a collector, so I can trust that he won't do anything stupid like refinish my fine BB gun. For those who have need of his services, Jim can be reached at 507-281-2314.
Next time, we'll shoot the gun and see what a 25 can do.