by B.B. Pelletier
Before we begin, don't miss the video of the 2008 Roanoke Airgun Expo.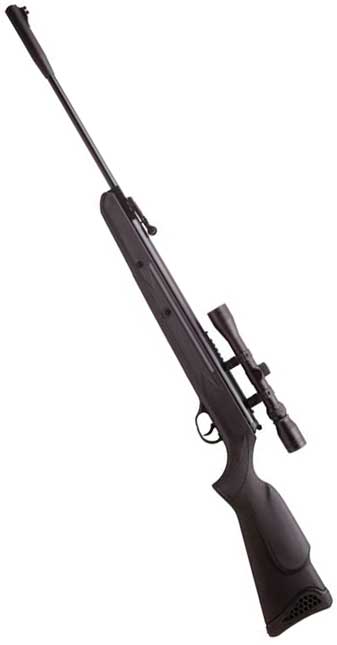 Walther's Talon Magnum is the .177 version of the Falcon Hunter. This is a big air rifle!
Today is truth day for the Walther Talon Magnum. We're goiung to test velocity. This is the .177-caliber version of the Walther Falcon Hunter, which comes in either .22 or .25 caliber. The .177 promises a muzzle velocity of 1400 f.p.s. with super-light pellets and 1200 f.p.s. for lead pellets. Today, we'll find out how close it comes.
This is a BIG airgun!
I have to reiterate that this rifle is not for plinking. It's made for hunting. Period. The 50-lb. cocking effort will put a strain on those biceps, whether you're in shape or not. And the effort needed to break open the barrel is fully equal to the British-made Webley Patriot. Even closing it takes a forceful slam.
Trigger-pull
The trigger is two-stage and very long and creepy. It surprised me with a release weight of just 4 lbs., 14 oz. I was expecting the scale to top out at 8 lbs. before the rifle fired. I think a long break-in will help both the trigger and the cocking effort, though neither will ever become light.
Crosman Premier 10.5-grain pellets
I started the test with Crosman Premier heavy pellets to get the detonations out of the way. Indeed, the first several shots were much higher than the average velocity of 904 f.p.s. That gives a muzzle energy of 19.06 foot-pounds. The spread of this string was 892 f.p.s. to 914 f.p.s., which is pretty tight for a new gun.
RWS Clubs
RWS Club pellets were next. They weigh 7 grains even and are expected to go supersonic. They averaged 1132 f.p.s. in this rifle, with a spread from 1113 to 1148 f.p.s. The muzzle energy of the average velocity is 19.92 foot-pounds. As expected, the lighter pellets give greater energy in a spring-piston gun. The spread is on the high side, but not out of reason for a new gun.
RWS Superdomes
RWS Superdomes came next. These 8.3-grain pellets gave an average velocity of 1065 f.p.s. The spread was from, 1047 to 1085 f.p.s., which is a little larger than we like to see. Perhaps, when the oil burns off, the gun will stabilize. The average velocity gives an energy of 20.91 foot-pounds, which is really getting up there for a .177 springer.
BUT DON'TCHA WANNA KNOW HOW FAST IT GOES?
Of course you do! Many of you know better, but this is like the accident on the side of the highway–you just gotta peek.
Crosman Silver Eagle Hollowpoints
The Walther Talon Magnum is one of the fastest spring-piston air rifles ever produced. With Crosman Silver Eagle Hollowpoint pellets, it averaged 1,323 f.p.s. The spread was from 1156 f.p.s to 1,543 f.p.s., but a look at the entire string of ten shots will prove revealing:
1543
1253
1200
1534
1404
1156
1292
1329
1229
1293
I hope you can see that the average I computed is probably not representative of the gun. It's still detonating too much for the numbers to be correct. Or, perhaps better put, this is a case where a sample of 30 shots would be more exact than 10. Even then, the gun is adjusting itself; the average in another thousand shots will probably be lower. I would expect something in the low 1,200s when the gun is fully broken in.
This is a big, powerful air rifle. Buy it knowing that and you shouldn't be disappointed.