by B.B. Pelletier
Charging the pistol
The way the pistol is pumped is simple. The rod is pulled out until it stops, then pushed back in to force air into the reservoir. Many, many front-pumpers will have problems with their inlet valves, causing the pump rod to push back out as the air slowly releases. With this kind of fault, the gun will eventually leak down to nothing.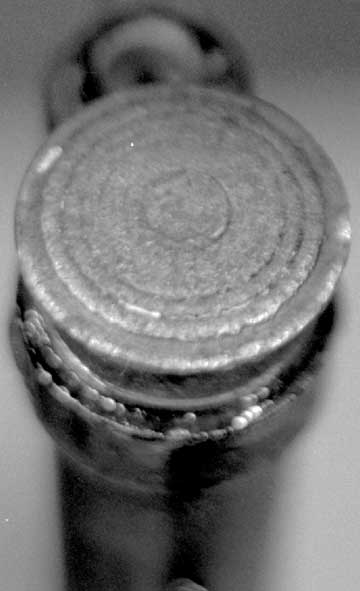 This pump plunger has been through the ringer. When they're worn like this, it's an indication that the gun has seen some service.
Others will have too much space between the end of the pump head and the opening of the inlet valve. This traps high-pressure air between the head and the opening. The air cannot enter the valve because the pump head has gone as far as it will go. The pressure of the trapped air is not as high as the air inside the reservoir, so it sits outside the inlet valve. When pressure on the pump rod is relaxed, the trapped air will push the pump rod back out. Because the internal pressure in the reservoir keeps building with every pump stroke, the pressure level of the trapped air continues to mount, as well, pushing the pump rod back out further each time. A little bit of rod rebound isn't bad, but if it comes more than halfway out, your gun probably needs service. When the inlet valve is working correctly, the rod stays all the way down (or in) after each pump stroke.