by B.B. Pelletier
First a special announcement. I am told by Pyramyd AIR that the Benjamin Marauder coupon restriction has been lifted for now and coupons are allowed. If you want a Marauder, you can now use a coupon and save some money.

Ruger's new Explorer is an exciting new budget-priced youth breakbarrel.
Youth rifles are both scarce and in demand these days. But what is a youth rifle? Well, my definition has a couple criteria. Easy cocking is a big one. I want a youth rifle to cock with 20 lbs. of force or less. That isn't arbitrary. I chose the pumping effort of a Daisy 853, because a lot of kids under 10 shoot them successfully.
Hand-in-hand with easy cocking goes low velocity. A youth rifle is an all-day shooter, not a hunting gun. In .177, it should get somewhere between 475 f.p.s. and 600 f.p.s. Some youth rifles have been made in .22 caliber as well, but the proliferation of chronographs today makes it difficult to sell a pellet rifle that goes only 325-400 f.p.s. at the muzzle.
The next thing a youth rifle has to be is properly proportioned. Here we come to a fork in the road, because some youth rifles are really small, like the Gamo Lady Recon, while others–like the Hammerli 490 Express–are closer to transition guns: sized for older kids and adults, too.
The last attribute everyone expects from a youth airgun is a low price, but that's neither historically accurate nor entirely correct today. In the 1990s, the RWS Diana model 72, which was a youth target rifle, sold for almost $400; and, today, the Beeman R7 goes for about $400. The R7 falls into the class of youth rifles that's also suited to older youth and adults.
Today's rifle, the Ruger Explorer, is the first type of youth air rifle–small, light and inexpensive. It didn't make it to market in time for my Christmas list, but at $66, it's one of the least expensive breakbarrels on the market. And it's small in all other ways. Overall length is just a hair over 37 inches. The pull is 11.75 inches (but the Umarex catalog has it down as 12 inches), so the only way adults will be comfortable shooting it is with their elbows thrown out to the side like 10-meter shooters. Cocking effort is a low 16 lbs., so even the 8-year-olds should be able to do it. In fact, that's the age group I see the gun appealing to–the 8 to 12 group, and those of similar proportions. Even for them, the weight of almost 4.50 lbs. isn't too heavy to carry comfortably for hours at a time.
The Explorer is made from metal and synthetics. The spring tube is steel, the stock is synthetic and the steel barrel is sheathed in synthetic. At the front of the barrel, an enlarged area serves as a muzzlebrake and base for the ramp-and-post front sight. The rear sight is fully adjustable, and both sights incorporate fiberoptics. Though I recommend teaching kids to shoot with open sights first, the Explorer has 11mm dovetail grooves and a scope stop for when that time comes.
The buttstock is a wild skeletonized design with a raised and scalloped comb for a cheekrest. The large cutout also makes this a thumbhole design. The buttpad is molded of the same plastic as the stock and isn't quite as grippy as rubber, but on carpeted floors it seems to do fine.
The non-adjustable trigger is two-stage, and the gun has both an automatic safety and an anti-beartrap device built in. That's great for safety, but you should still teach everyone who handles it to never let go of the muzzle while loading. That's an important lesson to be observed all their lives.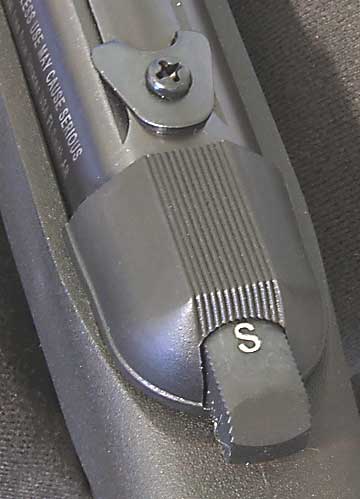 Automatic safety crisply pops out the back of the spring tube every time the rifle is cocked.
The barrel detent is the ball-bearing type, which is usually much smoother than a chisel-type–especially on smaller airguns. Adults and big kids won't find it difficult to break open, but smaller children will probably have to slap the top of the barrel to pop it open.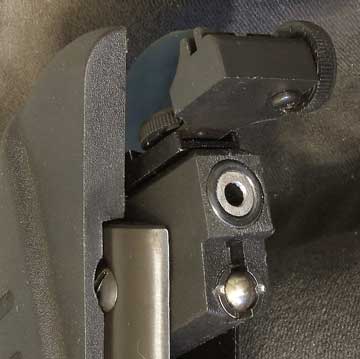 Ball-bearing detent keeps the barrel closed during firing but is easy to open for cocking.
Yes, of course the rifle is made in China, like most inexpensive airguns these days. That doesn't carry the stigma it once did, however. We've seen Chinese airguns that are very accurate, so the Ruger Explorer will have to stand on its own in the accuracy test, as other Chinese-made airguns before it have done.
Because of the holidays, I'm accelerating the pace for this test, so you can make your buying decision before Christmas. Expect parts 2 and 3 in a combined report later this week.