by B.B. Pelletier
I forgot to mention yesterday that, while we were at Crosman last week, we watched the first 100 Marauders sell in 67 minutes! Seventy-eight were .22 caliber and 22 were .177.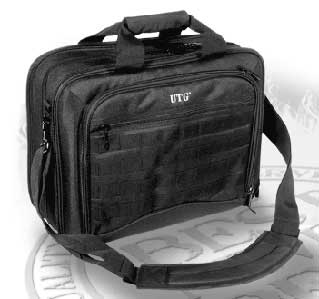 UTG Tactical Computer Bag is a real boon for travelers!
There are many non-airgun products that I want to test for you, like tactical flashlights and today's tactical bag. I know that not everybody will want or need these items, so I will space out these reports over time.
For as long as I have written about airguns, I've had to travel several times a year. There's the SHOT Show, various airgun shows and other events and meetings I have to attend. Sometimes, I drive, but I also fly; and when I do, I like to carry everything in a single bag, if possible. Since I carry a laptop, that means I need a special bag.
As it happens, Leapers makes one of the nicest computer day-bags I've ever seen. I used it on my trip to New York last week, and it worked out so well that I want to share the experience with you.
The UTG Special Ops Tactical Computer Bag is just what the name implies. I use a MacBook Pro with a 15-inch screen, and this bag swallows it with ease. It could take a 17-inch screen as well. All the accessories like my roll-up keyboard, mouse, power supply and all the cables fit easily in the bag with plenty of room for a couple day's clothes, office supplies, a couple DVDs for the evening's entertainment, plus other essential gear.
The bag comes with an internal holster and several ammo and clip pouches (seen in the third compartment) that I don't need and can't use on the airlines. They are Velcro-ed in so removal opens a huge storage space. When I drive through concealed-carry states, the holster carries my S&W snubby or my Makarov, if I'm pocketing the snubnose. But I don't need the other storage, so there's still plenty of room. In fact, I'm showing you this case partly because it's so spacious.
Thankfully, Leapers provides an overview video on the Pyramyd AIR website of the case being opened, so I don't have to take tons of pictures. They show a camo bag, but the black bag I own is identical. They go through the bag pretty fast, so I'll point out a couple things for you in this report. The first thing is that they don't show all the storage areas in the bag–only the main ones. For example, there's a zipper pocket in front of the first section they show. It's on the outside of the bag and is very handy for quick storage of small items.
The computer (in the second bag section) is protected and also secured very well in this bag. It straps down with a wide Velcro strap, plus twin elastic straps going the other way. When the bag closes, there's no way the computer is going to move!
You'll be impressed by how heavy and rugged the bag actually is. That's the other reason I wanted to show it to you. Your computer is protected very well. There's a shoulder strap that's an absolute necessity, because this loaded bag will weigh a lot. That strap is sculpted to fit your shoulder and neck and has a large non-skid pad, so your hands are free for other things.
One thing I hate in an airport is slowing the process down, so when I go through the security checkpoint, I'm ready! That means all metal off my body, shoes untied, ID ready, computer out and, lately, my belt off because the buckle sets off the alarm. The front pouch of this bag is large enough for all my things like my watch, change, keys, etc., and the belt fits in one of the larger sections. After I'm through security, everything is handy to recover, and I'm on my way.
On the trip I took last week, I also had a checked bag with my clothes, so the tactical bag was carrying office supplies for the filming, plus my in-flight snacks, a paperback, my small camera with the download cable and battery recharger, an umbrella and my computer modem. All the hotels these days offer wireless internet, but about half of them are down or have crappy service, so I carry a Verizon wireless modem, which is a cell phone modem that operates at DSL speed. I can watch You Tube videos with it and it seems to outpace half the high-speed hookups I encounter at the hotels. Plus, I can use it at any airport and don't have to "join" (a term than means pay for) their wireless service.
Two of the four planes I flew on were those tiny regional jets. This bag didn't fit under the seat in front of me, but it did fit into the overhead bin on both planes.
This tactical bag is ideal for the person who travels with a computer, and it would also work for those who don't carry computers. You'll just have more space.