by B.B. Pelletier
Okay, today would normally be accuracy day for this pistol, and I will shoot it for accuracy, but today is going to serve a double purpose. You see, the Crosman Silhouette PCP pistol is shipped without a rear sight because of all the possibilities customers will have for the airgun. Some may want to use it for silhouette competition, but a lot more are going to have other uses for it. So, no rear sight.
However, Crosman sent me a peep sight to test with the pistol, and therein lies the extra fun in today's report. Because last week when I was struggling to turn a 1980s-rear peep into something I could use with the Bronco, I had on my desk the probable answer to our problem all along. This new Crosman sight that I paid no attention to before now appears to be the very Williams rear sight that one of our readers (I believe it was Randy in VA) suggested we test with the Bronco. So, after today's evaluation, I'll move this sight over to the Bronco and test it there for you.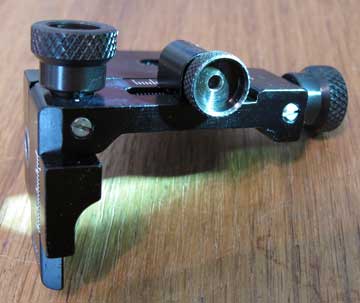 New Williams peep from Crosman shows a LOT of promise.
Today, we're concentrating on the Crosman Silhouette PCP, which is a single-shot .177 caliber pneumatic target pistol designed for shooting airgun silhouette. The sight elevation had to be cranked way up to clear the bolt handle on the left side, but it was easy to do and worked fine. The the dovetail adjusting screws are run in tight and the dovetail locking screw sucks everything together.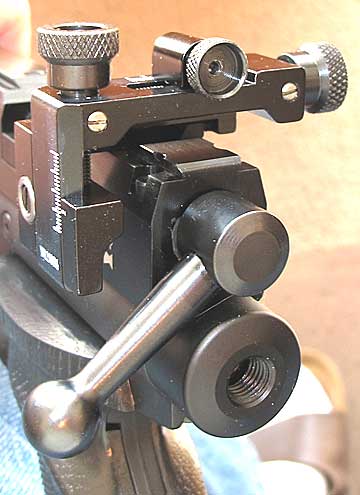 Sight fits the pistol great and adjusts the way I like it–with detents!
This sight has click detents, something my Beeman Sport Aperture doesn't have. That makes adjusting a breeze.
7.9-grain Premiers
Sight-in started at 10 feet and I was on in four shots. Then out to 10 meters, where the elevation was close but the shots were to the right. I shot a group of Crosman 7.9-grain Premiers that looked pretty good, though I knew I could do better. All shooting was rested and I was wearing my bifocals. Since this was with iron sights, I concentrated on the front sight and let the target and aperture go fuzzy. The aperture in this sight is huge, no doubt because this is a pistol. Even so, it seemed to work well.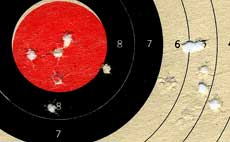 The 10-meter sight-in target. Group in the white at the right was the first group. Then the sights were adjusted to the left, resulting in the shot at 4 o'clock in the black. More left gave me the group in the center of the bull. Shot low at 6 o'clock is part of that group.
JSB Exacts
Then I switched to JSB Exacts and what a difference! I got the kind of precision usually only gotten with a scope!

Okay, I'm happy with this quarter-inch five-shot group at 10 meters. Five 10.3-grain JSB Exacts.

Five Beeman Kodiaks gave me this group.

A final group of five JSBs.
Firing behavior
When the gun discharges, there's a definite torquing to the right. It happened on every shot and was enough movement to be disconcerting, though the targets don't show anything.
The rough, crude trigger makes me long for something more sophisticated. When I hold on target as with a 10-meter pistol, I don't like a long creepy second stage, but that's what the gun has. Owners should plan to address this issue.
The noise is incredibly low for a PCP. Granted, this isn't a powerful gun, but I was still running it at 500 f.p.s. from the last test and thought it was very quiet. Not as quiet as a 1077, but less than a medium spring rifle.
One of our reraders said that I never say nasty things about airguns. Well, that's true. It's not my style. So, for his benefit I will say that I am about to gush all over this airgun, so stand back, Jack. This is a natural shooter–that rare and precious gun that shoots exactly where you aim every time. I knew that last summer when I shot the prototype Ray Apelles brought to his field target episode with American Airgunner. I still think so.
This sight is a winner, too. I'll mount it on the Bronco, and we'll have a go there. Pyramyd Air stands ready to order this sight for us, and I think it's a good idea.