A rare Quackenbush toy pistol surfaces!
by B.B. Pelletier
Update on Tom/B.B.: He had some gallstones and backed up sludge removed from his bile ducts on Wednesday. He was unable to get enough oxygen, so they've left him on the ventilator. His right lung was partially collapsed, which sometimes happens when you have an IV in/near the neck. They put a tube in there to remove the air outside his lung so it can fully expand. His oxygen levels were great when I left him last night. The nurse told me that remaining on the ventilator for a little while after surgery happens a lot. They'll try to take him off the ventilator today. His gallbladder removal will happen once he's breathing unassisted. I'll update any changes in the comments section.
Announcement: We're canceling the April 8 Facebook event to give Tom more time to recover from his surgery. We'll let you know when it's rescheduled.
Now, on to today's blog.
The following appeared in Airgun Revue #6, which was published in 2000. While this blog is kind of short, I've always had a strange liking for this little pistol because it reminds me of the Haviland & Gunn pistol I found at a flea market for $5.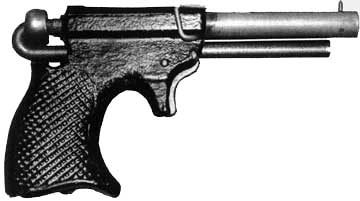 Over 125 years old, yet no one's ever heard of this gun!
Collector Wes Powers displayed this rare Quackenbush toy pistol at the 1999 airgun show in Baldwinsville, New York. He described the moment he first saw it, saying he knew it must be a Quackenbush or at least a near-relative, but it was a gun he'd never seen before. That's saying something because collectors know that when West finds something new it must be REALLY rare!
He was even able to track down the patent application for the gun. The fact that Quackenbush referred to it as a "toy" pistol is especially interesting, because the gun was and is capable of launching a .22 caliber round ball with some force!
The language of the patent makes it sound as though the gun was meant to be a simple but powerful cap pistol; but the barrel is bored through, and it will accept a round ball.
This gun fits into a number of categories. It's very much like the zimmerstutzen guns I've written about, especially the older ones that used percussion caps to launch lead balls.
It's also a lot like the cap-firing BB guns I've written about.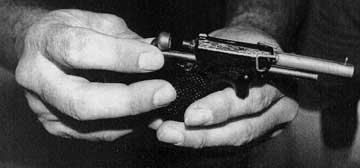 Wes demonstrates how the firing hammer pivots sideways to put on the percussion cap. The rubber bands that power the hammer have been removed for clarity.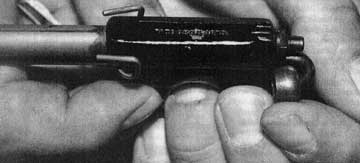 A closeup of the hammer pivoting sideways reveals the nipple for loading. If there were a rubber band on the gun, doing this would allow you to safely load the cap.
A curious thing about this toy pistol is the way the hammer is powered. Instead of the traditional coiled mainspring, this pistol uses rubber bands to slam the hammer down on the percussion cap! On the front of the frame, two wire hooks anchor both ends of a rubber band, which passes around the hammer. When the hammer is pulled back, the band stretches, storing up potential energy for when the trigger is pulled. It's an ingenious method, not to mention how it lowers production costs, simplifies construction and gets the user involved in the design (they have to replace the band when it breaks!).
The Quackenbush Lightning air rifle used elastic bands in a similar fashion to power the piston of what was an early spring air rifle. That gun is rare enough by itself, but the gun featured in this article has never been written about. Thanks to Wes for sharing his find.
Tom Gaylord is known as The Godfather of Airguns™ and has been an airgunner for over a half-century, but it was the 
Beeman
 company in the 1970s that awoke a serious interest in airguns. Until then, all he knew were the inexpensive American airguns. Through the pages of the Beeman catalog, he learned about adult airguns for the first time. In 1994, Tom started
The Airgun Letter
 with his wife, Edith. This monthly newsletter was designed to bring serious reports about airguns to the American public. The newsletter and
Airgun Revue
, a sister magazine about collectible airguns, was published from 1994 until 2002, when Tom started
Airgun Illustrated
-- the first American newsstand magazine about airguns. Tom worked for three years as technical director at
AirForce Airguns
, the makers of the 
Talon, Condor, and Escape
 precharged air rifles. Today, he writes about airguns and firearms for various publications and websites. He also makes videos, and you'll find short clips embedded in some of his artices on Pyramyd Air's website. Tom is a consultant to Pyramyd Air and writes under the name of B.B. Pelletier.