by B.B. Pelletier
Update on Tom/B.B.: Things are still going along nicely, and the doctor called to tell me that he's very pleased with the way things are improving.
B.B. actually provided a blog for me today, but I didn't get to the blog til really late, so I'll save it for another day this week. It needs a little bit of work and some finishing touches. Today's blog came from the February 2002 Airgun Letter.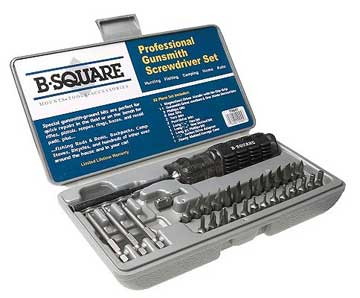 I use this whenever I mount a scope, tune a gun or adjust a trigger. I didn't want to share my set, so Edith has her own set.
I've been using this B-Square Professional Gunsmith Screwdriver Set since 2001. It's replaced just about everything else in my tool chest. Until it came along, I used the Chapman set that comes in the yellow plastic box. It was fine, but I broke one of the slotted screw bits early on, and it's too much hassle to send off for a replacement. Chapman even tells you in their literature that their bits are not hardened and will break. They claim this is to avoid damaging the screw slots on expensive guns, but I'm not convinced.
Expensive guns usually have hardened screws, and you're supposed to hand-grind each bit to fit them exactly, so if you do the job right, there isn't much danger of damaging the slots. Having said that, I must admit to having damaged my share of screw slots over the years.
The B-Square set is made of super-tough steel, and all the bits are hardened. The slotted bits are hollow-ground, which is important to a gunsmith. I wouldn't hesitate to grind one to fit a particular screw slot if the job warranted it, but they seem to fit most screws just fine the way they are.
The bits with long shanks are for installing recoil pads, but they work on regular screws just as well. There's also a nice selection of the more common Allen screw bits, though I do wish there were more–both larger and smaller. The Chapman set comes with an optional case of Allen bits, which come in very handy–especially in the field.
There are two Torx bits–for Leupold mounts I was told–and six Phillips bits. There's also a one-eighth inch square-drive bit for installing Remington buttplates. It can also be used to drive small sockets, which the gas guns seem to need.
I'd like to see a few Phillips bits in the larger sizes, as the European spring rifles often require them; but for what can be packed into a compact plastic case, B-Square has done very well.
I like this tool set a lot, but I lost my first one at the security checkpoint in the Dallas airport. I had it packed on my carry-on bag without thinking, and it was confiscated. I have no complaint except that I wish I'd been more aware of where it was that day.
Best news of all is that B-Square will give you a free replacement for any bit you break. No more hassle!
Pyramyd AIR sells this set for $28.95, which is $1.00 less than the retail price in 2002!