Finding the good stuff
by B.B. Pelletier
Update on Tom/B.B.: They drained his cyst through a tube, an incredible amount of fluid exited his body and he's now looking trimmer. In fact, he looks and feels 1,000% better than he did on the Tuesday he was discharged from his first hospitalization. Things are looking up, and I can't stop smiling!
Today, I'm doing a guest blog. I've done them before and thought it was time I expressed myself again. B.B. has asked me to bring my laptop to his hospital room so he can dictate blogs to me. He was quite insistent about it, so I guess I better comply!
If you'd like to write a guest post for this blog, please email us.
Bloggers must be proficient in the simple html that Blogger software uses, know how to take clear photos and size them for the internet (if their post requires them), and they must use proper English. We'll edit each submission, but we won't work on any submission that contains gross misspellings and/or grammatical errors.
Now, here's my guest blog.
by Edith Gaylord
Have you ever read Pyramyd Air's customer product reviews to find just the right product? If not, you may be missing out on some of the best gear out there. Sure, B.B. will tell you what he knows, and the readers of this blog will give you great advice based on their experiences. But we can't test everything, and that's where the customer reviews come in.

Are you reading the customer product reviews to find hidden airgunning treasures? Believe it or not, the Gamo Big Cat is one of them!
One of the best examples of a product that has gotten super reviews is the Gamo Big Cat 1200. B.B. did a 4-part blog on the Big Cat over a year ago because I told him it had 50 reviews and seemed to have hit a home run with almost every reviewer. While his review found some things that weren't perfect, lots of airgunners didn't agree with him. The customer reviews have now grown to 106…and they all still rave about this rifle, with the rating being 5 out of 5 stars. You won't win a field target match with it, but it's a great critter gitter and doesn't appear to be overly fussy about hold or stuck on just one type of pellet. It's a real bargain–and a lot of airgunners agree with that. While some reviewers would like to change the trigger, there are plenty of people who have no problem with the factory trigger.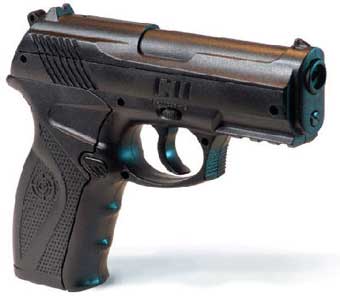 It's only $35.99, yet the Crosman C11 gets great reviews! Don't have one? You're missing out.
The Crosman C11 CO2 BB gun is another gun that proves you don't have to spend a lot to have a lot of fun. There are 62 reviews for it, and it gets 5 out of 5 stars. While most people shoot it just for fun, others are using it to maintain firearm proficiency. The fact that this gun shoots steel BBs yet people are impressed with its accuracy says a lot. Oh, sure, there are other BB guns that shoot well, but they usually cost more.
I probably wouldn't get away with this next item if B.B. were here, but he's not–so I'll do it: Crosman Premiers. Yes, the ones in the box are from one die lot. Yes, they're great pellets. BUT, the Premiers in the tin are getting fantastic reviews from shooters! For instance, the .22 cal. Premier hollowpoints have 88 reviews and getting 4.5 out of 5 stars. You're not going to use them for any type of competition, but they're fine, accurate pellets that have seriously impressed airgunners. The .22 cal. Crosman Premiers in the box (the only Premiers B.B. endorses) have 40 reviews and also 4 out of 5 stars. I realize that the boxed Premiers are domes while the others are hollowpoints, but there are plenty of delighted shooters who think the Premiers in the tin are great pellets.

I've never found a person who didn't like the TX200.
And, now, for something a little different: the TX200. B.B. lists this among his favorite guns. In fact, I believe it's his favorite production springer of all time (even beating out the Beeman R1). There are plenty of other airgunners who agree, and the 34 customer reviews that give this gun 5 out of 5 stars are a testimony to its universal appeal. What you may not know is that this gun also ranks No. 1 with Pyramyd Air employees. These are people who are exposed to hundreds of guns, yet the TX200 stands out as the top gun. In fact, I believe the TX200 has been in that top spot since the list of favorite employee products has been in existence. It's really hard to knock a gun that does everything well.
Tom Gaylord is known as The Godfather of Airguns™ and has been an airgunner for over a half-century, but it was the 
Beeman
 company in the 1970s that awoke a serious interest in airguns. Until then, all he knew were the inexpensive American airguns. Through the pages of the Beeman catalog, he learned about adult airguns for the first time. In 1994, Tom started
The Airgun Letter
 with his wife, Edith. This monthly newsletter was designed to bring serious reports about airguns to the American public. The newsletter and
Airgun Revue
, a sister magazine about collectible airguns, was published from 1994 until 2002, when Tom started
Airgun Illustrated
-- the first American newsstand magazine about airguns. Tom worked for three years as technical director at
AirForce Airguns
, the makers of the 
Talon, Condor, and Escape
 precharged air rifles. Today, he writes about airguns and firearms for various publications and websites. He also makes videos, and you'll find short clips embedded in some of his artices on Pyramyd Air's website. Tom is a consultant to Pyramyd Air and writes under the name of B.B. Pelletier.