by B.B. Pelletier
Update on Tom/B.B.: Tom is doing better. New doctors have been put on his case, and they're working aggressively to get him back to health. I visit him daily and can see positive changes in his attitude and how he looks!
B.B. wrote today's blog. But, before we move on, I have two field target announcements.
Crosman Corporation is sponsoring the Northeast Field Target Championship to be held July 9-10 at Crosman's headquarters in Bloomfield, New York. The club was founded by the father/son field target duo of Ray and Hans Apelles. Both men are exceptional shooters, so even if you don't want to shoot in the match, this would be a great opportunity to see some of the top shooters do their thing. If you'd like to compete, Crosman has set up a website where you can register for the match. Airgun matches don't usually get sponsored by anyone, so this shows that Crosman is serious about getting involved with shooters and field target. There will be five divisions, and prizes will be awarded for first, second and third place winners in each division.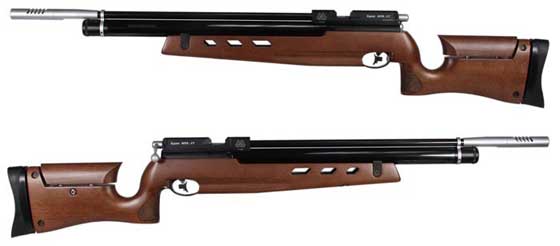 The Air Arms MPR Field Target Rifle took the winning spot in a British match.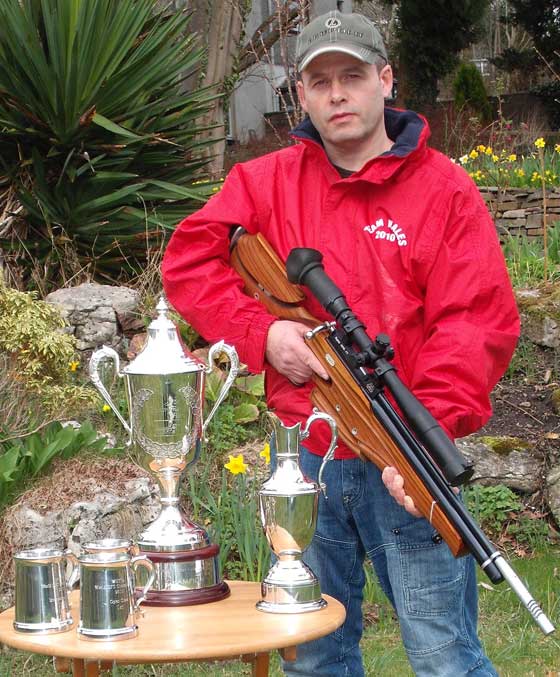 Mark Wall, the winner of the World Hunter Field Target Championship, with his Air Arms MPR Field Target Rifle with custom stock.
On April 3 and 4, the World Hunter Field Target Championship was held in England. The match winner is Mark Wall, and he used the Air Arms MPR Field Target Rifle. Wall dropped the standard action into a custom stock. While most field target shooters using PCP guns feel you need a regulator, Wall is proof that they're not essential to take first place. Before shooting in field target matches, Wall was winning competitions with rimfires when he was 13. From there, he moved on to competing with centerfire rifles at distances up to 500 yards.
Now, on to today's blog.
It's difficult to write a new blog from the confines of a hospital bed, and impossible to review new products. Thank you for hanging in there with me, as we work through this situation. And thank you for all the support you've given both me and Edith over the weeks I've been down.
Today's subject is a pragmatic one. Using the appropriate gun for the appropriate game. I could take this situation and salami-slice it a hundred different ways and use artificial minimum kill numbers and so on. But that's not how life really works and that's not what I'm going to do. There are only two conditions under which you need to know when pellet guns are appropriate: normal and survival.
Air rifles
Normal
When all the McDonald's are operating and there's money in the ATMs, life is normal. So, each example will include a normal-type shot for that gun.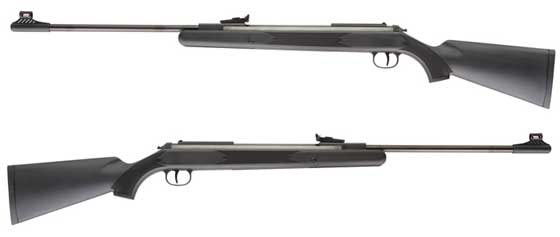 The RWS 34P: Accurate, powerful, not expensive.
Let's start with a fairly common gun…the RWS 34P shooting a domed pellet. I would limit such a gun to rabbits, squirrels, possums and other animals of that size. Plus, maybe the occasional woodchuck closer than 25 yards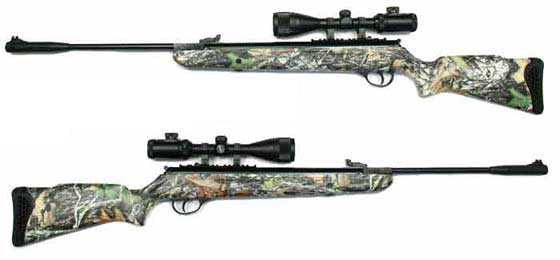 The Walther Falcon Hunter comes with either a metal mainspring or a replacement gas spring. My personal choice would be the gas spring.
Let's go to a magnum. How about the Walther Falcon Hunter with Air Venturi gas spring in .25 caliber? Now, you can step up to regularly shooting woodchucks, raccoons, foxes and similar game. Keep all your shots at a distance at which you can group them in 1″ or less with certainty.
Survival
Sometimes, the ship hits the sand, and ya gotta do what ya gotta do. Back in the 1970s, airgunners were killing wild goats on Santa Catalina island off the Southern California coast with .177 FWB 124 rifles. That's certainly a gun less powerful than a 34P. In a survival situation, you could take that same 34P and you could rack up game up to 50 lbs. with a clear head (brain) shot. Don't go bigger because as you do, the game has a tendency to fight back.
That .25 caliber Walther Falcon Hunter with the gas spring, however, can take all of that plus a 150-lb. wild pig. We all know that Gamo has proven this repeatedly on TV. It's not something to emulate, but in a survival situation ya do what ya gotta do. You become MacGyver.
The Falcon Hunter can easily take deer with a brain shot. So, you're really well set up if this is the kind of gun you own.
Please do your own interpolation of other guns compared to these two examples because the field is way too large for me to be exhaustive.
Air pistols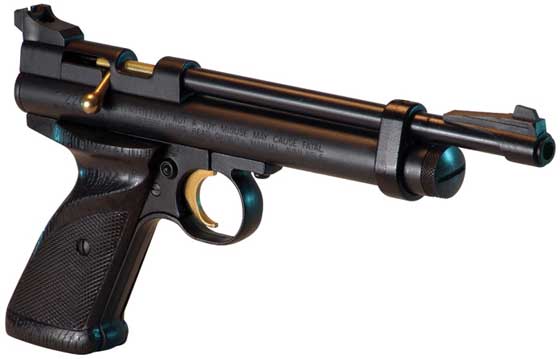 Crosman's 2240 delivers 460 fps in .22 caliber. Just enough power to humanely dispatch small critters at close distances.
Normal
If necessary, the only air pistols I recommend are those developing 12 ft-lbs. or more for any kind of animal hunting. But, the truth is that a Crosman 2240 will drop a squirrel or rabbit just fine with a good brain or very accurate heart-lung shot.
Survival
I don't consider air pistols ideal for survival situations at all. But if that's all I have, I have to learn to stalk, to camouflage and sit silently waiting for a perfect shot. I'm not going to give you limits because I believe they're too close to the normal limits. But, when you become a member of the Lord of the Flies, you do whatever you have to do to live.
This should give you plenty of grist for a good food fight this weekend! Keep it clean and remember that we have new readers who will need the guidance of more seasoned shooters and hunters. Please help me out, as you have been. Again, thank you very much.