by B.B. Pelletier
The August podcast was posted on Sunday. Sorry it was late. I apologize for the weak sound of my voice. I actually feel stronger than my voice indicates. I expect things to return to normal some time in the near future. Now, on to today's blog.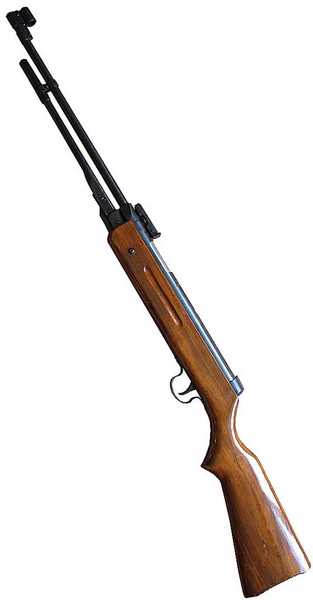 This inexpensive Chinese underlever has been around in one form or another for many decades.
Today, I'll check the velocity of my B3-1. I'll also check a couple other things for you. Cocking effort first.
Cocking effort
I mentioned in Part 1 that the cocking effort seems high for the power range of this gun. Well, it tested lower than I expected, so I'm just a weakling. To test the cocking effort of an underlever, you place a non-digital bathroom scale on a table and position the cocking lever near the middle of the footpad on the scale. When I did that, the rifle took 31 lbs. of force to cock. I would have sworn it was above 35, but the scale doesn't lie. I do believe that if the internal parts were deburred and properly lubricated, the effort to cock would drop by a couple of pounds.
Trigger-pull and firing behavior
The B3-1 has a two-stage trigger of the simplest construction. The second stage is very distinct, but the letoff is mushy and unpredictable. My gun fires at about 6 lbs. of effort, and it feels like more. While the cocking cycle is noisy, the firing cycle is relatively quick and vibration-free. Now, let's take a look at velocity.
JSB Exact 8.4 grains
The first pellet I tested was the JSB Exact dome that weighs 8.4 grains. They averaged 548 f.p.s. in this rifle, but only one was way off the pace, at 528 f.p.s. The remainder were between 547 and 556 f.p.s. The average muzzle energy is 5.6 foot-pounds.
RWS Hobbys
The lightweight 7-grain RWS Hobby pellet averaged 636 f.p.s. The range was from 628 to 644. The average muzzle energy was 6.29 foot-pounds.
Crosman Premier lite
The final pellet I tested was the Crosman Premier 7.9-grain pellet. It averaged 579 f.p.s., with a spread from 571 to 590. The average muzzle energy was 5.88 foot-pounds.
I have to admit that I was surprised by the rifle's performance. I expected less velocity and less consistency from such a crude design. Maybe those who sing the praises have something at that.
In the next report, I'll test accuracy, and we'll see just how accurate an inexpensive Chinese air rifle can be.