HW 97 – Part 2
by B.B. Pelletier
Photos and test by Earl "Mac" McDonald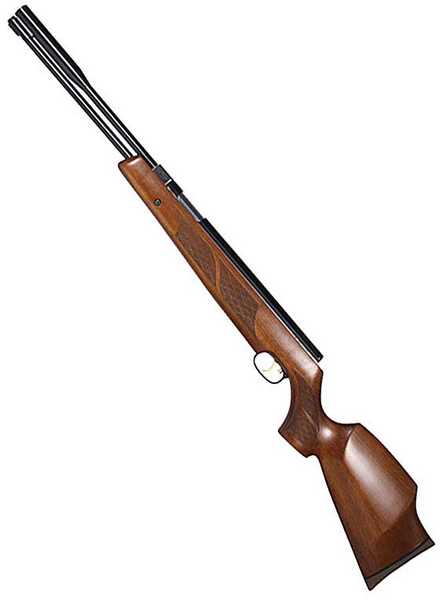 The HW97 is an attractive air rifle.
I'm keeping the HW97 report close to the B3-1 test, so you can make comparisons. Thus far, we've noticed that the HW is by far the better finished air rifle. Several of you have now seen for the first time what a gun with a sliding compression chamber looks like. Today, we'll test velocity.
Mac reports that the HW97 appears to be a 12 foot-pound gun. Actually, it develops just over 12 foot-pounds, which would make it an FAC rifle in the United Kingdom. But Americans will probably think of it as a 12 foot-pound gun.
Mac also tells us that he tested velocity with all the .177 pellets he had on hand. So, this test will be a little broader than usual.
Beeman Kodiak
The Beeman Kodiak pellet is a super heavyweight in .177. It weighs 10.6 grains, nominally. In this rifle, it averaged 724 f.p.s., with a spread from 703 to 740. The average muzzle energy was 12.34 foot-pounds.
RWS Hobby
The lightweight RWS Hobby pellet averaged 899 f.p.s. The spread went from 878 to 909 f.p.s. The average muzzle energy was 12.57 foot-pounds.
H&N Finale Match for rifles
The H&N Finale Match rifle pellet weighs 8.18 grains. In this rifle, it averaged 822 f.p.s., with a tighter spread…from 811 f.p.s. to 833 f.p.s. The average muzzle energy worked out to 12.28 foot-pounds.
JSB Exact 10.2 grain
The JSB Exact heavy pellet might me a good choice for this rifle. A little heavy for this power, it has the reputation of often being the most accurate pellet for a given airgun. It averaged 727 f.p.s. with just a 10 f.p.s. spread, from 720 to 730 f.p.s. The average muzzle energy works out to 11.97 foot-pounds.
JSB Exact 8.4 grain
If the heavy Exact doesn't work, there's always the JSB Exact lite to try. In the HW97, it averaged 821 f.p.s., with a spread from 816 to 840 f.p.s. Mac reports a loose fit at the breech. The average muzzle energy was 12.58 foot-pounds.
Beeman Silver Bear
In .177 caliber, the Beeman Silver Bear is a light pellet. It averaged 887 f.p.s., with a 21 f.p.s. velocity spread…from 878 to 8997 f.p.s. The average muzzle energy works out to 12.41 foot-pounds.
Crosman Premier lite
The Crosman premier 7.9-grain pellet fit tight in the breech; and, in a rifle like the 97, that's important because you don't have great access to the breech because of the sliding compression chamber. They averaged 842 f.p.s., with a 21 f.p.s spread from 831 to 852 f.p.s.
Crosman Premier heavy
The .177 caliber Crosman Premier is the only one in which there are two different weights of pellets to choose from. The 7.9-grain "lite" Premier is best suited to spring-piston guns, while the Crosman Premier 10.5-grain pellet — the "heavy" — is better for PCPs and very powerful CO2 guns. In the 97, they were a very tight fit. Too tight, in fact. Mac actually had to use a flat stick to load them completely. They averaged 682 f.p.s., with a 28 f.p.s. total spread. The low was 671 and the high was 699 f.p.s.
Mac reiterates that the HW97 is very easy to cock and has a smooth shooting cycle. It's smoothest with medium-weight pellets. He hasn't come out and said so yet, but I think he likes the 97 as much as his TX 200, which is high praise for any air rifle. Accuracy testing is next.
Tom Gaylord is known as The Godfather of Airguns™ and has been an airgunner for over a half-century, but it was the 
Beeman
 company in the 1970s that awoke a serious interest in airguns. Until then, all he knew were the inexpensive American airguns. Through the pages of the Beeman catalog, he learned about adult airguns for the first time. In 1994, Tom started
The Airgun Letter
 with his wife, Edith. This monthly newsletter was designed to bring serious reports about airguns to the American public. The newsletter and
Airgun Revue
, a sister magazine about collectible airguns, was published from 1994 until 2002, when Tom started
Airgun Illustrated
-- the first American newsstand magazine about airguns. Tom worked for three years as technical director at
AirForce Airguns
, the makers of the 
Talon, Condor, and Escape
 precharged air rifles. Today, he writes about airguns and firearms for various publications and websites. He also makes videos, and you'll find short clips embedded in some of his artices on Pyramyd Air's website. Tom is a consultant to Pyramyd Air and writes under the name of B.B. Pelletier.