by B.B. Pelletier
Blog reader Vince has been very busy! Last week he gave us a 2-part guest blog, and this week he's given us another blog. Like mysteries? Get out our magnifying glass and help Vince uncover the name of this air rifle.
If you'd like to write a guest post for this blog, please email us.
Bloggers must be proficient in the simple html that Blogger software uses, know how to take clear photos and size them for the internet (if their post requires them), and they must use proper English. We'll edit each submission, but we won't work on any submission that contains gross misspellings and/or grammatical errors.
by Vince
I know there's something to be said for mystery, even when it's balanced by intimate familiarity. Still, I REALLY want to know what to call you.
'Twas a dark and stormy night — or not — when she came along in as innocuous a manner as possible. I had spotted a "dump sale" on one of the sites (don't remember which), where a fellow was getting rid of four bottom-feeder Chinese guns. I believe he had a business, and these guns didn't move — but I'm not positive about that. In any event, the airguns included a pair of Industry Brand B3 rifles (.177 and .22, a cult gun if there ever was one), an old half-eaten Industry B7/QB51 (folding-stock breakbarrel missing the stock) and this orphan. It's a nondescript Chinese sidelever that I thought at first might be a KL-3B Fast Deer (another cult gun that was sort of a flash in the pan about 5 years ago). But no, there was no safety on the starboard side above the trigger. Then, I thought it might be an old TS-45, which I always wanted for no particular reason. But the stock shape didn't seem quite right. No matter, I'll find out when it gets here, right?
The package finally comes into my possession, and I start going through the box. The B3 rifles were what you'd expect — ugly. Turns out that the .177 version has about the same velocity as the .22, and the accuracy with either was rather tepid. The .177 was sold off for $15, and I kept the .22 just to have one.
But that sidelever….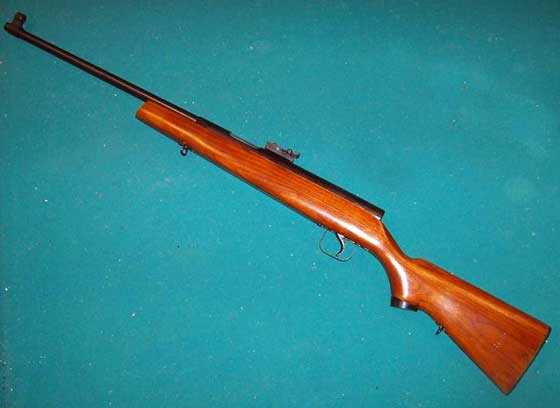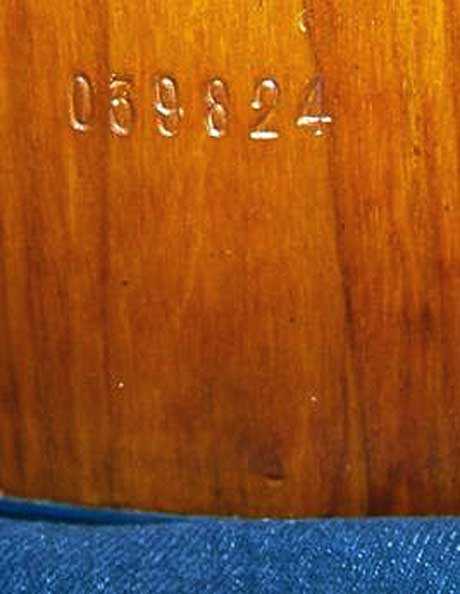 Well, the price was cheap enough. Are those serial numbers? Who knows!
Even up close, I'm not sure what it is. There are some numbers stamped into the wood near the buttplate. Whatever it is, it certainly isn't a model number of any sort. I looked on the compression tube and found the obligatory Made In China (NO! REALLY?) stamped in the metal along with the just-as-obligatory Chinese characters. Above that is some sort of mountain range motif. Maybe Snow Peak? I don't see any snow. Don't see any scope dovetails, either.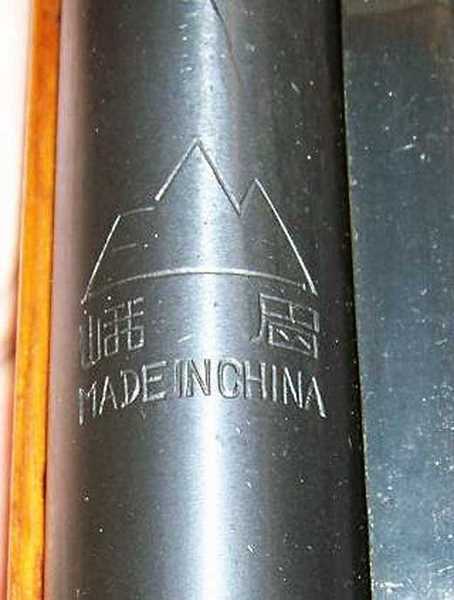 The logo isn't exactly on par with Diana throwing away her bow and picking up an air rifle.
So, I'm thinking, "I shall call you Pointy, and you shall be mine." But that's kind of a stupid name for a gun, so I'll continue examining the rest of the rifle for clues.
I was always under the impression that Snow Peak was an early manifestation of Industry Brand, but the gun does NOT seem to have that special lack-of-attention-to-detail that distinguishes (extinguishes?) the early Industry guns. Even the stock — while the varnish on it is applied unevenly and is a bit orange-peeled — isn't hosed down with that orangish-brown goo that Industry used in abundance.
Next, I looked at the sights — the AK47-style sights. The rear has a push-button slider with markings at each position for elevation, and no windage adjustment. While the front sight is adjustable for windage (with a punch or an AK47 sight tool) and elevation (again, with the AK47 tool):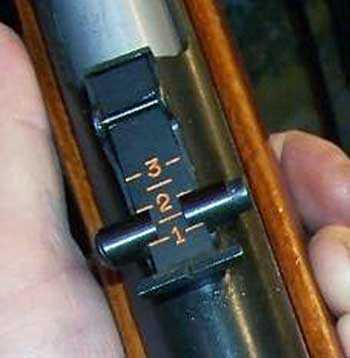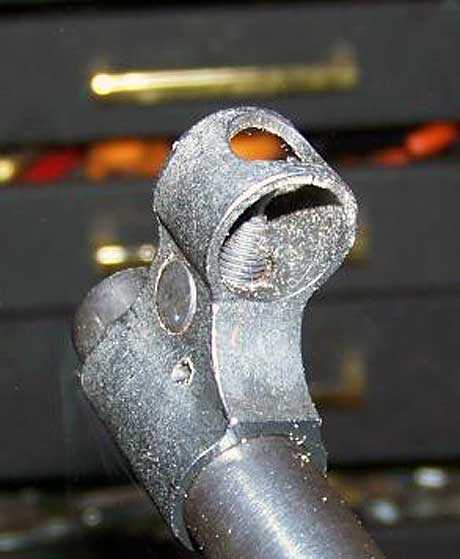 Front sight is fully adjustable, rear sight is adjustable for elevation only.
For afficionados of cheap Chinese (guns, not food), this smacks of the old BAM B4-2 underlever that bore a passing resemblance to the inferior Industry B3. That makes me think about the BAM XS-B7 — the sporter version of BAM's old XS-B3-1 AK47 lookalike sidelever:


The new gun sorta looks like this…in some ways…but not really. (Photo courtesy of the former Pellettrap website)
No, the stock shape is all wrong. The XS-B7 does NOT have the AK-style sights, but it does have a safety in the triggerguard. Pointy doesn't have one at all. It makes do with an interlock that keeps the shooter from pulling the trigger when the arm is open, but that's about it.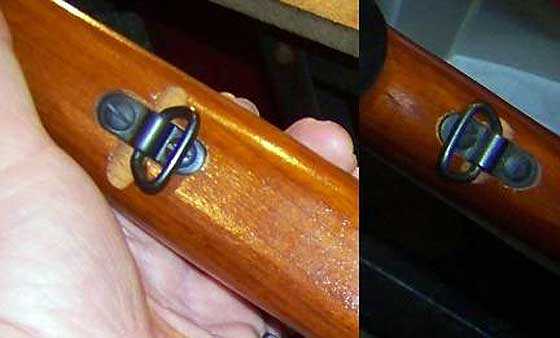 One last detail. My gun has a fairly substantial set of sling swivels mounted on its underside.
The gun comes with a full set of sling swivels. The rear screw on each swivel is actually one of the bolts that holds the action to the stock. I don't thing they're going anywhere. Despite the differences in stock shape, with these swivels I'm again leaning toward calling it a TS-45.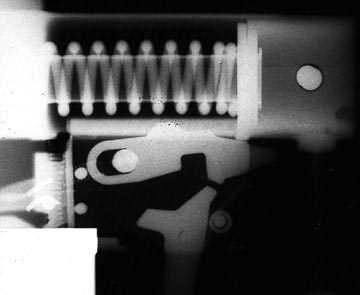 X-ray of the TS-45 trigger shows it's the same as the B3.
(from Tuning a cheap Chinese airgun – Part 2)
The TS-45 has the same trigger as the B3, which has the trigger blade holding the sear in place until it's pulled. Even without taking the gun apart, I can tell that Pointy has a simpler direct sear.
At this point, I'm flummoxed. So, I set the whole ID issue aside and just started shooting it.
The gun itself is very much full weight and size at 6 lbs., 14 oz., and 41 inches overall. As you'd expect from a sidelever, it balances well (since the cocking linkage is close to the shooter), and the pull length of 13.5 inches is well within the average range for adults. The sight is clear enough, with plenty of depth to the slot in the rear sight, although the notch is a bit too wide for the front post.
Side note: Why do some manufacturers get so danged stingy with the depth of the rear sight notch? Am I alone in finding that an open-leaf sight with a really shallow notch is a pain to use?
Anyway, holding and shouldering the gun doesn't feel bad at all, the stock seems well proportioned. Meaty without being fat, it's probably a good compromise for a variety of hand sizes. The not-so-smooth finish on the stock actually makes it easier to grip. Poor man's checkering? Uh, yeah…that's it.
Of course, old Chinese guns aren't known for mechanical refinement. Pointy's direct sear trigger (with a 6-lb. release), graunchy cocking cycle and dry, hollow-sounding firing cycle do nothing to dispel this reputation. And, I discovered something else the first time I cocked it — this gun is SHARP! Literally. They didn't do much to bevel the edges at the end of the cocking lever. Ouch! Not rough or uneven, mind you, and not enough to cut skin, but darned uncomfortable. Glad it doesn't take more than 20 lbs. to cock it.
I started punching paper at 10 meters so I can start adjusting the front sight windage. And, that's when the rifle started doing things like this: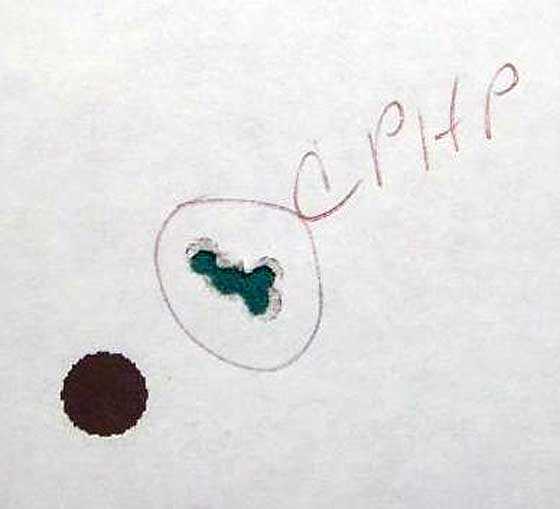 Just when you think you know how a gun's gonna shoot…it does something like this.
Hmmm…. that's about a .32″ group with Crosman Premier Hollowpoints. With open sights. Guys, laugh if you wanna, but this passes as a very good open-sight group for me at this range. It did the about the same thing with a group of 5 Gamo Match pellets and a little worse with RWS Super-H-Point and RWS Diabolo Basic pellets
So, whatever it is, whoever made it — they certainly paid attention to the barrel. What else did they pay attention to? Well, now I'll get down and dirty to find out.


The action is dirt simple.
What am I seeing? The mechanism is certainly basic enough, with the direct sear trigger pivoting on the same pin that holds everything together. The stampings are straight, and the spot welds all seem to be spot-on.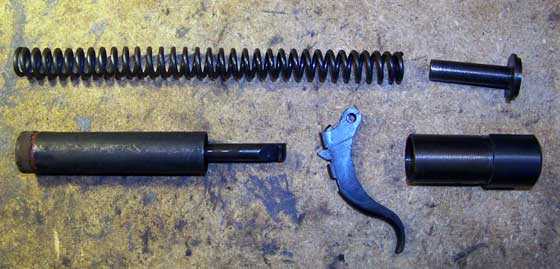 Out come the main pin and parts.
Once apart, I found the expected leather seal, and the general mechanism is reminiscent of the horrid Industry B1 and B2 rifles I've worked on. But wait! Something's different! That pin! That 5mm pin that holds everything together and holds the trigger!


The 5mm pin that held it all together.
Notice anything strange about the pin? It's STRAIGHT! That's strange, because every old Industry gun I've worked on with the same arrangement also had a bent pin (metal too soft). But not this one. What else did I notice? The sear mating surfaces weren't significantly worn.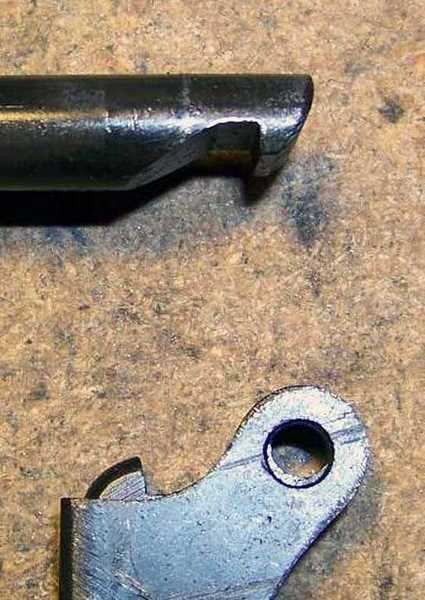 The sear mating surface wasn't worn to a nub.
My experience indicates that would CERTAINLY be unusual on an Industry rifle. In fact, the sear faces on the old Industry B1/B2 guns can wear so much that they start shooting without you.
That rear guide seems to be machined out of a solid piece of steel, rather than fabricated from a sheet metal tube and a washer.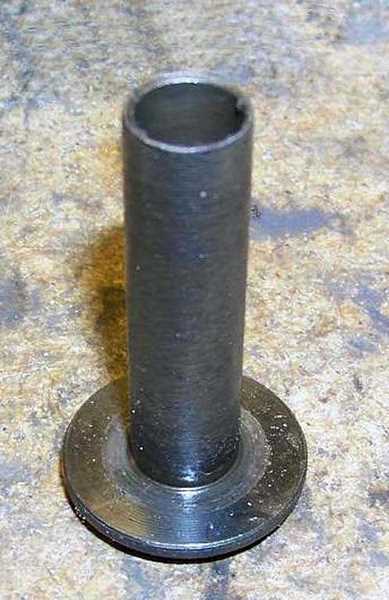 The rear guide isn't the usual cheap manufacturing process I'm used to seeing.
The piston seems well made, and the piston rod is STRAIGHT and centered in the bore of the piston. All in all, I'm now certain that Industry didn't make this gun.
Pointy was dry as a bone when I took it apart, so the gun goes back together with the typical moly goo I use. Since it's a lower-powered gun, I didn't bother with tar on the spring, but the leather seal did get roughed up and soaked in 30-weight oil. Cocking and shooting behavior is smoother, and the velocity seems to have stabilized in the mid-500s with Crosman 7.9-grain pellets.
But, I'm no closer to identifying the gun. So far, the sights and general build quality still make me think that it's related to the old BAM XS-B3/B7 rifles, but now I've got pictures of the innards! So, I go perusing the internet til I find an exploded view of the XS-B3 variant so I can compare the general construction.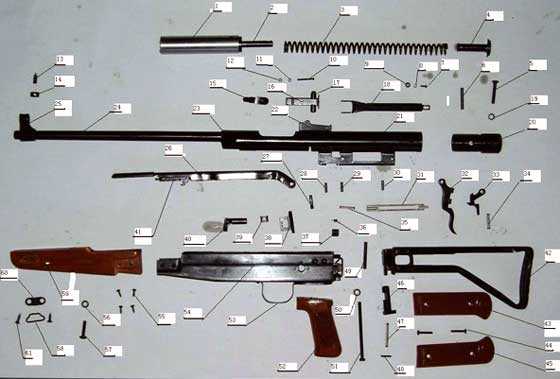 Exploded view of the XS-B3.
After noting some of the details — the rear guide and spring retainer, the trigger, the construction of the beartrap and of course those sights — I believe I now have part of the puzzle. Pointy is probably a product of the BAM factory before it was actually called BAM and provided the basic design for some of their subsequent rifles. I'm also guessing that this gun was produced at a less frenzied pace than their guns today, affording them a bit more time for QC.
So, I know where you're from, and I know where you went, and I know you shoot well. But, I still don't know your name. Who are you?