by B.B. Pelletier
Yesterday, Vince regaled us with one of his recent purchases…a Beeman GT600 air rifle. Today, he'll show us what he found when he pulled it apart and made it better than new.
If you'd like to write a guest post for this blog, please email us.
Bloggers must be proficient in the simple html that Blogger software uses, know how to take clear photos and size them for the internet (if their post requires them), and they must use proper English. We'll edit each submission, but we won't work on any submission that contains gross misspellings and/or grammatical errors.
Here we go!
by Vince
The GT600 is about as plain-jane a rifle as you'll find. Dollars to donuts, the same basic design continues on in the more recent Young model 56 and 90 rifles currently available. Many guns have their own quirks when dealing with the rear spring retainer and trigger assembly, and the Norica is no exception.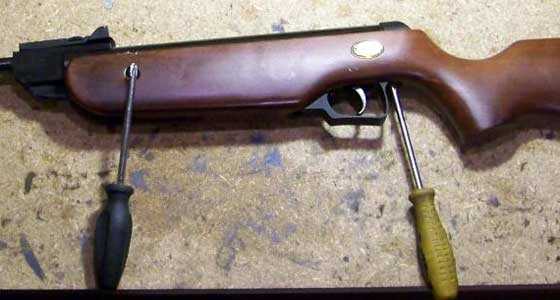 Disassembly starts with the typical screws (like umpteen other rifles)…


…at which point the action pops out real easy.
The next step is to knock out the retaining pins. Yes, I said knock them out. No sticking it in a spring compressor. Even with the pins out, the spring isn't going nowhere (which will become evident momentarily).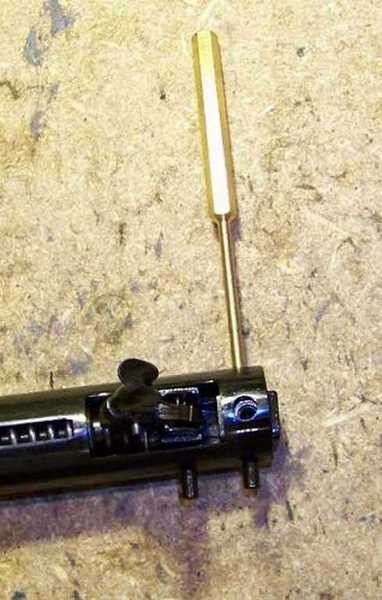 I used a punch to start tapping them out.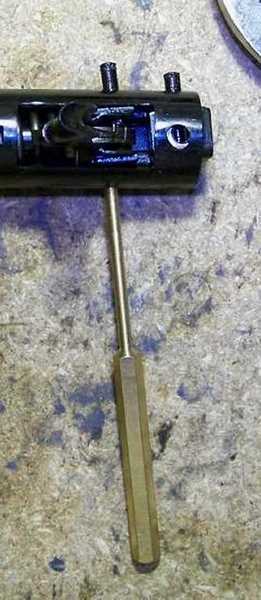 Next, I tapped them back IN and — and tapped them out the RIGHT way.
As you might be able to see in the picture, the pins are knurled on one side and should be punched out from the side opposite the knurls.
After you've tapped out the second pin, the spring will push against and trap the punch, which, of course, is now in the hole where the pin used to be. Push in the trigger assembly a little bit to relieve the pressure on the punch and pull it out.

Release the trigger assembly, and the punch jumps back a bit and stops.
This is where a special tool comes into play. Someday, I'll make a good one, but this works for now. I quickly hacked it out of a 1-inch diameter piece of aluminum tubing some years ago when I got my first AR1000. It goes into the rear of the compression tube.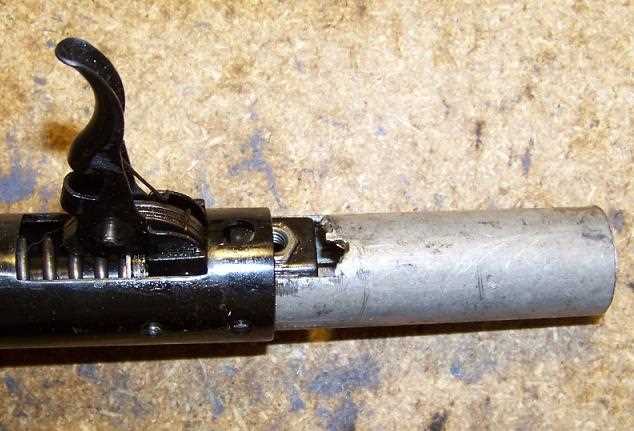 My special tool…necessity is the mother of invention.
The forks reach around the trigger assembly and push directly on the rear spring guide. Compress the spring, pull the trigger mechanism out through the opening and completely release the spring pressure. I can't show you this step because I don't use a spring compressor and have already become something of a pariah on another forum partly because I had the nerve to describe how I do it. So, let's just say I use my SUPERPOWERS (and my, uh, above-average weight) to compress the spring. After the spring pressure is released, the spring and the rear guide can be removed.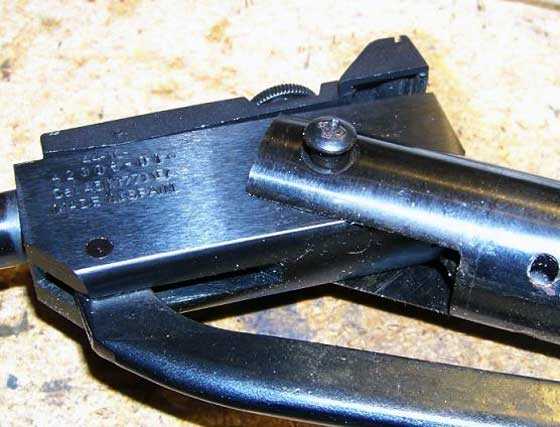 The pivot bolt simply unscrews.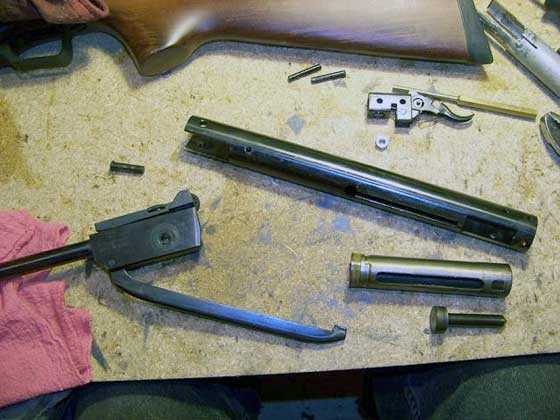 The barrel assembly separates from the rest of the gun.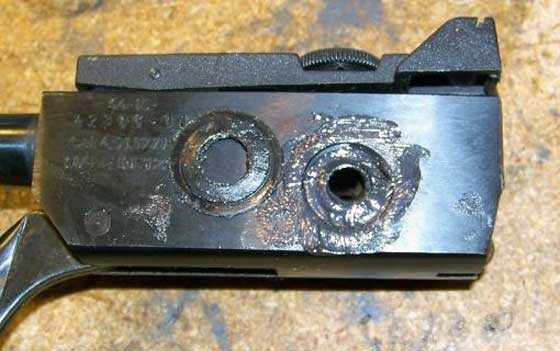 Remove the pivot washers, clean everything up and moly paste it before putting it back together.
The barrel is then set aside for reassembly later. The piston that came out of the gun should look familiar to anyone who's disassembled an AR1000 or Hämmerli 490.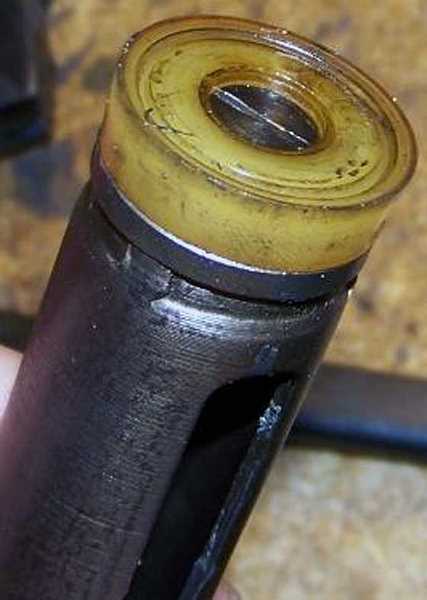 The Beeman GT600 has a one-piece seal that's held in place with a single screw.
The seal looks in good enough shape, so I'll just reuse it. But, I've got visions of that middle screw backing out while shooting, which would probably cause me to say a bad word and flush the gun down the toilet. So, I took the screw out.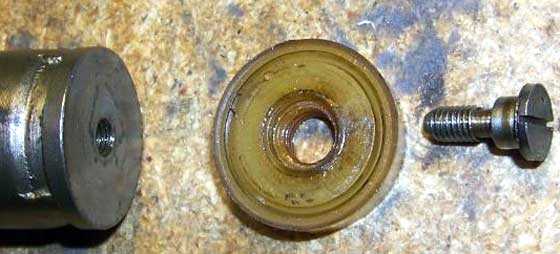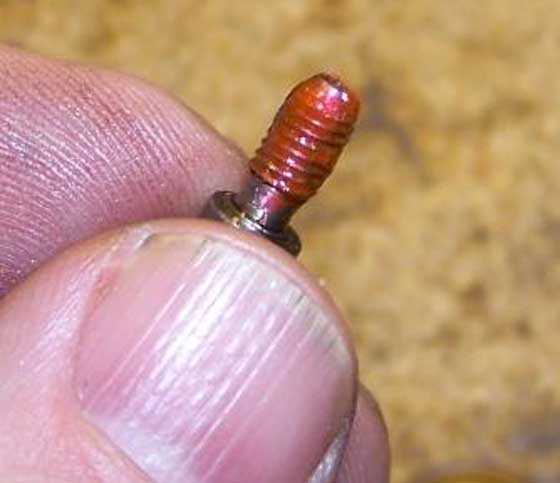 The screw was removed and given a good coat of Vibra-tite VC3. This reddish-orange goop gets put on a clean screw, as shown above.
Let it dry for 20 minutes or so BEFORE reassembling the parts. That solidified red gunk causes something of a friction fit between the inner and outer threads, which then resists loosening. Unlike Locktite, it doesn't try to adhere to the inside threads, so I really think it works better when those inside threads aren't entirely clean.
Next, I turned my attention to the compression tube. First thing to do is wad up half a paper towel and cram it down inside the tube. Then, I took a small file and broke the edge of the slots and holes in the tube.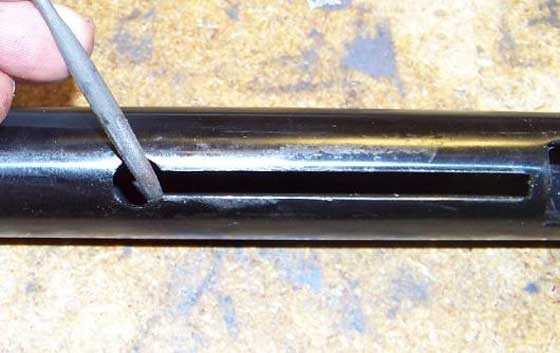 Removing sharp edges with a file.
I don't have to go nuts (well, over this anyway). All I'm doing is getting rid of the very sharp edges that might slice chunks out of a seal as I'm reinstalling it. I wish manufacturers would do this, as it's not too uncommon to find factory piston seals that have pieces missing because of those edges.
After filing, extracting the paper towel, and cleaning the tube, I can start putting all the pieces back together. For this gun, I'm trying out a proprietary airgun grease some guy was selling on one of the forums. Never really tried it before (I have no idea if it's any good), so I decided to use it here.
The subject of proper lubricants for springer guts is one that could easily take up waaaaay more space than I've got. As a side note, I'll delve into it a bit. There are two major areas of concern, and the desired lubricant properties of each is a bit different.
Everyone knows about spring tar. This lubricant really has to do two things: stay put and dampen vibration. It has to be sticky and thick (like the guy writing this blog). But it can't be too sticky or too thick because it'll slow down things too much if it is. High-powered guns with their monster springs are less prone to suffering from tar-itis, so they can tolerate something heavier. Rich in Michigan's stuff might not drag a RWS Diana 350 or Gamo Hunter Extreme down too much, but try it on a Slavia 618 and you'll get stuck in slow-mo. And, Maccari's tar, which is thinner, might work well on an RM-200 but be less effective on, say, a super-buzzy Diana 46 Stutzen. So, there's some point in trying to match the tar to the gun.
The second lube needed is a spring cylinder lube. This is where it gets real tricky. You want something with good resistance to wear under heavy and low-speed loading so the cylinder wall isn't gouged by all that piston side load during the cocking stroke. But, you don't want something too thick that'll get scraped out of the way after a couple of cycles and never come back. You don't want something too thick because the drag from shear forces between the piston and the cylinder wall will really slow things down when the piston tries to spring forward.
You want something that won't easily get past the piston seal. Anything that does, of course, runs the risk of going BOOM when the gun is fired. A little of this is tolerable (and not entirely avoidable), but a lot of it isn't going to brighten your day. You want something that isn't so thin that it flows right past the seal, and you don't want it so sticky and thick that the seal can't scrape it out of the way. Since some of it WILL end up in the chamber, you want a lube that'll be sticky enough to stay on the chamber walls, where it can't really burn, and not get atomized into the compressed air — where it burns very enthusiastically.
So, silicone is out. It just doesn't hack it as a high-load, metal-to-metal lubricant. We need something thick that's also thin, and sticky without all that awkward stickiness. That explains the plethora of lubes out there, many of which are homebrews with their formulations more closely guarded than our bank account data ever will be.
It's one of these homebrews that I'm trying out. Since this gun isn't a magnum springer, I can make do with something lighter on the spring. I'm using this same grease there as well. There's a real advantage to doing so if it's feasible: It doesn't matter if the stuff on the spring gets slung off or if the stuff on the cylinder walls gets on the spring. There's no intermixing of different lubes; it's all the same goo.


The front guide…


the rear guide…


and the spring get all gooped up with this stuff.
I probably overdid it. But that's actually one good test of a lube — to see if it gets in the chamber and diesel — or not — when there's a lot of it to go around.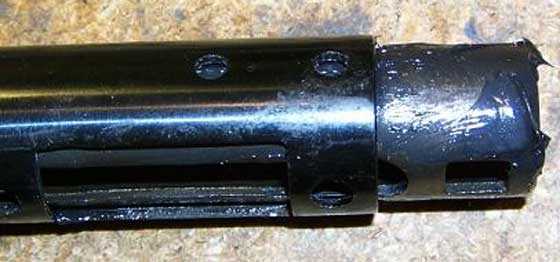 The piston gets a good coating as well and then goes in.
Now is the proper time to reinstall the barrel. Don't forget to fit the cocking link back into the slot in the piston and cylinder! If you try to reassemble the barrel pivot AFTER the spring is reinstalled, you'll find that the tension on the piston prevents everything from lining up and the bolt won't go back in!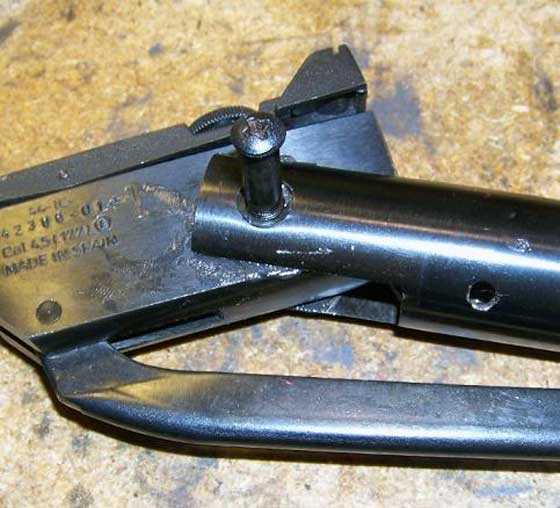 Okay, so I forgot.
If you forget and find yourself trying to reinstall the barrel after the fact (uh, like I did), there's a way around it. The holes will not align perfectly but will overlap enough to get the round shank of a #1 or #2 phillips head screwdriver where the pivot bolt goes.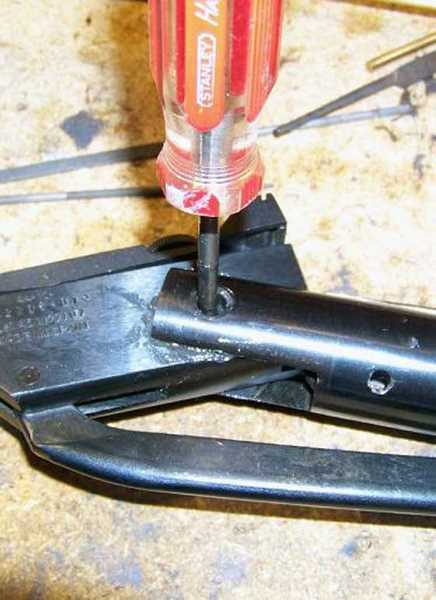 Did it wrong? A phillips head screwdriver to the rescue.
The gun can be cocked like this, which will take the tension off the pivot and allow the holes to line up and the screw reinstalled. But, if the sear lets go before you get the screw in, well, you've got a bit of a mess on your hands. So, this procedure isn't really recommended. Just do it in the right order so you may live long and prosper in the land.
Anyway, this pivot bolt doesn't have a locking mechanism of any sort, so some of the same red goop as used on the piston seal bolt might not be a bad idea.
After the barrel is installed, the front guide, spring and rear guide get installed — in that order. Putting the trigger back in is a matter of compressing the spring with the special tool and putting it in the way it came out.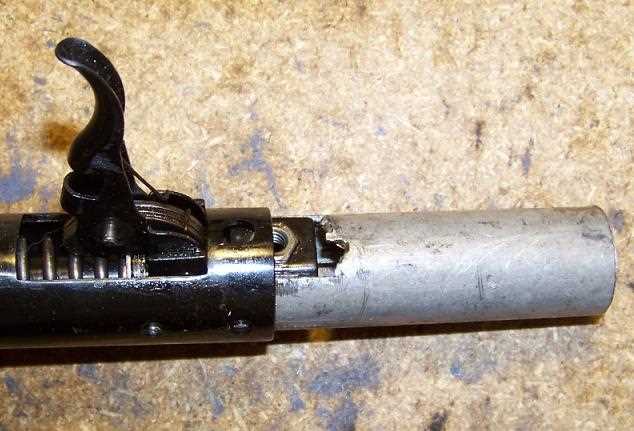 It goes in about the same way it came out…but in reverse order.
Compress the spring a bit more (without the tool) and slide the pins back in. Voila! Your action is ready for action.
You'll notice that I didn't do anything with the trigger, and there's a good reason for that. I've had a LOT of luck re-angling the mating faces to reduce friction and lighten the trigger-pull. Unfortunately, however, that luck's been all bad. I've found that it's a tightrope walking the line between nice feel and auto-fire. And, if you DO get on the right side of that line and the trigger wears a bit, be prepared for your sear to go on strike. I know that some guys have had good luck with improving direct-sear triggers, but for now I don't mess with 'em.
So the action goes back in the stock, and I tend to the last major issue for this gun. Don't know how it happened, but it came out of the seemingly undamaged box that way.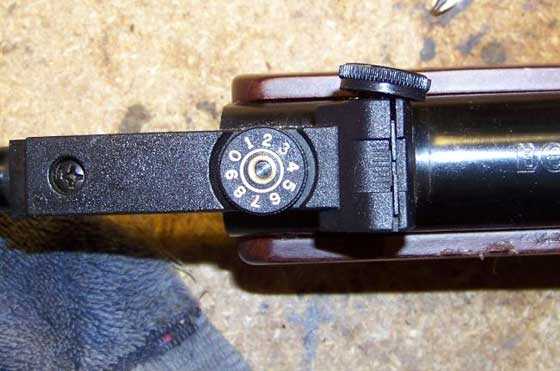 The rear sight is slightly bent.
This always scares me, because I've had NO success straightening these out when this happens. I always seem to break the shaft. Anyhow, I contacted the seller, who insisted that it probably happened during shipping. I'm a bit doubtful about that, but no matter. I can't use it as is. So, I might as well try to straighten it.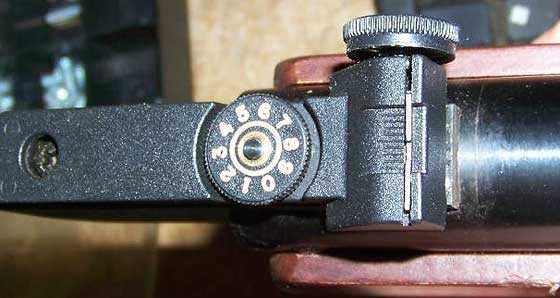 Miracles happen…I fixed the bent rear sight.
Dunno WHY I didn't break it this time. Maybe, being extra careful to bend it JUST far enough was the key. Glad I was able to salvage that sight, as it's actually a pretty decent one with not much play and a decent sight picture. With the sight back together, Bee (I'll call her that just to make her feel better) is ready to spit.
Over at the crony, I tried pumping one of my standard test pellets through it — Crosman Premier Super Points. But not the Premiers I usually use. I'm using Premier pointed pellets that were thrown in with another gun purchase I recently made. Since experience tells me these pellets are useless for accuracy, I decided to use them for chrony testing instead. I don't want them to go to waste, and they weigh the same as the domed Premiers. When I saw an almost 50 fps spread over 10 shots, I switched to Crosman Premier hollowpoints, and the results were a lot better: 549, 549, 549, 550, 549, 550, 551, 560, 557 and 553.
Eleven fps separate high from low. I can live with that! Now, I have yet another reason to hate those pointed pellets.
Firing cycle is improved and cocking is a nice, smooth 20 lbs., including latching the sear. Trigger-pull, incidentally, comes out to about 5 lbs. of creep-free snap. Well, creep-free except for the shooter, that is, who can be something of a creep at times.
Let's look at what REALLY counts — making holes in stuff. At 10 meters, I tried 5-shot groups with Daisy Wadcutters, Gamo Match, and (one of my favorite cheapies) RWS Diabolo Basic pellets, all with so-so results.
Then came the Premiers – I went to cardboard-boxed Premiers (7.9 grains). Results were somewhat better until I loosened up my grip on the gun…and she threw a great group of 5.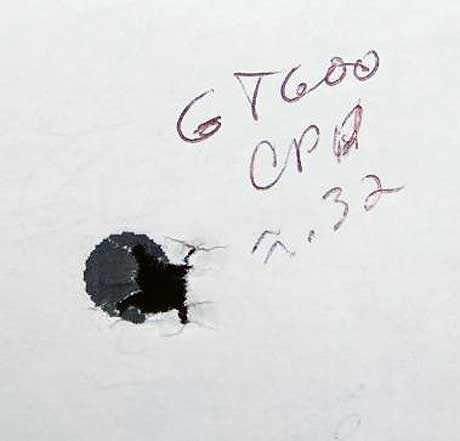 Bee has stepped up to the plate!
Oh. OK. I think I understand. Bee ain't foolin' around! Hard to measure exactly, but my best guess is about .32″ ctc, although it might actually be less. I think we have a pretty good overall picture of the GT600. It's a crude gun that certainly doesn't live up to the Beeman reputation – or, at least, the old Beeman reputation – of combining superior design, almost hand-crafted workmanship and high-quality machining together in one piece of airgun art. No, "Bee" only gets one out of the three right.
But it's the one that really counts. With the poor trigger and overall lower quality of workmanship, the GT600 wasn't going to bring new glory and prestige to the Beeman line. But it wasn't meant to at its price point. But, with this kind of accuracy and consistent velocity, it's sure not going to drag down the Beeman name. It's a cheap rifle, but a good cheap rifle. Which really makes it a good rifle, period.
Beeman GT600 vital stats:
Weight: 5 lbs., 13 oz.
Overall length: 41″
Pull length: 14.5″
Butt center of gravity: 18″
Trigger-pull: 5 lbs.
Cocking effort: 20 lbs.
Average velocity: 552 fps (with 7.9-grain Crosman Premiers)
Muzzle energy: 5.34 ft-lbs. (with 7.9-grain Crosman Premiers)