by B.B. Pelletier
With the assistance of Earl "Mac" McDonald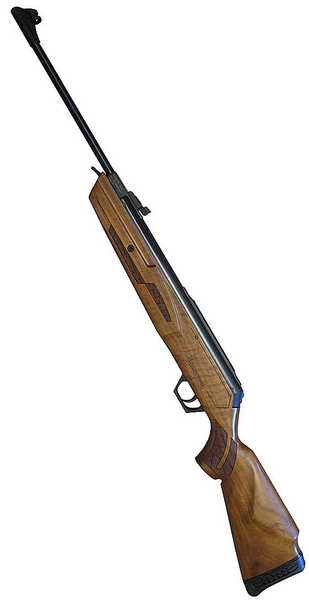 Browning's Gold breakbarrel is a beautiful new spring-piston rifle.
Let's begin our look at an air rifle that a lot of readers have been waiting for — the Browning Gold. I can tell you right now that this is a different spring rifle that deserves very close examination. I'll try to point out as many of the unique features as I go through the gun and the test.
I've waited to begin this evaluation until my buddy, Mac, can be here with me, for he's already started a test of this air rifle and stopped short when some mechanical issues were encountered. I'll tell you what they were, and I'll also examine the test rifle while looking for signs of those same issues.
I waited for Mac because this rifle is a powerful one that will require some strength to cock. Until the past month, I was unable to handle tasks like that because of an inguinal hernia. My hernia surgery was at the end of April, and since then I've been exercising every day, plus doing upper body bodybuilding three days a week. Recently, I've begun some modified sit-ups that are beginning to strengthen my abdominal muscles, and I think I'll now be able to cock the Gold without any problem as long as I use two hands. Just in case that's incorrect, Mac will be here next week to back me up. So, the time to do this test is right now.
The Browning name
First, let me acquaint you with the Browning name as it applies to airguns. Browning has never made an airgun in their factory. Every airgun that carries their name is made by someone else under license.
I shouldn't have to tell anyone that the Browning company is world-famous for the many fine firearms they have made. John Moses Browning was an American whose early body of work gave us such American classics as the Colt 1911 pistol; Winchester's model 1885 single-shot (the so-called Low Wall and High Wall rifles); the 1886, 1892 and 1994 lever-action rifles (and all the variations that followed); the military Browning Automatic Rifle that still sees limited use in some far-flung parts of the world; and several famous machine guns including the .50 caliber M2 that has now returned to supplant more modern designs and continues to be the free-world's heavy machine gun of choice. It's the big gun that gave the first Iron Man suit so much trouble in the hills of Afghanistan.
But, then, a curious thing happened. Browning, who was more prolific an inventor than any one company could tolerate, took a world-beating shotgun design to Winchester that they did not act on. He took it to Remington and sold it to them. The year was 1905, and the gun was the model 11 semiautomatic shotgun. You probably know it better as the Browning Automatic Five. Can you say, "Stick a finger in their eye?"
From that point on, Browning took on a more worldly viewpoint, and some of his best designs were actually made by companies outside the U.S. The Belgian company that took his name as a subsidiary of their own (Fabrique Nationale) continues to make world-class firearms under the Browning name to this day.
But they don't make airguns. So when it came time to put their very prestigious name on some airguns many years ago, they were forced to find a company to build the guns for them. They chose Rutten of Belgium, and over the course of several years they offered such innovative models as the underlever Windstar that cocked with both the opening and closing stroke of the underlever. The sales patter said that because you were cocking in both directions, the effort was cut in half, but the truth was that you had to apply the same cocking force through twice as much of an arc. The Windstar and all of its relatives were mid-powered spring-piston rifles that were very buzzy, even for their time.
The other highly innovative rifle Rutten put the Browning name on was another spring-piston design that was cocked via an electric motor. You simply pushed a button in the stock and a high-torque electric motor drew the piston back against the coiled mainspring. Armchair airgunners everywhere hailed this new rifle as the salvation of the spring rifle, but were appalled when they saw the price tag. I tested the gun for The Airgun Letter and heard that high-torque motor in operation. It sounded like someone was torqueing lug nuts in the pits at Indy on Memorial Day!
The Browning Gold
The times have changed and the Browning Gold we're testing is made in Turkey. It's a breakbarrel with a barrel lock! I haven't seen one of those on a new airgun in years.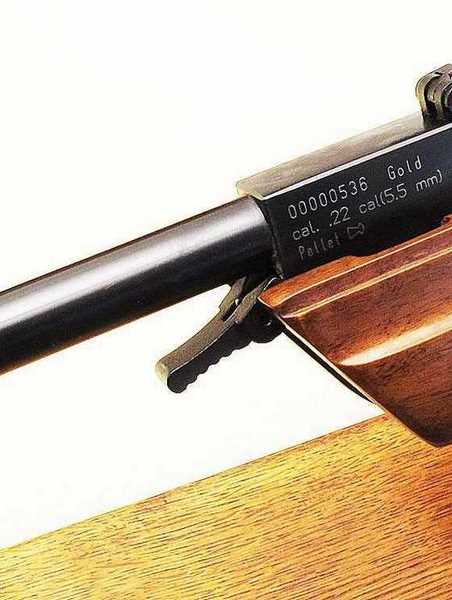 A barrel lock under the barrel holds the breech shut during firing.
This is a large air rifle. It's 48.40 inches long and weighs 8.40 lbs. The website lists the cocking effort as 38 lbs., which they got from the distributor; but after cocking our test rifle twice, I knew it went beyond that. The test rifle cocks with 45 lbs. of effort, though the sounds it makes while being cocked suggest a dry poweplant. I think that if it was properly lubricated it might well cock at 38 lbs. after a 1000-shot break-in.
The beech wood stock is stained the most beautiful amber/honey brown that will make you think of fine Turkish walnut. The stock (and gun) is 100 percent ambidextrous, with a high Monte Carlo comb that has a rollover cheekpiece, so its the same on both sides of the butt.
The stock is checkered with panels on both sides of the pistol grip and forearm. The checkering is extra fancy, plus the Browning logo is carved into the stock on both sides of the butt as well as just above the trigger on both sides of the stock, where the Browning name also appears. The stock is also shaped differently than anything you've ever seen. It has contours that are pleasing to look at and, with a single exception, to hold. I do find the pistol grip to be a little too long, front to back, which gives the grip a blocky feel in my hands. Other than that, the balance is perfect, with a definite weight bias toward the front of the gun. Whoever designed this stock was a shooter.
Before I leave the stock, I want to say one more thing. Just back of the pistol grip is a half-round cutout that seems to be shaped for mounting the rifle over a peg on a horizontal rifle rack.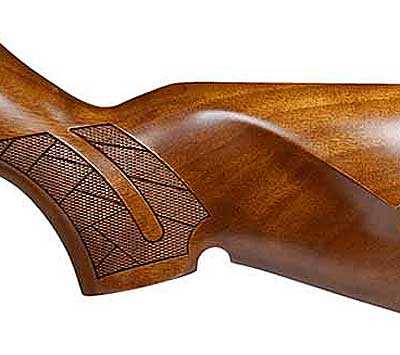 A notch behind the pistol grip seems perfect for the rear peg on a wall mount.
The metal is finished smooth and glossy on the spring tube but left rough from the tumbler on the outside of the barrel. I'm sure they're going for a tuxedo contrast of finishes here, but to my eye it looks like more of a clash.
Trigger
The trigger is adjustable for pull weight and, for once, they tell you exactly how to adjust it in the owner's manual. None of this "adjustment of sear contact" or "adjustment of second stage creep" garbage. To make it lighter, do this!
The automatic safety button is mounted on the tang like a shotgun safety. The rifle is large but not overly heavy. The stock just in front of the triggerguard is shaped perfectly for the flat of your hand while using the artillery hold. I like the straight line of the stock. If this was a centerfire rifle, the felt recoil would be much lower than one whose butt drops several inches.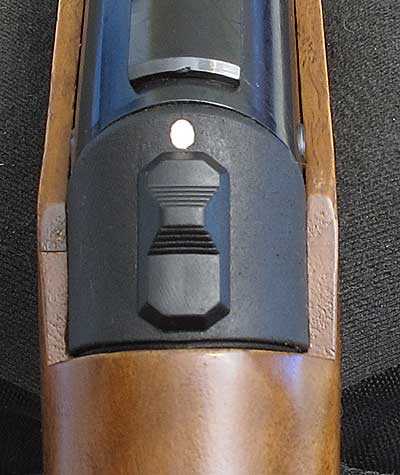 The automatic safety is located in the tang, just like a shotgun safety.
The triggerguard has an angular appearance to it and is made from synthetic, though the trigger blade itself is metal. There's a raised scope base on top of the spring tube that incorporates no fewer than seven holes for vertical scope stop pins. I think they missed a good bet by not incorporating a Weaver-style base into this one, so many more good scope mounts could be used. The base is wide enough for it, which is what brought it to mind. However, with seven holes to position the scope stop pin, I don't think you'll need anything more than what they've given you.


The scope base provides plenty of holes for positioning a vertical scope top pin.
In a rare happenstance, the rifle I'm testing is even more beautiful than the one shown on the Pyramyd AIR website, which tells me a lot of care went into the finishing of each and every gun. If you're a person who loves good looks, the Gold may be a gun to consider. I'm testing serial number 00000536.
Sights
The Gold comes with fully adjustable open sights. Yes, there's a lot of plastic, but it's the right kind and the fiberoptic tube in the front sight is properly protected from damage. That tube is also not bright, so under the right lighting it appears as a sharp square post that's quite a bit more precise.
The rifle I've elected to test for you is .22 caliber, which is proper when you consider the power potential. They say it gets 800 f.p.s. in this caliber, and I'll be testing for that. I will also be testing for accuracy; because if this rifle is accurate, it'll be a wonderful new addition to the market. However, I have to caution you that this is a breakbarrel. That means it is the most difficult kind of rifle to shoot accurately. So, it's not only a test of the Gold, but also of Mac and my ability to shoot.