by Tom Gaylord, a.k.a. B.B. Pelletier
I started my SHOT Show this year at the gun range on Media Day — held the day before the show opens. It's an opportunity for all the companies to not just show you what's new, but to actually let you shoot it.
The event is held at the Boulder Rifle & Pistol Club range in Boulder City, Nevada. To call this place a club range is like calling Fort Knox a bank! The firing line is about a quarter mile in length and encompasses dozens of individual ranges sized from 25 to 800 yards. There are another dozen or so shotgun ranges! When I was in the Army, I saw tank gunnery ranges that were larger, but seldom anything else! Of course, the backstop is just miles and miles of miles and miles, so you're pretty safe shooting anything up to but not including a .50 BMG.
Seeing an airgun company in the midst of such a wild event is like watching a Boy Scout weenie roast in the midst of a forest fire! But Crosman did run a range, and I did find them first thing after arriving in the morning. So, what's new?
Well, the thing is that I got to shoot their new Nitro Piston 2. I went to the show with my tongue firmly planted in my cheek over the Nitro Piston 2. I mean, what could it possibly be other than last year's Nitro Piston with a fresh coat of paint? Quite a lot, as it turns out!


Crosman is first bringing out the Nitro Piston 2 in the Benjamin Trail rifles.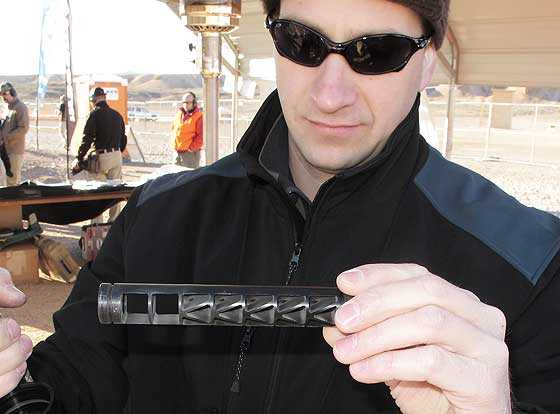 Crosman engineer Jeff Hanson developed the Nitro Piston 2 that defies belief! Here he holds the technology that quiets it.
First thing they told me was that it cocks with about 10 lbs. less effort, and I'll be darned if it doesn't! A full-power gas-piston breakbarrel that cocks as easily as their Benjamin Legacy I used to rave about is something to admire. Don't bother looking for my past reports because you're going to want this new rifle even more since it delivers serious power!
Second, the rifle should have a nice trigger. My definition of nice is a 2-stage trigger with a light, crisp release. And that's exactly what this rifle has! You guys are going to be removing your GRT III's and replacing them with this one! Just joking! But this is a very good trigger, and I don't usually say that about the triggers on gas-piston rifles!
Next, the rifle has to be smooth. Air rifles with gas springs are usually not that smooth, though the pain of firing is over in an instant. But there ain't no pain with this one. Crosman invented a new type of gas piston that dampens vibration to the point that it feels like a tuned air rifle. They buttoned the rear to reduce friction and vibration and they put a rubber buffer in front to stop the piston dead.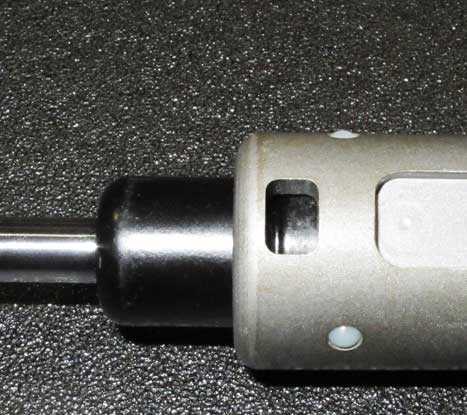 The rear of the Nitro Piston 2's piston is buttoned for friction and vibration reduction.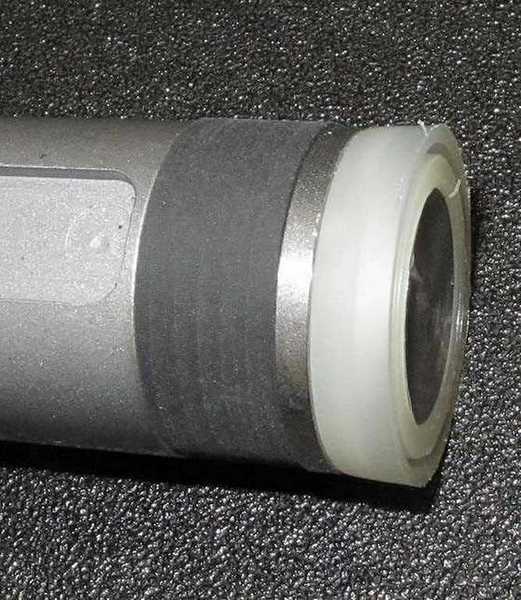 When the piston seal stops, the piston keeps moving and the rubber buffer expands into the compression chamber wall, canceling all movement and vibration!
And last, the rifle has to be accurate! I only shot it a few times; but if what I saw at the range is any indication, this rifle is a tackdriver. Of course, everything is subject to a full evaluation when I get one to test; but from what I saw at the range, this rifle will be one worth owning. I was told the rifle should be available in April, but let's all stay calm because these rollouts sometimes take longer than expected. I did put in my request for a test rifle as soon as they become available, so you can count on seeing it right after I do.
There's more from Crosman, but now let's go over to Hatsan.
Hatsan
At the Hatsan booth, I was greeted cordially by Hatsan USA President Blaine Manifold, which I still think is a marvelous last name for an airgun guy! The first thing he showed me blew me away. How about a very powerful PCP that's also ultra-quiet, super accurate and has a wonderfully light trigger? Sound too good to be true? I thought so too, but then he showed Edith and me a short video where Rick Eutsler shot the gun at 50 and 75 yards! It sounded like a ballpoint pen clicking open, according to Edith, and I couldn't tell how many pellets he shot at 50 yards because they were all going into the same hole!


This shot, taken from the new Hatsan catalog, shows the new AT-44 Long Quiet Energy air rifle.
Then, he dropped the bomb! It'll retail for less than $500! At least I thought I heard him right on that. Edith thinks so, too. Anyway, this one is on my list to test real soon! I didn't get a picture of the rifle, but I'll stop by the booth tomorrow and get one for you.
The next bomb he dropped on me was a subtle one. I don't even think that he expected my reaction to it. It's the model 250XT CO2 BB gun that looks just like a Ruger Mark II pistol. And when I say "just like" I mean it even has a disassembly lever on the backstrap the same as a Ruger; and yes, gentlemen, this pistol can be taken apart!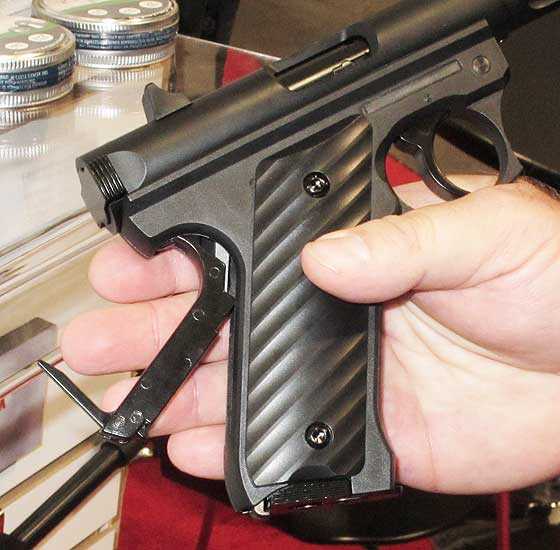 Yes, sports fans, that BB pistol is being disassembled just like a Ruger Mark II targtet pistol. Note the wings on the bolt!
I'm getting one of these pistols ASAP to test for you. I love it!
Just one more!
It's getting late here in Las Vegas, and I have a million things to do. I'm going to share one final picture with you. Over a decade ago, when I first met Wulff Pflaumer (founder of Umarex) at his sister's home in Maryland, he told me about the Walther Lever Action rifle that was soon to hit the market. Then, he asked me for any ideas I had for airguns people would like. I told him I was impressed by his realistic M1911A1 pellet pistol, and I thought collectors would like a version of that gun that looked like a survivor from WWII. I thought it had to look distressed, as if it had been carried though the war.
He thought collectors wouldn't like such a distressed look, but this year he relented and brought out a very special release of 500 commemorative guns. I'll let you be the judge.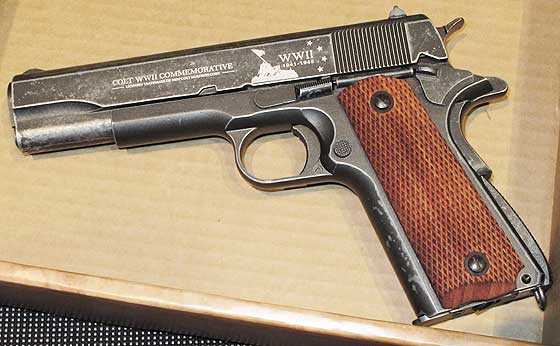 The limited edition Umarex M1911A1 commemorative pistol is a faithful copy of the real deal. It's a BB gun with a distressed finish. They were for sale at the SHOT Show, only.
I'll be back tomorrow with some more looks at what's to come in 2014.