by Tom Gaylord, a.k.a. B.B. Pelletier
Here's our second look at what's new in airguns for 2014. Last February, while I was having dinner with Hans Wonish of Umarex, he told me about the upcoming Broomhandle Mauser I'm now testing. After we discussed that for a bit, Herr Wonish asked me if there were any other handgun models that I though might be well-received by airgunners. Several crossed my mind, but the one that really stuck out was the Colt Python! This year, I saw that revolver in the Umarex booth!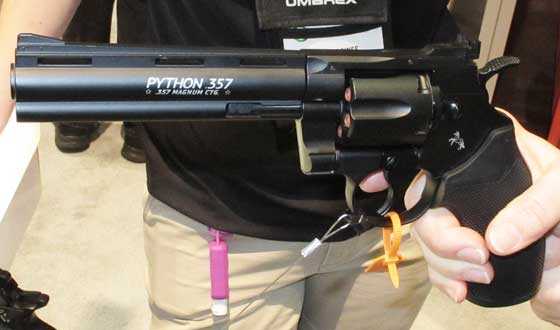 BB gun shooters are going to love the new Colt Python .357 from Umarex. It uses real shells to hold the BBs!
Another new rifle from Umarex is going to have a lot of hunters excited because it offers something they've been requesting for a long time. The new Umarex Fuel breakbarrel spring rifle (with Reaxis gas piston and SilenceAir technology) has a bipod built right into the stock! That's right — there's nothing more to buy. Just pull the legs apart and rotate them down to make a solid field stand. Or flip them back up, and they're just part of the stock.


Built-in bipod makes the Fuel spring rifle stand out — and up!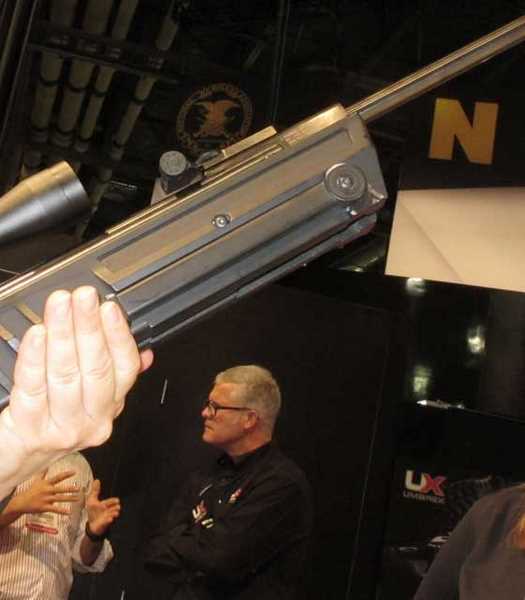 When not needed, the Fuel's bipod folds neatly back into the stock.
Edith and I went snooping over in the German pavilion. In the Diana booth we saw a gun that hasn't been seen in the U.S. yet. It's the 340 N-TEC Premium, a breakbarrel Diana with a nice silencer on the muzzle and a beautiful walnut stock with deep checkering. That's all pretty usual fare for Diana, except this rifle has something new. A gas spring that's 100 percent German made!


The Diana 340 N-TEC Premium is German's first rifle to have a German-built gas spring.
We're fortunate to have Herr Michael Mayer (of Mayer and Grammelspacher — the owners of Diana) show the gun to us. He was justifiably proud of the craftsmanship of this beautiful rifle and told us we may start seeing them in the U.S. by June of this year.
AirForce Escape nets big sales on first day!
Remember the Escape rifles I showed you 2 days ago? Well, AirForce sold their entire first 3 months of production on the first day of the show! The reception was overwhelming for this rifle; and like I predicted, people who aren't traditional airgunners were buying them, too!
Remington gets back into airguns
They haven't made airguns since 1929, but Remington Arms is revitalizing their airgun selection in 2014. Leading the effort is Dani Navickas, the lady who served many of us at the old Beeman organization for so many years. She has spent a lot of time teaching the Remington staff about the airgun market, and it looks like it will pay off this year.
The first offerings are guns made in China, but don't make a face. When I saw them, I was shocked. The quality looks as good as anything that comes from Europe these days. Each model is patterned after a popular Remington firearm, and the guns should be available to the U.S. market by early summer.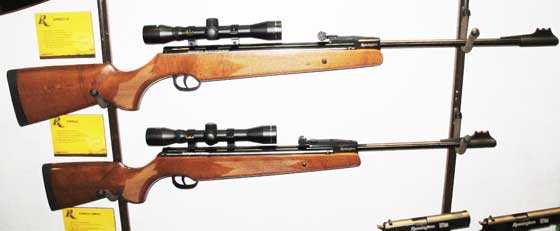 The Remington Express and Express Compact are 2 new air rifles from Remington. They say I can test an Express very soon!
Reminton also has a neat 1911A1 BB pistol. It has blowback and can fully disassemble like the firearm. I'll test that one as soon as possible!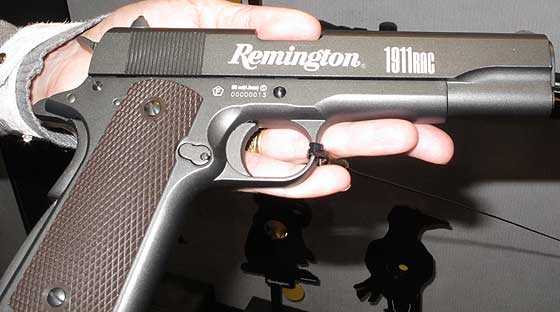 New Remington BB pistol has blowback and offers full disassembly. The grip safety really works!
Another new product from Remington are some great field targets with features I haven't seen before. They offer killzone reducers that are permanently attached and just flip in and out of position! And some of them are resettable with a second shot — ending the need for long cords that can tangle and break.

Killzone reducers simply flip in and out of place! And reset the target with a hit on the bottom paddle!
With Dani at the helm, we can count on Remington to enter the airgun world in the right way. I hope they realize how fortunate they were to get her to lead their efforts!