by Tom Gaylord, a.k.a. B.B. Pelletier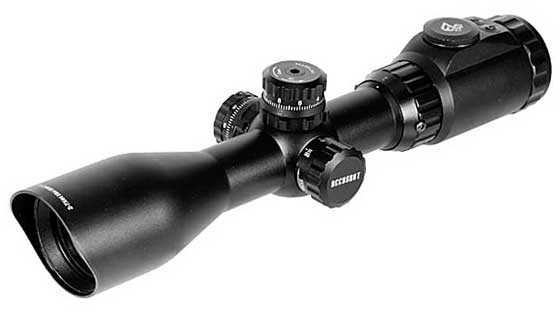 Leapers' UTG Accushot 2-7X44 Scout Scope is a remarkable sight!
And now for something I really want to talk about — Leapers UTG Accushot 2-7X44 Scout SWAT scope. I've been watching this scope for a year, wondering how I could work it into the blog. Most air rifles have no need for a scout scope, so it was a challenge to find one that did. Finally, I quit wondering and decided this is such a fine scope that I'll talk about it whether there's a huge need for it or not.
What is a scout scope?
To understand the scout scope, you must first understand the scout rifle concept. A scout rifle is meant to be carried on long treks, away from normal transportation. In other words, a rifle you have to carry most of the time. Therefore, scout rifles are light weight — especially for their calibers, which are often large to take long-range shots or drop dangerous game.
Many scout rifles do not lend themselves to having scopes mounted at the conventional location, which is just above the action. They require the scope to be mounted further forward, either to clear the path of the ejected cartridge, such as on an M14, or to provide room for a straight bolt handle, like those found on Mausers and Mosin-Nagants.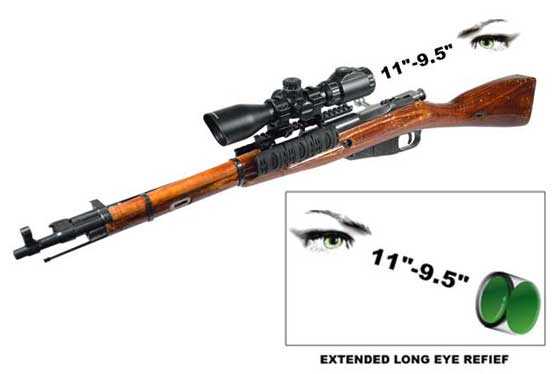 This image from the Leapers website shows the scope mounted on a Mosin-Nagant. The scout scope goes forward of the receiver, almost to the middle of the rifle.
What defines the scout scope is its longer eye relief (the distance from the sighting eye to the first lens in the scope). It's usually in the range of 9-11 inches, where the eye relief of a conventional scope might be around 3 inches. Even a scope with long eye relief might only go out as far as 5 inches. So, the scout scope is definitely different.
As difficult as it is to imagine, when your head is in the correct position on the rifle (9 to 11 inches behind the scope), you actually see the fully magnified image, just as if your eye were close to a conventional scope. It appears as a bright, magnified picture of your target with the reticle superimposed over it. Until you experience it, this is a difficult thing to envision.
Because of the extended eye relief, scout scopes do not magnify as much as conventional scopes. This one goes from 2x to 7x magnification, which is actually very high for a scout scope.
This scope is one of the largest, if not the largest scopes in the scout scope market. Other companies make their scout scopes with smaller objective lenses of 28mm to 32mm, and this one dominates them all at 44mm. Of course, that and the 30mm scope tube do add weight to the instrument, so consider that when you shop. Also, think about the clearance of the objective lens over the barrel of whatever rifle you're scoping.
Leapers packs a pair of medium-height Weaver rings with this scope, and I used those rings to mount the test scope on a Crosman MK-177 multi-pump pneumatic, which has a long, flat Picatinny rail. Mounted this way, the objective lens has clearance underneath and even clears the flip-up scope caps. Clearance over the gun should not be an issue unless there's something sticking up in the way, like a sight or a handguard.


Mounted on Crosman's MK-177, the scout scope goes to almost the front of the rifle.
I hope this explanation plus the above photo have convinced you that there's a need for a scout scope. Some airguns and firearms cannot use anything else! It isn't the mainstream scope; but if you need one, nothing else will do.
Getting specific
Let's take a look at this specific sight. Obviously, the power varies from 2x to 7x magnification. The scope tube is 30mm, which means the lenses in the package can be a little larger than if this was a one-inch scope. That — plus the emerald lens coatings Leapers scopes are famous for — are an aid to the transmission of light. I will say that with the scope farther from your eye, more light that's not part of the sight picture can enter your eye, making the sight picture appear darker by comparison. But under most conditions, this scope is as bright as needed.
This scope has a range of eye relief from 9.5 to 11 inches. That's almost the entire range in which scout scopes operate!
I found the thin reticle lines of this scope hard to pick up against a darker background, which is where the built-in illumination comes in handy. Just press one of the buttons atop the rear of the scope, and the reticle lights up. This scope gives you the possibility of 36 different colors and hues, so there's always something that will work for your current situation. This scope has an etched-glass reticle, so the central reticle appears unconnected to the thicker lines on the edges of the duplex. And the central lines have mil-dots on both axes.
The windage and elevation adjustments are both quarter-minute clicks, which means they move the strike of the round by approximately 1/4-inch at 100 yards. Both knobs have locking rings at their base that allow you to sight-in the scope and then lock it down so no one can mess with your zero.
The combination of thin reticle lines and illumination give you the best of both worlds — a scope that can be very precise on a paper bullseye in bright light, plus a reticle you can pick up fast in a darker woods setting.
The proof is in the testing, so that's what will happen next. I'll back up to 25 yards and shoot the MK-177 with this scope as my sighting tool.
But I've already made up my mind about this scope. I like it so much that I'm going to look for a firearm on which to mount it, just so I can have it in my collection. Unless something odd happens during the accuracy test, this scope is a winner!