by Tom Gaylord
Writing as B.B. Pelletier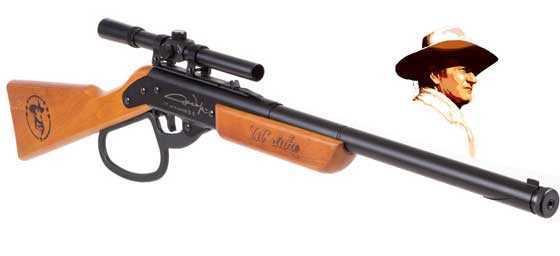 John Wayne Lil' Duke BB gun with scope.
This report covers:
What happened?
I thought I knew better
HOWEVER
Is it really tight?
The scope
The test
Air Venturi Steel BBs
Hornady Black Diamond BBs
Avanti Match Grade Precision Ground Shot
Smart Shot
Old Dust Devils
Dust Devil Mark 2
What have we learned?
Summary
I tested the John Wayne Lil' Duke BB gun with scope in Part 4, but if you read that report you'll see that the scope base was a little loose. Today's report clears that up.
What happened?
Reader Chris USA asked me if I read the instructions that came with the scope base, Of course I read them. The better question to ask was when did I read them? I read them as I was editing my report and wondering why Pyramyd Air would let a scope base this flimsy go out. That was the reason for the Oh, fudge! title at the end.
I thought I knew better
You see, I tested a BB-gun scope base like this back in 2016. You may remember the Brice scope base for the Red Ryder BB gun. That was years before this base hit the market and I thought I knew everything there was to know about BB gun scope bases. read more