by Tom Gaylord
Writing as B.B. Pelletier
This report covers:
Sights okay
First target
Shooting fast
RWS Hobby pellets
Air Arms Falcon pellets
Observations
This is the report people have been waiting for. How accurate is the Gamo PR-776 pellet revolver? If it proves accurate, the price is certainly in the right place for a revolver that has a real crane and swing out cylinder.
The day before performing this test, I had the revolver out on a test of the Rocket Shot target. I found the revolver doesn't point naturally for me, and I was unsuccessful on the moving target. But I had a lot more confidence in this test.
Sights okay
I had thought I'd need to paint over the white dot sight on the front post to get real aiming precision; but when I lit the target brightly and shot from a darkened room, the dot became invisible. Dot sights are okay for pointing at a large mass, but they destroy any precision the sights may offer. Fortunately, the PR 776 sights have very rectangular angles; so, when they're dark, they're also pretty crisp.
The sights are adjustable; but as they came from the package, they were pretty close. I left them that way for the entire test.
I shot the gun from a sandbag rest at 10 meters, using a 10-meter pistol target. Two of the three pellets I selected were wadcutters that I feel suit the power of this revolver quite well. Except for one target, I waited a minimum of 20 second between all shots. For that one target, I took the request of several readers and fired the gun faster.
First target
For the first target, I shot 8 H&N Finale Match Pistol pellets. Eight shots went into 1.21 inches at 10 meters. Five of those shots went into a much smaller group that measured 0.412 inches between centers. This was the smallest group I shot in this test, but I want you to remember that I purposely waited 20 or more seconds between shots.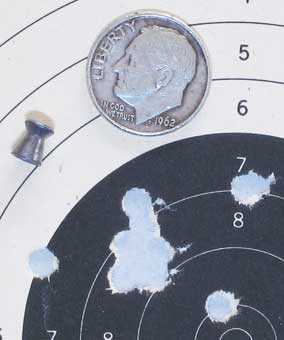 The Gamo PR-776 revolver put 8 H&N Finale Match Pistol pellets into 1.21 inches at 10 meters. Five are in a single hole that measured 0.412 inches between centers.
Shooting fast
Several readers said they didn't think that waiting for the gun to warm between shots was realistic. They wanted to see how the gun would do when fired as fast as possible, while still taking deliberate aim. So, that test was next.
I already knew the Finale Match Pistol pellets were accurate, so all I did was speed up the shooting to one shot every 5 seconds or less. That may sound slow to you, but time yourself some time shooting 8 shots from a revolver and using a precise 6 o'clock hold. It isn't as easy as it sounds. Eight pellets went into 1.64 inches at 10 meters with no central cluster of shots. That's the difference between waiting for the gun to warm up and shooting it rapidly. I was still taking a very precise aim on every shot — the pellets simply didn't go to the same place.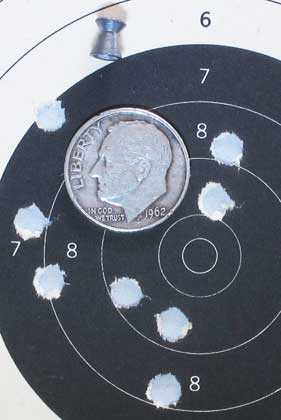 The Gamo PR-776 revolver put 8 H&N Finale Match Pistol pellets into 1.64 inches at 10 meters when fired as fast as possible with a precise aim.
RWS Hobby pellets
Next, I tried RWS Hobbys in the gun. I went back to waiting 20 seconds or more between shots. Eight Hobbys landed in 1.389 inches, with 6 pellets going into 0.962 inches. Not as good as the Finale Match target pellets, but not too shabby.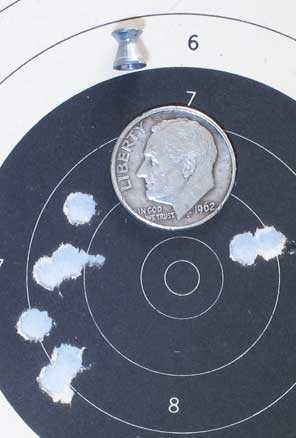 The Gamo PR-776 revolver put 8 H&N Finale Match Pistol pellets into 1.389 inches at 10 meters when fired slow. Six are in 0.962 inches.
Air Arms Falcon pellets
Lastly, I tried the Air Arms Falcon pellets. Since they're domes, I also tried a trick that several readers have talked about — putting duct tape on the back of the target so the pellet holes are sharper. The Falcon was the worst pellet in the test. Eight went into 1.916 inches when fired slow from a sandbag rest.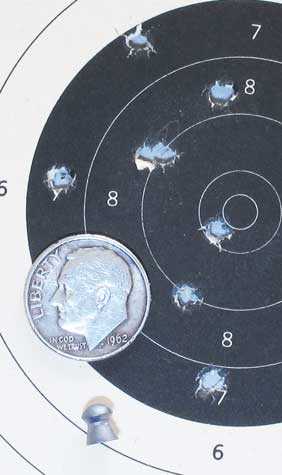 Eight Air Arms Falcon pellets went into this 1.916-inch group when fired slowly — so the revolver could warm up. The top shot was not backed by duct tape.
One shot did not hit the target where the tape was. I will say that the tape did seem to make the pellet holes a little sharper. They seemed to stay open better, though the difference isn't that great. I may try this technique again some time.
Observations
First, I noticed that all the pellets used in this test seemed to go to the same aim point. Of course, there are small variations, but all of them were slightly to the left of center.
Next, I was surprised by the accuracy seen with the first target. That is exactly what I would expect from an S&W 586, which makes the Gamo PR-776 an accurate air pistol.
The bottom line is that I think the Gamo PR 776 revolver is a wonderful value. If you like revolvers that shoot pellets and you like to hit what you shoot at, this is a pellet pistol to consider.