by Tom Gaylord
Writing as B.B. Pelletier
Today's report is the first part of a guest blog from Pyramyd Air's own Tyler Patner. Readers know Tyler from his experiences shooting field target, plus a recent guest blog he wrote about an Air Arms S510 Ultimate Sporter.
If you'd like to write a guest post for this blog, please email me. Over to you, Tyler.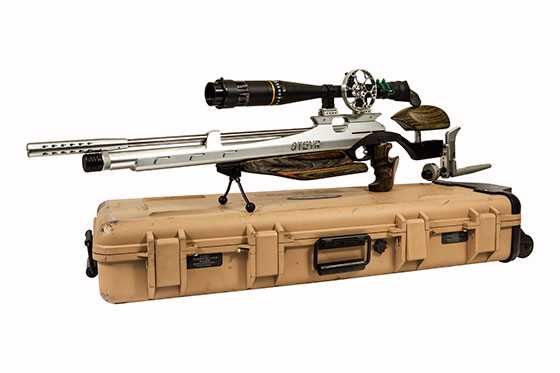 Flying with airguns is easier than you think. My Steyr LG 110 Field Target Rifle has flown around the country without issue, and is about to fly internationally.
This report covers:
Protecting Your Gun
Size matters
Ammo
PCP and CO2 Guns
Springers and gas rams
Scopes
Tips for success
With the World Field Target Championship steadily approaching, I am making my final travel preparations along with the rest of Team USA. With the match in Lithuania this year, it will be a long journey and one that will require my rifle and I to be in the air quite a bit. Flying with an airgun (or any gun) can be a daunting process.  It typically compounds the frustrations and paranoia we all have about flying. Today, I am going to go over some best practices and show you just how easy it can be.
Protecting Your Gun
Whether it is a rifle or pistol, it is vital to properly protect your gun with the right case. In order to clear a TSA inspection, the following things must be present in your case:
• Lockable, with locks (I recommend two if possible)
• Corners of case cannot be pry-able to gain access
It is recommended to get TSA-approved locks. This means that the TSA agents at the airports have a master key to open that lock. While this can be beneficial if they need to open your case up for whatever reason, I prefer to keep one lock on my rifle case that is not TSA approved. This achieves one thing, the TSA would have to cut that lock off and I would know they opened it without me present, or they would have to call me to unlock the case.
I have seen people use zip ties, and tape to try and signal any case tampering, but all of those things can be replaced.  Good luck trying to replace my beefy ¼" steel lock without me noticing!  TSA-approved locks can be found here.
When I say the corners of the case cannot be pry-able, that means that with the case locked, someone cannot wedge something in the corner of the case to pry it open just enough to get a hand inside. Believe it or not, I've heard horror stories of people who have flown with guns getting their guns home to find bricks inside the case and the gun gone. This is almost certainly the fault of a poor quality case and a greedy airport worker. There are many brands that make good cases that are both lockable and cannot be pried open. I personally use Starlight Cases, but other brands include SKB, Pelican and even some Plano cases. These cases all have foam that can be custom cut to fit your guns and accessories. This is HUGE when it comes to adequately protecting your rifles and optics during a flight and baggage handling.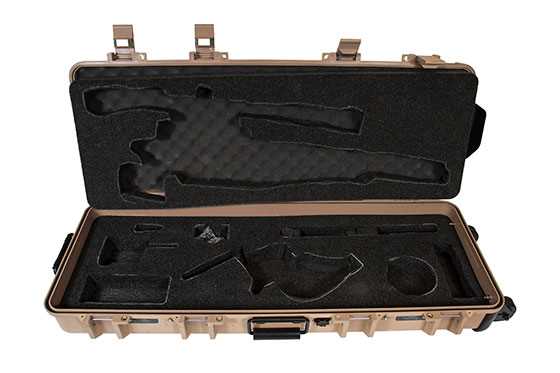 Here is my Starlight case all cut out on both layers. As you can see, there is a spot for everything I may possibly need during a shoot. 
Size Matters
No on likes showing up at the airport and finding out they have to pay extra fees. This happens to quite a few people when they take their gun cases to the check in counter.  A standard length gun case is almost always going to take on an oversize baggage fee.  Most airlines do not charge oversize fees unless the bag is over 62-63 cubic inches. This is one of the reasons many shooters buy the smallest Pelican or Startlight cases. They are just under these size dimensions and require a little extra effort when breaking down and packing the gun.  Here are a few offerings from Plano, available through Pyrmyd Air:
Plano AW Takedown Hard Case
Plano AW Lockable Rifle Case
Plano AW Tactical Rifle Case
The fit will be more crucial with these as they are not double-layered like some of the higher end brands. With just one single layer to work with, you will likely just have room for the action with scope and stock in the case. Here is another that is bigger and would incur oversize baggage fees.  Here is an example of a full size case, that can be used in a pinch, but I would not recommend it. Note that the case only has latches on the front. You really benefit from the added security that the others have with the latches on the sides as well. This case would be pretty easy to pry open.  Also, the plastic is considerably thinner than you will find on the others, so rough handling could break the outside layer.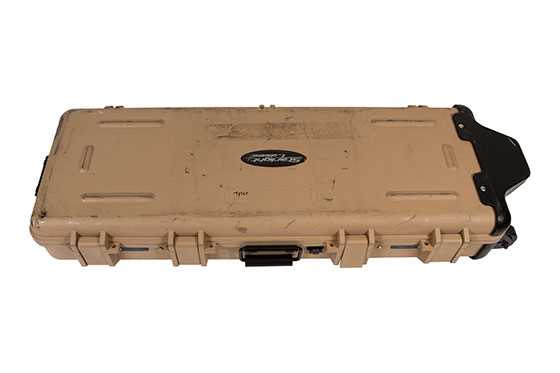 My case comes in at 62″ on the nose, with the wheels. This means no extra fees when I check it at the airport. 
Ammo
One thing to keep in mind when packing the gun up is your ammo.  If you are going to put ammo in the case with your gun, it must be in a sealed manufacturer box.  While pellets are not the same as bullets with primers and powder, technically, the TSA could still ground you for pellets in a non-manufacturer container.
PCP and CO2 Guns
For those traveling with CO2 or PCP guns, you will need to make sure your power plant is fully degassed before flying.  For guns with gauges, it is relatively easy to show that there is no air in your rifle.  For rifles without gauges, you must be prepared to have to disassemble your air cylinder.  Now, most airline agents that will be checking your rifle do not know the difference between a PCP and their childhood Red Ryder. I have never been asked to prove that my rifle was degassed. Again though, I have many friends within FT that have been in the unenviable position of having to prove to the TSA that nothing is inside their air cylinder.
Springers and Gas Rams
These are probably the easiest to travel with purely because the mechanism is self-contained and there is nothing else housed in the gun.  About the furthest you would have to go is taking the action out of the stock and showing them the guts through the cocking slot. I suppose they could make you take it apart, but I have never heard of this happening.
Scopes
Many think they can simply remove the scope from their rifles and store it in their carry on during a long flight. While this is a great idea and would be excellent for ensuring that the optics make it safely, here in the US, it is not possible. A scope can be packed in another checked bag, but cannot be taken onto the plane in a carry-on. Overseas, I know it can be done, but here in the States, we are not as fortunate.
Tips for Success  
I use a double-layered case, this allows me to fit my rifle, scope and all accessories into my case without burdening my actual carry on bags or other checked baggage.  The downside to this type of case is that your gun will need to be split to fit it.  Guns with wood stocks will need the stocks removed.  Thankfully, my Steyr LG110 that I am taking to the Worlds is easy to take down and can be made to fit perfectly in the case.  Because the action is on top of some of the accessories, (or with other guns, on top of the stock itself) you may want to add a layer of bubble wrap to any wood parts so that they don't get pressure marks from the weight on top of them.
Another thing to consider is wall spacing.  Make sure you have a good bit of foam between your gun or parts and the walls of the case.  The hard plastic the cases are made from can be unforgiving, especially when the case is being thrown onto a cart or conveyor belt.
Overkill is a good thing.  Extra packing material in the case with the foam can't hurt anything. Cut the foam to fit as closely as you can.  I recommend an electric hand held carver, but a simple knife will do just as well.  It helps to trace an outline of your gun or parts, then cut on the line and check the fit.  Better to go too tight rather than too loose. If too tight, simply cut a little extra material out.
Put your scope caps and turret covers on.  One of my Pyramyd Air Field Target Teammates, Greg Sauve has a scope that does not have turret covers.  During his trip to Italy for the Worlds in 2011, Italian customs (if I recall correctly) thought they saw something under Greg's turret when it was inspected. They ended up attempting to twist the turret off, which rotated it all the way to the end of its travel and then some! Greg told me he had to use a wrench to get it loose. Thankfully, the scope still tracked perfectly and Greg was able to win the Veteran's class title that year.
Pack up the gun and check the fit at least a few days in advance.  I like to let the gun sit in the case, locked overnight before I fly.  The next morning, I will pull everything out and check it to make sure nothing is under too much pressure when the case is closed.
Get a case with wheels!  Most of the cases made for flying will have them, but if not, do not buy it if you plan to travel. When you have 20+ lbs. of gear packed into a 20 lb. case, it can get very heavy. Having to lug that around a large airport would be a recipe for arm and shoulder pain, and buckets of sweat that could have been easily avoided.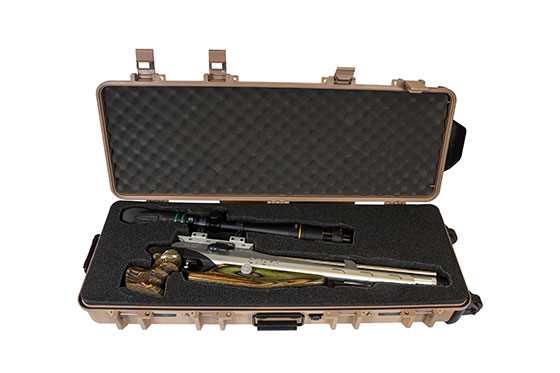 With both layers packed, looks like my airgun and I are ready to go. 
That's it for today. There is more to come, so stay tuned for Part 2.