by Tom Gaylord
Writing as B.B. Pelletier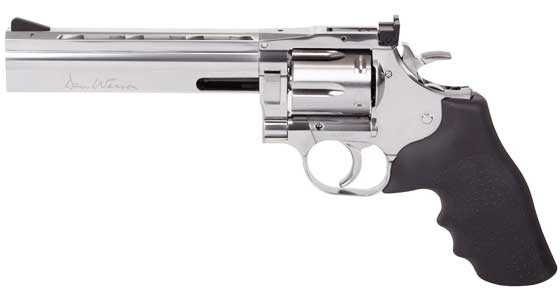 Dan Wesson nickel-plated BB revolver.
This report covers:
Loading cartridges
Features
Nickel finish
Sights
Power
Built-in wrench
Speedloader included
Evaluation so far
Today we begin looking at the new Dan Wesson nickel-plated BB revolver from ASG. This is a replica BB pistol that houses a 12-gram CO2 cartridge in the grip. This one is an accurate copy of a Dan Wesson firearm, just like the Dan Wesson pellet revolver we looked at several weeks ago. Like that gun, this one also uses cartridges, but these load from the front, the same as the cartridges in the other Dan Wesson revolver I tested back in 2011.
Loading cartridges
These cartridges have to be loaded in a certain way, and I will take the time in this report to show you exactly how that should be done. The owner's manual is very vague about loading the cartridges, so I think this will be time well-spent.
Features
In other respects, this revolver will seem very familiar to those who studied the Dan Wesson pellet revolver I just reviewed. Like that one this revolver has the same cylinder release that a Dan Wesson firearm has. It's in front of the cylinder on the left side of the gun, and you push down on the button while pressing the cylinder out of the gun from the right.
There is a safety located behind the hammer, in the most unobtrusive place. It's tiny and difficult to see, yet it works well and is easy to apply and take off. I don't see how a safety could be any better than this one.
This revolver is heavy. The test gun weighs 2 lbs. 11-3/8 oz. (43-3/8 oz.) with the shells loaded but no CO2 cartridge. The exterior is all metal except for the grips, which are formed from grippy rubber to fit the hand.
The trigger is both double and single action. I will give you a full report on its performance when I test the revolver for velocity.
Nickel finish
The revolver I'm testing is finished in nickel. I'm not a fan of silver guns of any kind, but at least this one has black sights. My objection to silver guns has always been how difficult they are to sight, but my initial examination tells me this one doesn't have that problem.
Sights
The rear sight is adjustable for elevation and windage. The front sight is a ramp that's nicely squared off. It appears very sharp in the square rear notch. Here's hoping this revolver is accurate, because I could do some good work with these sights.
There are two threaded holes on the underside of the barrel lug for attaching a Picatinny rail. This would be for mounting something like a tactical flashlight.
Power
This revolver is rated to shoot 430 f.p.s. with steel BBs. Past experience with Dan Wesson BB revolvers tells us to expect this gun to deliver that number or better. That's pretty hot, so be sure everyone in the vicinity wears safety glasses when you shoot.
Built-in wrench
Like the pellet revolver, this BB revolver comes with the CO2 piercing wrench built into the left grip panel. It's exactly where you need it.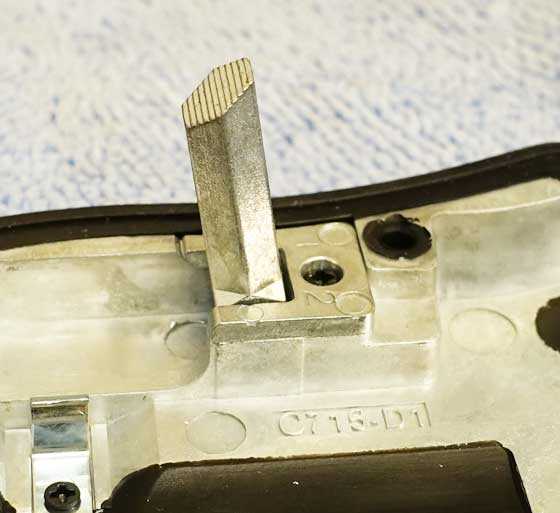 You'll never lose your CO2 piercing wrench because it's inside the left grip panel.
Speedloader included
There is a speedloader included in the box with the revolver. Unless you buy additional BB cartridges, this speedloader isn't very useful, but as realistic as this revolver is, I bet there will be people who will use it. This Dan Wesson screams to be used in an action pistol event.
Evaluation so far
The Dan Wesson BB revolver is big, heavy and realistic. It's going to be fun to test. The other Dan Wesson BB revolver was quite accurate, so let's hope this one is, as well.