With the Easiest to Load Magazines!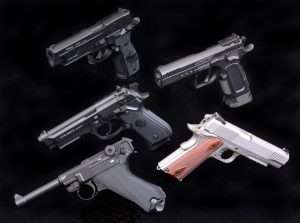 Blowback action semi autos burn through .177 caliber rounds almost as fast as a selective fire model on full auto. That's a great part of their appeal; a realistic airgun experience that simulates the cartridge-firing model's operation. A semi-auto is a fast gun to shoot and reload, which is why they are generally preferred over revolvers. But even with a self-contained CO2 BB magazine, like all five of the airguns featured here, the reloading experience can vary from slow to excruciatingly slow. Not with loading the magazine into the gun, that's 100 percent accurate in every respect, but rather with loading the BBs into the magazine! Pressing anywhere from 8 to 15 rounds of 9mm, .40 S&W or .45ACP into a cartridge magazine is no picnic either, but each round goes on top of the other and gets pushed down into the magazine compressing the follower spring as you go. If CO2 BB magazines worked the same way, loading would be pretty straightforward. But that isn't the way BBs load into a self-contained CO2 BB magazine.
What Makes a Good Air Pistol Magazine?
You would expect that the best blowback action CO2 models would have the best and easiest to load magazines, but that is only partially so. Some of the very best guns have some of the hardest and most frustrating magazines to load. If you have strong, well rounded fingernails the problem is less acute. However, a really good CO2 BB magazine needs a follower that locks down below the BB loading port. Next best would be one that locks down even with the port so all you need to do is pull it a little lower to add BBs, and if it slips it still catches rather than flying all the way to the top of the magazine and driving the BBs loaded upward with excessive force. This often results in the top BB actually being expelled from the magazine. Other complications are simply the time consumed in repeatedly pulling the external follower flange down, and that can be anything from a small serrated flange that is almost flush with the loading channel, to one that is easy to get a hold of and pull down. Another complication is the resistance of the follower spring, some are very heavy, others light. If you have a gun with a heavy follower spring, a small follower flange, and does not lock down, you have a magazine that is a handful to load, even if you speed up the process with an Umarex speed loader.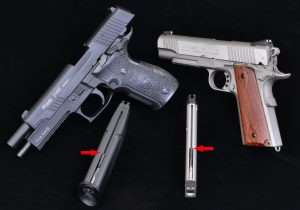 Easy and Not So Easy Loaders
One of the very best blowback action CO2 models is the Umarex S&W M&P40, which uses a self-contained CO2 BB magazine that is identical in size to the 9mm and .40 S&W M&P magazines. It has a small follower flange that is almost recessed into the BB channel, a heavy follower spring, and it does not lock down for loading. For all of this model's superior design and operating features, you have to endure one of the hardest loading magazines.
A model of virtually total equivalency for features is the Sig Sauer P226 X-Five, which has a magazine follower that locks down level with the loading port, which is the notch used to load BBs. With that as a starting point you just have to pull it down a fraction of an inch to begin feeding in BBs. If it slips or your finger gets fatigued, just let it back up to the notch. Once filled, the follower can be easily pulled back, pushed to the left and allowed to move up to engage a full column of .177 caliber steel BBs. This makes the loading job go quickly.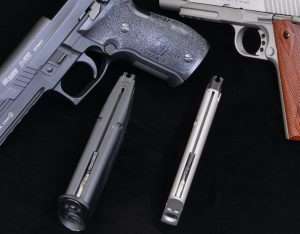 Another fine example of this design is the Swiss Arms SA 1911 Tactical Rail System model which has a 1911-sized magazine that loads similarly to the Sig, but the follower catch at the bottom of the loading channel is a little less precise and it takes a bit more dexterity to handle this one, but the overall quality and design of this Swiss Arms model more than makes up for it.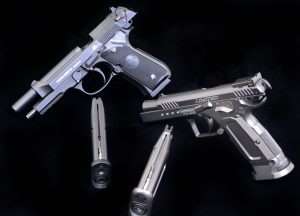 Next in line and one step up are those that have locking followers that set below the loading port. Here the number one gun is the Umarex Beretta M92A1 which excels at loading with the follower locked down. With an Umarex speed loader you can fill this magazine in a couple of seconds, release the follower and you're ready to go. Equally quick to load is the Tanfoglio Custom Limited (and Gold Custom) which use the same magazine follower and locking system (but not the same magazine design) as the M92A1. These are literally "lock and load" in the truest sense.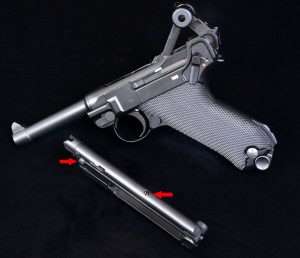 The fifth airgun is a totally different design and from a different era, the WWII model Umarex Legends P.08 Luger Parabellum. This self-contained CO2 BB magazine has a lighter follower spring and a large easy to hold follower flange on the side of the magazine that is easy to pull down and hold down with your thumb (not your thumb nail, your thumb) and load BBs through a large round port. Once again with a speed loader only a few seconds and you are done.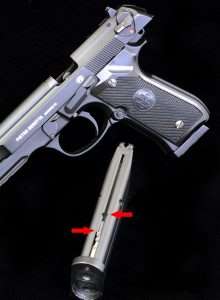 Final Thoughts
Would you choose a blowback action CO2 model based solely upon how easily the self-contained CO2 BB magazine is to load? Maybe not, but if any of these five semi-autos appeal to you, their magazine designs will make your airgun experience that much more enjoyable.