A little something extra that could make a difference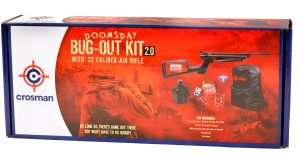 Airguns were designed for recreational sport shooting, some have proven excellent for training others for competition shooting, but most of us don't seriously consider an air pistol or rifle as a survival weapon. But it can be. Let me start by saying that I am by no means a Prepper or a survivalist, but living in a rural environment I know pretty much that if things go terribly wrong I had better be able to help myself. The idea has been floated for years that among the basic items for survival there should be an air rifle. I understand this and appreciate the logic of a 4.5mm or larger caliber 5.5mm (.22) pellet rifle for field survival, i.e., quietly taking small game that can provide food. Of course, there is a long, hands-on process between the shooting and someone saying, "OK, break out the rabbit roasting pan" and that's assuming you have electricity, gas, or propane or some way to cook anything in a situation where you have just resorted to an air rifle to shoot dinner. Welcome back to the 19th century.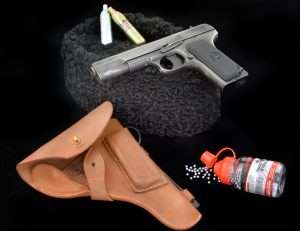 Crosman Doomsday Bug-Out Kit
This is actually a pretty handy little package, marketing hyperbole and wishful thinking aside, because it has some very basic tools included that are, not to put too fine of a point on it, better than nothing. And nothing is something that makes the Crosman Backpacker air rifle ideal for survival; it is a pneumatic multi-pump bolt action design with a 14.6 inch rifled steel barrel. It doesn't need CO2 or a compressor to charge. It needs elbow grease. This is old school, and that's a good thing because 12 gram CO2-powered air rifles (and even those with larger 88 gram CO2 cylinders), may provide more sustained firepower and multiple shots with rotary magazines than a traditional pneumatic pump action rifle, but as we have discussed in previous Airgun Experience articles, CO2 is temperature sensitive, and starts to perform poorly below 40 degrees F (velocity drops dramatically to nil as the mercury goes down). Conversely, at temperature nearing 100 degrees CO2 can build up too much pressure and damage the internal mechanisms of the air rifle. With a CO2 air rifle for survival you must only venture out into disasters where the temperature is between 60 and 80 degrees for optimum performance. The option for 12 gram air cartridges is to use nitrogen, which works at any temperature but provides far fewer shots. The back-to-basics multi-stroke pneumatic may be slower and only give you one shot, but it will be a very consistent shot once you have the gun dialed in.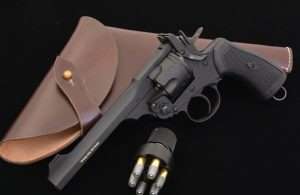 This is the latest version of the Crosman 2289/2289g Bug-Out Kit (2.0) and has been updated nicely from the original Bug-Out kit introduced about a decade ago (the original 2289 Backpacker model goes back to 1998). This improved version is a little longer in overall length, has a 14.6 inch barrel, and a higher maximum velocity of 650 fps (10 pumps). This is achieved with alloy wadcutter pellets. Lead pellets, better suited for hunting small game, will cost you about 100 fps. Initially, 650 fps sounds like the better velocity; however, there are other factors to consider. A 5.25 gr. alloy wadcutter traveling at 650 fps only generates 4.92 foot pounds of energy. That's a little low for what is considered a clean kill shot for small game like rabbits. Now, at 550 fps using a heavier 14.3 gr. lead domed, hollow point or pointed pellet, as an example, you achieve 9.6 foot pounds of energy, more than sufficient for hunting rabbits. Take an even heavier hunting pellet like Sig Sauer Wraith Pb at 21.14 gr. and at 550 fps you have 14.19 foot pounds of energy (assuming the Crosman with 10 pumps can get a 21.14 gr. pellet downrange at 550 fps). The accepted minimum foot pounds of energy for humanely taking a rabbit is 9 FPE. But there is more to factor in. With smaller game like squirrels, 9 foot pounds of energy is also required for a clean kill, but you need to shoot 1-inch groups consistency to hit the kill zone on that small of an animal at 25 yards. Not as easy as it sounds, especially with simple open sights and no scope. You have a bit more latitude with larger game like rabbits, but still about 1-1/2 inch accuracy is demanded.

I'm quoting facts from hunters and bullet/energy conversion tables for FPE, because I don't hunt. I'm a target shooter, velocity is distance and accuracy, foot pounds of energy on paper targets isn't a consideration. But if push comes to shove (in other words food is needed and hunting is the only way to get it, I will). I know I have the accuracy skills to make the shot. And I have no problem eating wild game, I've had rabbit, squirrel, wild turkey, various game birds, wild bore (I was on the hunt, well armed but there to shoot with a camera), and even alligator, which is actually quite good. Food is an adventure. Still, I really don't consider the Crosman 2289G a serious hunting gun for anything much beyond 50 feet and only with 10 pumps and a hunting grade lead pellet. There isn't going to be a second shot with this gun. That said, in a pinch, the take-down Crosman Backpacker carbine is a lot easier to haul around than a full-sized break barrel or pump action air rifle (especially if you are packing a pistol and a centerfire rifle at the same time). The 2289G has a lot of injection molded components and only tips the scale at 43.5 ounces; that's not much weight in the backpack.
It is What it is Until it Isn't
While this new 2289G Backpacker still comes with a standard plastic breech, there are steel breech upgrades for this model, which also have a dovetailed rail for mounting optics and an LPA adjustable rear sight, and that changes a lot. However, for this review we are going with the gun as it comes out of the box for less than $100. One misstep I think Crosman made with this version was not continuing the fiber optic front sight once offered, and going with a black blade front.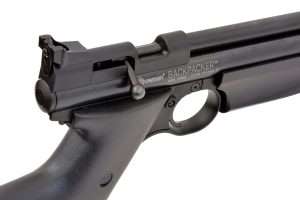 What's in the Box?
The graphics on the box are Zombie Apocalypse or the aftermath of a major brush fire (and we've seen way too many of those in recent time!) but it says Doomsday Bug-Out in big type. If I had to put a Go Bag together (I really don't like the term "bug out") I know exactly what is going inside in terms of weapons; the appropriate knife or knives, a tactical flashlight, extra batteries, a large caliber handgun, short rifle or take down with optics, a shotgun and sufficient ammunition. From a weapon's perspective that covers a lot of ground if you have to walk or ride away under dire circumstances. Nothing I would look forward to doing. I remain an optimist (or naïve) but still hopefully capable of getting along under bad circumstances where the safety net we rely upon suddenly fails. As to the air rifle, the question almost answers itself; why not take an air rifle along? The airgun is quiet, efficient at small game ranges, and inexpensive compared to everything else.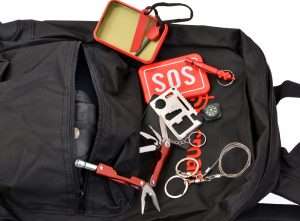 So what's in the box? The earlier kits had a sipper bottle that wasn't worth much and an over-the-counter first aid bandage kit. The 2.0 version is a bit more helpful, so no plastic sipper bottle, instead a Made in China plastic canteen (really wash and sterilize this before using it), carried in a nylon pouch with spring metal belt clips (I guess "Built in America" only applies to the 2289G), there is a fairly compact nylon zippered backpack to hold the disassembled 2289G and detachable stock, a few accessories, and in place of the old bandage kit, a red metal SOS box filled with some fairly well-crafted emergency tools (also made in China). These include a multi-tool, combining pliers, a short knife blade, two small screw driver heads, a bottle opener, a short saw blade and a micro LED flashlight (which is better than no flashlight). The SOS box also contains a small compass, a multi-purpose stainless steel pocket survival tool, an aluminum whistle, a rolled up 22-inch wire saw, which, if it doesn't break, could be handy, and a flint fire starter. I would replace some of these items with better quality ones if I was serious about taking the 2289G kit over my shoulder and heading out, but none of the items are all that bad, and I intend to see what they are good for later on in the review.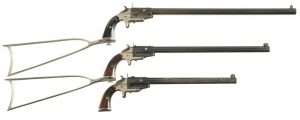 Thursday we'll take all the measurements, review the action and trigger pull, and run initial chronograph tests with three different types of pellets.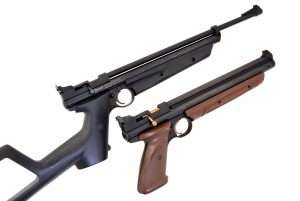 For much of Crosman's history they have built excellent single shot air rifles and pistols, and of the latter their strong suit with air pistols was the traditional single shot pneumatic pump. Crosman was also a pioneer in early CO2 pistols back in the 1950s. One of Crosman's best pneumatic pump action designs remains the Model 1377, also known as the American Classic, a design that has evolved over time since 1947 and the Crosman Model 105. The 105 used a cocking knob at the rear of the receiver rather than the bolt action cocking mechanism used on the Model 1377, introduced in 1977. I mention this because if you look at a Model 1377 you see the basic design of the 2289G, even though it is in principal a carbine and not a pistol. Crosman still builds the Model 1377 currently known as the Model 1377C, which was introduced in 1998, coincidentally (or perhaps not) the same year that the original 2289 was introduced. This is a design archetype that has worked for Crosman over decades.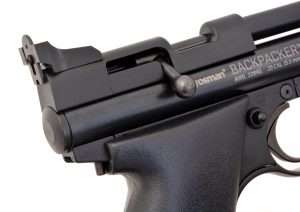 Will That Be Metal or Plastic?
Today you can purchase a replacement metal breech for a number of Crosman models that have plastic breeches like the 2289G. Interestingly the Model 1377 American Classic originally had a metal breech. It was changed to the plastic breech used today on 1377C and 2289G, among others, back in 1981. Remember that plastic was having somewhat of an epiphany in the 1980s. In 1982 the polymer-framed Glock 17 9x19mm pistol was introduced and within a decade polymer frames were sweeping in a new era in gun making. Plastic is durable and I can attest to the longevity of my American Classic which looks as good as the day I bought it almost 20 years ago. The point of this is that if you upgrade the 2289 or other Crosman single shot pneumatic models based on this platform to the metal receiver, it really isn't an "upgrade" it is actually a retrofit!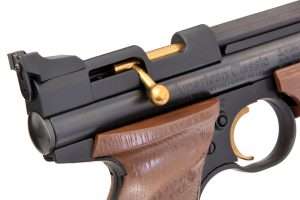 The Backpacker's Tale
The current model with a 14.6 inch rifled barrel has an overall length of 18 inches without the stock and 30 inches with stock attached. Length of pull is 16.25 inches, which is long, especially for a carbine. Average length of pull is from 13.25 to 14.5 inches, so you really have to snug up on the Backpacker, and if you have shorter arms it could be even more difficult to get proper eye relief from the rear sight. I measured several of my own centerfire rifles and length of pull averaged 13.5 to 14.5 inches. The closest I came to 16 inches was a shoulder stocked Colt 1851 Navy, and really sighting was pretty primitive back then using a notch in the top of the hammer and a blade front sight. Still, the Crosman at 16.25 inches is a stretch; even taking into account the drop in the injection molded skeletonized shoulder stock.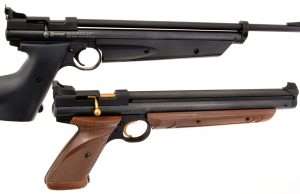 Speaking of primitive, the rear sight on the Crosman is close to that classification with a slotted metal blade screwed to the rear sight housing. The blade is reversible by removing the screw and turning it 180 degrees. The slot is also used to adjust elevation and you have a notch on one end (which I find too wide for the width of the front blade, some 17.25 inches downwind), and a small peephole sight on the opposite end. This seems to work better. Interestingly it is just the other way around for my old Crosman American Classic, which has the exact same style rear sight but a larger front blade that works well with the notch rear sight.
Another varying criticism of the earlier 2289G models was trigger pull. On this test gun average trigger pull is 5 pounds, 3.5 ounces with 0.156 inches of take up and only very light stacking, which is a modest improvement over earlier models.
The bolt action is tight but not hard and locks securely. The pump effort, however, is heavier than the American Classic, despite the 2289G's slightly larger and longer (by 0.75 inches) forend handle.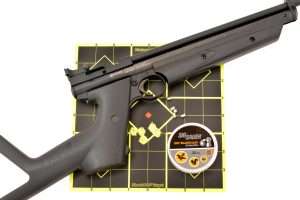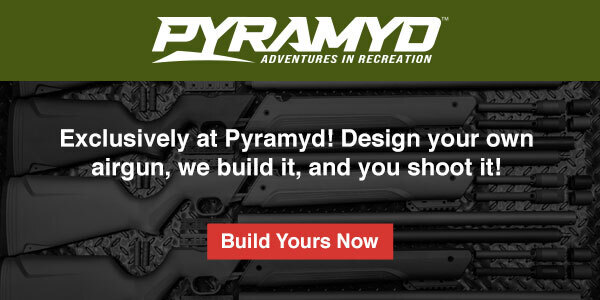 10 Meters Through the Chronograph
The first chronograph test was shot with Sig Sauer Crux Pb 10.3 gr. Ballistic Alloy domed pellets, which clocked an average of 554 fps with 10 pumps. The variance for 5 shots was 550 to 557 fps. At 554 fps the 10.3 gr. alloy pellets develop 7 foot pounds of energy. At 10 meters the five-shot group had a spread of 1.24 inches with paired hits measuring 0.43 inches. Shots were within 0.25 inches of POA. This is on the light end of the scale for hunting small game like rabbits.
For test two I switched to Sig Sauer Wraith Pb, a 21.14 gr. hunting pellet. The heavier lead rounds cleared the chronograph screens at an average of 401 fps with a high of 403 fps and a low of 400 fps. This is quite a bit lower than Crosman's 550 fps claim with lead pellets but this is a pretty heavy one and comes in at 8 foot pounds of energy, still a little low by hunting standards. At 10 meters my five test shots grouped at 0.75 inches with three of five at 0.5 inches.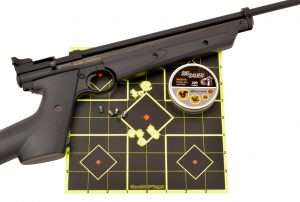 For the third pellet test I went with something in between the light Crux Pb and heavy Wraith Pb, I picked H&N Sport Baracuda Hunter Extreme, an 18.52 grain hollow point. The H&N are designed for long range accuracy with a deep cross hollow point for rapid energy transfer. A balance of velocity, FPE and accuracy could make this an ideal choice to use with the Backpacker as a close range field gun for small game. Average velocity, again with 10 pumps per shot, was 421 fps with a high of 423 and a low of 420.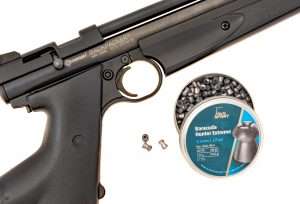 My five-shot group at 10 meters was exactly want you want to see for consistent accuracy with a spread of only 0.5 inches center-to-center and four out of five almost overlapping. With an 18.52 gr. pellet at 421 fps you have 7 FPE, again, this is a little low but given the accuracy of this pellet with the Backpacker and the pellet's design, I think a well placed head shot at 10 meters, or around 30 to 35 feet, is going to make a clean kill.
In circumstances where hunting small game would be a necessity for survival, this latest 2289G Crosman Backpacker version will quietly and effectively do the job at close ranges, and with the right pellet, as humanly as possible. And as a very affordable target gun it has also acquitted itself quite well. Rabbits, squirrels, backyard vermin and tin cans be warned, the old Sheriff is back in town, and it isn't even Doomsday!