by Tom Gaylord
Writing as B.B. Pelletier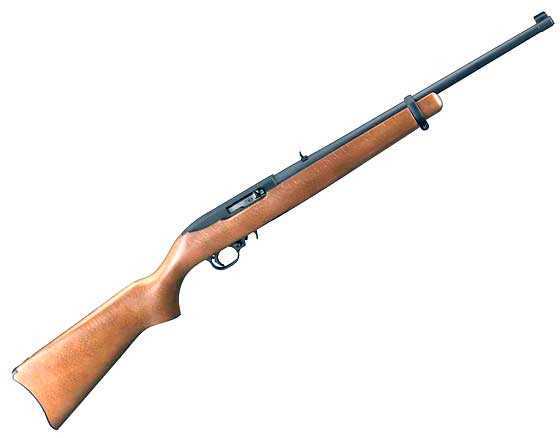 Ruger 10/22.
This report covers:
Well-suited
History
My 10/22
Barrel lottery
Custom barrel
Why this report today?
BUT
Whaaaat???
BB is writing about a firearm? And it's a 10-shot semiautomatic firearm, at that. Many countries ban semiautomatic firearms! So this one isn't even legal in a lot of places.
What gives?
I'm not telling — yet! I do have a reason for doing this. It's a real good reason, but for today you just have to trust me.
Well-suited
Of all the airgun writers on this planet — are there more than 20? — I'm probably the most qualified to write about the Ruger 10/22 because I have written about it extensively for Shotgun News — the previous title of Firearm News, many years ago. I wrote the feature series, What can you do with a 10/22? in which I investigated accuracy, reliability, modifications, customizing, and the use of a silencer.
History
The Ruger 10/22 has been in production continuously since 1964. As I said, it is a 10-shot semi automatic .22 rimfire rifle. There are plenty of similar .22 semi automatics on the market, but the 10/22 sticks out as an all-time classic, not unlike the Kalashnikov, the AR, and the M1 Garand. Its popularity is based in part on its ability to be modified into almost anything the shooter wants. Ruger themselves have produced it in a variety of flavors in addition to the basic (and very low-cost) carbine. Just to mention a few that have stood out over the years there is the Target, the International, the Sporter and the Takedown


Ruger's 10/22 Target offered greater accuracy, a better trigger, a nice laminate stock for a very reasonable price.


The International featured a stutzen stock that was checkered and had European sling swivels


The Sporter that's still made features a more accurate 20-inch barrel and a checkered stock.


The Takedown is made for the field and features stainless-steel construction in a synthetic stock.
Ruger has made other variations of the 10/22, but all of them together are just a smattering of what the aftermarket has done with this highly flexible systems rifle. That was a major focus in my magazine series. I modified a Carbine to increase its accuracy, make the trigger more responsive, make it easier to clean and make the magazine release work more efficiently.
My 10/22
I tested it out of the box and again, after it had been tuned by Connecticut Precision Chambering. Out of the box it shot 10-shot 50-yard groups that were 1.5 to 2-inches. After the chamber had been re-reamed to target specifications, the headspace had been re-cut to minimum specifications (with the factory Carbine barrel), the bolt jewelled for oil retention and appearance, a shock bumper aded to cushion the backward stop of the bolt during functioning and the trigger had been made both lighter, crisper and given an overtravel adjustment, the rifle was returned to me. CPC also drilled a hole at the back of the receiver that makes it possible to clean the barrel from the breech with a solid rod. And after all that work it was still a 1.5-inch rifle at 50 yards.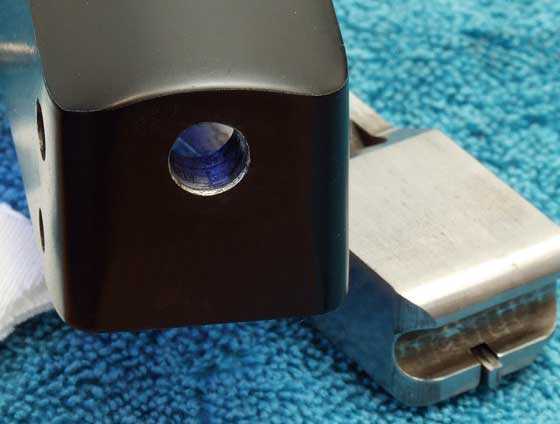 This hole at the back of the receiver allows you to clean the barrel from the breech with a solid rod, once the bolt is removed. The hole sits below the stock line so it's never seen.
Barrel lottery
What I learned after much investigation was the standard 18.5-inch Ruger 10/22 Carbine barrel is a lottery item. My friend Mac had one that could put 5 shots in a half-inch at 50 yards, but mine was only mediocre. However, because it was a 10/22, there were a host of options I could draw on. So, I did.
Custom barrel
I bought a 20-inch bull barrel from Butler Creek that they claimed would put 5 shots into a half-inch at 50 yards. Well, they got a phone call from me and a lesson on what accuracy really is. You know my mantra — five shots are luck — ten are proof. What did their barrel do with ten at 50 yards? They didn't know. I invited them to read the series and find out.
The Butler Creek barrel came with a minimum target chamber, so that wan't lost in the swap. But the headspace was whatever it turned out to be, because CPC had used the factory barrel when they did the job.
I installed the newly-tuned action and bull barrel in an aftermarket laminate stock that quite frankly looks to me like a rock star's guitar — only I will never smash it in the ground for dramatic effect!

This is what my cheap 10/22 Carbine eventually became.
When all that work was done I tested the custom rifle against a factory 10/22 Target. The modified rifle had cost several hundred dollars more to create than the Target had cost off the shelf. How did they compare? They came out about even. The best 10-shot group at 50 yards from the custom rifle measured 0.649-inches between centers and the best group from the target model measured 0.608. The small difference between the two smallest groups was larger than the probable measurement error.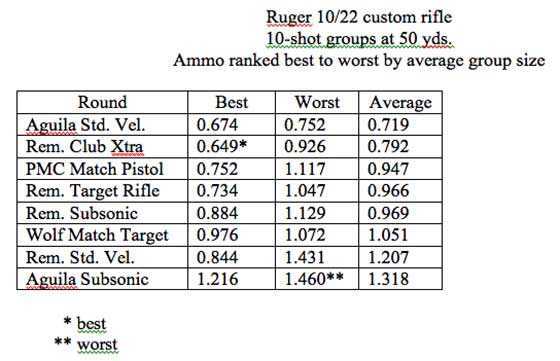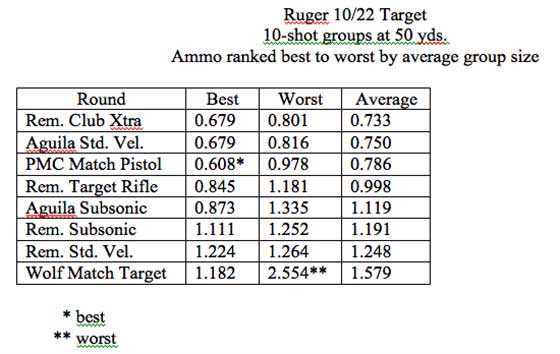 Why this report today?
There are a couple reasons for today's report. First, I wrote it because all too often I hear guys talking about this or that in the shooting world and I wonder whether they are telling the truth or just being guys. It's easy to separate the out-and-out liars, because they stand out. Their mouths are like billboard that flash, "The truth isn't in me!" But the guys who are right on the edge have always made me wonder.
Mac was one of those. When he told me what his Ruger 10/22 could do (5 shots in a half-inch at 50 yards) I didn't believe him. Or at least I wondered.
What I have discovered is if the guy who is spouting all this stuff learns that you have the very thing he's talking about he either shuts up right away (that would be one of the liars) or he starts getting very specific about how you can do what he has done. That's called passion and that was Mac. I wrote the series in part because of him, and other guys like him I have known.
My wife and I agreed that getting a 10/22 in 2003 was the thing to do. There would be a lot of good material associated with it. Heck, this very blog, written 16 years after buying that gun, is another of the many benefits I have derived.
BUT
That isn't the principal reason I write this report today. For that you must wait until tomorrow.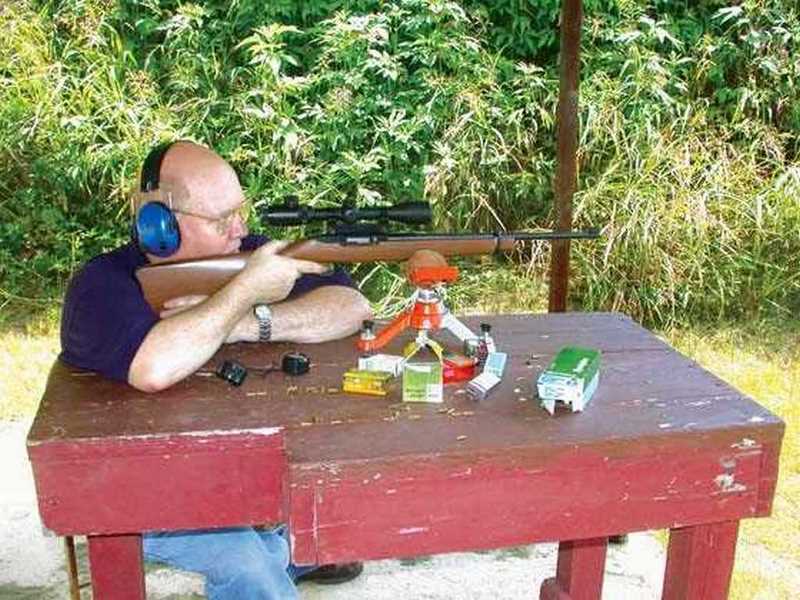 BB at the bench.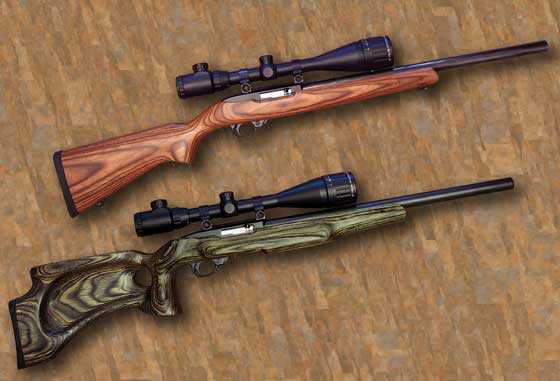 Two Ruger 10/22s.