by Tom Gaylord
Writing as B.B. Pelletier
This report covers:
My first encounter
First encounter with accurate target rifles
History
How peep sights are used
Use with sporting airguns
An open note to airgun manufacturers
Other good sporting peeps
Some airguns came with peeps
Summary
Oh, boy. This is a subject that will get your juices flowing! Today BB starts talking about peep sights.
My first encounter
I was interested in guns as a kid, but didn't know much about them. My father owned a Benjamin 107 BB/pellet pistol that I saw him shoot exactly once into a large tree in our back yard. I was about 5 when I saw that and I was fascinated, but he didn't offer to let me shoot it or even hold it. He died when I was 9. About a year later my mother enrolled me in an NRA course that taught me how to shoot. That was where I learned about using the triangulation technique to teach people to shoot, and that technique has been of great value all my shooting life. If you are interested in that technique, read this report.
First encounter with accurate target rifles
The NRA used Winchester 52s and Springfield M1922s to train us. I found the Winchester easy to shoot and quite accurate. Both rifles had peep sights and that's what I want to start talking about today.
History
When I researched the history of the peep sight online I discovered that almost nobody has a clue when they first were used. Neither do I and some of the references I found were to articles I have written. My guess is they are far older than what I know, so I will tell you only what I do know for sure.
Buffalo hunters used tang-mounted peep sights during the American buffalo slaughter that ran from 1870-1880. In 1884 the Springfield Arsenal started installing the Buffington rear sight on their single-shot rifle that is known as the Trapdoor. Developed by Lieutenant Colonel Adelbert Buffington, this leaf rear sight combined a peep sight with a conventional notch and was not only graduated for the high trajectory of the .45 caliber bullet, but also for the drift of the bullet to the left because of the way it spun in flight.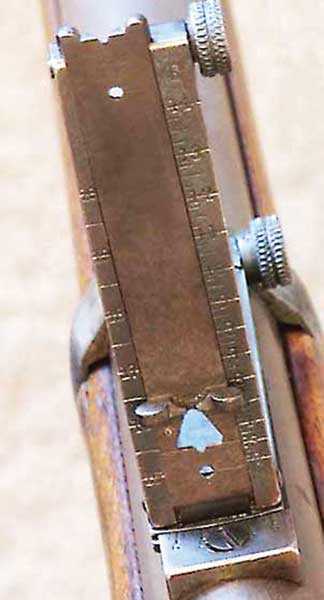 The Buffington rear sight from 1884 was first put on the Trapdoor Springfield. It was later used on the Krag and Springfield bolt-action rifles, as well
The Buffington is positioned forward of the receiver, where it takes good eyes to use. But most peep sights are positioned closer to the eye — sometimes too close, as I will address later.
How peep sights are used
The peep sight is considered the easiest non-optical sight to use, as well as the one with the greatest potential for precision. But, you'll get arguments from many about it being the easiest. Shooters have told me they can't use them because their eyes don't work that way. Well, yes they do. They just don't know how a peep sight works.
The peephole is just there to look through — nothing else. It doesn't need to be aligned with anything. Just look through it. It's the front sight that matters. Place the front sight on the target while looking through the peephole and shoot. Your eye does the rest automatically. Your eye searches for the brightest light when looking through an aperture (a peephole) and that is in the center of the peephole. Your brain causes you to adjust your head and sighting eye until the image you see is brightest. But don't try to disprove this!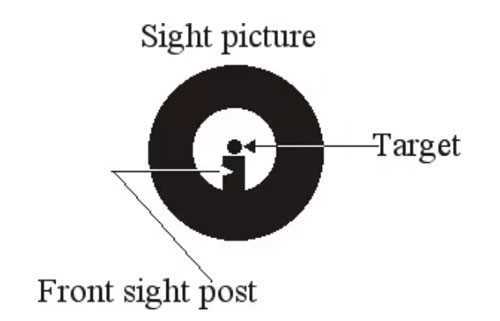 This graphic confuses people. It is correct, but people think this is what they are supposed to see when they look through a peep sight. It isn't!
Some people are on a crusade to belittle peep sights and can "prove" they don't work by moving their heads around on the stock to introduce parallax. They aren't proving anything. They simply are not using the peep sight correctly. Forget the peephole! Just look through it as if the front sight is the only sight you have. The peep takes care of itself.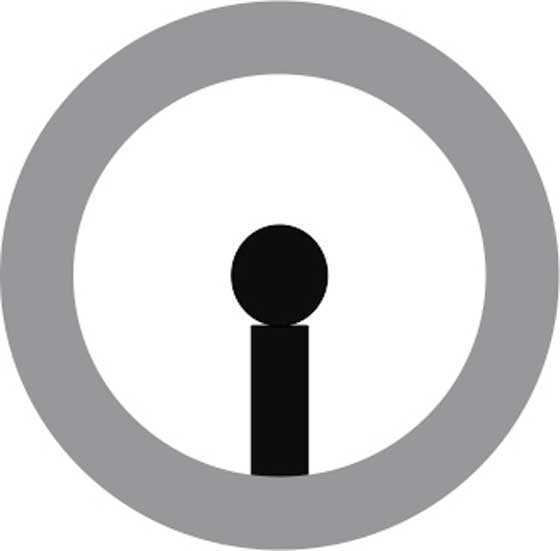 This is what you should see when looking through a peep. I have grayed out the edge of the peephole, as it should appear to you when your eye gets close to the hole. Forget the peephole and just concentrate on the front sight and target.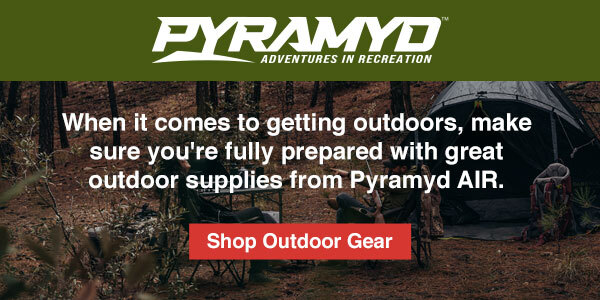 Use with sporting airguns
Several days ago a reader asked about getting a peep sight for his HW30S breakbarrel. A light sporting airgun like that is an ideal place for a good peep. When he posted the question I wanted to recommend the Mendoza peep that I feel is a great bargain. But unfortunately it is no longer listed at Pyramyd AIR, and I feel certain that it's no longer made. It was a good basic peep that was very affordable and also adjusted low enough for some air rifles that cannot use other peeps.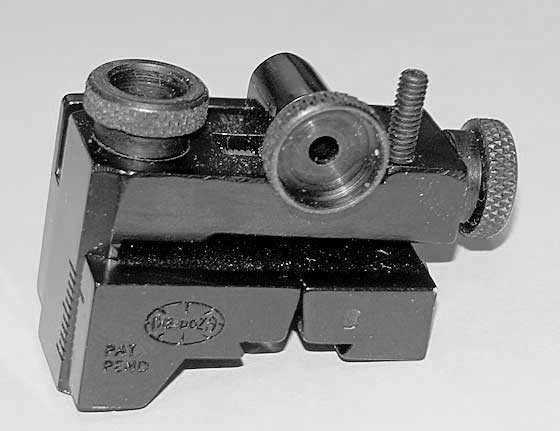 The Mendoza peep sight had an 11mm base and fit many sporting air rifles as well as many .22 rimfires!

The front side of the Mendoza peep.
An open note to airgun manufacturers
You manufacturers always ask me what people want. Well, the peep sight is something that is very popular. But, use some innovation and make a peep that can also be used as an open sight if the shooter prefers. Then put it on a rifle that has a place near the eye for mounting the peep and another place farther from the eye for the sporting sight. That's the sort of innovation the airgun community is looking for. The IZH-60 had such a sight and, though it has been gone from the market for 20 years, people still talk about it today!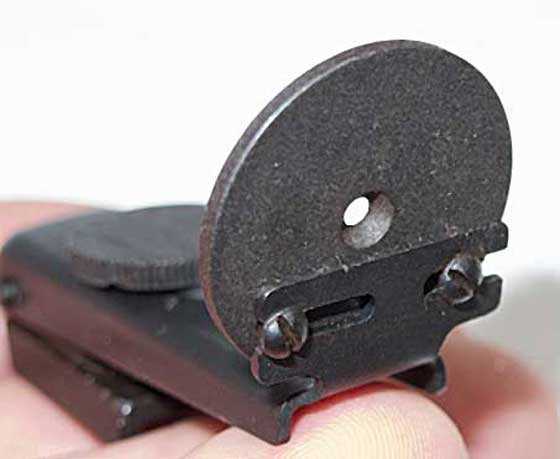 Here is an inexpensive peep sight that IZH designed to also be an open notch rear sight.
IZH isn't the only company to do this with a peep sight. Diana also did it many years before.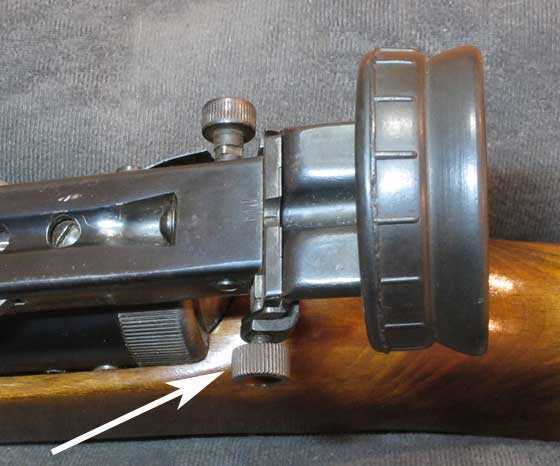 Here is the rear sight on a vintage Diana model 50 underlever rifle. The arrow points to the screw that is loosened to remove the peephole. This is an old version of this sight that has several variations.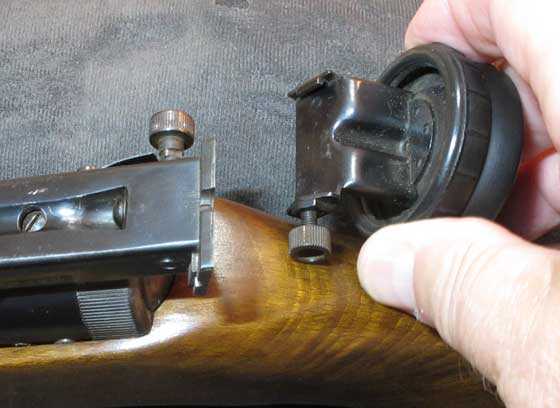 And now it is an open sporting sight. Move it forward so the notch can be seen easily by your eye. Diana provided a forward dovetail base for this.
Diana also used a sporting pistol sight they mounted on their youth model 72 recoilless target rifle with a peep attachment. My point is — Diana knew that shooters who use non-optical sights like peeps. Once they learn how to use them, they become their favorite rear sight. Want to sell more airguns? Offer them with peep sights, and, better yet, with convertible peep/open sights.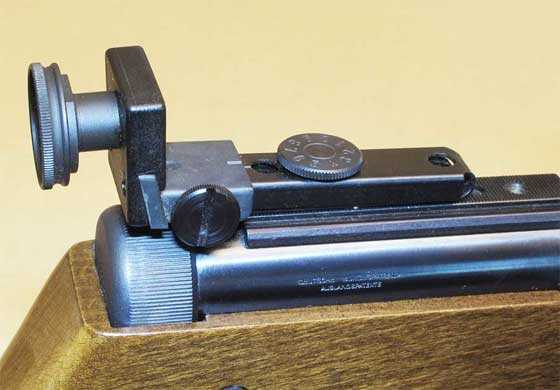 The rear sight on the Diana model 72 youth target rifle is a pistol sight that's been converted to a peep!
Other good sporting peeps
Of all the sporting peep sights on the market, none is better known and recognized than the Williams peep. Beeman offered them for many years, as did Crosman (the S331 on the model 160 rifle), Sheridan and many others. Actually there are a great many different Williams peeps — differing because of the guns they are made for. This can cause someone new to the shooting sports some consternation because not only do you need a sight that works, you also need one that fits your air rifle! Some mount on the left side of the receiver, others mount on the right. And still others mount in the middle of the receiver.
Some airguns came with peeps
We know the Sheridan Supergrade came only with a peep sight. But it wasn't the only air rifle that did. The Crosman model 107 and 108 (Town and Country) had one that is special. I show it here for the manufacturers to see how simple yet clever these sights can be.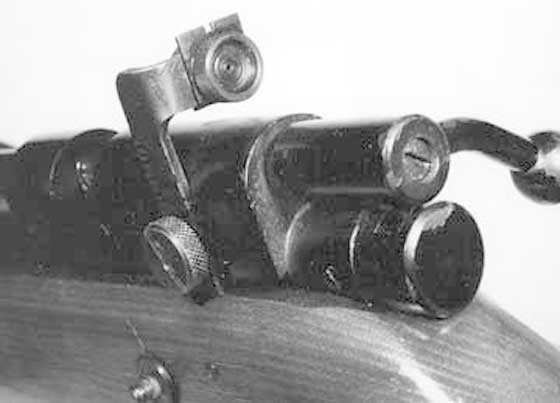 The Crosman Town and Country multi-pump pneumatic rifle came with a rear peep sight that also incorporated a notched open sight. For shooters who want it all!
Summary
When I started writing this report about 6 hours ago I had no idea how large it would become. I haven't even scratched the surface yet! I'm sure you readers will add even more things that I didn't think of.
I don't think today's airgun manufacturers realize what a big opportunity they are missing by not offering peep sights on some of their rifles today. Robert Beeman knew and he sold the heck out of them! Isn't it strange that Beeman thrived on selling top-end spring guns at high-ticket prices and yet today, a quarter-century later, so-called marketing "experts" are falling all over themselves to bring out airguns at the lowest possible cost?
Guys — if you want to sell the steak you have to sell the sizzle! That's what Dr. Beeman did so well. The money is out there. Tell them why they should spend it with you and buy your airgun. My gosh — if you start doing that you might start looking at the guns you sell from the customer's point of view and begin to make things you can speak well of!
This is just an ending for this report. There is so much more to be said!