by Tom Gaylord
Writing as B.B. Pelletier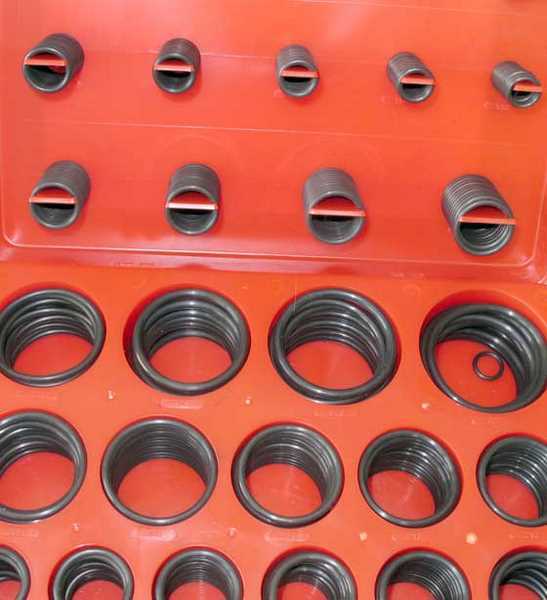 An assortment of o-rings.
This report covers:
History
Flexibility is key
O-ring failure
O-rings as a face seal
O-ring-assortments
Hardness
Some o-ring facts
The seats or channels they sit in help o-rings work!
O-rings used other ways
Summary
An o-ring is a donut-shaped elastomer (pliable) seal that performs sealing functions for hydraulics and gasses. Airguns use o-rings a lot, and for different purposes. They help us enjoy our hobby with a minimum of fuss. But what do we know about them?
History
The first patent for an o-ring was by the Swedish inventor, J.O. Lundberg. It was granted in 1896. Not much is known about him, but Danish machinist, Neils Christensen who came to the U.S. in 1891, patented the o-ring in this country in 1937. No doubt his work originated from his development of a superior air brake that Westinghouse, a leader in air brake technology since George Westinghouse invented the first fail-safe railroad air brake in 1869, gained control of. In World War II the U.S. government declared the o-ring a critical mechanical seal technology and gave it to numerous manufacturers, paying Christensen a stipend of $75,000 for his rights. Long after the war was over and he had passed away his family received another $100,000
Flexibility is key
For an o-ring to work it usually needs to be flexible. One of the most noteworthy failures of an o-ring that was not flexible was the space shuttle Challenger disaster in January, 1986. Caltech physicist and Nobel laureate, Richard Feynman demonstrated that the cold experienced during launch as the rocket rose had hardened the large o-ring that sealed the right solid rocket booster to the point that it crumbled in failure. Let's see why flexibility is so important.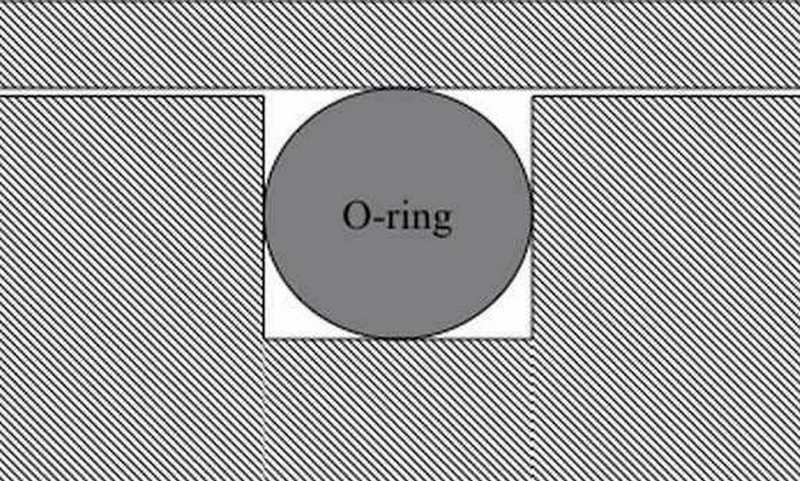 An o-ring sealed two adjoining parts (top and bottom)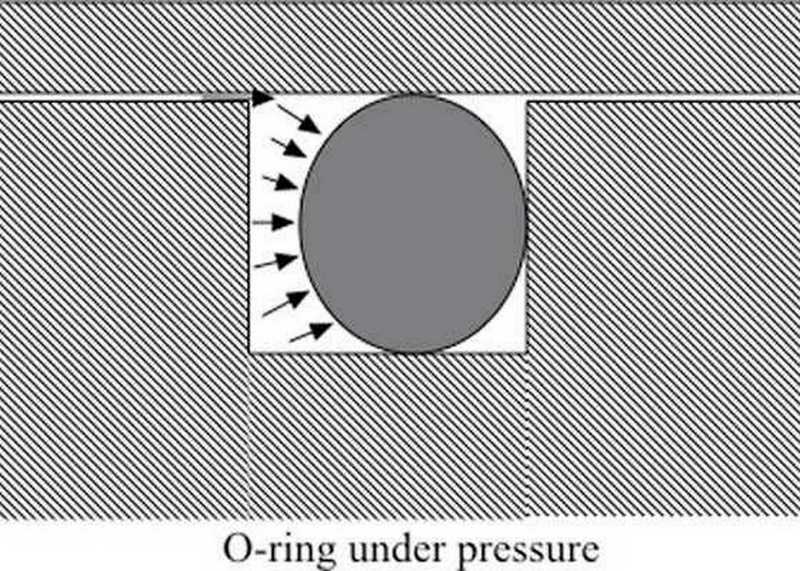 When under pressure (gas is coming from the left in this drawing), the o-ring deforms and presses against the tiny opening at the upper right, sealing it tight.
In both drawings I have made the clearances between the parts larger than it should be, to make it easier to see.
O-ring failure
O-rings don't just fail in aerospace applications. We have seen them fail from rigidity in airguns, too. Read the report titled Crosman Mark I and II reseal to learn a lot more about them. In those two reports we saw how a hardened o-ring crumbles when it's removed, and how a fresh one reseals the airgun instantly.
Another way an o-ring can fail is if it extrudes (gets squeezed through) the opening it is trying to seal. That happens when the ring material is too soft for the application or the tolerances between parts are too great or the o-ring channel is cut improperly.
O-rings as a face seal
We also see o-rings used as face seals in some airguns. One common use is as the breech seal of a breakbarrel airgun. I have shown you this many times as I rebuilt Diana air rifles over the years. The most recent was the Diana 27S, whose breech seal had hardened from the passage of time. When I replaced it with a fresh o-ring the rifle gained some velocity, though not the 300+ f.p.s. I initially thought.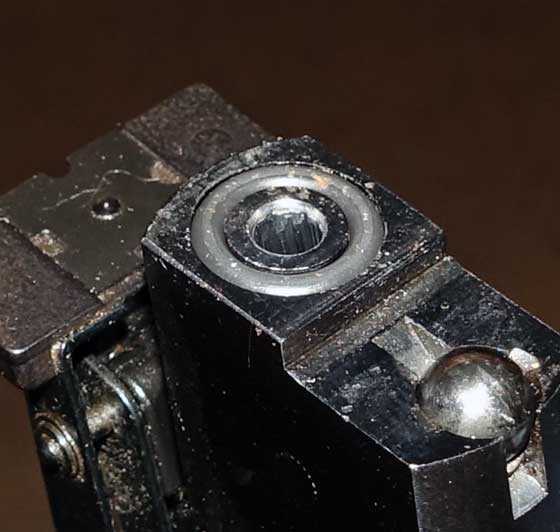 Diana breech seal.
Not all breakbarrel breech seals are o-rings, even though they may look like they are. Weihrauch has used specially designed breech seals that appear to be o-rings when they are installed, but when you examine one outside the airgun you see a big difference.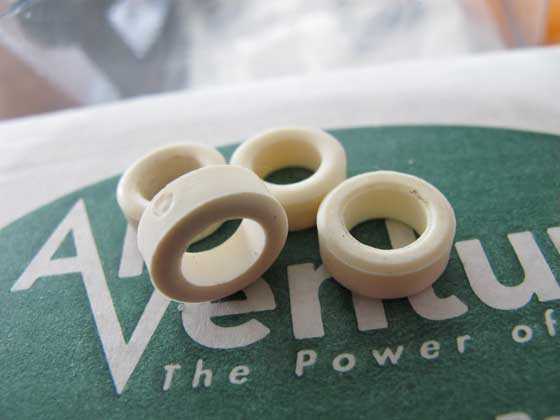 Weihrauch breech seals look like o-rings when they are in the gun, but they are not.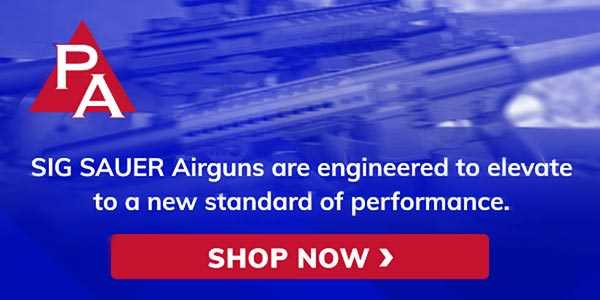 O-ring-assortments
Beware, because here comes The Great Enabler! Several months ago I realized I was buying o-rings one at a time for projects as I needed them. That's not the wisest thing for a dedicated airgunner to do. So I went online and searched for assortments of o-rings. I found many and it came down to two things — what did I need and how much did I want to spend? For me this is a business expense, so yes it comes out of my pocket — sort of. But when I buy something like this I get to spend it before Uncle Sam can.
When you need an o-ring they are specified by their internal diameter (ID) and the diameter of the ring material. The outside diameter (OD) of the o-ring is just given for informational purposes, because when you think about it, the ID and ring material size determine the OD automatically.
I bought an SAE assortment and a metric assortment, but because they are pliable , they will interchange if they are close. If you want to get really picky, o-rings come in aerospace standard 568 (AS568) and ISO 3601 sizes. They also come in a wide variety of materials with Buna (Nitrile), Neoprene, Urethane, Viton, Teflon (PTFE) and Silicone being some of the most common. Airgunners tend to use Buna, Teflon and Urethane. Buna is more pliable and Urethane is more resistant to tearing and abrasion.
Hardness
A lot of people use the term durometer when referring to o-rings without understanding it. A durometer is a test instrument that measures a nonmetallic material's resistance to puncture and abrasion. The Shore scale is used. When we talk about o-rings I see the term 90 durometer tossed around a lot. A 90-durometer rating only has real meaning when matched to the Shore hardness scale to which it applies. On the Shore 00 scale a 90 rating is medium hard, while on the Shore D scale a 90 rating is extra hard — almost as hard as it gets! Your car's tires are a zero to 10 on the Shore D scale and a 90 on the Shore 00 scale.
Some o-ring facts
1. To perform correctly, a hard o-ring needs tighter tolerances than a softer o-ring.
2. An o-ring usually needs lubrication to do its job – but not always.
3. When an o-ring seals something, it only needs to be finger-tight.
4. An o-ring can look fine yet hide a tear or a puncture that will leak under pressure.
5. An o-ring can look ratty yet still seal perfectly.
6. The durometer rating of an o-ring can change over time, as it hardens.
The seats or channels they sit in help o-rings work!
If the seats are too wide or too deep, the o-ring will not seal the joint as intended. Also, the shape of the o-ring seat or channel is somewhat important. While there is a lot of room for slop with an o-ring (that is one of their endearing qualities), you can't get away with murder. A perfectly square channel with no radius in the corners may present sharp edges to the o-ring under pressure. It can cut the o-ring, causing it to fail quickly!
O-rings used other ways
Besides seals we find other uses for o-rings in airguns. Sometimes they are used to hold things together — sort of like precision rubber bands. I find that a lot in silencers. And a number of rotary magazines use o-rings to hold the pellets inside in place. I'm sure they are used in other ways, as well. We owe a lot to the common o-ring
Summary
There is a lot more to know than what I have presented today. These have just been some of the basics about o-rings. We deal with them so much I thought it would be nice if we knew a few things about them.