by Tom Gaylord
Writing as B.B. Pelletier
This report covers:
Get ready
Not an airgun?
Low cost
Industry Day at the Range 2020
Noise?
Description
Action is ambidextrous
Performance
Will it accept air?
Size and sights
What's the purpose?
Summary
Well, lookie, lookie, who's got the cookie! I write about airgun manufacturers putting peep sights on their guns yesterday and today's star — the Umarex Air Javelin — has them! Not only that, the Air Javelin (AJ) is a thousand-dollar airgun selling for $170! Or at least it will be when they come in.
Get ready
I've been sitting on this report for over a month for a couple reasons. The main one is the AJ that isn't quite on the market yet. I don't like to write about airguns you can't get, but I expect this one to be available soon.
Not an airgun?
Is the AJ really an airgun? We can get into a long discussion about that, and I expect we will, but here is my opinion. The AJ shoots arrows, so it's definitely not a BB or pellet gun. And it runs on CO2, so we can have that discussion, as well.
On the other hand, BB Pelletier has been writing about crossbows, air-powered crossbows and big bore airguns shooting air bolts for several years, and this one fits right into all of that. I'm saying that even though the Air Javelin doesn't fit into a neat definition of a pellet or BB gun, it does seem closely associated. Every time I write about one of the other airbows and even the conventional crossbows you guys get excited, so I think many of you are as interested in this subject as I am.
Low cost
One other thing drives me to write about the AJ more than any other and that is the price. Umarex is offering this airbow for a small fraction of what any other airbow sells for. I have been in this game long enough to remember when the Airrow Stealth from Swivel Machine Corp. sold for $1,700. It was powered by CO2 like the AJ, and, on a 38-degree day, I buried arrows so deep in an arrow backstop (a bale of excelsior) 40 yards away that they could not be extracted.
Yes, I said it sold for $1,700 (well, $1,600 and change — I can't remember exactly how much). At the time it was considered inexpensive, compared to their $2,500 repeating .25-caliber pellet rifle that produced over 60 foot-pounds! That was in the late 1990s, so the technology has definitely advanced.


The Airrow Stealth from Swivel Machine Corp. was ahead of its time.
Industry Day at the Range 2020
I reported on the AJ in this year's SHOT Show report. I saw it and shot it at Industry Day at the Range. I shot it outdoors on a 50-degree F day (10 C), and it performed very well. After seeing it just a short time on the range I certainly let Umarex reps know that I was interested in it — which I am!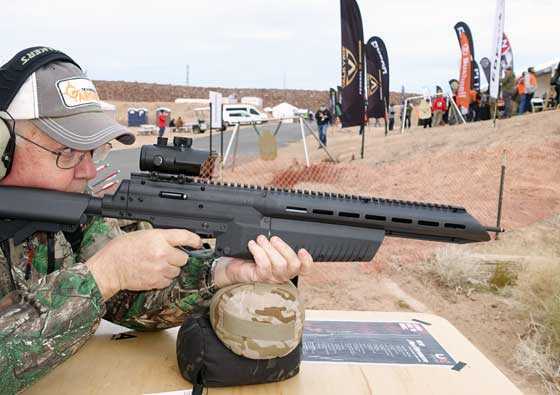 At Industry Day at the Range I shot the Umarex Air Javelin at 20 yards. It was accurate and fun! I was impressed.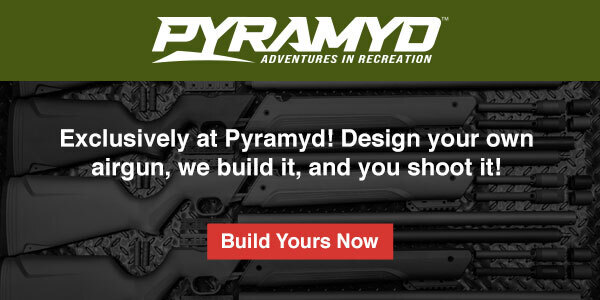 Noise?
There were hundreds of shots being fired every second on those ranges and I had on electronic noise-cancelling earmuffs, so I can't tell you how loud it is, but I got the impression that it's rather quiet. I will expand on that when I start shooting this one. Pyramyd AIR says it rates a 3 on the noise scale.
Description
The Air Javelin is a rifle-looking single-shot CO2-powered bow that shoots a 170-grain arrow at a nominal 300 f.p.s. Umarex calls it an "air rifle" but I can see no rifling anywhere on the gun or inside the arrow. I believe they are using the slang term for a long gun that is conversationally called a rifle — like Daisy calls the Red Ryder an air rifle. The construction of the AJ is largely synthetic on the outside.
Action is ambidextrous
The cocking bolt handle is shipped separately and can be put on either side of the gun by the owner. That means the AJ is 100 percent ambidextrous. The trigger is not adjustable. The safety is a large cross-bolt that clicks solidly in position.
Performance
On the box Umarex publishes a list of 30 shots with the velocities obtained from a single 88-gram CO2 cartridge. That is impressive. I don't know of another manufacturer who does it! What it shows is a starting velocity of 323 f.p.s. on the first shot and a slow steady decline over 30 shots to 195 f.p.s. on shot number 30. If you don't own a chronograph that is handy information, though I reckon your own accuracy findings will supplant it at some point.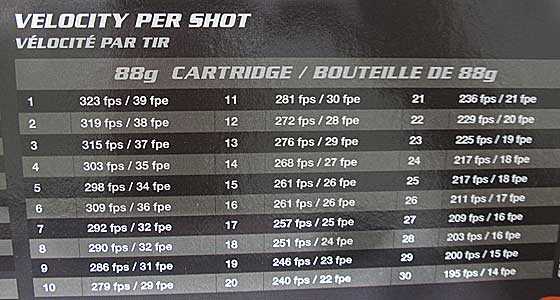 Umarex put this velocity test on the AJ box!
The arrow is a hollow carbon fiber tube that slips over a tube inside the forearm. I weighed one and found it came to 171.2 grains, so the advertised weight of 170 grains is pretty close. In the first photo the AJ is shown loaded, so that's how much of the 14-7/8-inch arrow stocks out the end. That design is probably also a major contributor to a lower sound at firing. The arrows in the box came with field tips that are ideal for target shooting.
Three arrows come with the AJ, but there are no 88-gram CO2 cartridges in the box. Order some of them when you order the AJ. Now, please don't get anal on me. When I say an 88-gram cylinder, there are cylinders that hold 90 grams of CO2, as well. There are also probably other weights in this range. The exterior dimensions are all supposed to be the same, though this has been an issue with some other airguns. For now I would stick with what Umarex recommends until you know different.
Will it accept air?
I know you guys. You are already asking yourselves whether the AJ will accept the 13 cubic-inch regulated air tank that Air Venturi sells — the one that substitutes, one-for-one, with an 88-gram cartridge. No, it won't. I took a picture to show why. There isn't enough clearance. Could an adaptor be built to angle the air tank downward or offset it for the clearance? I'm quite sure it could be. Given the cost of those large CO2 cartridges I am almost surprised the Umarex did not mention one, though we may not have heard the last word from them.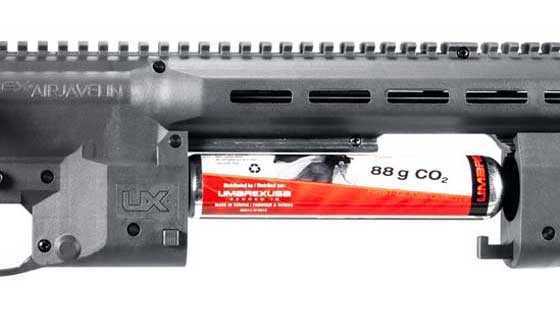 As you can see, the forearm slides forward to permit installation and removal of the 88-gram cartridge.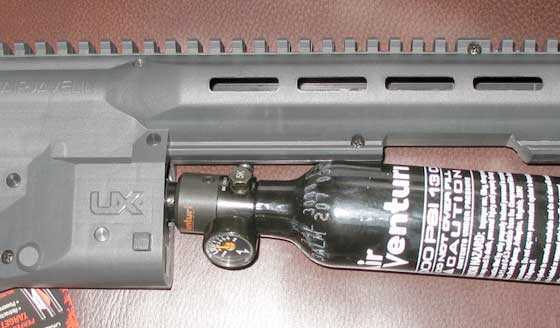 And there is the proof. The fill nipple, burst disc and manometer on the 13-cubic-inch Air Venturi air cylinder will not clear the frame of the AJ. Obviously an angled or offset adaptor could be made.
Size and sights
The AJ is 34 inches long with the stock fully collapsed and weighs 3 lbs. 8 oz. An 88-gram cylinder ads exactly one pound, give or take. The buttstock adjusts out for length of pull. It ranges from 13.5-inches to 16.5 inches and there seem to be 5 definite click stops.
It comes with an adjustable rear peep sight and a fiberoptic orange dot front sight. The rear sight doesn't seem to adjust very far, side to side, and I think most shooters will probably mount a dot sight on the AJ, but at the low price point I think Umarex was wise to include the non-optical sights. I plan to test both types of sights on the AJ.
The top of the gun is a long Picatinney rail to which both sights attach. There are M-LOK-compatible slots on both side of the frame. This means that an almost unlimited number of shooting accessories can be attached.
What's the purpose?
Is the AJ meant for hunting? It certainly can be used in that capacity, though it's on the lower end of the desirable range of power for deer-sized game, so the shots should be close — maybe not exceeding 60 yards or so. What else is it meant for, then?
It seems to me that the AJ is an airbow for those shooters who want one without spending a bundle of money. I see it in the same vein as a big bore air rifle that can be used for hunting but is bought by a lot more owners who just want to own and shoot a big bore air rifle. It's mainly about fun. At least that is my impression.
Summary
I like the AJ, for the reasons I have just mentioned. I would sure like to hear your feelings, so I know how best to test it.