by Tom Gaylord
Writing as B.B. Pelletier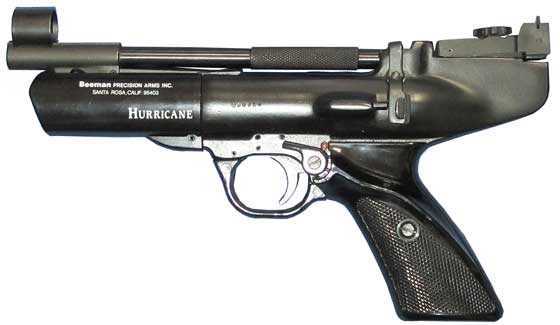 Webley Hurricane
This report covers:
The Great Enabler
Before we test
The velocity table
Air Arms Falcon pellets
RWS Hobby pellets
What happened?
A test
Crosman Premier Lights
Do you see what is happening?
But wait!
RWS Hobbys
Air Arms Falcons
A huge lesson!
Cocking effort
Trigger pull
Summary
Today is one of the best blog articles I have ever written. A series of what what looked like minor failures turned around and became a huge success and a fantastic learning opportunity. Today we test the velocity of the recently lube-tuned Webley Hurricane.
The Great Enabler
Spouses beware! Today I will once more demonstrate how I earned the title of The Great Enabler.
Before we test
I was as much in the dark as the rest of you. I had not chronographed the Hurricane until this morning, and I knew as much as you did about what might happen. I did note that the pistol now cocks smoothly, though I doubt it is much easier than before. Maybe just a little because there is no feel from galling. It also shoots very smoothly, where before it had a slight buzz.
The trigger has not changed one iota, which I mentioned when I told you I was lubing it with moly. The way the Hurricane trigger is designed no amount of friction reduction is going to make much difference. Now, I can't comment on the people who say their triggers are heavy and difficult to pull. I only have experience with this one pistol.
The velocity table
Many of you read this blog on smart phones and can't toggle back and forth between pages like readers on a computer can. So once again I am showing the velocity table I obtained in 2014 again, for comparison.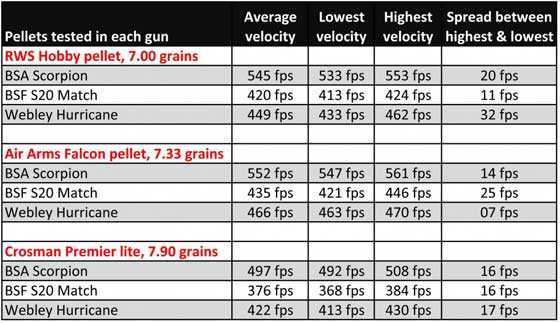 Air Arms Falcon pellets
I shot Air Arms Falcon pellets first. In the Hurricane now the first 10 shots averaged 428 f.p.s. I say "now" because I will come back and shoot Falcons again in this report. The 2014 table says Falcons averaged 466 f.p.s. with a spread of 7 f.p.s. In this string Falcons ranged between 422 and 436 f.p.s. — a spread of 14 f.p.s
This would seem to indicate that putting Tune in a Tube on the Hurricane mainspring slowed the Falcon pellet down by about 38 f.p.s. I have more to say but I will hold it until the end.
RWS Hobby pellets
In 2014 RWS Hobbys averaged 449 f.p.s. with a spread of 32 f.p.s. Hobbys averaged 409 f.p.s. this time, but let's look at the entire shots string, because there is something important to see.
Shot……..Avg.
1…………422
2…………424
3…………398 — Oh oh!
4…………403
5…………413
6…………407
7…………412
8…………400
}9…………412
10………..405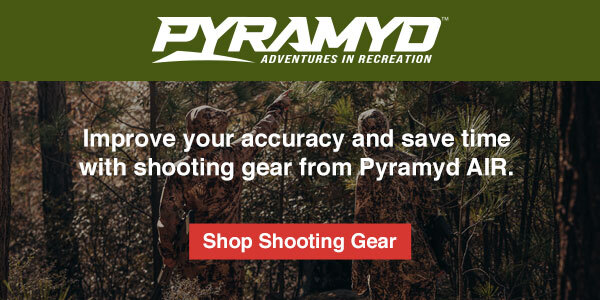 What happened?
On the third shot the barrel was not securely latched and it blew open with a loud pop. That shot did not register on the chronograph. I dry-fired the next shot to clear the barrel, in case the pellet hadn't come out. The Hurricane has a Teflon piston seal that is sized to fit the compression chamber by dry-firing. Dry-firing once or twice from time to time isn't going to hurt anything.
But look at the large drop in velocity on the next shot, the one I'm calling shot 3. I was almost certain the breech seal had been damaged by the accident — until the end of the shot string. And that's when the bigger picture hit me. I thought I knew what is going on.
A test
If you guys have learned anything from this blog you probably are starting to see what I'm talking about. And this is your test. What do you think is happening? It is nothing complex, and once you know what it is you will be able to look back and say, "Of course!" But can you spot it now?
Crosman Premier Lights
The next pellet I shot was the Crosman Premier Light. Looking at the 2014 table and seeing the velocity decline of the first two pellets I guessed that this pellet would average around 379 f.p.s.
But things did not turn out as expected. I will not give you an average from this string. Instead I am going to show you a long string of shots.
Shot……..Avg.
1…………323
2…………344
3…………346
4…………355
5…………363
6…………361
7…………364
8…………366
9…………384
10………..371
11………..361
12………..359
13………..364
14………..373
15………..370
16………..378
17………..377
18………..370
19………..385
20………..384|
21………..370
22………..375
23………..371
24………..377
25………..382
Do you see what is happening?
Maybe before it was unclear what is happening, but this string should make it obvious to almost everyone. The lube tune is breaking in before your eyes! This often takes hundreds of shots to see, and I am not saying the break-in is complete, but what you see in the string of Premier Lights is what it looks like when a spring-piston airgun breaks in after a lube tune.
That is why I did not give you an average velocity for the Premier Light. If I took a guess of the average at this point I would say somewhere around 379 f.p.s. — not for the whole string above, but of the next 10 shots, if I were to fire them.
But wait!
Yes, there is more. And this is the reason today's report is one of the best blog articles I have ever written. If the pistol really is breaking in, won't Hobbys now go faster than before? Let's see.
RWS Hobbys
Shot……..Avg.
1…………441
2…………437
3…………441
4…………436
5…………187 — breech blew open again
6…………439
Now you can see it more clearly. The same Hobbys that averaged 409 in the first string (and 449, back in 2014) are now up around 439 f.p.s., give or take. And there is even more to come.
Air Arms Falcons
Now let's see what Air Arms Falcon pellets do.
Shot……..Avg.
1…………442
2…………443
3…………442
4…………445
5…………441
The average of those 5 shots is 443 f.p.s. That is compared to the average of 428 f.p.s. we saw in today's first string and 466 f.p.s. in 2014. I don't think the Hurricane has fully broken in yet. I expect the average velocity of Falcons to increase by a couple feet per second over the next several hundred shots.
A huge lesson!
This test has been a huge lesson in springgunology! The first lesson has been that after a major lube tune you should expect a period of break-in before the gun settles down again. The second lesson is that — yes, TIAT does take away a little velocity. It does so by smoothing out the powerplant in a major way. As long as the gun is powerful to begin with, like this one was, I will take the loss.
And the biggest lesson of this report — hold on to your wallets — is that a chronograph is an essential tool if you are going to mess around with airguns. I told you The Great Enabler was coming today!
But it's true. If you want to do anything beyond just shooting your airguns, you need a chronograph.
Cocking effort
The pistol now cocks with 15 pounds of effort. I don't have a good number from the past, but I think it was heavier than that. I think I reported it being 35 lbs. of effort, but when I looked at the back reports I saw that was the number for the BSA Scorpion. I didn't find a number for the Hurricane.
Trigger pull
The pistol fires with 2 lbs. 7 oz. of effort. Once again I do not have an historical number to compare to. But now we have a number for posterity. The trigger is single-stage with just a hint of creep before the break.
Summary
Now we have a solid baseline for this Webley Hurricane air pistol. We also have a very detailed set of instructions for taking it apart and lubing it properly. I just wonder what the accuracy test is going to show?