by Tom Gaylord
Writing as B.B. Pelletier
Writing as B.B. Pelletier
Today's report is another guest blog from reader Ian McKee who writes as 45 Bravo. Today he tells us how to make custom cases for our airguns.
If you'd like to write a guest post for this blog, please email me at blogger@pyramydair.com.
Ian McKee
Writing as 45Bravo
Making a case for pistols.
This report covers:
Double meaning
Why do you need a box for each gun?
And, you are done!
But wait there is more!
Accessories?
We don't have to have boring metal or plastic pellet tins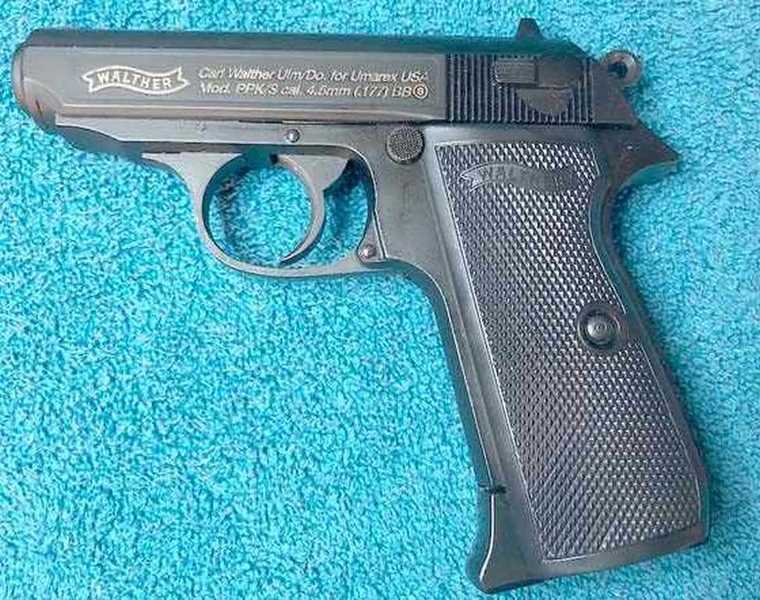 A nice air pistol like this Walther PPK/S deserves a nice case.
Double meaning
Ok, that title can have more than one meaning, so today I will be actually be doing both.
I will be making a case as to WHY you may want a case for your pistol.
I will also be making a case FOR your pistol.
Actually we will repurpose an existing box to store or display your pistol and accessories, as I am neither talented enough to build one, nor have the tools to attempt to build one from scratch.
While cruising the Goodwill and other resale stores, I am always looking for old computer stuff, shooting related items, and pretty much anything unusual that catches my eye.
I have always liked the look of a cased pistol, and over the years, I have made many storage and presentation cases from wooden silverware storage cases, cigar boxes, musical instrument cases, and other types of well made cases originally used for other things.
Today, I spotted a couple of cigar boxes that were not too beat up, were the right size for a small handgun and accessories. They were only $1.99 each.
People have been keeping precious things in cigar boxes since they were first made.
Your grandmother probably kept her stash of buttons in one, someone in your family kept photos and letters in one, your dad probably kept a bunch of miscellaneous sized screws over his work bench in one, your mom may have kept your first tooth and a lock of hair from your first haircut in one.
I am not a smoker, but the uses of a cigar box are endless, and they come in all styles from simple wood covered in paper, to some so ornate they would be at home on the desk of a king.
My intentions for today's finds were chosen to fit the Umarex Walther PPK/S sized guns, one for my airgun PPK/S, a few 12gram CO2 cartridges, and a bottle of BBs. The slightly larger box is for my Hungarian FEG PPK firearm, and a box of shells.
Why do you need a box for each gun?
I haven't bought a NEW gun (airgun or firearm) in a while. I like used, and I like vintage. That means I probably don't have the factory box to store it safely from damage in the safe. Also, air pistols today tend to come in clear "clamshell" plastic that is meant for retail display of the item hanging on a peg, and not for storage/protection.
To me the clear clamshells cheapen the experience of owning a fine replica.
A nice replica deserves a nice wood box, especially if you use your skills and "age" the gun to give it some character if that is what you like. Others like the new in box look, and the wood case enhances that image also.
Currently my gun safe has some pistols in holsters on the shelf, some in zippered pouches on the shelf, and some hanging on the door in "holster" like pouches.
If I had them in their own individual boxes they could be stacked neatly, and better protected from being knocked around or possibly dropped while retrieving a specific gun from the safe.
Pistols, rifles, it doesn't matter, I am a self confessed addict of ANYTHING with a trigger.
I chose these cases for their size, and all of the name branding on the boxes I select are decals, and not burned into the wood. Some cigar manufacturers burn their name/logo into the wood using a hot template, or laser engraving. Removing those logos can involve a lot of sanding.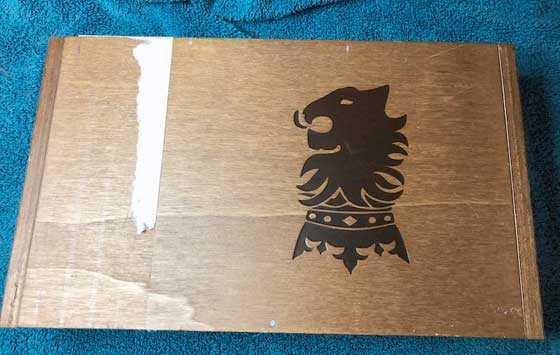 This wooden box has a lion and crown logo embossed into the wood, almost 0.5mm deep. That would take a lot of sanding to remove.
These decals being made from paper, only required a damp rag laid on the decal to soften it, then rubbing the paper off while wet.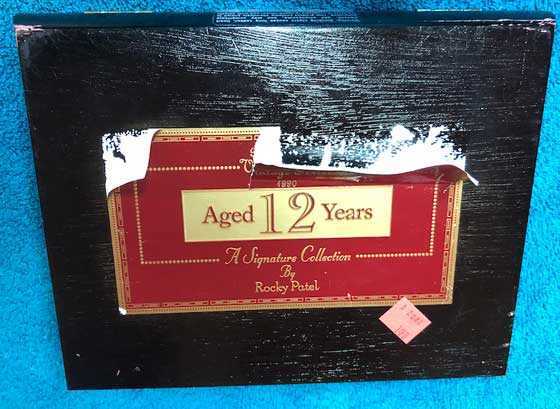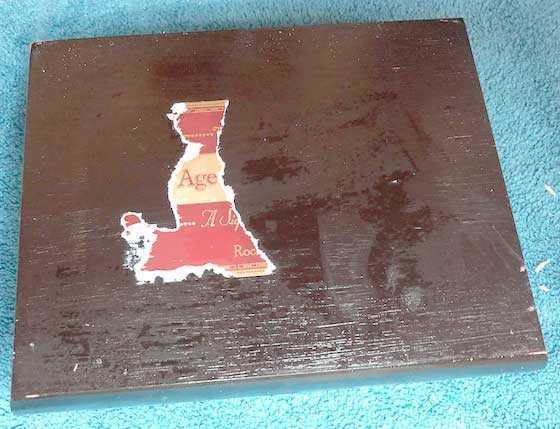 In this photo the decal is mostly removed.
There was some adhesive residue left. WD40 on the painted surface removed the adhesive with ease, but it leaves an oily residue on the surface. Isopropyl Alcohol will also remove some adhesives, and it will evaporate, leaving no residue.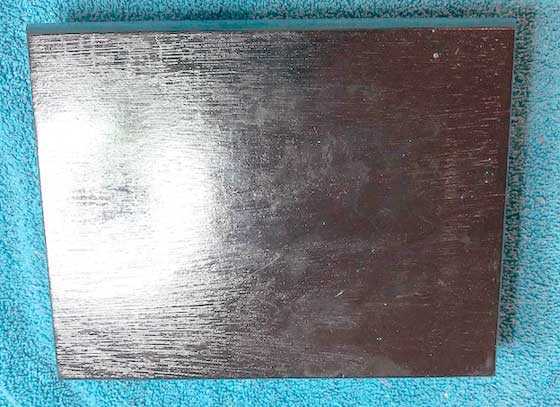 All the decal residue is off.
The decals inside the lid were removed the same way, but the adhesive was removed from the raw wood with a 220/320 grit foam sanding block, so as to not leave oil in the wood from the WD40.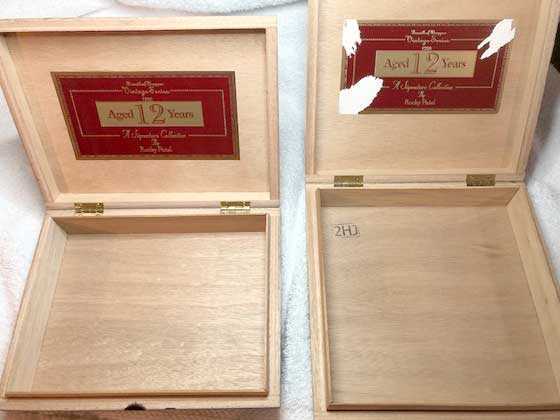 The inside of the boxes before cleaning.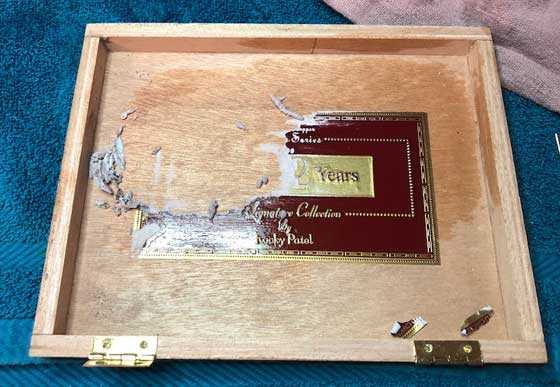 Clean the decal off the inside as well.
You may choose to leave the wood unfinished, and put the pistol in the wooden case and call it done. You might choose to stain the wood to a nice appealing color.
The quickest and simplest way to dress up the inside of the box and protect the pistol is to choose a colored fabric you like, or that contrasts with the finish of the gun, and just fold it up to fill the bottom of the box, and display your pistol.
You could choose to cover the inside wood with felt, or cloth, using fabric adhesive, or contact cement to adhere the cloth/felt to the wood.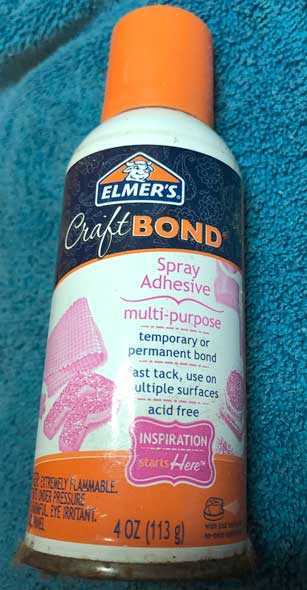 This stuff will make the fabric stick to the box.
You may want to make a compartment in your box to store CO2 or pellets, and to contain the pistol to keep it from moving. To do this, you can get wooden paint stirring sticks from your local big box store paint department, or DIY store for only a few cents, or even free.
Since they are normally emblazoned with some advertising painted on them, you will need to sand them down to remove the advertising or cover them with fabric or felt, then cut them to the size and shape you want, and glue them in place.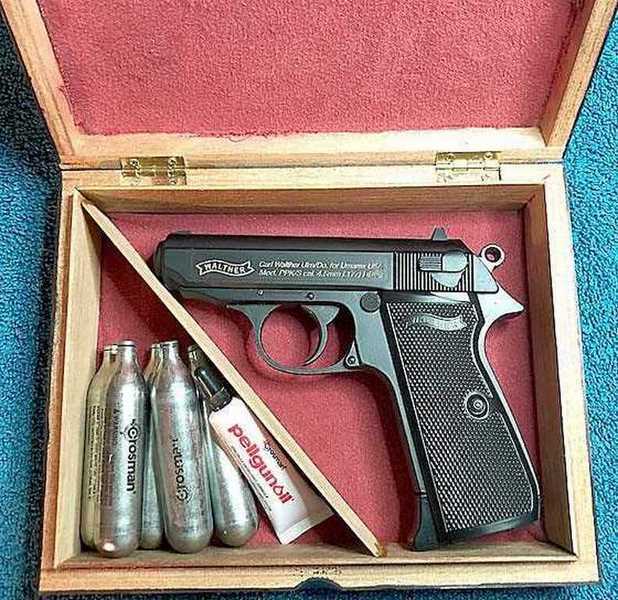 With some glue and a partition you can make a divided box like this.
And, you are done!
Total time to do this pistol case from start to finish was about 30 minutes.
But wait there is more!
You are not limited to just pistols and cigar boxes.
I have repurposed musical instrument cases, an old trumpet case will hold a complete Air Force TalonSS pesting setup. Remove the old foam, or plastic inserts, put in some scrap memory foam, or old cushion foam, cover it in your choice of fabric, and you have room for the rifle with scope attached, a 500cc bottle, the suppressor, fill adapter, fill gauge, and pellets. When I show up at the job site, I do not draw much attention because I am not carrying a rifle sized gun bag.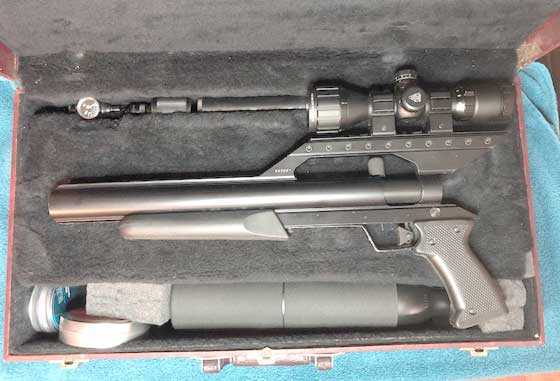 A trumpet case provides a complete AirForce TalonSS pest control package in a discreet carry case.
One of the first ones I repurposed was a case used that was made to protect and carry scientific measuring instruments, I bought the case empty at a flea market, for $5. It is industrial quality, and I use it to carry a pair of my Crosman MkI pistols. (one for me to shoot, and one to get a friend hooked on airguns, and the vintage Crosman pistols.)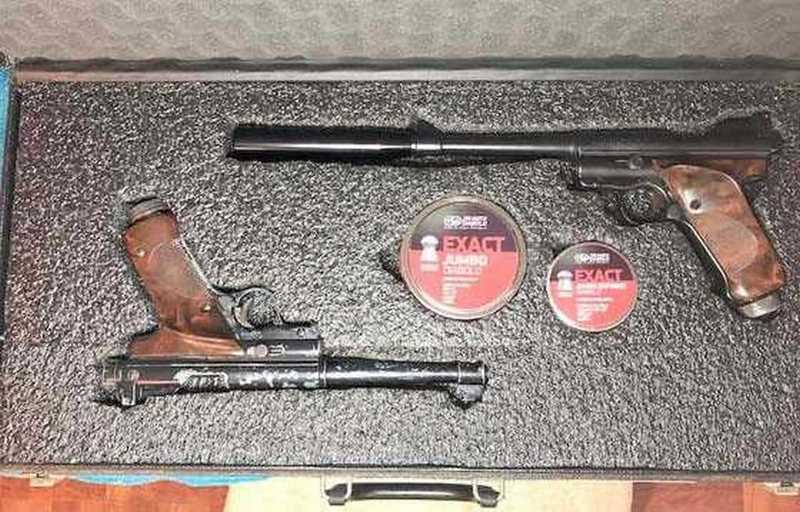 Like the S&W 78/78 series, you can't own just one of these. In this case I used the type of closed cell foam Pyramyd Air uses to pack their pellets for shipping.
Suppose you don't like hard cases, well, that works too, I found a used Shimano collapsible rod case at a store for $1. Using soft foam rubber, and a sharp knife, I cut out the basic shape of the case, and then cut other foam scraps to make a compartment to contain the pistol, and the fill adapter and room for pellets. The foam scraps are held in place by hot glue. Under the foam is the manual, and some tools and spare o-rings for the gun.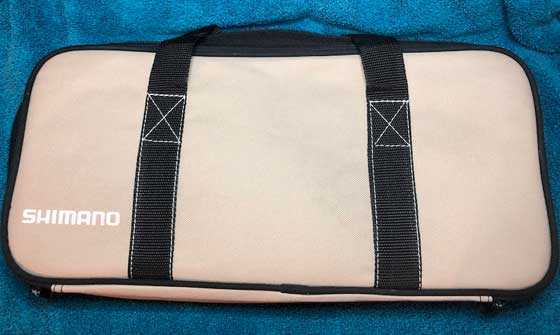 What was a case for a rod and reel…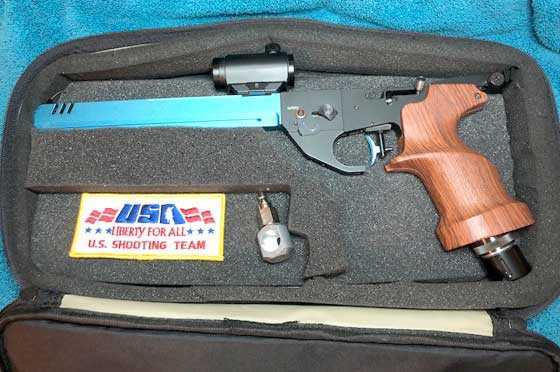 …was transformed into a neat pistol carrying case with some foam and glue.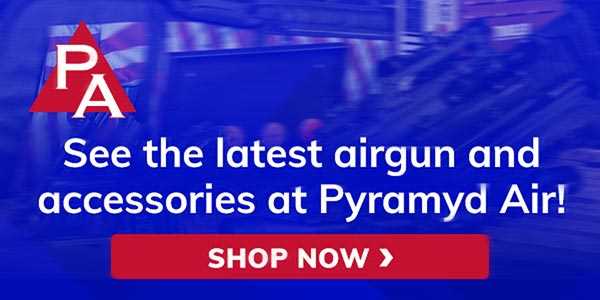 Accessories?
Small jewelry boxes make great pellet/CO2 containers. Some can be used as they are, and others you may decide to dress up.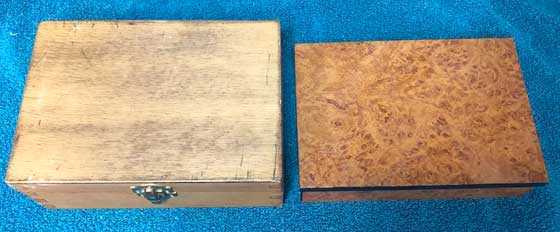 Small decorative boxes make good accessory containers.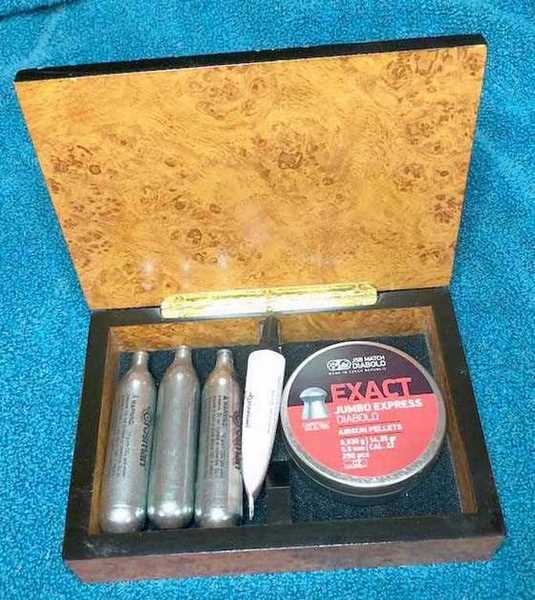 An accessory box completed and filled.
We don't have to have boring metal or plastic pellet tins
This beautiful bamboo inlaid ring box from Russia cost me a whole 0.25 cents at a garage sale.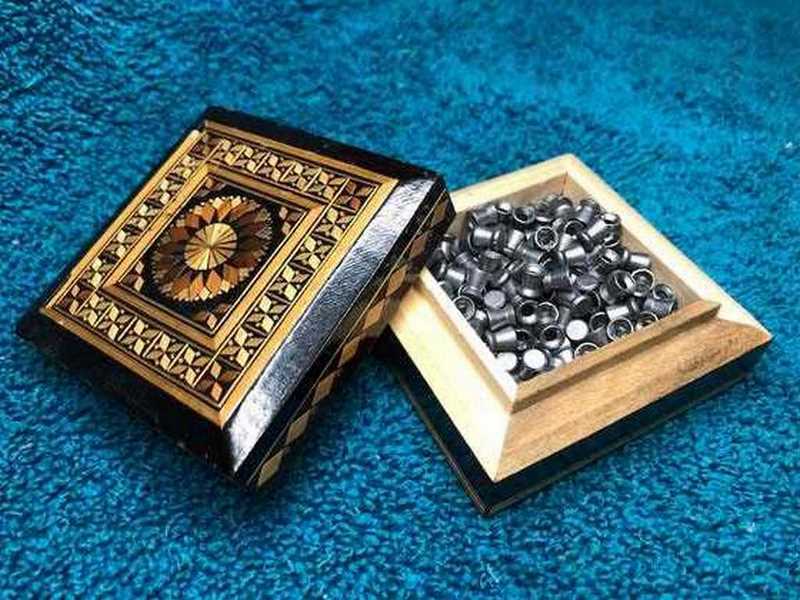 Isn't this a beautiful pellet box? It's the little things like this that make a day at the range just a little more enjoyable.
There you have it, just a few ideas to help you protect and dress up your guns and accessories, and hopefully make your airgun experience just a little more enjoyable.
Be safe.
Ian