by Tom Gaylord
Writing as B.B. Pelletier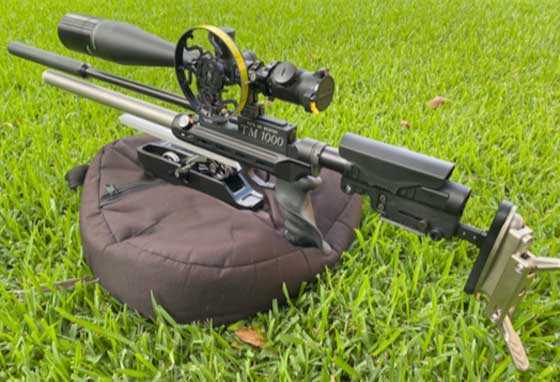 The RAW field target rifle built on the new chassis frame.
This report covers:
The beginning
It's here!
Scope
How does it shoot?
Results?
October 25, 2020 Chronograph
October 30 & 31, 2020 Chronograph
Accurate?
Pellets & Accuracy 
Summary
This report is a first look at a very special RAW. The RAW air rifle is manufactured by AirForce Airguns. It was formerly made in Tennessee and some work is still being done there, but the main manufacturing has moved to Texas.
RAW stood for Rapid Air Weapons before AirForce acquired the company. Since airguns are not considered weapons in the United States, AirForce has dropped the name, but they retain the acronym RAW because it is recognized to be at the top of the industry.
This report is about a RAW that was specially built for field target. It is built up on the new RAW aluminum chassis frame instead of residing in a wooden stock. It was built for blog reader Cloud Nine, who had a part to play in its design. He also gathered all the data and even wrote some of today's report
The beginning
Cloud Nine (I'll now call him Nine) is a field target match director at the Arlington Sportsman Club in Texas. He built his field target club up from scratch and it is now quite active in north central Texas. But he has been shooting in the spring-piston class. He wanted to get into PCPs, but was always waiting for the right rifle to come along.
After placing third in the 2019 AAFTA Nationals, shooting in the WFTA spring-piston class, Nine came to the attention of AirForce owner, John McCaslin, who wanted his RAWs to break into field target. RAW has made 12 foot-pound rifles before, but they were never optimized for the sport of field target. This was their chance to participate in the hands of a proven competitor who would feed back information on the performance of the rifle as he went.
It's here!
Nine received his new .177 TM 1000 field target rifle in August and immediately set to testing and getting used to it. It was set up to shoot just under 12 foot-pounds, which is a requirement for the WFTF rules that govern his matches.
It has an aluminum chassis that functions as the frame and the forward part of the stock. It's a single-shot with a sidelever to operate the bolt. The titanium reservoir fills to 250 bar (3600 psi) and the rifle is regulated. It has an adjustable buffer tube that incorporates a highly adjustable stock. It came with an adjustable buttpad that Nine exchanged for a RAW butthook. He also installed a Rowan Engineering adjustable forearm that FT shooters call a "hamster" and he added an ergonomic target pistol grip that he finds more comfortable.
Scope
Nine mounted a Sightron SIII FT 10-56X60 scope in Burris signature mounts that have a +/- 10 degree tilt that he adjusted down, of course. He uses a BKL dovetail-to-Picatinny riser to elevate the scope to his sighting eye. He has also mounted a thermometer to the scope to help figure out the scope shift as the temperature changes.
How does it shoot?
His first outing was August 25. Here is what he says, "I began testing the RAW TM1000 by determining the muzzle energy, to see how it varied and if any adjustments were needed to keep the rifle shooting below 12 ft-lbs.
Test 1………………RAW TM1000
Notes………………First test
Gun………………..RAW TM1000
Date:……………….8/25/20
Time………………..8:20 p.m.
String……………….1
Shots………………..104
Ext. Spread…………..23
Avg, Vel…………….783
Std. Dev……………..5.44
Avg. Energy………….11.7
Pellet wt………………8.44 gns.
Hi Vel…………………796
Low Vel………………773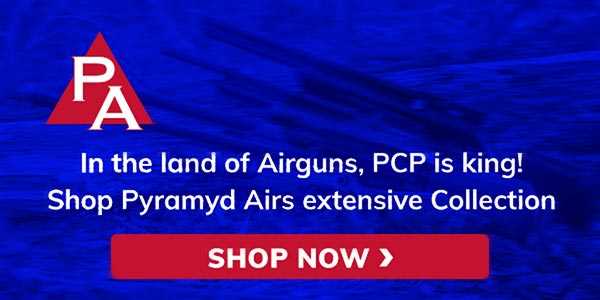 Results?
The extreme spread was 23 f.p.s., which was larger than I expected, but the gun was new and would probably settle in to something more stable. In addition, even with this ES of 23 f.p.s., the gun still shot a 3/8-inch group at 25 yards when rested on a table, which is more than accurate enough for field target matches. At 50 yards, the gun was shooting a little more than 1⁄2-inch groups off a table, so I believe the observed ES had little effect on accuracy. This was a good finding.
October 25, 2020 Chronograph
After winning the first FT match that I shot in warm weather, I shot my next match in much cooler weather and noticed a large drop in Point of impact at 55 yards, and my scope zero of 27 yds. was also off. I re-zeroed the rifle at the sight-in lane, but didn't quite figure out the new click chart for the change in POI at colder temps, so I didn't shoot quite as well in that match. The next weekend, once again in cooler temps, I chronographed the rifle again.
Name………………RAW TM1000
Notes………………Rifle shot 3 MOA low (50X) at 55 yds. Chronoed the rifle and recalculated the click chart for 55 degreesF.
Gun…………………RAW TM1000
Date:……………….10/25/20
Time……………….9:46 a.m.
String………………1
Shots……………….25
Ext. Spread………12
Avg, Vel…………..800
Std. Dev…………..3.55
Avg. Energy……..11.98
Pellet wt………….8.44 gns.
Hi Vel………………806
Low Vel……………794

October 30 & 31, 2020 Chronograph
I had the chance to shoot the next weekend in colder temps (40-47F) to ascertain velocity change and scope shift once again. The results were almost the same as they were at 55F, but the ES had dropped to 10fps.
Accurate?
Nine was pleased with his new rifle's accuracy, overall, but as he tested it he learned its peculiarities. Here is what he says, "I am convinced that the POI shift is not due to the gun changing velocity. It could be related to air density increase in the colder weather and scope shift. I will have to investigate more thoroughly as I learn this rifle. I did measure a scope shift due to temperature. I setup my yardage markers at 85F in September, and now in October at 45F, the scope ranges 3 yards short at 55 yards."
Pellets & Accuracy
"You will notice that I changed pellets from AA 8.44gr to JSB 8.44gr because I noticed that the AA's weren't grouping as well as I expected. In fact, they were grouping no better than about an inch at 55 yards. I used a PelletgageR to measure the heads on the AA's and they were almost all 4.49mm, with a few 4.50mm, so the head sizes were very consistent, but also on the small side, I believe. I measured the JSB head sizes, and they were all 4.50mm to 4.51mm, so just a little bigger.
"The slightly larger head size of the JSB seemed to help reduce the group size. I hadn't started holding the rifle with a firm hold as I will describe now, so these groups @ 27yds might get a little smaller with a firm hold."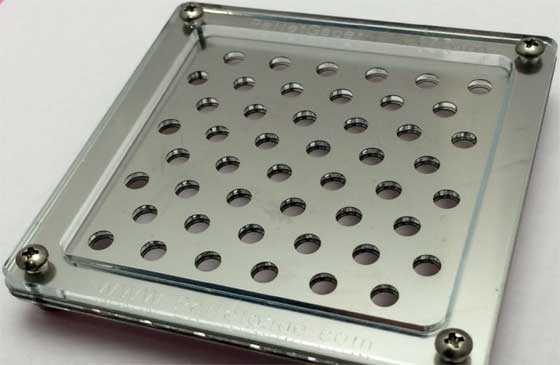 PelletgageR was used to rapidly sort pellet heads.
I also noticed that group sizes were affected by how I held the rifle — a light grip with rifle resting on the hamster versus a firmer grip with rifle resting on hamster, my hand on the hamster, and the butt pulled into my shoulder with a good cheek weld. The firmer grip, which is the way I shoot the rifle in matches, resulted in best group sizes, so I captured a 60yd group below to verify.
I shot at the range with Cloud Nine as he was learning his rifle and I was present on the day he learned that the JSB 8.44-grain pellet was superior to the Air Arms 8.44-grain pellet that Martin Rutterford, the former owner of RAW, had recommended. I am skipping past bushels of targets and data he gathered between field target matches.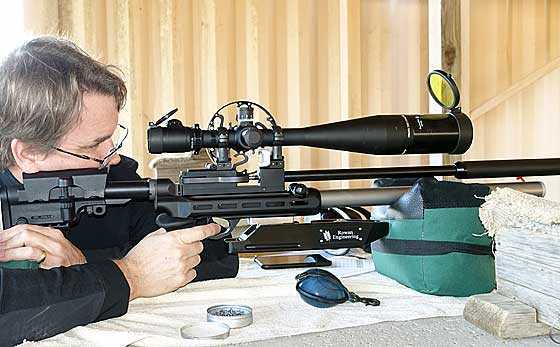 Cloud Nine on the windy day he learned that JSB 8.44-grain pellets with 4.51mm heads are the best in his rifle.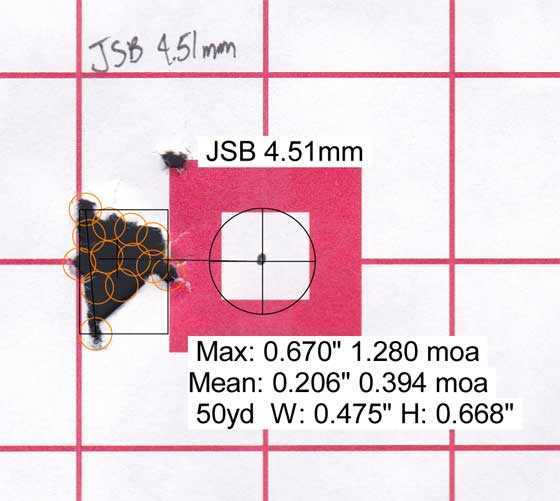 A 13-shot group at 50 yards with Cloud Nine's new RAW field target rifle.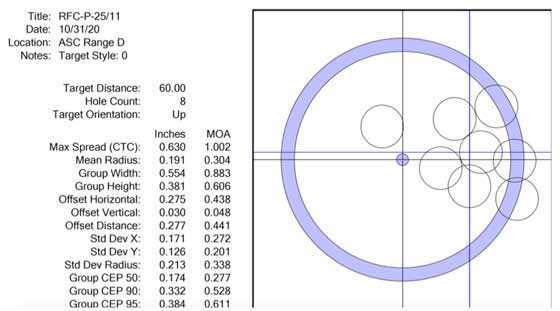 After learning the right pellet and the hold, Cloud Nine's RAW put nine pellets in 0.630-inches at 60 yards.
Summary
This is just our first look at Cloud Nine's field target RAW. He has made several reports to AirForce regarding things he would like to see on the rifle, and they are talking to him at length. As I told you I have bypassed bushels of targets and data to give you this quick look at a RAW field target rifle that currently only exists as a work in process. It's a work that has won several field target matches so far, so it is a labor of love for the man testing it.