by Tom Gaylord
Writing as B.B. Pelletier


Benjamin's new Semiauto Marauder repeating PCP.
This report covers:
What IS a semiauto Marauder (SAM)?
Power
Regulator
Fast shots
Adjustable cheekpiece
The SAM stands apart
The magazine
Too heavy?
Some valid complaints
Summary
Oh, boy, has the Benjamin Semiautomatic PCP rifle been anticipated! Ever since Crosman showed it at the 2020 SHOT Show people have been clamoring for it.
What IS a semiauto Marauder (SAM)?
First, let's understand what a semiauto Marauder ISN'T. It isn't a Benjamin Marauder that has been converted to shoot semiautomatically. That would be next to impossible to do. The Marauder is a bolt action rifle and there is no way that action can easily be converted to semiautomatic operation, any more than an AirForce TalonSS can easily have a magazine added. So, stop thinking of this as a Marauder and think of it as a semiautomatic Benjamin PCP — a SAM. If you can do that you will stop comparing it to a Marauder in your mind and a lot of the heartache from the differences  will disappear.
What this is, is a 10-shot semiautomatic precharged pneumatic air rifle. It comes in .22 caliber only at present and in a wood stock. If the design catches on there will no doubt be upgrades yet to come.
Power
The SAM comes to you factory preset at around 22 foot-pounds. At that setting Crosman says you will get around 50-60 shots. You can adjust the hammer spring tension up to the point that about 28 foot-pounds are available. That will drop the shot count to about 30-40 shots, according to Crosman. You know that will be one of the things I will test.
The rifle is medium weight at 8 pounds without a scope. It's not heavy, but the thickness of the stock conveys the impression that it's heavier than that.
The stock appears very Chinese to me. It has a muddy reddish brown finish with slick flat impressed diamonds along the forearm and nothing at the grip. This is where some stippling would help a lot, because with the weight of the rifle the stock needs to be grippy.
Regulator
The SAM has a regulator, which means you should get more shots at consistent velocity than if it didn't. Naturally we will see how that goes.
Fast shots
The semiautomatic capability means that follow-on shots come more quickly. I'm thinking of a way to test this. I might do it while testing accuracy.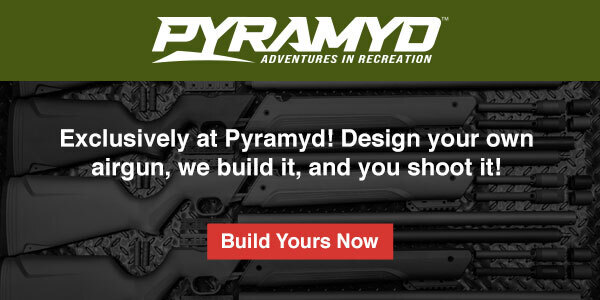 Adjustable cheekpiece
The Monte Carlo cheek piece adjusts up and down to suit your needs. Since a scope has to be used, this feature allows the shooter to set up his rifle to suit himself. And the stock is ambidextrous. The cheekpiece is made of synthetic material instead of wood.
The SAM stands apart
Now let's look at some things that set the SAM apart from the bolt-action Marauder.
The trigger is the first place we'll start. The trigger on this air rifle is two-stage, with a very short first stage and a very long second stage pull. The second stage pull isn't heavy, but it is long. Triggers don't normally move in the second stage, but the one on the SAM does.
Shooters who have heard praise for the Marauder trigger for years will decide to buy one of these semiautomatics, never thinking that this isn't the same rifle. They will be surprised when they feel this trigger. Some of them will have owned Marauders before and they bought this airgun just because it is semiautomatic. Others will never have experienced a Marauder trigger, but they have heard a lot about it. This one will be their first encounter. Both situations will not go well.
Let me enlighten you. The M1911 pistol and its derivatives were designed as semiautomatics from the get-go in 1911. Their triggers used to be (from 1911 to around 1970) pretty bad when compared to good target handgun triggers. They could always be improved by gunsmithing, but that work often cost nearly as much as the pistol cost. I did that work when I was first in the Army to make some extra money.
Here is the problem. When a semiautomatic fires, its bolt flies back to load another round into the chamber. The hammer spring is cocked when that happens and the sear has to catch the hammer while everything is moving and not let it fly forward, or the gun will go full-auto. To catch the hammer the sear has to have a broad ledge that mates with the hammer perfectly — and getting that is what costs money.
These days the century-old 1911 design has been around so long that a factory can put on a pretty good trigger by just assembling manufactured parts. If that isn't good enough, expect to pay several hundred dollars to make it better. My CZ75 Shadow2 has a decent trigger, but a good trigger costs another $450, plus transportation both ways! So, just improving the trigger on a 1911 or a CZ75 costs as much as a bolt-action Marauder!
Most AR-15s come with a fairly horrible trigger. But that design is now a half-century old and makers have discovered how to make the trigger better, if not good. My Gisselle aftermarket trigger cost me $280 and took about 8 hours to fit and adjust. So a semiauto can have a good trigger, but there  ain't no way you're gonna get a Marauder-level trigger in a regulated semiautomatic pellet rifle for a few hundred dollars over the base Marauder price — even if the rifle's name has the word Marauder in it.
The magazine
Here is "problem" number 2. The SAM mag. looks like a Marauder magazine but it doesn't load in the same way. It loads like many other PCP magazines, though. It seems the people who have received their new Semiautomatic Marauder rifles are not used to a circular magazine that requires the first pellet to be loaded backwards from the bottom of the mag. Once that first pellet is loaded the rotary wheel inside is stopped and the rest of the pellets are loaded through the transparent top, just like a Marauder magazine.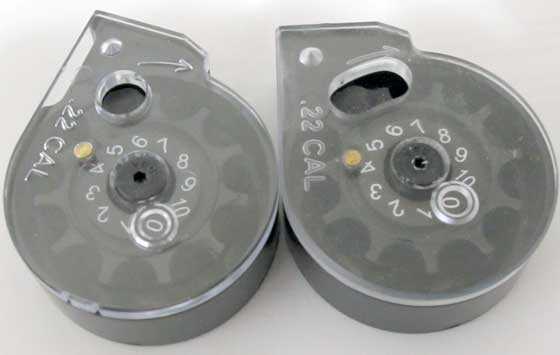 The SAM magazine is on the left and a Marauder mag is on the right. See any difference?
Too heavy?
Nearly every new owner says that the Semiautomatic Marauder is too heavy. Well — it isn't. It just has a wooden stock and is heavier than if it had a synthetic stock. If it had one of those, though, that would be the complaint. The SAM weighs 8 pounds, nominally.
Some valid complaints
One valid negative observation is that the charging handle that retracts the bolt probe and hammer doesn't stay back on its own. If you release it to insert the magazine the bolt probe springs forward and gets in the way. Because of that it almost takes three hands to load a magazine into the receiver!
The safety is too close to the trigger. It doesn't bother me but a shooter with sausage fingers will notice it. I'm not referring to when the safety is on (that's the safety lever pulled back). Then it almost touches the trigger blade, which I believe is intentional. You can feel when the safety is on without looking. But when the safety is in the Fire position, there's not very much room in front of the trigger.
Summary
The bottom line of the Semiautomatic Marauder seems to be to get your thinking oriented correctly. This is a different PCP altogether from the Benjamin Marauder. That doesn't mean anything, good or bad. I will test it and tell you what I see.