by Tom Gaylord
Writing as B.B. Pelletier
This report covers:

Scope mount
Will the wood stock fit?
Shoot the paint out
RWS Hobby
Discharge sound
Stability
Lightweight pellets
Medium weight pellets
Heavy pellets
Pump effort
Trigger pull
Summary
Today we look at the velocity of the new Benjamin 397 Variable Pump Air Rifle. There was a lot of interest and chatter about this air rifle in Part One. Let's start with some of the questions.
Scope mount
Reader GunFun1 asked where the dovetails are for mounting a scope. Well, there are no dovetails on this air rifle. Instead it is drilled and tapped for a peep sight, which Benjamin has done on their rifles for a very long time. The pictures on the Pyramyd AIR website are too dark to see details, so I enlarged one and lightened the image for you to see.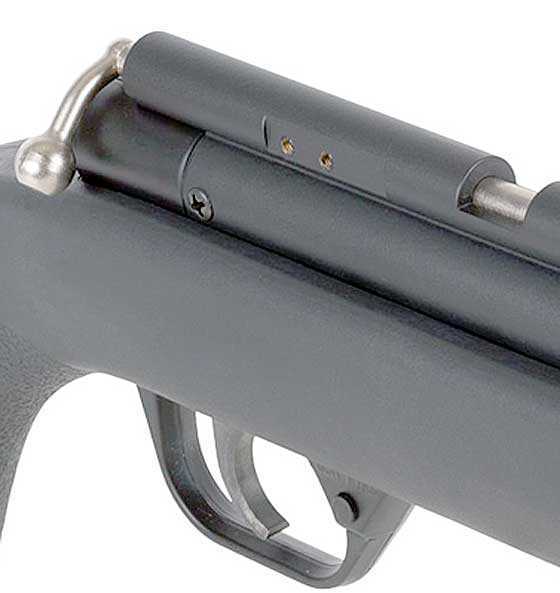 The 397 comes with two threaded holes on the right side of the receiver. In the past these holes have been used to secure a scope base with dovetails to the receiver.
Apparently nobody makes that base any longer. They are now clamping to the rounded receiver with what is called an intermount. There are several models to choose from.
Will the wood stock fit?
I believe it will fit. After I take some pictures I'll try to swap.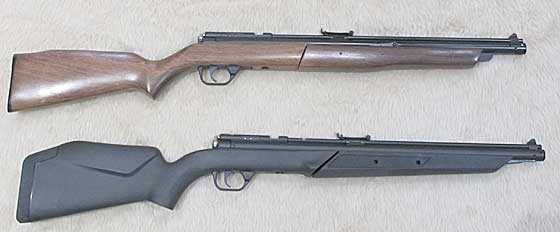 This "family picture" shows the old-style Benjamin 392 above the new synthetic 397. This 392 has been modified for the pump assist, but its wood buttstock remains unaltered.


And there is the swap! Hallelujah!
Now, the wood butt fits on the new 397 and the pump arm will close, but the synthetic butt does not fit on a wood-stocked gun.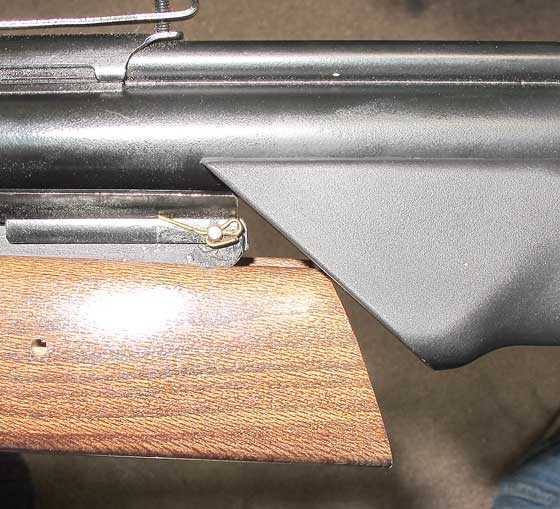 Oh, oh. It doesn't work the other way!
Shoot the paint out
In Part One I told you that paint inside the barrel at the muzzle is a common complaint of owners and I saw it in the test rifle. I said I was going to remove it and reader Toddspeed asked me to shoot for accuracy before removing the paint, and then again, afterward. He wants to see how much the overspray in the muzzle really affects accuracy. I will do that, though not today. In fact I'll inspect the muzzle after today's session to see if the paint is still there after I'm done shooting.
I also hope to shoot the rifle with a peep sight — IF I can find mine and if it matches the drilled and tapped holes, because the Pyramyd AIR site mentions there is a new peep that fits rifles manufactured in the last 5 years. Crosman should offer an optional wood stock of the old low comb style for shooters who want to use sights. Let's get started.
RWS Hobby
I may shoot some "trick" pellets but I'm more concerned with performance of the rifle with the pellets we will actually shoot. I'll start with the 7-grain RWS Hobby wadcutter.
Pump…….Vel.
2……………..471
3……………..551
4……………..604
5……………..648
6……………..680
7……………..716
8……………..737
9……………..758 no air remaining in gun
10……………773 no air remaining in gun
This first test showed a lot. First — this IS NOT an 1,100 f.p.s. air rifle! I will also try it with lightweight pellets that no one would ever use, but with real-world pellets the new 397 is a 775 f.p.s. rifle.
Next, I have to revise what I said in Part One about pumping. The first three pumps are now easy. I think the new rifle was just stiff and needed to be broken in. At pump 5 it started to get hard. That is how the previous 397 was, so in that respect, the new gun is like the old one.
But the new rifle is more efficient for pumps 2 through 4! I like what I see on the string above. In fact, why pump more than 4 times for shots closer than 25 yards? Maybe if you are shooting at game you want to pump more, but to just plink 4 pumps seems to work fine, even 3 if you're closer to your targets.Why work when you don't have to?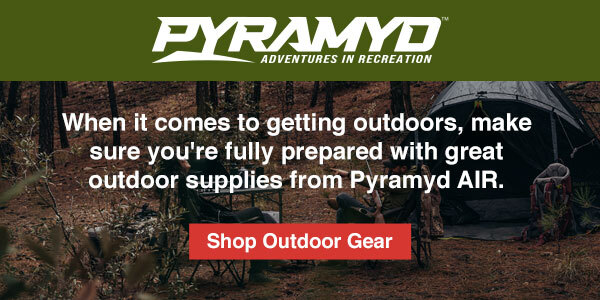 Discharge sound
On two pumps the rifle discharged with 106.5 decibels of noise. On 5 pumps the discharge was 107.7 decibels. That's not much louder. But on 10 pumps the discharge dropped to 104.9 decibels. I was surprised — not because that shot sounded louder but just because there were more pumps and more power. I think rather than increasing and decreasing with the different number of pump strokes the discharge sound is pretty constant and I'm just encountering minor variences.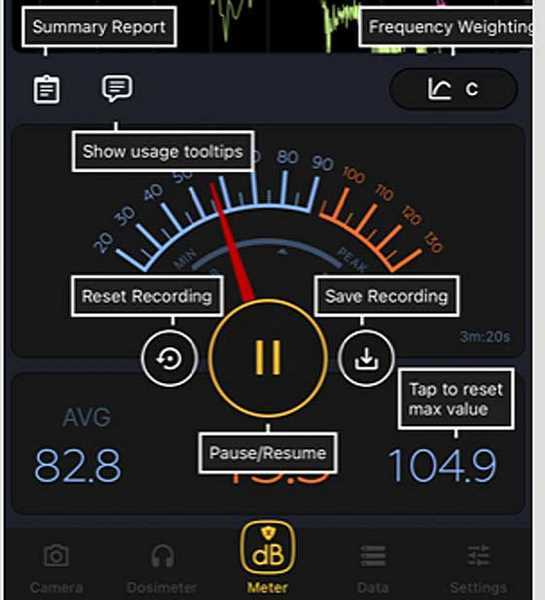 Stability
Now let's see how consistent the pump is. The next string will all be shot with Hobby pellets and 5 pumps in the rifle.
Shot….Vel
1………..647
2………..654
3………..654
4………..654
5………..651
6………..656
7………..660
8………..659
9………..658
10………665
The average for this string is 656 f.p.s. The spread is 18 f.p.s. which is on the high side for a multi-pump, but again I think part of that is a need to break in the rifle.
I will say this — this 397 is much more efficient on fewer pump strokes than any other that I've tested. Whatever was done to the valve to permit 10 pumps also made the rifle more efficient.
Lightweight pellets
Hobbys are lightweight for lead pellets, but there are pellets made from other materials that are even lighter. But I don't think they will be used much in the Benjamin 397.
There are two good reasons most shooters will never shoot ultra-lightweight pellets in their 397. The first is, the affordable ones are far less accurate than lead pellets. I have proved that several times in the past. The second reason is the really good lightweight pellets that are as accurate as lead pellets are made from tin and are quite expensive. I don't see anyone shooting this air rifle and using pellets that cost three to 15 cents apiece!
But Crosman has advertised it with velocities that have to be based on lightweight pellets, so let's test it with some now. The lightest .177-caliber pellets that I currently have are Gamo Platinum PBA pellets that weigh 5.1 grains. Here is their performance. Next to my results I've written what the box says.
Pumps.…Vel.…Box
2….………..538…650
6….………..784…850
10….………879…1,100
This 397 is clearly not an 1100 f.p.s. air rifle! Not even with lightweight pellets does it come anywhere close to the advertised velocity. That's not bad — but it is a fact. This new 397 is a little faster than its wood-stocked predecessor, and it's also more efficient with fewer pump strokes. Keep that in mind as we progress.
Medium weight pellets
Now let's test the new 397 with some medium-weight lead pellets. I chose Crosman Premier Lights that weigh 7.9 grains.
Pump…….Vel.
2……………..463
3……………..533
4……………..582
5……………..628
6……………..666
7……………..696
8……………..720
9……………..738 no air remaining in gun
10……………758 no air remaining in gun
Now let's see what the rifle does with a heavy pellet. I'll shoot Crosman 10.5-grain Premier Heavys.
Pump…….Vel.
2……………..397
3……………..465
4……………..518
5……………..557
6……………..595
7……………..623
8……………..653
9……………..666 no air remaining in gun
10……………682 no air remaining in gun
I expected the heavy pellets to shoot slower and they did. But if you plan to hunt with the rifle a heavier pellet should be considered.
Pump effort
Now for the big one! What does it take to pump the new 397? I am working the pump slow and steady as I watch the scale's deflection.
Pump….Effort lbs.
1……………..18
2……………..24
3……………..26
4……………..29
5……………..29
6……………..29
7……………..31
8……………..33
9……………..33
10……………34
Those numbers are in alignment with the older 397, except pumps 9 and 10 on the new gun are like the old gun's pumps 7 and 8. The rifle could still be breaking in and these numbers might drop, but only by a pound or so.
Trigger pull
The first stage takes 12 oz. to complete. Stage two releases at 4 lbs. 15 oz. The second-stage release is crisp. In all this is a good trigger that I can work with.
How is the paint?
I looked at the overspray inside the muzzle and after 40 shots I can detect no loss of paint. So, when we get to the accuracy test I will try it with and without the paint — assuming I am able to remove it.
Summary
We have learned a lot about the new Benjamin 397 Variable Pump today. We now know that it is not an 1,100 f.p.s. air rifle, no matter what ammo is used. We also know that the older-style wood butt stock will fit the new rifle and make it possible to see the open sights.
We have also learned that this new rifle is more efficient in the lower number of pump strokes, which makes it a delightful plinker. Crosman has done something to this rifle's valve that has changed its performance for the better.
Besides testing accuracy with open sights I also hope to test it with a peep sight and a scope, if I can find the mount. Lots more to come!