by Tom Gaylord
Writing as B.B. Pelletier
This report covers:
10 meters
Cylinder advance
The test
RWS Hobby
Crosman Premier Light
Air Arms Falcons
RWS Meisterkugeln Rifle
H&N Finale Match Heavy
JSB Exact RS
Discussion 1
Premier Light 10-shot group
RWS Meisterkugeln Rifle 10-shot group
Discussion 2
Summary
Today we start looking at the accuracy of the Crosman Vigilante CO2 Revolver. I have read a lot of comments about how accurate this revolver is, but many of them never seem to give any facts. They just rave. One person did say his 357 (the forerunner of the Vigilante) was more accurate than his Smith &Wesson 586, but again, no data on what that meant — how many shots, at what distance and with what pellet. It was just more accurate.
However, I looked at the customer reviews on the Pyramyd AIR website. Some were vague like the ones mentioned above, but several were detailed. One guy even wrote a list of the pellets he tried. Where there was detail I found guys were getting groups around one inch or a little larger at 25 feet, so I expect to get two inches or hopefully better at 10 meters, which is just shy of 33 feet.
10 meters
This test was what precipitated the whole report on pellet traps last Friday. I dragged my trap out of the garage and was going to set it in my bedroom, where I can get 10 meters and more, shooting from the living room. After dragging the trap out I realized that I needed at least one more trap. I will keep the new trap in my office, but will use the silent trap whenever I test the discharge sound of an airgun. Now back to today's report.
Cylinder advance
Remember that I told you the cylinder on the test gun does not advance all the way when the hammer is cocked? Reader Benji-Don commented that his Vigilante cylinder stopped a little short, too. He noticed that a small lever behind the trigger advances the cylinder the rest of the way, and I was able to confirm that today.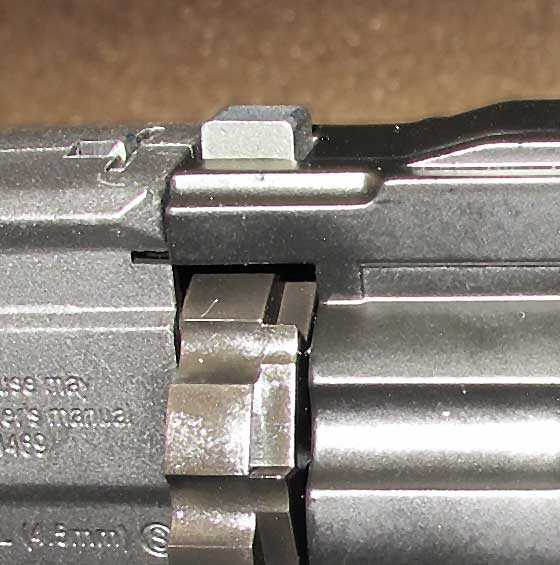 After cocking the hammer the cylinder is almost in position. It goes up as it rotates in this image.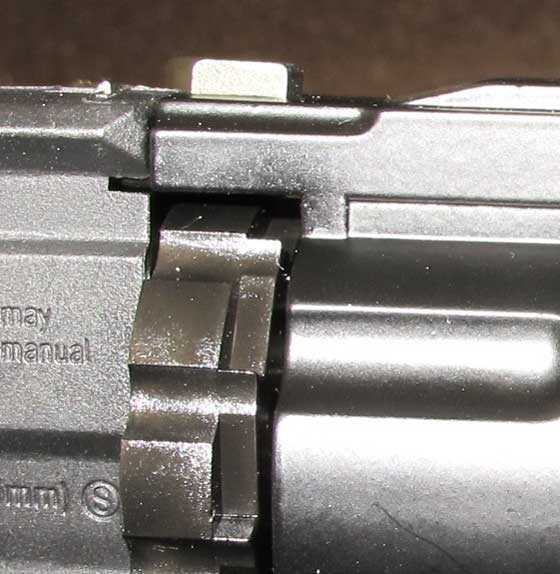 After squeezing the trigger the cylinder advanced just a little more (rotated a little more up) and locked in position.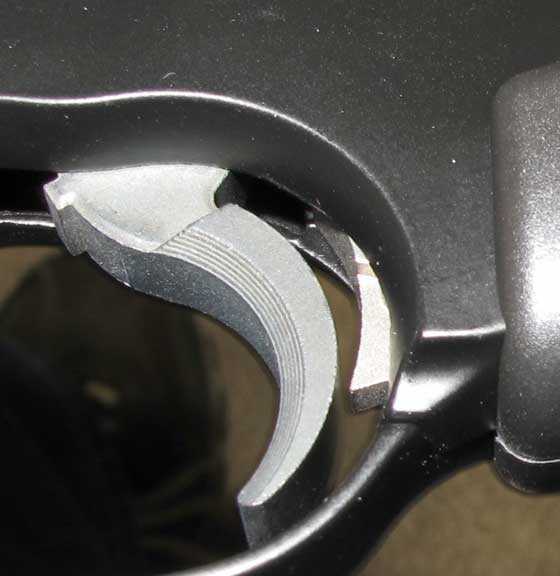 That lever behind the trigger blade advances the cylinder the final amount.
I pulled the trigger but didn't let the hammer fall. Pulling the trigger is what pushes that lever to advance the cylinder the final bit. This means I don't have to test the Vigilante both ways — with and without manually advancing the cylinder. The trigger always advances the cylinder and locks it tight in battery.
The test
I shot the revolver off a sandbag rest from 10 meters. The revolver was held in my two hands off the bag. I shot at 10-meter pistol targets and I used the open sights that come on the airgun. I wore reading glasses to see the front sight clearly and I used a 6 o'clock hold on the target.
I shot 5-shot groups so I could test more pellets. But at the end of the test I shot 10 shots each with the best two pellets. I shot single action only.
RWS Hobby
First up was the RWS Hobby wadcutter. The first shot landed at the bottom of the target paper so I adjusted the rear sight up. Shot two hit the bottom of the bull so I left the sights where they were for the rest of the test.
Five Hobbys went into 2.157-inches between centers at 10 meters. This group is a little large for my taste, so Hobbys are not a good pellet in this Vigilante.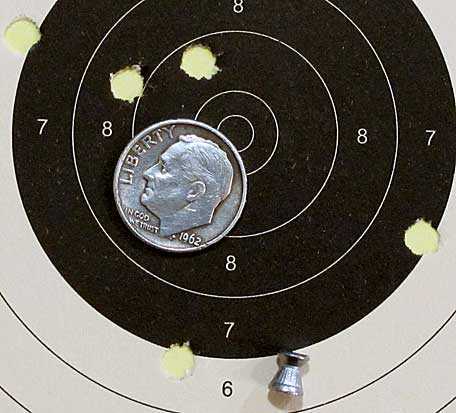 The Vigilante put five RWS Hobby pellets into a 2.157-inch group at 10 meters.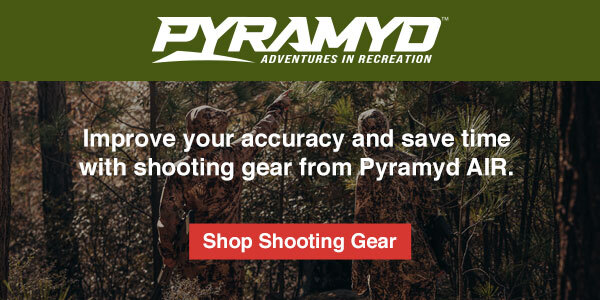 Crosman Premier Light
I don't have a very wide sample of Crosman pellets, but I do have a box of the 7.9-grain Premier Light domes. Five of them went into 1.483-inches at 10 meters and I thought that was more like it. I had imagined before this test that a good group would be closer to one inch than two.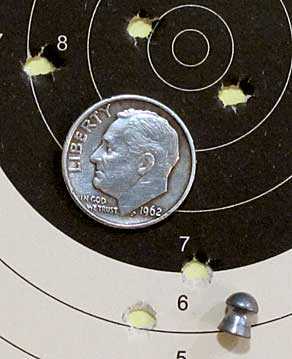 Five Premier Lights went into 1.483-inches at 10 meters.
Air Arms Falcons
Next up were five Air Arms Falcons. I hoped this light dome would do well, but with five in 2.453-inches, it didn't.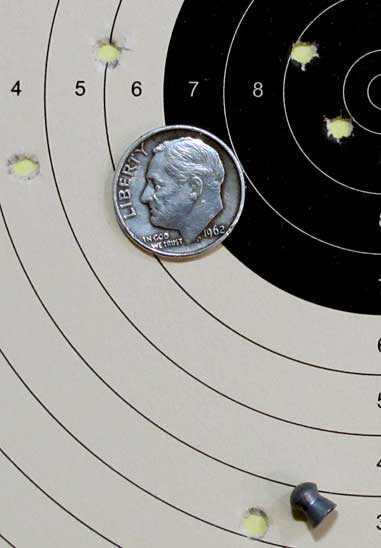 Five Falcon domed pellets went into 2.453-inches at 10 meters.
RWS Meisterkugeln Rifle
I had a hunch that fatter and heavier pellets would do better. Either it was a hunch or a reader mentioned it. At any rate the next pellet to be tested was the 8.2-grain RWS Meisterkugeln Rifle wadcutter. And my hunch was right! Five pellets went into 1.828-inches at 10 meters. I know that's not small, but I could tell just by looking at the group that the Vigilante wants to shoot them.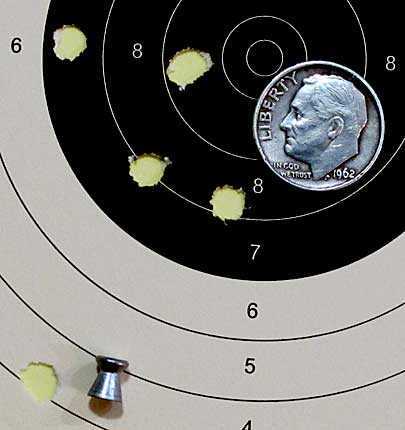 Five RWS Meisterkugeln Rifle pellets made this 1.828-inch group at 10 meters.
H&N Finale Match Heavy
The next pellet I tried was the H&N Finale Match Heavy wadcutter. Five of them went into 3.186-inches at 10 meters. This is definitely not the pellet for the Vigilante revolver!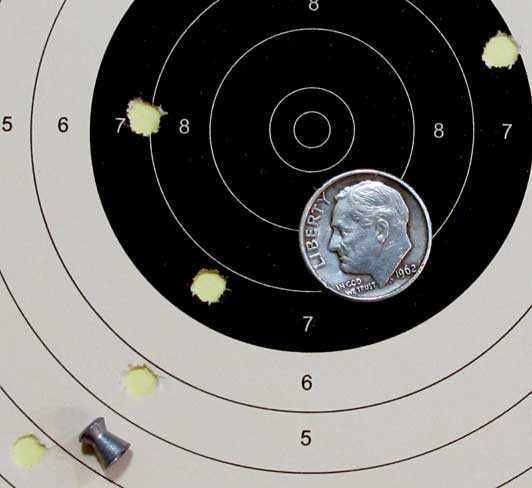 The H&N Finale Match Heavy pellet is not for the Vigilante. Five went into 3.186-inches at 10 meters.
JSB Exact RS
The final pellet I tried in the Vigilante was the JSB Exact RS dome. They are often very accurate in lower-powered airguns, but not in the Vigilante. Five went into 2.959-inches at 10 meters.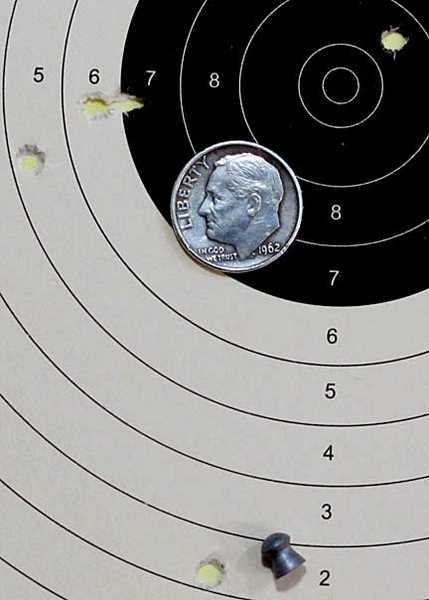 Five JSB Exact RS domes went into 2.959-inches at 10-0 meters. This is another pellet that's not for the Vigilante.
Discussion 1
Looking at the results of the test I saw that the heavier pellets that might also fit the bore tighter seemed to shoot better. So I took the two best and shot 10-shot groups with each of them.
Premier Light 10-shot group
First I shot 10 Crosman Premier lights. They went into 2.979-inches at 10 meters. I had hoped to do better, but that was what they did.

Ten Crosman Premier Lights went into 2.979-inches at 10 meters.
RWS Meisterkugeln Rifle 10-shot group
The last pellet I shot was the RWS Meisterkugeln Rifle. I thought they did well before so I decided to give them a chance to show off. Ten of them went into 2.251-inches at 10 meters, but look at the group. Seven of the ten pellets are in 0.945-inches and I think they represent what people have been saying about the Vigilante. Not many folks shoot groups of 10 shots and not many consider all the groups they shoot — just the good ones.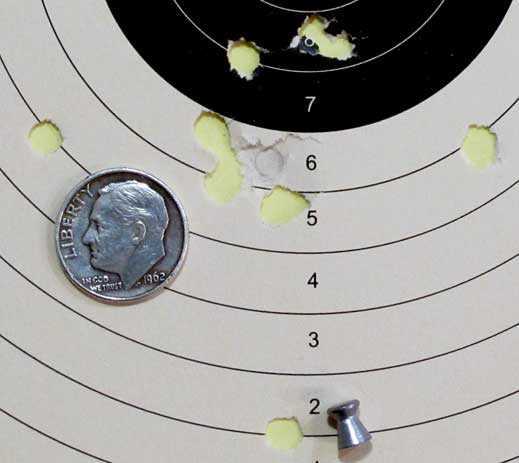 Ten RWS Meisterkugeln Rifle pellets went into 2.251-inches at 10 meters, but seven of them are in 0.945-inches.
Discussion 2
After seeing this last group I now wonder how much better I can do, if any, with a dot sight mounted. So before I shoot BBs in the Vigilante I plan to shoot another round of pellets with the UTG Reflex Micro dot sight mounted.
Summary
The Crosman Vigilante is the latest version of Crosman's 357 revolver. This is my first time looking at it, but I already see why airgunners think so much of it. I have been pulling the trigger in dry-fire in an attempt to lighten the trigger pull a bit. So far, no change. But we are going to shoot this one a lot more, so we'll see.