by Tom Gaylord
Writing as B.B. Pelletier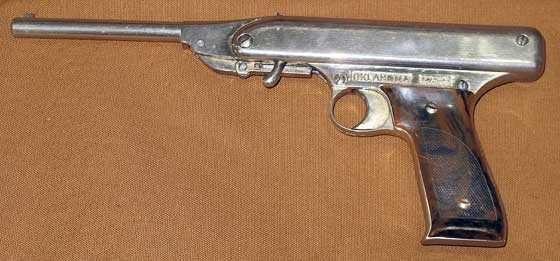 The Mondial Oklahoma pistol.
This report covers:
Further tie-ins to the Roger CO2 pistol
Choose one
Performance
RWS Hobby
Air Arms Falcons
RWS R10 Match Pistol
Loose breech
Discharge sound
Accuracy?
Summary
Today I test the velocity of the Mondial Oklahoma air pistol we have started looking at. I was hoping so much that another owner would comment that he had a pistol with a rifled barrel because this one is smoothbore for sure. But no one has come forward yet. And no, the rifling hasn't worn out of this one. This is a breakbarrel spring-piston air pistol that was made to sell at a low price, but as I noted in Part One, a lot of thought went into its design.
Further tie-ins to the Roger CO2 pistol
Reader Pacoinohio asked for more information about the tie-in between the Oklahoma and the Daisy 100. I have information that comes from two different sources and goes in two different directions. First, while researching Mondial I learned that they also made the Roger CO2 pistol that looks something like the Daisy 100. Many years ago an advanced Daisy collector at an airgun show showed me his Roger pistol in the box that he felt was extremely rare. He also told me that Daisy bought the plans for the Roger and that was what the Daisy 100 was based on. They are not exactly the same and I doubt that many parts interchange, if any, but any designer finds his work easier if he has something to go on. I think that was essentially what happened, if any of it is true.
The other direction I will come from is that I wrote the largest report that has ever been written on the .22 rimfire firearms made by the Wamo corporation. It was published in one of the Airgun Revue magazines. This company is known as Wham-O today and we know them for their Hula Hoops, Superballs and Frisbees. But Wamo also made at least three different .22 rimfire guns, though they claim they never did. The most popular one they made was called the Wamo Powermaster. It was a .22 long rifle single shot that ejected the empty cartridge case and the bolt remained back for loading.
Years ago Dennis Quackenbush, who many of you know as the builder of big bore airguns, told me that he can convert the Daisy 100 into a Powermaster. Yesterday morning Dennis told me that to him it appears that Daisy purchased the Powermaster design and tooling from Wamo and turned it into their model 100 CO2 pistol. That's why Dennis says it is so easy to turn a 100 into a Powermaster. He says that because he sees little design details in the Daisy 100 that come from the Powermaster and are unnecessary for the air pistol, so it looks to him like Daisy used the Wamo tooling to make their airgun.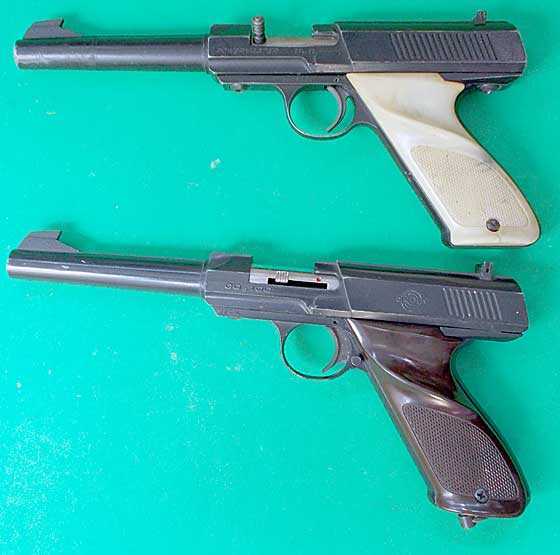 Here are the Wamo Powermaster (top) and Daisy 100 for comparison. Photo courtesy Dennis Quackenbush.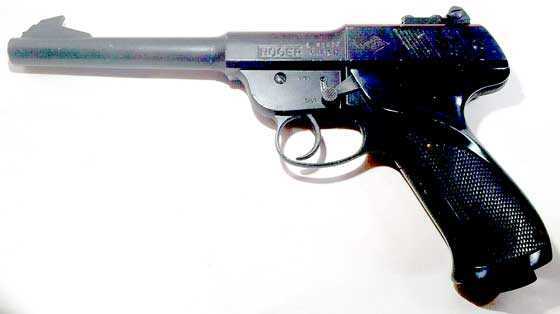 And here is a Roger. I have to say, it doesn't look much like the Daisy.
Choose one
That's two different stories of the relationship between the Daisy 100, the Wamo Powermaster and the Roger air pistol. You decide. I've told you all that I know.
Performance
So, how does the pistol I am testing perform? According to the Blue Book of Airguns I should expect about 200 f.p.s. I oiled the piston seal and the breech seal days before this test so this one will do as well as it possibly can. Let's see.
RWS Hobby
First to be tested was the RWS Hobby wadcutter. They fit the breech very tight and wouldn't even sit flush.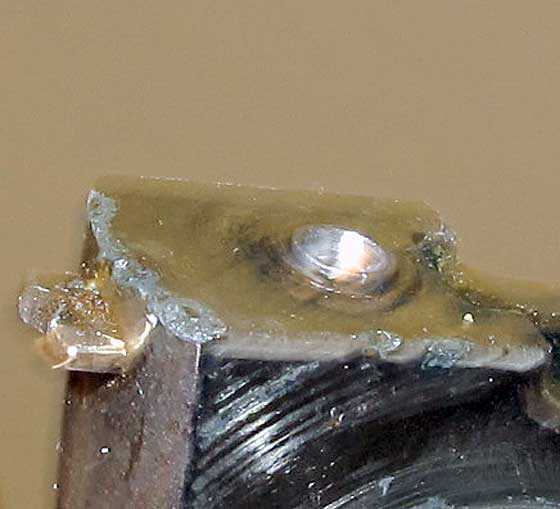 That's as deep as the RWS Hobby would go into the Oklahoma breech with finger pressure.
I knew when I saw how tight Hobbys were that they needed to be seated deep, so the head and skirt would be sized down by the barrel. Just for fun I shot one Hobby seated like you see in the picture. It went out at 175 f.p.s. Ten more when seated deep with a ballpoint pen averaged 244 f.p.s. That's a gain of 69 f.p.s. from just deep seating. The low for the string was 231. The high was 253, so the difference was 22 f.p.s.
I'm guessing other pellets that are light but not so large as Hobbys will be faster. Let's see.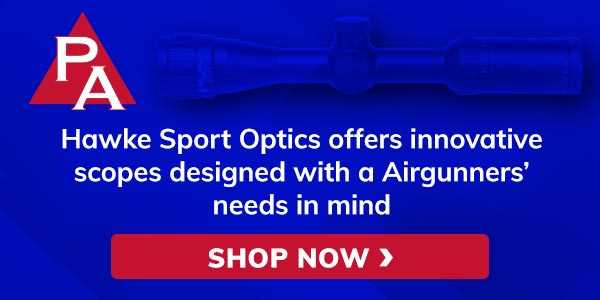 Air Arms Falcons
At 7.33-grains the Falcons are heavier than the Hobbys, but they are also smaller, so there is less resistance. I deep-seated them, too.
Falcons averaged 236 f.p.s. over 10 shots. The velocity ranged from a low of 223 to a high of 246, so a 22 f.p.s. spread. Let's try one more pellet.
RWS R10 Match Pistol
The RWS R10 Match Pistol pellet weighs 7 grains like the Hobby, but it fits the breech almost as well as the Falcon. It's just a little tighter. Ten of them averaged 254 f.p.s. in this Oklahoma. The low was 251 and the high was 257, so the spread was 6 f.p.s. That's not only very good, it's also considerably faster than the Blue Book said, so I assume this pistol is performing well.
Loose breech
I noticed while shooting that the breech on the pistol is loose. However, it is the strangest loose breech I have ever seen. It's loose when the pistol is cocked but not when it isn't, which means when the piston is forward it's somehow affecting the tightness of the breech.
Discharge sound
I tested the sound at discharge with the audiometer app on my smart phone. It's very quiet when it fires.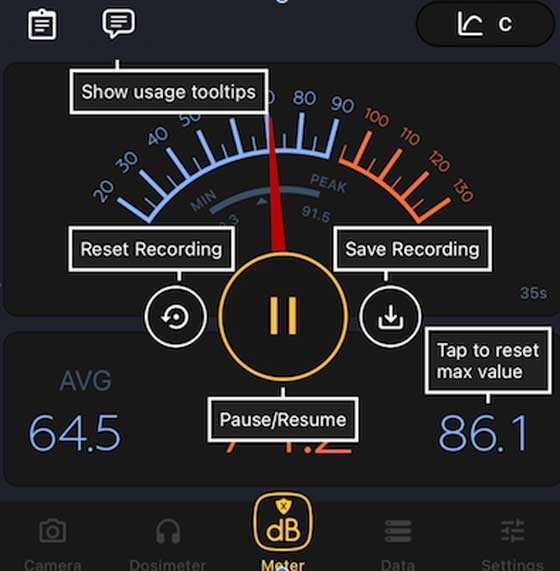 Accuracy?
I don't have very high hopes for this pistol to be accurate. The inexpensive construction plus the smooth barrel are two reasons why.
I think I will start my accuracy test at 20 feet, rather than 10 meters. And I will look for pellets that fit the breech loosely, or at least not overly tight. I really have no idea of what to expect with this one, but I'm not getting my hopes up.
Summary
The Oklahoma air pistol is an airgun I have long wanted to examine and test. Now I'm getting to. I hope you are finding this as fascinating as I am.