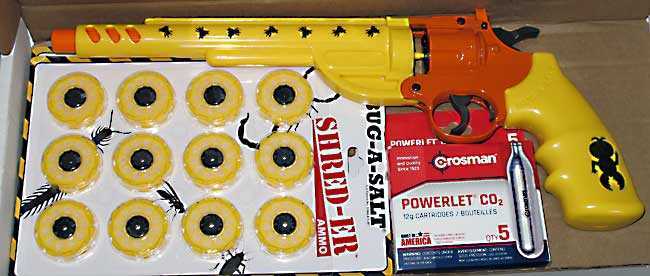 The SHRED-ER from BUG-A-SALT.
This report covers:
Thousand words
Brightly colored
However
Service
What is it for?
Common sense
Can the circular clips be reloaded?
How to test?
Salt?
Summary
This is a poignant report for me, because when I looked at the last time I wrote about a BUG-A-SALT gun, it was July 30, 2015, four days after my wife, Edith, passed away. I wrote that report in memory of her, because she liked the yellow fly-zapper. Well, I know that she would just LOVE today's topic airgun — the BUG-A-SALT SHRED-ER. This is a family blog so I won't tell you what their tagline says, but I'm sure it appeals to many of their customers.
Thousand words
That first photo is a thousand-word picture for airgunners. So, I'm finished with my report!
Seriously, if you have been an airgunner for any length of time you can look at that picture and know instantly where this gun was made. For everyone else, think 7629 Routes 5 & 20, Bloomfield, New York. Or, as reader RidgeRunner is so fond of saying, the company formerly known as Crosman. This is a Crosman Vigilante set up to shoot salt.
If the appearance alone isn't enough to convince you, the instructions say to use Crosman Powerlet CO2 cartridges only, and to maintain the gun with one drop of Crosman Pelgunoil on the tip of each CO2 cartridge. For the benefit of anyone reading this who is not an airgunner, do that BEFORE you install and pierce the CO2 cartridge, so the oil will be blown into the interior of the valve by the force of the gas and will get on every sealing surface inside the gun. If you do that and follow all the other instructions, this pest-blaster should last for many years. I sure hope so because my other BUG-A-SALT is more than 6 years old and is still going strong.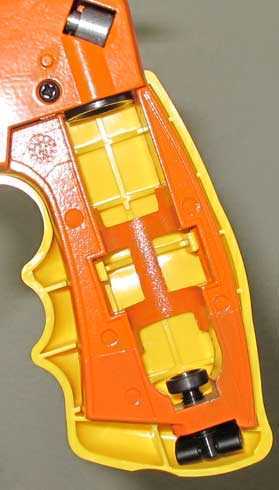 Except for the colors the grip is the standard Vigilante grip and the handle for the CO2 tensioning screw tucks neatly inside. So both grip panels must be removed to install a cartridge.
Brightly colored
As you can see in the picture, the SHRED-ER is brightly colored. Still the instructions bear the warning "DO NOT BRANDISH OR DISPLAY THE SHRED-ER IN PUBLIC — IT MAY CONFUSE PEOPLE AND COULD BE A CRIME. POLICE AND OTHERS MAY THINK IT IS A LETHAL FIREARM. DO NOT CHANGE THE COLORATION AND MARKINGS TO MAKE IT LOOK MORE LIKE A FIREARM. THAT IS DANGEROUS AND MAY BE A CRIME."
That's a pretty sensible warning, aside from the fact that EVERY firearm is potentially lethal. But that's a minor redundancy.
However
In the eyes of airgunners, though, the only people who might think the SHRED-ER is a firearm are the students and faculty of clown college! BUG-A-SALT has gone above and beyond to make this thing look non-lethal. Am I hearing a calliope?
Service
Service matters to B.B. Pelletier, just as it does to most of my readers. So let me tell you what happened when I went online to purchase the SHRED-ER. The BUG-A-SALT website is hinky and said my business credit card was invalid. I tried three times to purchase it online, so if you use a Mac and use Chrome as your browser, I'm warning you that it may not work.
I then called them and a man named Ely took my order over the phone. He said they were all out of the SHRED-ERs, but they expected a small shipment in a week to 10 days. He would call me and take my order when they had more to sell. Wonder of wonders, that is exactly what he did! No fooling around. No, "I called and no one picked up." business. Just a straightforward transaction that went exactly as it was supposed to. You gotta love that! And we charged it to that same credit card that their website said was invalid. Imagine that.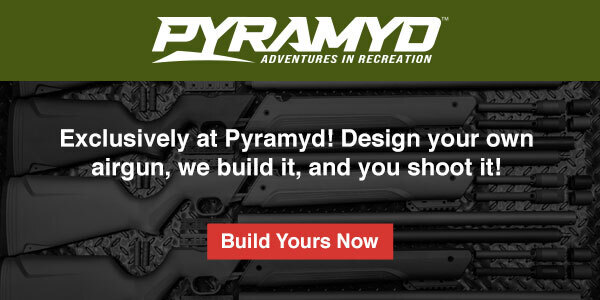 What is it for?
Now we get down to the nitty-gritty. If the other BUG-A-SALT guns work (and they do) why do you need this one? Well, they are for flies. This one is for dangerous game! Think:
hornets,
wasps,
scorpions,
large water beetles (sometimes called cockroaches, but they're not),
and CARPENTER BEES!!!!!!!!!
If a bug a salt shredder had been available when I lived in Maryland, I would have eradicated swarms of carpenter bees. They were everywhere around my property. I tried tennis rackets, but they must have seen them coming. I shot them with my Sheridan Blue Streak when they would hover long enough. I even shot them with .22 long rifle bird shot! And I didn't make a dent. I would have loved to have had one of these.
I once killed a tarantula on my front walk, here in Texas, using my old BUG-A-SALT 2.0. They seem to be smaller here than in California (up on Mount Hamilton) and elsewhere, but they are aggressive. I shot this one in the face with the gun and it reared up and charged me. I had to stomp it to kill it. I probably shot out most of its eyes. I'm hoping the SHRED-ER can eradicate critters like this completely.
Common sense
I know — common sense isn't that common, is it? For sure and for certain you don't fire the SHRED-ER into a hornets' nest! If you know where it is patterned (this is a shot pistol, it doesn't shoot a solid projectile) you might take out a single hornet if the shot presented itself. Many people mistake yellowjacket wasps for hornets. They are entirely different. A yellowjacket is small and its sting isn't that painful. A hornet is huge and its sting is unforgettable. BB's advice is to not take on hornets.
Can the circular clips be reloaded?
If you are an airgunner you have to know the answer to this question. According to the BUG-A-SALT instructions, it's nix, nein, Frankenstein! It's right there in the instructions. And, if you are an airgunner, you are fully prepared to ignore those instructions and then bellyache to the world if something that isn't supposed to happen, happens. Every airgunner should be issued a can of paint to spray on the overpasses of the world. Oh, wait! We have the internet!
My SHRED-ER came with 24 ten-shot circular clips full of salt. That's 240 rounds. That will be enough for all my testing and for the onslaught of the dangerous insect wars. And I'll probably take a look at reloading the clips — I didn't say that out loud, did I? But I am an airgunner and this is an airgun blog.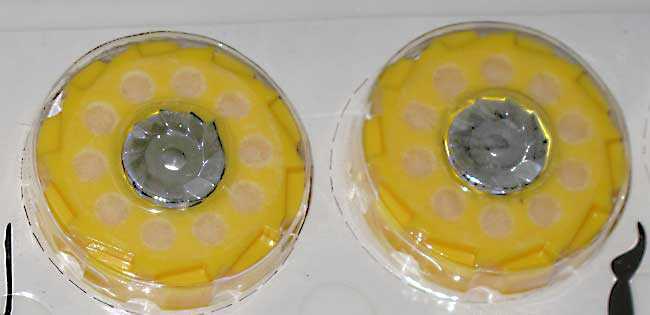 The clips come preloaded with salt. They are disposable.
How to test?
I have good plans for pattern/accuracy testing. But velocity testing will be iffy. The instructions do say in the specifications that the revolver gets 435 f.p.s. with pellets. I'm thinking the salt goes out faster.
Salt?
Rock salt in shotgun shells has been touted for years as a less lethal way of scaring off bad guys and critters you don't want around. It can work, but only at very close range (under 10 feet) and it is definitely not non-lethal. The wad that's behind the salt can kill at close range. The salt itself tends to turn to dust when shot from a shotgun, unless the velocity and powder charge is severely reduced. But the BUG-A-SALT salt is already going out slower, so this stuff really has a chance of success.
Summary
We gonna have us some fun with this one. And, if I find that it works, I'm going on safari for dangerous bugs!