This report covers:
Sheridan Supergrade
The test
JSB Exact
Predator Polymag
Crosman Premiers
Success
The 397
JSB Exact Heavy
One more thing
Summary
Don'tcha just love it when the fat lady sings? Yesterday BB was concerned by his inability to make the Benjamin 397 shoot well. So today he took another multi-pump of known accuracy and shot it at 10 meters — to see if the problem was him.
Sheridan Supergrade
My most accurate sporting multi-pump is a .20-caliber Sheridan Supergrade that I tested for you back in 2018. It shot well every time I picked it up, so today we find out whether old BB is slipping or if the Benjamin 397 is the culprit.


I used my Sheridan Supergrade for today's test.
The test
The Supergrade has a post front sight with a peep sight in the rear, so the test is fairly equivalent to the 397 as it is now set up. I pumped it five times for every shot and I shot 5-shot groups. All shooting was off a sandbag rest at 10 meters. I wore my prescription glasses for this test.
The rifle was sighted for 25 yards and I didn't want to change that, so all the groups are above the bull that was the aim point. I used a 6 o'clock hold.
JSB Exact
The first pellet tested was the 13.73-grain JSB Exact dome. Five went into 0.146-inches at 10 meters. That group earns the gold dollar for size comparison, because the Type One 1853 gold dollar is 13 mm in diameter and is the smallest coin minted by the U.S. Mint. Anytime a group is smaller than 0.15-inches it gets the gold dollar.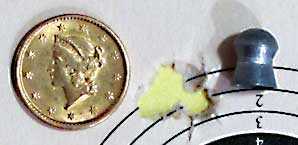 The Sheridan Supergrade put five JSB Exact pellets into 0.146-inches at 10 meters. That was good for the gold dollar.
So, it looks like old BB can still shoot. But let's continue, since we're having fun.
Predator Polymag
Next to be tested were five Predator Polymag pellets. Shooting the exact same way, the Supergrade put them into a 0.244-inch group at 10 meters.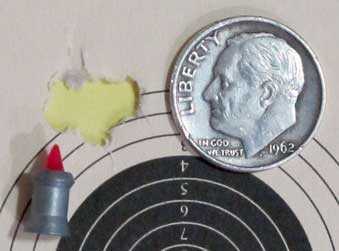 Five Predator Polymag pellets made this 0.244-inch group at 10 meters.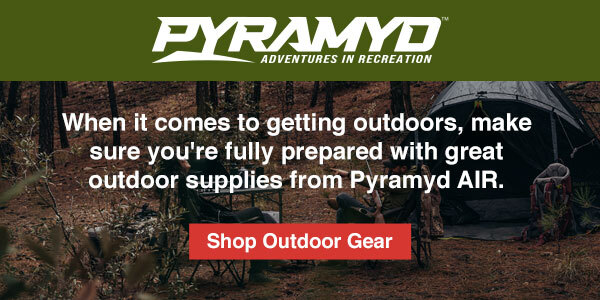 Crosman Premiers
The last pellet I tested was the tried-and-true Crosman Premier. The Supergrade put five of them into 0.251-inches at 10 meters.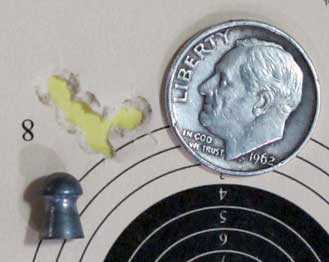 The Supergrade put five Crosman Premier domes into this 0.251-inch group at 10 meters.
Success
You can't argue with success. It seems that old BB can still shoot. So what's wrong with the Benjamin 397? Well, one way to find out is to shoot it right now, while BB knows what he's capable of. So that's what I did.
The 397
By shooting the Benjamin 397 right after shooting the Sheridan Supergrade, I couldn't help but compare the two rifles. And there are differences. First, the 397 is smaller, slimmer and a little lighter. It pumps easier, too.
The hole in the 397's peep sight is much larger than the hole in the Supergrade peep. But I noticed when I shot the Supergrade that I wasn't spending as much time perfecting the sight picture. I just took aim and fired. Yesterday I spent a lot more time trying to get the sight picture perfect. It doesn't have to be perfect with a peep sight. You might say the peep perfects it.
JSB Exact Heavy
So I shot the 397 just as I had shot the Supergrade. I used JSB Exact Heavy pellets, like I mentioned I was going to do at the end of yesterday's post.
Five pellets went into 0.425-inches at 10 meters. While that is quite a bit larger than any of the Supergrade groups shot today, it is also smaller than the best group shot yesterday, which was 0.519-inches for five Premier Lights. I do think that shooting the Supergrade relaxed me so I was a better shot with the 397.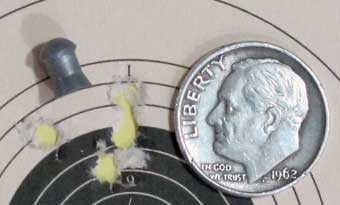 Today the Benjamin 397 put five JSB Exact Heavy pellets in 0.425-inches at 10 meters.
One more thing
I have read that as the brass barrels of Benjamin and Sheridan rifles wear in over time, they get smoother and smoother. And with that they also become more accurate. I don't know if that's true, but it does seem reasonable. So this 397 might be just waiting to blossom.
Summary
I had to do today's test because I thought yesterday's problems could have been me. I'm now pretty sure they weren't, but I will keep an eye on my performance as time passes.