Benjamin 397 with curly maple stock and Williams peep sight.
Part 1
Part 2
Part 3
Part 4
Part 5
Part 6
Part 7
Part 8
Part 9
Part 10
This report covers:
Some have said…
The test
Air Arms Falcons
The trigger
The sight
JSB Exact 8.44-grain domes
Adjusted the rear sight
H&N Sniper Magnum
Crosman Premier 7.9-grains
Premier Heavies
Discussion
Summary
Today is a day many of you have waited for. Today I shoot the Benjamin 397 with the Williams 64 peep sight I just installed.
Some have said…
I have read reports that the Williams sight cannot be adjusted low enough to work with this rifle. These remarks are not just on the Pyramyd AIR website — they are many places on the internet. Obviously this was something that concerned me. So today's test is shot close up.
The test
I shot 5-shot groups from a sandbag rest at 10 meters. I pumped the rifle 5 times for each shot. That slowed the test down, but somebody suggested I should pump it more — so I did.
I wore reading glasses with a + 1.25 diopter to see the front sight blade as sharp as possible. Note to self — try regular glasses next time.
Air Arms Falcons
First up were Falcons from Air Arms. Notice that I didn't sight in the rifle. Do you remember that I said the peep sight looked through the factory rear sight notch when I installed it? The sight should be pretty close. If Falcon pellets really surprise me I will adjust the sight for them, if need be.
The first shot hit just below the bull at 6:30, so I left the sight as it was and shot 4 more times. Five shots went into 0.588-inches at 10 meters, with three of the shots going more to the left. The group looks like 4 shots but I counted each pellet as I shot.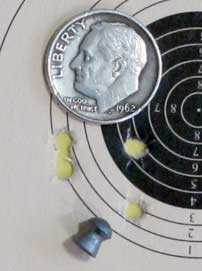 Five Falcon pellets made this 0.588-inch group at 10 meters. It's not terrible, but I had hoped to do better.
The trigger
The trigger on this rifle is just too heavy. I said in Part 2 that it breaks cleanly, and it does. But for a rifle that's this light, an almost 5-pound pull is too much. I want to reduce it by 50 percent, if possible. I usually don't complain about triggers! But the trigger on this 397 just doesn't do the rifle justice.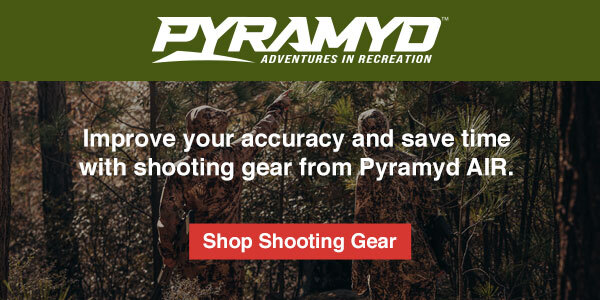 The sight
The peep hole in this sight is huge! It reminds me of shooting an M1 Carbine. That may be a problem because I'm not wearing my everyday glasses.
I did not adjust the rear sight after this group, in case the next pellet hit somewhere else. It didn't, but I didn't know that yet.
JSB Exact 8.44-grain domes
Next to be tested were five JSB Exact domes that weigh 8.44-grains. Up to this point this has been the most accurate pellet in this 397.
Five of them gave me a tantalizing group with three in the same place and two off to the right. This group measures 0.756-inches between centers with three pellets in 0.211-inches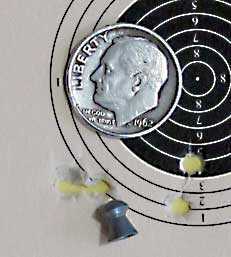 The 397 put 5 JSB Exact 8.44-grain domes into this 0.756-inch group at 10 meters.
Adjusted the rear sight
It was time to adjust the rear sight, so I adjusted it up and to the right. This sight doesn't have click adjustments. You loosen jam screws and slide it where you want it to go in both directions. The next pellet in the lineup was heavy so I put a lot of elevation in. I also slid it to the right just a little. This was the only time in today's test that the sight was adjusted.
H&N Sniper Magnum
The next pellet I tried was the H&N Sniper Magnum that has been reasonably accurate sometimes. It didn't do so well at 25 yards when the rifle was scoped but at 25 yards and using the open sights, it did very well.
But in today's test five Sniper Magnums gave the worst results. They landed in a group that measures 0.891-inches between centers of the two widest shots. That's the largest group so far. I think it may be time to stop testing this pellet in this rifle.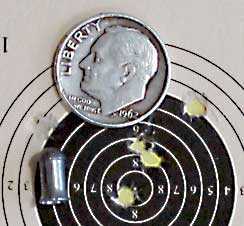 Five Sniper Magnums didn't do so well in the 397 when the peep was used.
Crosman Premier 7.9-grains
The next pellet I tested was the 7.9-grain Crosman Premier. Five went into 0.519-inches at 10 meters. This is the smallest group of today's test. As you can see, three pellets are ever closer, in 0.278-inches.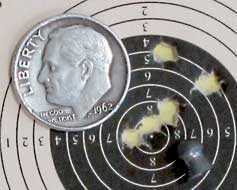 The 397 put five Premier Light pellets into a 0.519-inch group at 10 meters.
Premier Heavies
The last pellet I tried today was the 10.5-grain Crosman Premier heavy. I hoped that it would be the most accurate, but, alas, it was the worst. Five of them made a group that measures 1.082-inches between centers. Four are 0.629-inches apart, but even that isn't that good.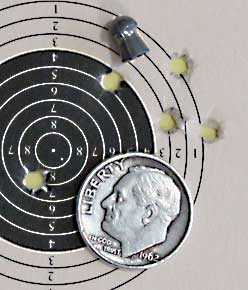 Five Premier Heavies went into 1.082-inches at 10 meters. Four are in 0.629-inches.
Discussion
Well, this Williams peep sight does not thrill me yet. Maybe I used the wrong glasses or maybe the peephole is too large or something, but I am quite disappointed with today's results.
In fact, today's results have unsettled me quite a bit. I am getting older and it's entirely possible that I am the weak link, so tomorrow I will attempt to find that out by shooting another multi-pump whose accuracy I have baselined.
In looking over all the tests I've done with this 397 it seems that JSB Exact Heavys are the very best. I make that note to myself for next time.
I also make a note to lighten the trigger before I advance with this 397. It's something that has to be done.
Summary
I have now tested this Benjamin 397 with the sights it came with, with a scope and with a peep sight. And it seems the rifle did as well with the factory sights as it did with a scope and better than with a peep sight. That's not the way I thought it would go, but I did the testing.
For the record, I do like shooting this rifle with a peep sight because of how easy it is to sight. My plan is to continue with the peep from this point forward. More to come, for sure!