This report covers:
Crossbow
Accurate
But wait…
Easy to cock — easy to uncock
Let's shoot
20 yards
One-inch groups
Why?
Summary
We all like to shoot airguns. But what does BB Pelletier do six days a week, year in and year out? He shoots airguns. Sometimes even I need time off.
No, this report isn't about another firearm, though I have to confess that after writing that bit about the 1903 Springfield yesterday I have been watching a certain rifle on Gun Broker. It's already priced high and no doubt it will soar to the clouds, but, like the portrait of Kramer, I cannot look away.
Crossbow
No, what I am talking about today is my Sub-1 from Mission crossbows. You may remember that I had to shoot it at the box full of cardboard mulch in a test last week. Well, before I could do that I had to remember how to shoot it altogether. As I mentioned in that report:
"Since last I used the Sub-1 three years ago I had forgotten exactly how it works. It has a dry-fire prevention step that I forgot about, so when the bow was cocked the first time the safety remained on. I had to read the manual to rediscover that the bottom arrow fletch has to push back on the anti-dry-fire mechanism in order to then be able to take the bow off safe. You have to load an arrow to make the crossbow ready to fire. That's a good thing because crossbows should never be dry-fired. Also, this device keeps the safety on while you load an arrow, because that bowstring can remove parts of fingers if you should come in contact with it when the bow fires."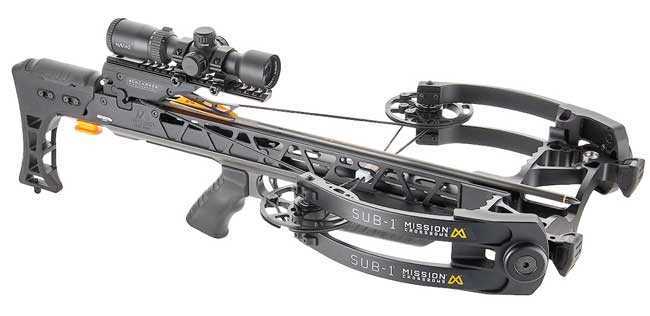 The Sub-1 crossbow.
Accurate
Now, the Sub-1 is accurate. It's accurate for a crossbow, but it goes way beyond that. It got its name by putting three arrows into a group that's less than an inch between centers at 100 yards. And that wasn't a one-time thing. When I tested one for the first time in Las Vegas at the SHOT Show I shot it at 90 yards.
"I shot the Sub-1 two times from a bench at a target 90 yards away. To my surprise, both arrows landed close to each other! This thing really works! "
I didn't mention it in that report but my arrows hit the target about 4-5-inches apart. That was the first time I had shot the crossbow.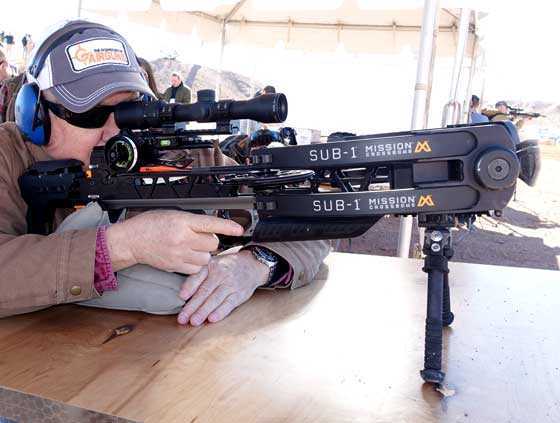 When I shot the Sub-1 on Media Day I was impressed.
So, is accuracy all the Sub-1 has going for it? Not at all. It is also compact and light. The limbs are 13.8-inches wide when the bow is uncocked and 10.7-inches when it's cocked. As you can see in the pictures the limbs run from front to rear rather than sticking out to the sides like conventional crossbows that run 20-30-inches wide, uncocked. And, at 7.5 lbs., the Sub-1 is as light as the average hunting crossbow in its power class.
But wait…
That's not all. The Sub-1 has a match-grade trigger that is both light and crisp. I find it as easy to shoot as a fine spring-piston air rifle. And there is one more feature that everyone wants.
Easy to cock — easy to uncock
The Sub-1 has a 200-lb. draw weight that sounds daunting, but it's actually quite easy to cock. Grab both handles of the cocking-assist rope, put one foot into the cocking stirrup on either side of the bow rail and just stand up! I suppose the effort gets up to 50 lbs. per hand at one point, but then it drops off to nearly nothing. Once the bow is cocked remove the cocking aid assist string and load an arrow into the flight deck. Be sure to push it all the way back to disconnect the anti-fire mechanism. This allows the safety to be taken off.
If you want to uncock the bow remove the arrow (with the safety on, please). Then push the decocking button on the left side of the bow and pull slightly back on the cocking assist rope handles. If they were taken off the bow they need to be put back on to uncock.
Once you pull back on both cocking handles the string is freed and you can ride the cocking handles forward slowly. Uncocking is the reverse of cocking, so you will pass that point where each hand it restraining about 50 lbs. of force. But after that, the string goes forward easily.
Uncocking is a feature a lot of crossbows don't yet have. The norm has always been to fire an arrow into the ground, but that can break an expensive arrow. So this feature is very desirable.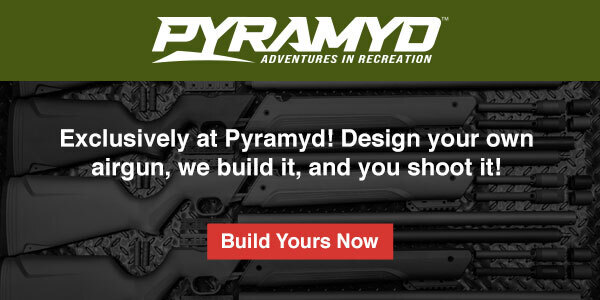 Let's shoot
Enough with the operation. Let's shoot this thing. As I told you in Part 2 of the rubber mulch report, I approached shooting carefully because the scope had been removed and had to be remounted. But the scope was almost spot-on and only a few clicks of windage were needed to set it straight. And then I was shooting and remembering what fun it was.
I completed my work on the mulch report, but left the crossbow out for more shooting when I got the time. It was now cleaned and lubricated and I wasn't going to let that work go to waste. That chance came up several times last week.
20 yards
At first I held my distance to the 17 yards I had used in the mulch report, but as I kept shooting I noticed that the shots wanted to stack one on top of the other. Of course I was removing the arrows after each shot because they are expensive and I only have five remaining from the dozen I started with. Several were broken in Robin Hoods at 40 yards because people didn't believe me how accurate this thing is. And one guy launched an arrow to who-knows-where because he completely didn't understand the sight picture. One other arrow was lost in my grass from a different crossbow test and I have forgotten to search for it with a metal detector. So BB keeps a sharp eye on those remaining arrows. And he backed up to 20 yards.
One-inch groups
I noticed that when I do my part the Sub-1 will put all its arrows into a one-inch group at 20 yards, which is all the distance I have in my back yard. One-inch is about the size of an American quarter coin. And a Euro is about one millimeter smaller.
1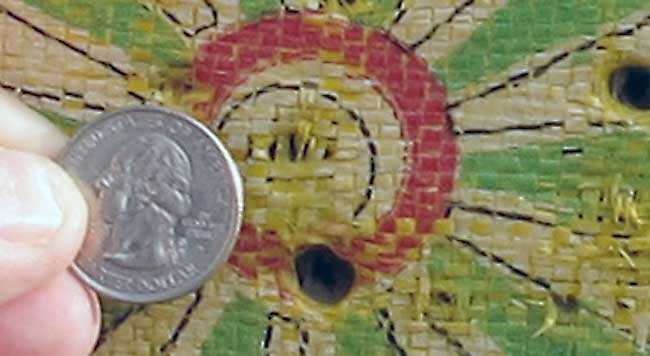 This is an American quarter held next to the bullseye of the dartboard face on the target bag. As you can see, the quarter is just a little larger than the central circle.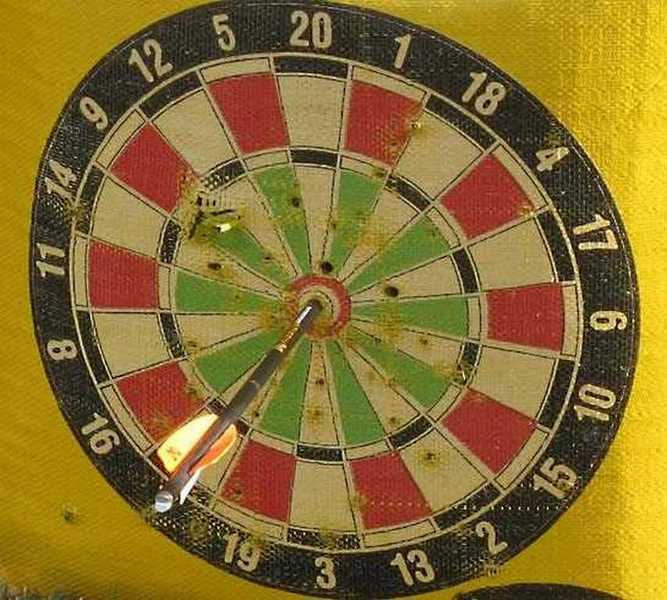 From 20 yards it was easy to put arrows into the bullseye.
The Sub-1 performed like a TX200 Mark III. Squeeze the trigger and presto, an arrow goes into the bull at 20 yards. Of course this is way closer than the crossbow was designed for, but I am also a relatively new shooter.
The crossbow shoots like a spring-piston air rifle. Of course the 418-grain arrow moves much slower than a pellet, but if you hold the bow steady it always leaves with the bow in the same place. It leaves the bow at about 345 f.p.s. and quickly slows in flight, just like a diabolo pellet.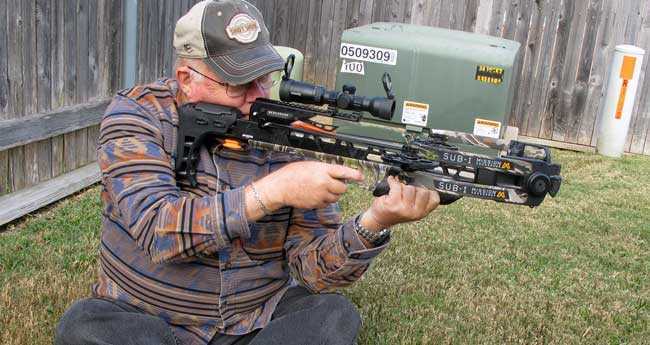 I sat with the Sub-1 just like I would sit for field target. The bow shoots just like a spring rifle.
Why?
Today is a busman's holiday because I got to shoot something that wasn't a pellet gun. And yet this crossbow is every bit as accurate as a spring piston rifle at close range, and even more when the range goes beyond 50 yards. I haven't shot it that far yet, but now that I'm back with it, I have no doubt that day will come.
Summary
Crossbows have a lot in common with pellet rifles. They have to be held the same for every shot to get the best accuracy, and things like good triggers and good sights play an important part.
On the other hand, arrows can be shot many time as long as they aren't damaged. That gives the shooter the chance to get to know each arrow individually. They do have their own flight patterns. And knowing that leads to additional accuracy when attention is paid.
In summary, there is a lot of crossover between airguns and crossbows, but also enough uniqueness to make the shooting experience special.