by Tom Gaylord
Writing as B.B. Pelletier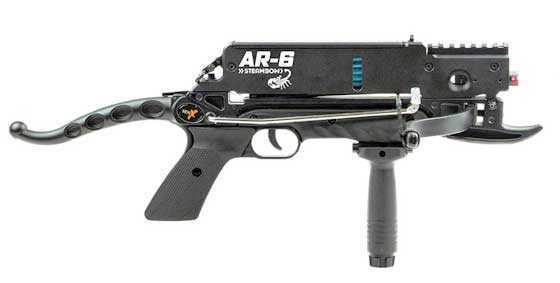 Sen_X AR-6 Tactical Arrow Repeating Crossbow.
This report covers:
The goal
Do AR-6 arrows need to be fletched?
The big problem
Nockless arrows
What happened
Summary
Today is an important report for a couple reasons. Neither of them is good, but both are important for you to learn something about this Sen-X AR-6 Tactical Arrow Repeating Crossbow.
Today I did two things you aren't supposed to do with a crossbow. One is for sure the wrong thing. I'm not sure about the other thing, but I will present it and let you be the judge.
The goal
I'm calling this part the goal rather than the test. I will address the test, but since I did not finish it I will instead tell you what I wanted to do.
I wanted to sight in the AR-6 with the UTG Reflex Micro Dot sight today. So I went about it like I would an airgun, and that may have been one of my mistakes. read more