Benjamin Gunnar Precharged Pneumatic pellet rifle: Part One
This report covers:
Get started
Hunting
Repeater
Description
Large
The grip
Trigger
Different format
Trigger pull
Cocking
Regulated
Power levels
Shots per fill
Accepts external silencer
Is it worth it?
Today we begin looking at the Benjamin Gunnar precharged pneumatic (PCP) air rifle. It comes in .22 and .25 calibers, plus .45 caliber. It delivers up to 32 foot-pounds of energy in .22 caliber and up to 50 foot-pounds in .25. I don't have an energy figure for the .45, just a velocity of 800 f.p.s. without any mention of the bullet.
Get started
I told you when I looked at the Crosman booth at the SHOT Show that this report would be coming, and I didn't report on the Gunnar at all. Today we start.
Let's start from the outside. The Gunnar comes in a custom hard case that has wheels on one end. The rifle isn't that heavy, but the wheels do make it convenient to move around.


The Gunnar comes with a nice wheeled hard case.
Hunting
I told you yesterday that Crosman is one of the four airgun manufacturers that promote hunting. Given the calibers and the power level, the Gunnar seems to me to be a hunting rifle. And, because it is a Benjamin that's made by Crosman, it has an advantage over many other air rifles with similar features. The 500cc air reservoir fills to a top limit of 3000 psi. That makes it frendlier than other air rifles that fill to higher levels.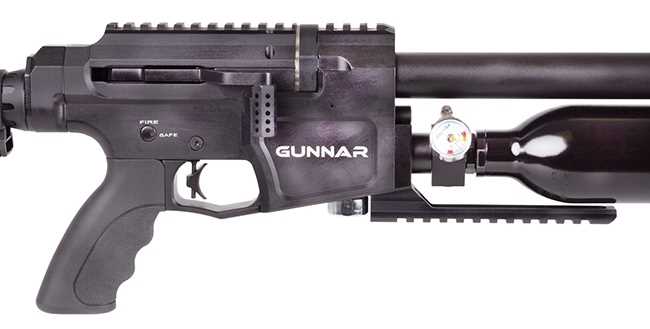 Gunnar receiver right side. You can see the sidelever that cocks the rifle.
Repeater
The .22 caliber Gunnar magazine holds 12 pellets. The .25 caliber mag holds 10. Two magazines come with the rifle. And they don't stick up above the scope rail. I don't see a single shot tray.
Description
This will take some time, You can see from the picture at the top of this report that the Gunnar has a black tactical look. The buttstock accepts AR stocks. The one that comes on the rifle adjusts to 5 positions, giving a pull length of 12-3/4 to 15-7/8-inches. The manual says there are 5 positions, but pushing the stock all the way in where it isn't locked is also a possibility. It's not a formal stop but that is where I measured the shortest length of pull.
The butt pad is soft grippy rubber. It has deep grooves going sideways but does not adjust up or down.
The cheekrest, on the other hand, does adjust. There is a button on the right side that is pressed in and then the cheekrest slides up. It has four positions. It also slides back and forth a little. I find it great when it's all the way down and all the way back.
There is a Picatinny scope rail on top of the receiver and, because this is a repeater, it is both behind and in front of the magazine slot. There are over 6-1/2-inches of rail to choose from in all, and 4-1/2-inches in the rear, alone. I'll no doubt have more to say about it when I mount a scope.
There is also a rail under the air tank. I think that one is ideal for a bipod, and that's what I will do when I test the rifle for accuracy.
And there is a third rail on the bottom of the buttstock. Something can be mounted there, as well, like a rear monopod.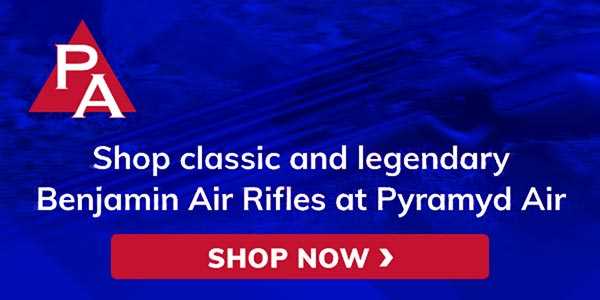 Large
According to both the Crosman website the Gunnar weighs 9.8 pounds. I weighed the test rifle with no magazine and got 8 pounds 7 ounces on my electronic kitchen scale. Pyramyd Air says 8.26 pounds. Either way you look at it, the Gunnar is a large air rifle. When you hold it to your shoulder your off hand holds it at the air tank which is very wide. In fact only the small rubberized pistol grip feels normal to me. But when I shoot it for accuracy is when I'll really find out.
The grip
The pistol grip is sized about right for me. It's an AR-style grip and is covered by a rubbery compound that makes it hold quite well. I was told by Crosman that it is compatible with other AR grips, and the manual confirms this.
Trigger
The trigger blade can be positioned for comfort. It swivels around and slides up and down on a trigger post. But there is no other adjustment.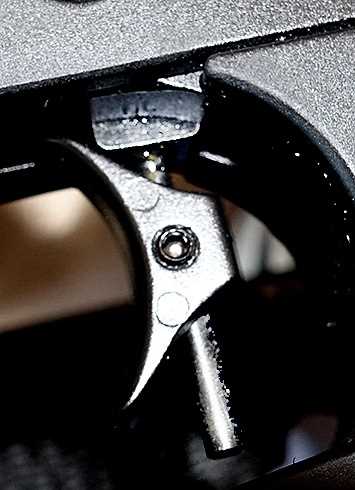 The Gunnar trigger blade rotates around a rod and can slide up and down.
Different format
I spoke to Pyramyd Air at the SHOT Show and we agreed that my format for these blog reports could stand a few changes. Here comes the first one — a bit of testing in Part One.
Trigger pull
The trigger is two stage and you guys who like a short stage one are going to love this one. Stage one is minimal and takes 1 pound 4 ounces to pull to the start of stage two. Stage two is reasonably crisp and breaks at 2 pounds 5 ounces. This is a trigger about which there is little to complain.
Cocking
The Gunnar has a sidelever and cocking feels light and butter-smooth to me. I haven't loaded a magazine yet. That will come tomorrow because the second format change I'm making is to run Parts One and Two back to back!
Regulated
The Gunnar has a regulator and the user can adjust the pressure if desired. To do this the rifle has to be degassed and the air tank removed. That gives access to the 4mm Allen screw that is the regulator adjustment. Turn the screw counter-clockwise to increase the regulated pressure level and clockwise to decrease it.
Power levels
The Gunnar has five different power levels that the shooter sets. Adjustments are made via a knob on the left side of the receiver. There are detents to receive a tiny spring-loaded ball, but I can't feel them. However, they are obvious enough, that when I test I will be able to tell what's what.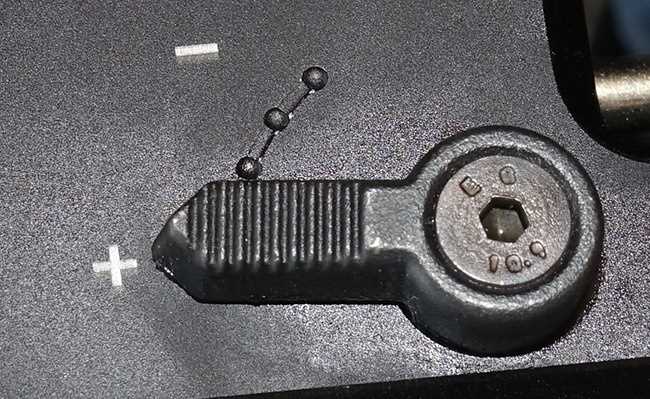 The switch that controls the rifle's power.
Shots per fill
According to the specs the .25 has enough air for 70 good shots and the .22 that I'm testing has enough air for 90- good shots. Naturally I will be testing that.
Accepts external silencer
The rifle comes with an adaptor that is threaded to attach to the front of the barrel shroud and on the other end to accept an external airgun silencer. That's something that surprised me. Maybe my DonnyFL will fit.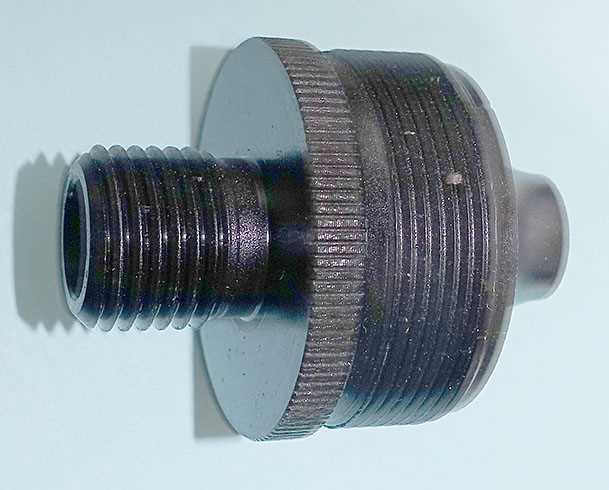 The Gunnar's muzzle adaptor is threaded to accept an airgun silencer.
Is it worth it?
I usually don't ask questions like this, but for a cool grand I wonder if the Gunnar has enough going for it to make it that much more desirable than a Marauder that cosst just over half as much. I guess that is what we are about to discover.
Tom Gaylord is known as The Godfather of Airguns™ and has been an airgunner for over a half-century, but it was the 
Beeman
 company in the 1970s that awoke a serious interest in airguns. Until then, all he knew were the inexpensive American airguns. Through the pages of the Beeman catalog, he learned about adult airguns for the first time. In 1994, Tom started
The Airgun Letter
 with his wife, Edith. This monthly newsletter was designed to bring serious reports about airguns to the American public. The newsletter and
Airgun Revue
, a sister magazine about collectible airguns, was published from 1994 until 2002, when Tom started
Airgun Illustrated
-- the first American newsstand magazine about airguns. Tom worked for three years as technical director at
AirForce Airguns
, the makers of the 
Talon, Condor, and Escape
 precharged air rifles. Today, he writes about airguns and firearms for various publications and websites. He also makes videos, and you'll find short clips embedded in some of his artices on Pyramyd Air's website. Tom is a consultant to Pyramyd Air and writes under the name of B.B. Pelletier.