.177 Avenger Bullpup accuracy test: Part Two
This is the second Part of the guest report on reader Ian McKee's (45 Bravo), Air Venturi Avenger Bullpup in .177 caliber.
As you know, I am doing a report on a .25-caliber Bullpup, so Ian is looking at the other end of the spectrum
If you'd like to write a guest post for this blog, please email me at blogger@pyramydair.com.
Take it away, Ian.
Avenger Bullpup accuracy test
by Ian McKee
This report covers:
The test
Power or accuracy?
Air Arms 8.4-grain dome
Moving on out
Where does that leave us?
Summary
Today we will look at the accuracy of the Air Venturi Avenger Bullpup in .177 caliber at both 25 and 50 yards. A lot of people name their guns. The name that seems to be floating around for all of the Avengers seems to be AVA, a logical nickname.
The test
All groups were shot from a table with a bipod for support. The day started off with a light breeze, but the wind picked up as the day went on. I used my 5-25 first focal plane scope set to 25X for the test. I used the same magazine for all of the groups, only loading the first 5 chambers.
The first one or two pellets from a new group would sometimes start off hitting wide, but after 2 or 3 shots, they came back to the target. I guess as the bore got used to the pellet? [Ed: Or perhaps the rotary magazine needs to be examined.]
Power or accuracy?
With the Air Venturi Avengers everyone online and on You Tube seems to be shooting for max power and speed, I on the other hand am looking for the best accuracy at the longest distance I can reliably shoot less than 1 inch.
There are several people in my local area who own Avengers of all three variants of Avengers — the plastic stock, the wood stock and of course this bullpup. We get together to shoot and plink regularly, so we get to see a variety of guns and their tunes, but currently I am the only one in the group shooting a .177 Avenger.
Of the .22 caliber guns I have seen and shot, they seem to do their best at about 860 f.p.s. to about 880 f.p.s. with JSB Exact Jumbo Heavy 18.13 pellets, so I chose that velocity as a starting point for today's test.
The pellets tested weighed from 7.9-grains to 10.5-grains with the H&N Baracuda Hunter Extreme pellets in the middle of the weight range at 9.57-grains. So I tuned the rifle to shoot those at 860 f.p.s.
I tried a lot of different pellets, many did okay and one or two were horrible. From the crowd I chose three that grouped the best on the test target at 25 yards and I shot them for score at 25 and 50 yards.
I am currently waiting on an order of JSB pellets, both 8.44s and heavier. I am sure they will do well, but I did not have them on hand to test.

I did not adjust the scope during this test, the pellets grouped where they wanted to at 25 yards.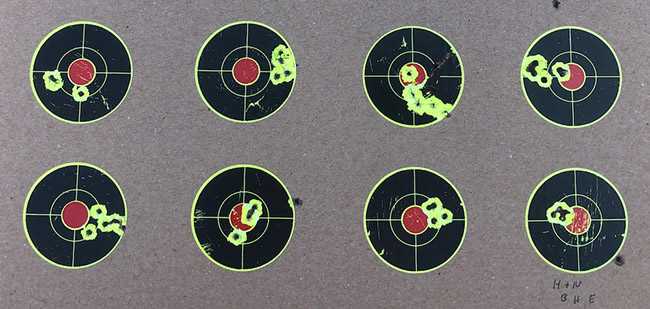 I chopped the test target in two so the bulls would be larger for you to see. I sighted in with Crosman Premier Hollow Point 7.9 grain pellets and then five of them went into 0.23-inches at 25 yards.
Hooray it likes the cheap stuff for backyard plinking!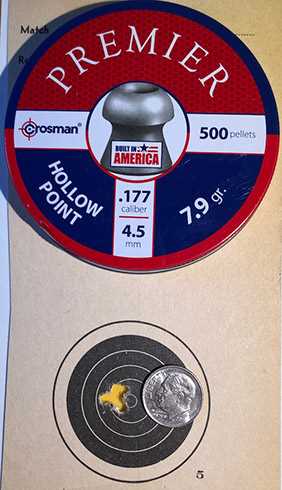 Five Premier Hollowpoint in 0.23-inches at 25 yards. Not too shabby for the cheap stuff.
Next up was the H&N Baracuda Hunter Extreme. Five of them went into 0.35-inches at 25 yards with the last one being an uncalled flier. But four of them went into a 0.21-inch group. The fifth one is just outside the main group.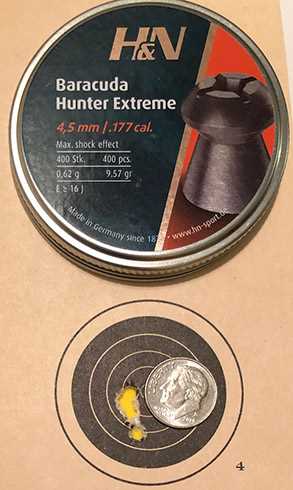 Five H&N Baracuda Hunter Extremes in 0.35-inches at 25 yards. An uncalled flier stepped out of a one-hole group at 25 yards.
Air Arms 8.4-grain dome
The third pellet is the Air Arms Diabolo Field dome weighing 8.44-grains. Four pellets went into a 0.20-inch one-hole group with shot number five opening it up to 0.30-inches. (Note to self: check the number 5 chamber in the magazine for burrs or deformities.)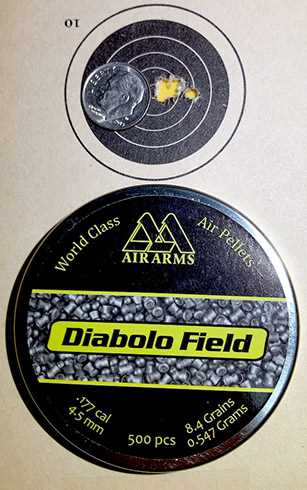 A nice rounded 4-shot group, then shot number 5 wanted to be different.
According to the app Chairgun (it is no longer supported, but it still works) my zero should be the same at 25 yards and 49 yards (call it 50). I moved the targets out to 50 yards, and took 2 sighters for each pellet to let the barrel settle into the pellet before shooting the 50 yard score target. I don't know for sure if this is necessary, but I have noticed sometimes it takes a few shots for some guns to settle to a new pellet.
By this time the wind had started to pick up, so I tried to shoot when it was calm. The Crosman Hollowpoints put 5 shots into 0.58-inches at 50 yards, two in one hole, and three in a nice tight group.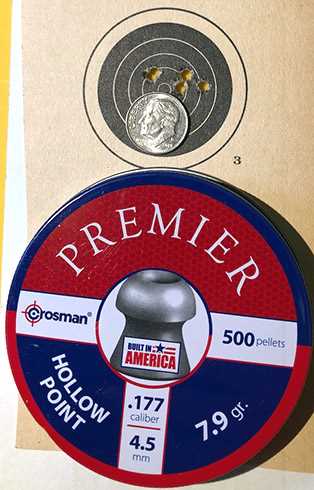 I think the wind got the best of me, but 0.58-inches is still not bad for five inexpensive pellets at 50 yards.
The H&N Baracuda Hunter Extreme pellets put five shots into a 0.35-inch group, all of them touching. It is not one jagged hole like we would like, but for a .177 at 50 yards in the wind I will take it.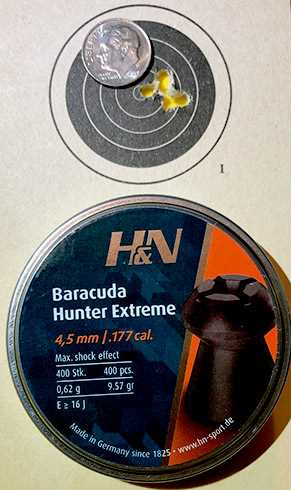 For a .177 at 50 yards, that's nothing to complain about.
The last pellet was the Air Arms Diabolo Field pellet. I was not quite lined up for the first shot when it went off so it went wide to the left, but the next four went into 0.35-inches at 50 yards, with the first shot opening the group up to 0.59-inches.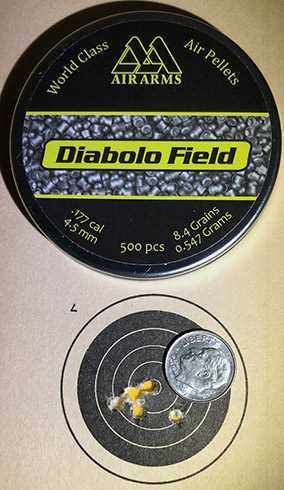 The Avenger Bullpup put five Air Arms Diabolo Field pellets into a 0.59-inch group at 50 yards.
On paper, the Avenger .177 is a winner, it's right there with the other calibers in accuracy, and still getting well over 100 shots per fill.
Moving on out
Now we get to the fun part, shooting steel at longer ranges.
The wind was up, so it made things challenging, the pellet drops about five inches at 75 yards, shooting the Crosman Squirrel field target that Pyramyd Air sells, I could reliably hit the 1.5 inch kill zone at 75 yards if I did my part with judging the wind, I could hit the reset paddle with enough energy to reset the target at 75 yards.
Moving out to 100 yards, according to Chairgun the pellet is dropping over 16 inches, I could ring the steel target 10 out of 10 times, occasionally I would connect with the kill zone and trip the target, but at 100 yards, the .177 lacked the power to reset it.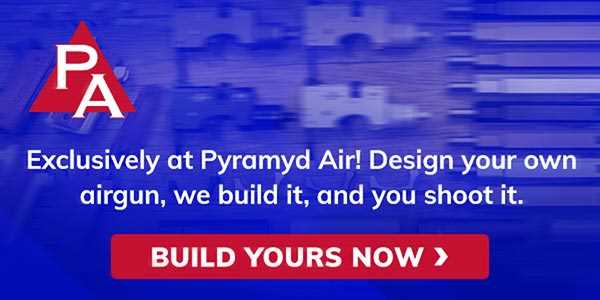 Where does that leave us?
The Air Venturi Avenger Bullpup .177 is very accurate (I still have not had a chance to shoot JSBs through it yet) and it has a light trigger. It has a high shot count. I have not tried high power and heavy pellets or slugs yet, and a lot of .177 shooters may not.
The gun is adjustable for power, but I could not get down into the 500 f.p.s. range that some shooters would like for indoor shooting and backyard plinking.
It does have a baffle system in the shroud, and it does work at reducing the sound somewhat, but there are other alternatives to quiet the rifle further.
A friend and I collaborated and came up with a pair of 3D printed moderators that screw into the shroud, both units center the barrel with the moderator and shroud to reduce pellet clipping. The longer one extends out of the shroud about 2 inches (50mm), the shorter one replaces the factory end cap exactly. It is not quite as quiet as the longer one, but it does tame the bark much better than the factory setup.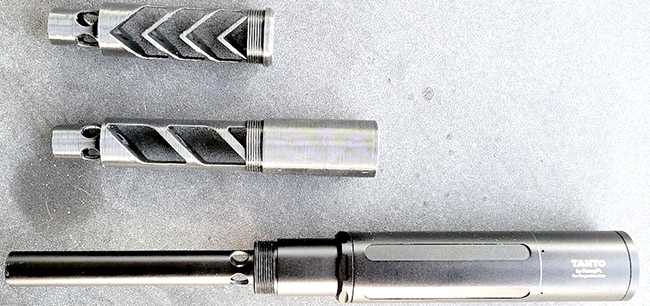 For size comparison, the 3D printed moderators are on on top, and the DonnyFL Avenger adapter with the DonnyFL Tanto are at the bottom.
Summary
To sum it all up, if bullpups are your thing, get this one. It is accurate, handles well, and will compete against guns costing several times as much.
PS. A few readers have said the cocking lever in the rear is a deal breaker. They should have moved it forward. Many bullpups including FX and Daystate have their cocking levers in the same location and they cost a lot more. There is even a video online comparing the Avenger bullpup against a Daystate Pulsar, feature for feature, the results may surprise you.
My next report will be about a kit that moves the cocking lever forward, and allows you to cock it from the left side as well. The gun has only been out in the wild for about 2 months, and owners are already coming up with a lot of modifications and upgrades to the entire Avenger line.
Stay safe and happy shooting!
Ian
Tags In
Tom Gaylord is known as The Godfather of Airguns™ and has been an airgunner for over a half-century, but it was the 
Beeman
 company in the 1970s that awoke a serious interest in airguns. Until then, all he knew were the inexpensive American airguns. Through the pages of the Beeman catalog, he learned about adult airguns for the first time. In 1994, Tom started
The Airgun Letter
 with his wife, Edith. This monthly newsletter was designed to bring serious reports about airguns to the American public. The newsletter and
Airgun Revue
, a sister magazine about collectible airguns, was published from 1994 until 2002, when Tom started
Airgun Illustrated
-- the first American newsstand magazine about airguns. Tom worked for three years as technical director at
AirForce Airguns
, the makers of the 
Talon, Condor, and Escape
 precharged air rifles. Today, he writes about airguns and firearms for various publications and websites. He also makes videos, and you'll find short clips embedded in some of his artices on Pyramyd Air's website. Tom is a consultant to Pyramyd Air and writes under the name of B.B. Pelletier.