This report covers:
FWB 124
However
Know when to hold 'em
And when to walk away
Once in a lifetime
Consignment stores
Talk to dealers
Flea markets
TWO Daisy Sentinels!
Edith triumphs
Over to you
Today I want to talk about airguns and other neat things you can find in pawn shops. You can shop at all kinds of places for airguns — eBay, Craigslist (lots of scammers there, so be careful!) gun stores, and even at online airgun stores. Pyramyd AIR has refurbished airguns for sale and they are good for money off, but sometimes you should ask them if they have anything laying around that's unique. I have bought some extremely rare and great airguns from other airgun stores. I purposely don't do this with Pyramyd AIR because of my relationship with them.
FWB 124
I once bought a complete FWB 124 without a barrel. It was complete in the factory wood stock and was a fantastic buy for just $50. A gun store had taken it in with a gun collection that a widow sold them and they just didn't know what to do with it. They wanted to give it to me but I told them what it was worth and then paid them $50. If I could find a barrel it was worth probably $400. I sold it or traded it to another airgunner and I think I broke even — just so he had a chance to do well with it. I might have doubled my money, I can't remember. I hope he is a reader who can tell us the rest of the story.


FWB 124.
However
At a pawn shop I used to frequent I found a Sheridan Blue Streak for $75. It pumped, held air and shot at a pretty good velocity. If I had known about automatic transmission stop leak back then I could have gotten it back to like new. The stock wasn't too bad, either, but I only made a little more off it (working Blue Streaks were bringing $125 at the time). But a Daisy 1894 in the box was the big deal of the day. I paid $85 for the gun in the box and sold it for $500. Why? Because I owned a Blue Book of Airguns I knew this was the rarest and most sought-after 1894 Daisy ever made — the Texas Ranger. Let me tell you about it.


Daisy Texas Ranger.
"But then I spot a dusty taped-up box in the corner and I can see that it's a Daisy 1894 BB gun. The box says this is a Texas Ranger commemorative and this one appears to never have been cocked. The box is bad but the gun and the papers inside look brand new. They have it priced at $100.
I know that most 1894 Daisys are worth something, and a couple are worth quite a lot. I excuse myself from the store and drive home to consult the Blue Book. Turned out the Texas Ranger Daisy is the all-time Holy Grail of 1894s. It topped out at $600 new in the box. So I went back and bought it for $85, and the Blue Streak for $75. At that next show I sold it for $500 cash and tried to laugh all the way home, but since where I was in Maryland is 17 hours from Texas, I had to stop from time to time."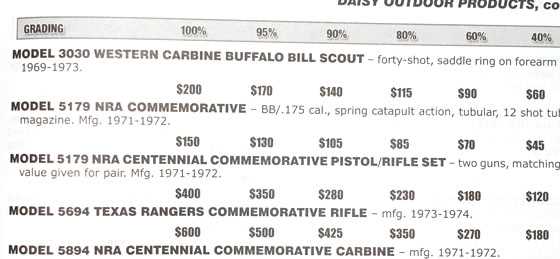 From the 2010 Blue Book.
Know when to hold 'em
Back when I was in the Army at Fort Knox I was in a pawn shop in Radcliff, Kentucky, and found a Hy Score model 807, which we all know is really a Diana model 27. It was in .22 caliber and was rusty but complete and functioning. I bought it for $18 with no attempt at negotiation. I took it home and just oiled the leather piston seal and shot that gun for many years. Then, I gave it to a friend who admired it and would never buy one for himself.
And when to walk away
And that's another secret to this process. The secular world calls it karma, but everyone understands the principle. You sometimes just give things away when it feels right to do so. And the other side of giving things away is that they come back to you in numbers greater than you can imagine! You give and you get, but only when getting is not your intent. I think it takes wisdom to understand this principle, so pray for wisdom and forget about working the system.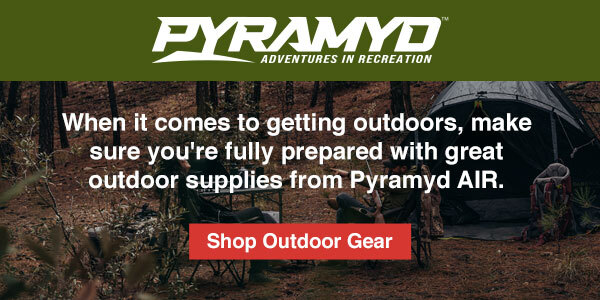 Once in a lifetime
"Once in a lifetime" opportunities happen with increasing frequency when you start looking in earnest as I am describing. I've heard that they come along about every 18 months, but in my experience, it's more often than that. Of course, there's also the old salesman's adage, "If you want to make the sales, you have to make the calls." So, don't expect to find anything if you're just sitting on your TV muscle.
I daily peruse certain websites looking for deals. I stop at pawn shops, yard sales and consignment stores. I once found a copy of my R1 book for $10 at a local Half-Price Books store. I resold it at the Roanoke airgun show for $80 to a shocked buyer who had no idea it was normally going for over $100 on eBay, and that I was giving him a heck of a deal at $80. That was a bookstore find, folks! A bookstore. So, don't tell me there are no gun stores in your neighborhood. You don't need gun stores. You need to keep your eyes and ears open and be receptive to what comes along.
Consignment stores
Or, you walk into a consignment store, like a friend of mine did a few years ago, and there sits a Quackenbush Lightning with a $500 price tag on it. The store owner researched Quackenbush airguns on Gun Broker and he found that Model 1 and 2 guns bring $400-500 in good condition, so he figured this one should do the same — whatever it is. Actually, this Quackenbush is one of the rarest of all airguns, at least as rare as a Plymouth Iron Windmill BB gun that predated the First Model Daisy wire stock gun. Wes Powers said he only knows of half a dozen Lightnings that still have their rubber-band-propelled sliding rear chamber that builds the compression. So, here sits a gun worth, conservatively, $5,000 to $10,000, and however much more the next ardent buyer is willing to spend to get it. Do you know enough to spend the $500 to buy the gun, or will you wait and ask somebody days later, only to find out you alerted the neighborhood and the gun is gone?
Talk to dealers
Or you just talk to the dealers at gun shows. Not the ones with 125 new pistols all linked together by a locked cable on 8 tables, but the guy with one table who has an eclectic assortment of firearms. You tell him you're interested in airguns. Maybe, if you do that, he will level with you that he has a Sheridan under his table that looks different than the modern ones. It has a big aluminum receiver! Trouble is, it won't hold air when he pumps it, and he doesn't want anyone to get a bad deal from buying a gun that doesn't work.


Sheridan Supergrade.
I'll buy it because I happen to know that the Sheridan Supergrade this guy has under the table has to be cocked before it will hold air. That's what I mean when I say knowledge is power.
Let's look at some other things to be on the lookout for. Rarity is one. If a person tried to sell you a 1953 Corvette in nice shape are you smart enough to know what you're looking at, or are you a person who thinks that somewhere along the way somebody stuck a six-banger engine in this Vett to save on gas? Because the first several years of Corvettes all have Blue Flame six-cylinder engines; but if you don't know that, you're oblivious to their value.
What do you do when someone hands you a Brown Pneumatic in the box with the instructions that look like blueprints? What's one of those worth? Or a guy has two Winsel jet-powered pistols in boxes he wants to sell for $25 apiece because he can't get them filled anymore. What are they worth?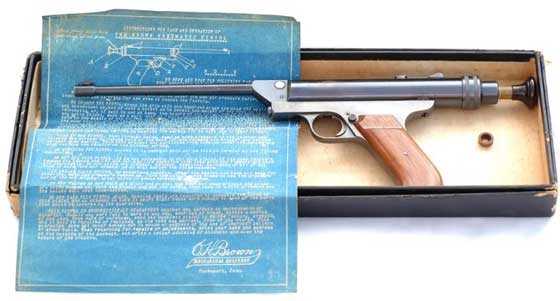 Collector Larry Hannusch owns this beautiful Brown Pneumatic air pistol in the box with the original instructions.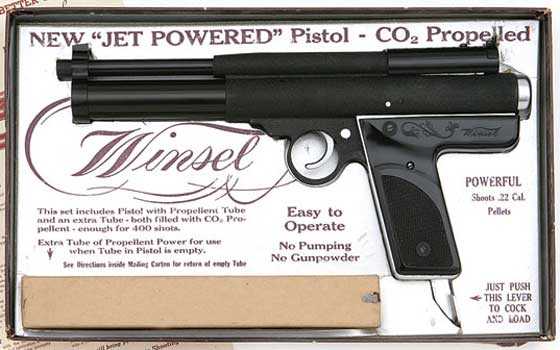 Do you know what a Winsel is worth?
Flea markets
I lived for many years in Ellicott City, Maryland, next to the planned community of Columbia. Now, Columbia, Maryland, isn't a center for the shooting sports, any more than Nancy Pelosi is a candidate to be the next president of the NRA. But, Maryland wasn't always the center of anti-gun sentiment. Baltimore was the city where Samuel Colt had the first prototypes of his revolvers made and the State of Maryland has a very rich history of gun lore. There is a shot tower in Baltimore, if they haven't torn it down yet.
Amid the gaggle of social planners and counterculturists living there now, there exists a wealth of valuable airguns. And, every Sunday there was a chance that one of them could surface at the Columbia Flea Market, held in the parking lot of the Columbia Mall. On Super Sundays, the place expanded 10 times its usual size, and the odds of finding something increased exponentially. So, walking in that hallowed hunting ground, here is what I missed.
TWO Daisy Sentinels!
My stupidity knows no bounds! On this particular Super Sunday, I passed on not one but TWO Daisy Sentinel BB guns. One was priced at $110 and the other was $100. I could have bought them both for $200. Instead, I demonstrated restraint and walked away $200 richer and $2,000 less intelligent.
Edith triumphs
On another Super Sunday my wife, Edith, bargained for and bought a Haviland and Gunn BB pistol for $5. The dealer, who was asking $10, thought it was a water pistol from a carnival game, but Edith thought it was an airgun.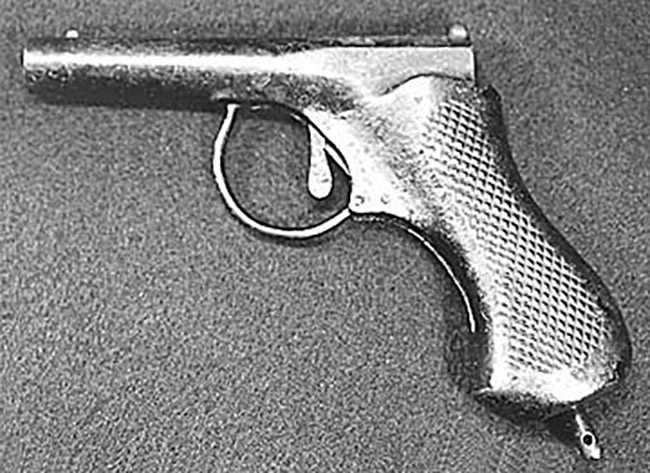 Haviland and Gunn BB pistol.
She later sold it for $400, and we knew it was worth twice that. But we really needed the money as we had just stopped The Airgun Letter and had to refund a lot of subscriptions that hadn't been fulfilled.
I haven't always been stupid, either. Once I got back into airguns, I quickly became aware of the various Holy Grails. One of them is a Crosman 1923 front-pumper, but an even rarer gun is an original 1924 underlever. Rarer than that is the third model I found and bought for $150. Later that same year I resold it for considerably more. Didn't find it at the Columbia Flea Market, either. I found it at an airgun dealership!


1924 Crosman pump — third model. If you know your Crosman multi-pumps the receiver of this one doesn't look like anything you have seen.
Over to you
Okay, those are a few of my stories, some good, others not so good. How did we get here today? Well, I wrote about buying used tools in pawn shops yesterday and it reminded me of all that is out there if you will just look.
It looks like Peter may have solved his problem with his GunPower Stealth, too. Let's hope so. See what we can accomplish on this blog?