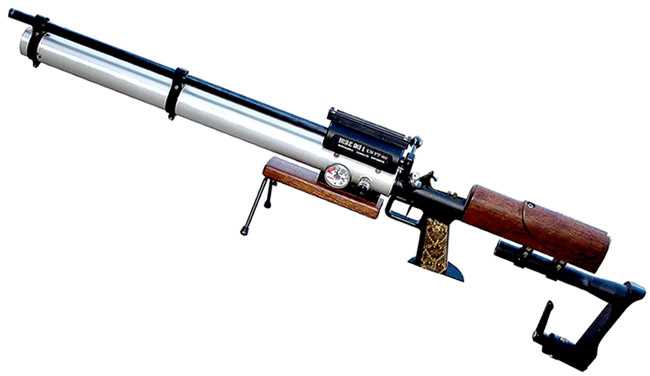 BB's USFT rifle.
This report covers:
Back to the rifle
The rifle
Bolt action
Adjustable
Benjamin Discovery
Accurate
|Filling
Trigger and hammer
Conclusion
Today we start what I hope will be a very long series on my new/old USFT rifle. USFT stands for United States Field Target. It is a purpose-built air rifle made to compete in the sport of field target.
My new rifle is number 92. My other one that I reported on in 2007 was number 57. That makes this one just a little newer, though it is not new by any stretch of the imagination. I got it from reader Frank B. and I believe he got it from former reader Wacky Wayne.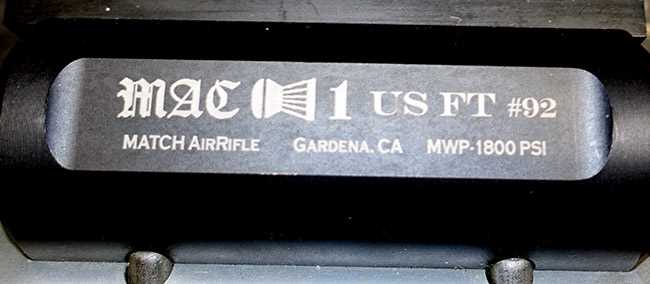 This USFT is number 92.
If you go back to read that old report you will see that I disguised the fact that Tom Gaylord is also BB Pelletier. But on October 18 of 2007 I came clean in a report titled Who am I. I tell you this so the newer readers won't be confused.
Back to the rifle
The USFT is the invention of Larry Durham and Tim McMurray. I first saw one at my DIFTA field target club in Maryland. Steve Schultz, one of our top shooters, had purchased one and I was blown away by it. It got 55 powerful shots of Beeman Kodiaks going out at almost 900 f.p.s. on a fill of just 1800 psi! How was that even possible, I wondered?
It was possible because of the huge air reservoir under the free-floated barrel. The air pressure may not have been that high but there was sure plenty of it. By leaving the firing valve open a few milliseconds longer, the air was able to push the pellet out the barrel and yet not be wasted. The USFT valve is engineering at its finest, and I do mean engineering, because this is a low-rate production air rifle — not a one-off. Yes, it is hand assembled, adjusted and tested, but it does qualify as a low-rate production item.
The rifle I saw in Maryland was not actually a USFT. It was one of seven handmade rifles that the maker, Larry Durham, called Simple Simons. And I'm sure that it and the six others like it served as the prototype for the USFT.
The rifle
The USFT I'm reporting on today is approximately 42-inches long. I say approximately because the length of the buttpad is adjustable. It's also difficult to give a weight for this rifle because it is so highly adaptable and has many accessories that can be added. The rifle in the picture at the top of this page weighs 11 lbs. 12 oz. The barrel is 25 inches long and, if I recall my USFT history, it could be a Weihrauch barrel, but is more likely a Lothar Walther barrel.
Bolt action
The rifle is a bolt action, though not like one you have ever seen. The "bolt" rotates smoothly to the right (on this rifle — lefties are and were available) to reveal the breech. You load the pellet directly into the breech.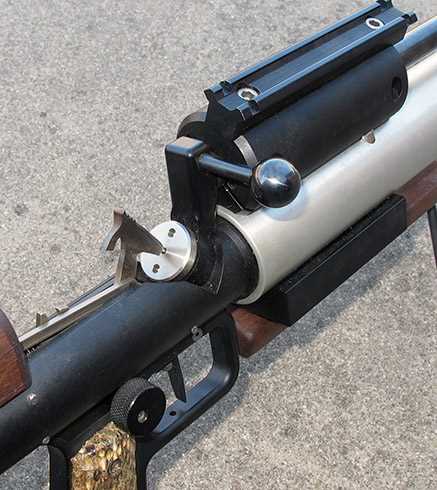 The breech is closed.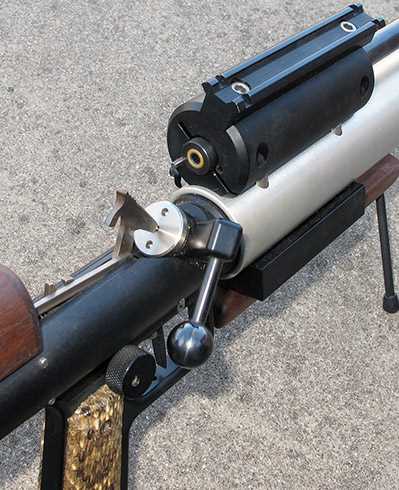 The breech is open.
The thing I'm calling a bolt really isn't. It's a moveable air transfer port that rotates aside to give access to the breech for loading.
I wondered what the heck the round black knurled knob is on the right side and above the grip. It doesn't seem to move in any direction. Then it dawned on me — I think it's a thumbrest for a right-handed shooter. It's in the right position for that.
Adjustable
Yes, it looks like a science project or a still for a submarine, but the USFT is a shrine to function following form. When you get into the WFTF-approved shooting position, the USFT fits better than any air rifle made. And it out-shoots most of them — the big-name guys included. It's so perfect that parts of its design have been declared illegal for official competition. And that when there are gizmos and harnesses for shooters that are purpose-built!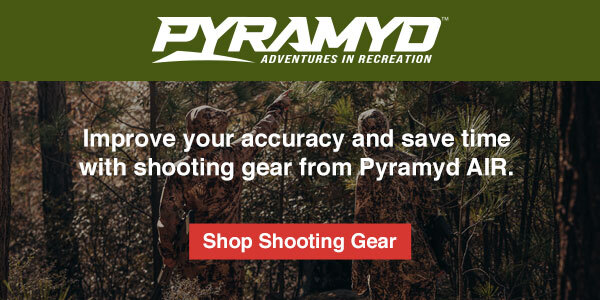 Benjamin Discovery
My encounter with the Simple Simon and with the USFT is what prompted me to suggest to Crosman the rifle that became known as the Benjamin Discovery. They didn't think it was possible to push .177 pellets up to 1,000 f.p.s. on air at 2,000 psi until their engineer, Ed Schultz, modified two 2260s — one in .177 and the other in .22. The .177 got almost 1000 f.p.s and the .22 got 850 from the start. This is just an aside to recognize where the idea came from.
Accurate
The USFT is so accurate that practically no air rifle on the planet can match it. My first rifle was sent with a test target that was shot at 51 yards, Twenty-five pellets passed through a group that measures 0.663-inches between centers.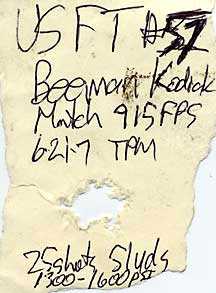 The test target that was sent with my first USFT.
This target was shot in a test tunnel where air could not disturb the pellets, but then I shot a 5-shot group at 50 yards on a windy day (15 mph from 6 o'clock) with that same rifle. Those five JSB Exact Heavy pellets went into a group that measures 0.355-inches between centers.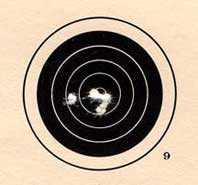 My first USFT put five JSB Exact Heavy pellets into a 0.355-inch group at 50 yards on a windy day.
Filling
I don't know for certain how high this new rifle needs to be filled. My first rifle said to fill to 1800 psi MWP (maximum working pressure) but a chronograph check proved that 1650 psi is what it liked. The current rifle says the same thing on the receiver and I will naturally do the same test.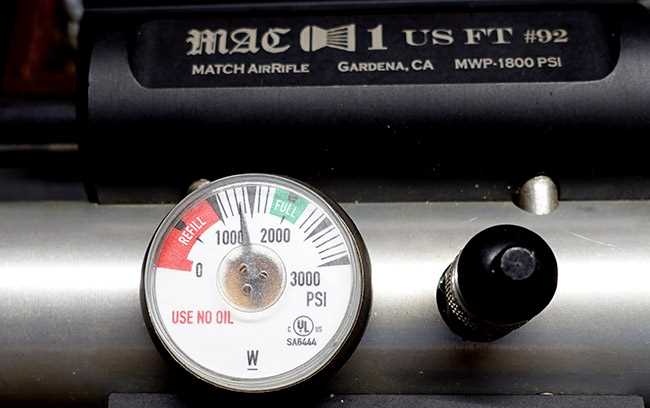 The fill port is covered by a protective cap. The gauge is custom made for the USFT.
Trigger and hammer
The trigger is delightfully light. My other one released at 3 ounces and we shall see with this one. To cock the hammer, which is very light, you pull it back until the sear catches it. You can also cock the sear without the hammer for dry-firing.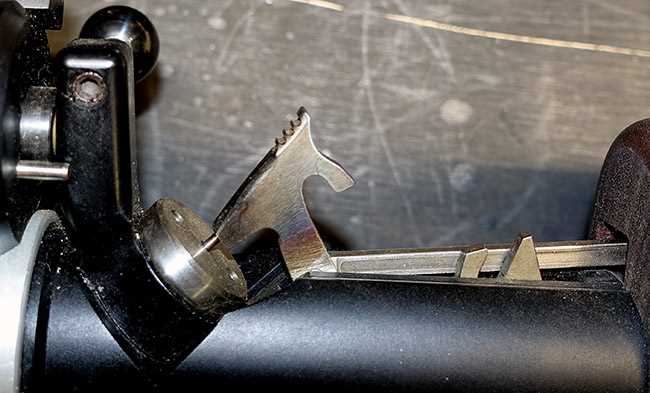 The hammer is down on the rebounding valve stem. This is the fired position.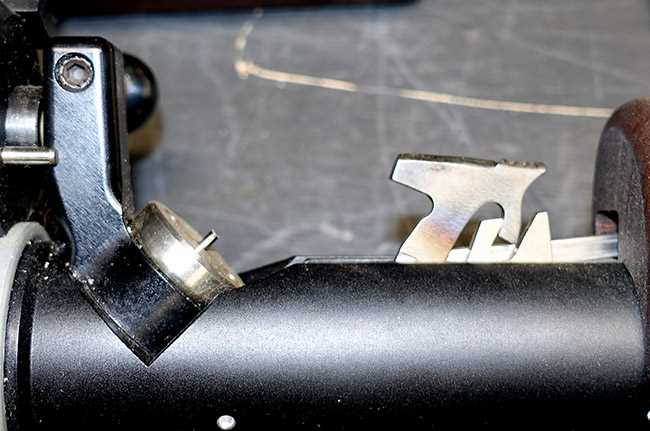 Here the hammer is cocked and held by the sear.
As you can see, the parts are exposed for servicing and where possible, adjustment. Even the firing valve can be removed for servicing with a tool sold by Mac1. The USFT is made for owner servicing, though many owners report two decades of use without replacing so much as a seal or o-ring. And that leads me to the conclusion of this report.
Conclusion
Yes, I did own a USFT rifle many years ago and, yes I did test it for you. At the time, though, my testing regimen hadn't been as fully developed as it is today. There are also wonderful new pellets on the market that didn't exist back then. That rifle is long gone so my plan is to test the heck out of this new/old rifle for you. I may even use it as a testbed for some experiments we have discussed.