This report covers:
Labradar
Getting serious
Crosman Copperhead BBs
Daisy Match Grade Avanti Precision Ground shot
Hornady Black Diamond
H&N Smart Shot lead BBs
Dust Devils
Discussion
Shot count
Trigger pull
So far?
Today we look at the velocity of the Crosman SNR 357 revolver with BBs. And if you haven't figured it out already, SNR stands for snub-nosed revolver. And all testing was shot single action.
I will note that the grip panels are loose enough to notice. Also, the CO2 cartridge sealed with just a partual turn of the piercing screw.
Labradar
I thought that today would also be the perfect time to test the Labradar chronograph with BBs. So I set up the instrument and proceeded to — waste my time. Because the Labradar can not reliably chronograph the velocity of BBs.
On the first string I shot Crosman Copperhead BBs, because the SNR is a Crosman product. The Labradar registered this.
Shot………Vel.
1……………449
2……………232
3……………318
4……………288
5……………346
6……………765
Okay, nothing wrong with THAT spread — right? Sure — the SNR shoots a BB at 765 f.p.s. I checked everything, but because I was also shooting the groups that the Labradar allows me to, my attention was distracted — a LOT!
Next up were Daisy Match Grade Avanti Precision Ground shot. They actually gave me a string that I can trust, though I didn't know it at the time. More on that in a bit.
Shot………Vel.
1……………302
2……………306
3……………397
4……………262
5……………310
6……………252
I was so focused on the target that I wasn't paying attention to what the chronograph was telling me. If I had been, this string would have looked strange but not outlandish like the first one. I also shot one shot that was not recorded. That's the first time that happened since I started testing the Labradar.
Okay, one more string with Hornady Black Diamond BBs.
Shot………Vel.
1……………310
2……………323
3……………246
4……………25
5……………703
6……………338
Getting serious
What is it that crazy people do? Oh. yeah, they keep doing the same thing, hoping for different results. I may not be smart but I'm sure not crazy. It was time to put the Labradar away and bring out the Shooting Chrony Alpha. Now we can compare the results with what the Labradar gave and see what's what.
Crosman Copperhead BBs
First to be tested were Crosman Copperhead BBs. Let me show you the string.
Shot………Vel.
1……………279
2……………315
3……………329
4……………260
5……………322
6……………340
Okay — no 700 f.p.s. BBs this time. These numbers I believe. They average 308 f.p.s. and they seem to agree with shots 2 through 5 recorded by the Labradar. If they are right, then the SNR varied in velocity by 80 f.p.s. over 6 shots. We will see more evidence of that as the test unfolds.
Daisy Match Grade Avanti Precision Ground shot
Next up were Daisy Match Grade Avanti Precision Ground shot. We know these are on the large side for steel BBs and they are also quite uniform. I tell you that because I expected to see the most uniform velocities with this BB. Here is what I got.
Shot………Vel.
1……………342
2……………319
3……………258
4……………276
5……………285
6……………299
Now it became apparent that the SNR was varying widely in velocity between shots. The average for this string is 297 f.p.s. and the difference between the low of 258 f.p.s. and the high of 342 f.p.s. is 84 f.p.s. Things are starting to make sense and we can see that the SNR is varying widely in velocity, shot-to-shot. The reason for that could be a difference in the tightness of the six BB cartridges, because I noticed a difference when loading the BBs. And that could loosen and become more uniform over time as the shells get used.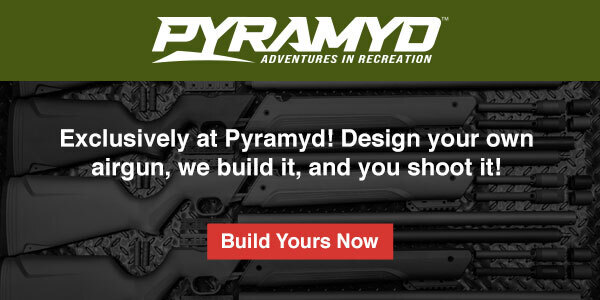 Hornady Black Diamond
Next up were Hornady Black Diamond BBs. These are usually very good BBs in other guns. In the SNR this is what they did.
Shot………Vel.
1……………272
2……………327
3……………336
4……………309
5……………did not register
6……………319
The average for this string was 312 f.p.s. The low was 272 f.p.s. and the high was 336 f.p.s. — a difference of 64 f.p.s.
H&N Smart Shot lead BBs
Next to be tested were H&N Smart Shot lead BBs. Though they did decrease in velocity, it wasn't as much as I expected.
Shot………Vel.
1……………277
2……………282
3……………244
4……………219
5……………280
6……………did not register
The average for this string of Smart Shots was 260 f.p.s and the spread went from a low of 219 to a high of 282 f.p.s. — a difference of 63 f.p.s.
Dust Devils
The final BB I tested was the Air Venturi Dust Devil. They looked like this.
Shot………Vel.
1……………231
2……………did not register
3……………344
4……………305
5……………251
6……………did not register
This string averaged 280 f.p.s. with an 83 f.p.s. between the low of 251 f.p.s. and the high of 334 f.p.s. That was for the four shots that did register.
Discussion
I think the tightness of the individual shells is part of the reason for the velocity variation, but I don't think it's the only reason — or even the principal one. I think the revolver itself is varying.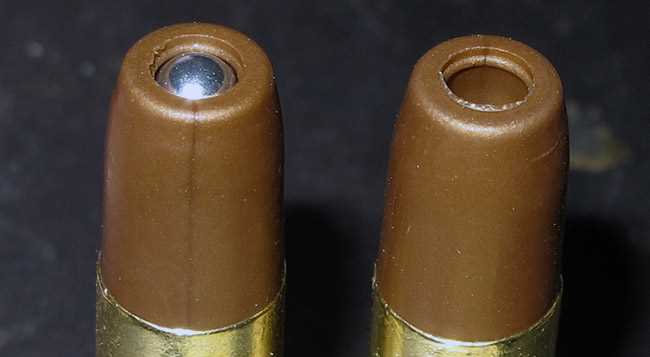 When a BB is pressed into the nose of a cartridge it pops past the plastic ridge that's just inside the nose of the cartridge.
I also want to say a word about the revolver's crane. I noticed that it is very fragile, and the crane of any revolver is its weakest point. Countless thousands of revolvers have been destroyed by flipping the gun to both open and close the cylinder. People do it because they see it done in the movies, but no self-respecting shooter would ever do such a thing to a firearm. Once the crane is loosened this way the firearm can be destroyed forever. This airgun is quite a bit weaker at this point because the metal is not steel and it will probably break with just a few flips open or shut.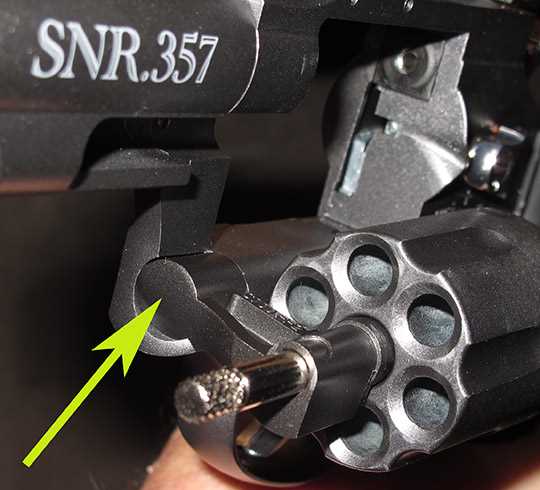 The crane (arrow) of the SNR 357 is its weakest point and it's not made of steel. Don't flip the cylinder open or closed.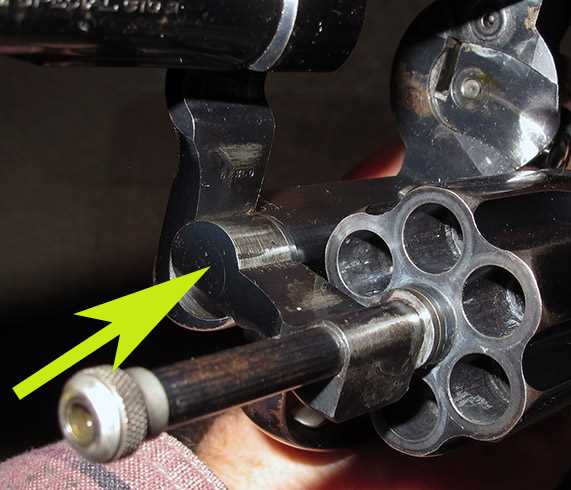 The crane (arrow) on this Smith & Wesson revolver is made of steel and it's still the weakest point on the firearm. Flipping the cylinder open and shut damages it in short order.
Shot count
There were things I didn't put into the report, like the fact that I am a little crazier than I like to admit. So, by the time all velocity testing was finished there were 58 shots on the cartridge. Here is how the remainder of the shots went when I switched back to the Crosman Copperheads that averaged 306 f.p.s. in the first legitimate test.
Shot………Vel.
60…………310
70…………295
80…………292
90…………307
100……….did not register
110……….233
I stopped shooting at shot 116 that went out at 182 f.p.s. Clearly the SNR gives at least 100 shots per CO2 cartridge.
Trigger pull
I have no way of measuring the double action trigger pull. I can guess that it takes 12 to 15 pounds of effort. The pull advances the cylinder first and then pauses before it breaks. This is easy to control.
The single action pull breaks at 6 pounds 13 ounces. There is a little felt trigger movement but no creep.
So far?
Well, I wish the grip panels were tighter. I also wish the velocity didn't vary so much. The revolver is best fired single action, though I did try it double action for a few shots.
The size and weight of the SNR are in the ballpark for a firearm revolver. But I don't look at it as a snub-nosed revolver. I see it as a revolver with a short barrel, sort of like my Ruger .357 Magnum with its 3.5-inch barrel.
The SNR is not a 400 f.p.s. BB gun. I never saw a shot go out that fast unless the Labradar was recording it.
The Labradar is not suited to chronograph BBs. It wasn't designed for that so it's not a real problem, but you should know.
The accuracy with BBs comes next, followed by the velocity with pellets and then a pellet accuracy test.