Bug-A-Salt 3.0 Black Fly Edition.
This report covers:
Why get a 3.0?
Safety
Patridge sight
Cocking
Trigger
Not a regular gun test
What about the 2.0?
My Bug-A-Salt arsenal
Don't feel sorry
Goin' huntin'
Today we begin looking at the Bug-A-Salt 3.0 Black Fly Edition. This was given to me by Bug-A-Salt at the 2023 SHOT Show.
As I told you in the overflow report on the show, I didn't intend for them to give me this gun. I had every intention of buying one when I returned home. I just wanted to tell them how much I enjoyed my Bug-A-Salt 2.0 and the Bug-A-Salt Shredder revolver. I even told them about An unexpected expedition, wherein I learned that plain table salt is the best ammo for these. I had been using sea salt that has larger crystals in the 2.0 and the individual dents were deeper but with far fewer of them I wasn't having as much success. When I started patterning I saw the need for fine table salt. Don't get crazy and go to popcorn salt. That's too fine. Stick with table salt.


I didn't ask for this Bug-A-Salt 3.0 Black Fly Edition, but I'm sure not going to waste it!
Why get a 3.0?
Truth be told, once I started using plain table salt and shot from 3 feet away or less, there wasn't a fly I didn't nail with my 2.0. I'll now show you the patterning results from three feet away. Bug-A-Salt says the 3.0 is more powerful than the 2.0 and patterns tighter. We shall see.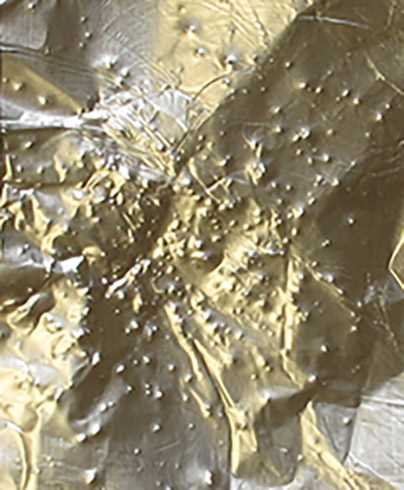 Bug-A-Salt 2.0 pattern on aluminum foil at 3 feet with plain table salt.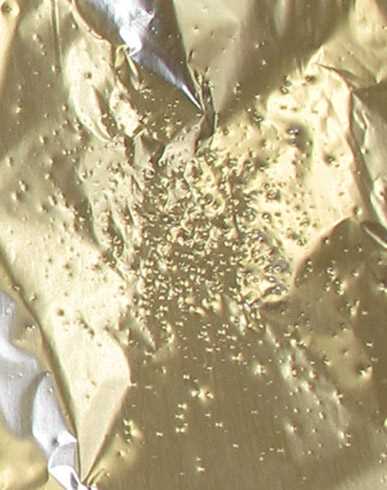 Bug-A-Salt 3.0 pattern at 3 feet with plain table salt. Photo is an image of approximately the same size as the 2.0 pattern. You can see how much tighter the pattern is. Both images show the side of the tinfoil that the salt impacted.
You can also tell from the patterns shown above that the 3.0 is shooting slightly faster than the 2.0. This is what Bug-A-Salt says to expect. The dents left by the salt crystals are smaller because they go deeper into the aluminum foil.
Both the 2.0 and the 3.0 hold enough salt for about 80 shots. I will say the 3.0 salt hopper is larger, so there must be a little more in each shot.
Safety
The safety on the 3.0 is a crossbolt that airgunners are so familiar with. Also, it does not come on every time the gun is cocked (hurray!), so you can take on a swarm of flies and not stop shooting until you want to.
Patridge sight
The front sight on the 3.0 is a Patridge sight made famous by the champion revolver shot, E.E. Patridge in the 1890s. It is FAR BETTER than the front sight on the 2.0! A Patridge sight is just a square post that aligns easily with a square notch in the rear.
Cocking
Like the 2.0 this gun is cocked by sliding the front slide handle to the rear until you hear the sear catch the piston. I don't find the 3.0 easier or harder to cock than the 2.0. Both take a fair amount of effort.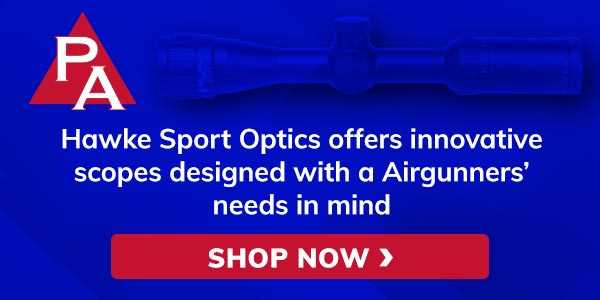 Trigger
Bug-A-Salt literature says the trigger on the 3.0 is easier to squeeze. That hasn't proven to be the case on the new gun so far, but maybe that's because my 2.0 has hundreds of shots and the 3.0 is still very new.
Not a regular gun test
We all know how I normally do a gun test — description, velocity and accuracy. That won't work for this one, because I don't think the Labradar chronograph is up to it. The Bug-A-Salt 3.0 won't shoot the 10 meters that I have found is the Labradar's minimum effective distance. But that's also no problem. I plan to hunt flies, creepie crawlers and anything else that comes to mind. This will just be a different sort of report.
What about the 2.0?
My 2.0 doesn't go away, now that the 3.0 is here. It still works and does the job just fine. I expect it will eventually wear out because all things do. It just means I will have Bug-A-Salt guns in one more place around my home. These aren't plinking guns, so unless there is a fly or something to shoot at, they sit around at the ready. Spiders on the walls and ceiling are another great target that comes in the spring and again in the fall.
My Bug-A-Salt arsenal
You know I wasn't the one who decided that we needed a Bug-A-Salt at casa BB in the first place. My late wife, Edith, was the one who bought one. We had used electric rackets and tethered fly shooters, but they either broke or didn't do the job. The Bug-A-Salt 2.0 worked exactly as advertised and Edith bought two others to use as gifts.
That's why I am pushing Pyramyd Air to carry these. Here is a comment made several days ago by reader Berserkerly Mike, "I'd buy a Bug-a-Salt from Pyramyd tomorrow if they stocked one. That is just the type of item I'd look for to put me over the free shipping threshold of many orders. They have until April, when bug season starts around here.
Mike"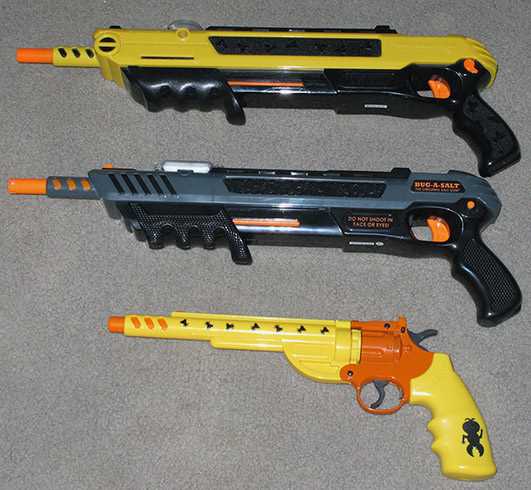 Here's my Bug-A-Salt arsenal. From the top we have the 2.0, the 3.0 and the Shredder.
Don't feel sorry
Don't feel sorry for the flies, either. According to the back of the 3.0 box, flies defecate every 4 to 5 minutes. They will lay their eggs on your food and then vomit upon it. Charming!
Goin' huntin'
As the days warm up here in Texas the flies and bugs will soon be out. And BB will be waiting for them. That's the plan for the rest of this "test."