This report covers:
Why adjustable rings?
Barrel boring — yes and no
Hammer-forged?
Adjust by remounting the rings
B-Square
The AA adjustable ring
B-Square AA rings are no more
Summary
Today's report is about adjustable scope rings. How could I forget them? Yet forget them I did until you readers reminded me.
Why adjustable rings?
You guys always tell me that you don't like to shim a scope because of the danger of bending a scope tube if the top saddle screws are tightened too much. I have done that and I'm sure anyone whoever shims scopes has done it at least once. It looks bad and doesn't do the scope any good, either.
But there must be a reason for wanting rings that adjust. I will leave the issue of barrel droop alone because we have covered it several times in recent weeks. What about side-to-side corrections? Why would we need them? Aren't barrels bored straight? Yes and no.
Barrel boring — yes and no
Yes, the holes that go through rifle barrels are very straight. But they don't always align with the outside of the barrel. In other words, the barrel may look like it's pointed straight, but the rifled tube inside may be angled off to one side. I don't mean that it's bored on one side of the barrel; I mean the axis of the tube isn't in line with the outside of the barrel. This is so much of an issue that custom barrelmakers will turn the outside of the barrels they rifle true to the axis of the bore, once it is rifled — sometimes for an optional fee!
I once had the stub of an inexpensive Crosman barrel that had been cut off. As I recall, Dennis Quackenbush gave it to me. It showed the axis of the bore off the centerline of the barrel by as much as 0.125-inches (that's one-eighth inch for Americans)! I don't know where that piece of barrel is, but I doubt I threw it away. If I ever come across it I'll show you.
Hammer-forged?
What about hammer-forged barrels? Well, they still have a hole drilled through them, but they don't start out as long as the finished barrel, so the deep drilling process can leave less of a runout. The cold forging process makes the steel flow to the barrel's desired length. It also work-hardens the steel, inside and out. The hole that is drilled through the barrel is slightly larger than the rifling mandrel that will impress the rifling so the mandrel can slide through. Any offset tendency will mostly be ironed out in the forging process. I believe this makes hammer-forged barrels less likely to shoot left or right. But I don't know that.
Adjust by remounting the rings
The point is, barrels do shoot left and right as well as down and very rarely up, and something has to be done. Before adjustable scope rings there was shimming, plus turning the rings around. With one-piece rings you have two possibilities. With two-piece rings you have six possibilities. Yep, count them:
1 – Both rings forward
2 – Front ring forward rear reversed
3 – Front and rear reversed
4 – Rings swapped, front for rear. Call them both forward now
5 – New front ring forward new rear ring reversed
6 – Front and rear rings reversed
This is another reason I like two-piece rings. But sometimes no solution is found with any of these possibilities. I HAVE shimmed a ring on one side, but only because I was too poor to buy an adjustable set. But when B-Square hit the market with their AA adjustable scope rings, things changed forever.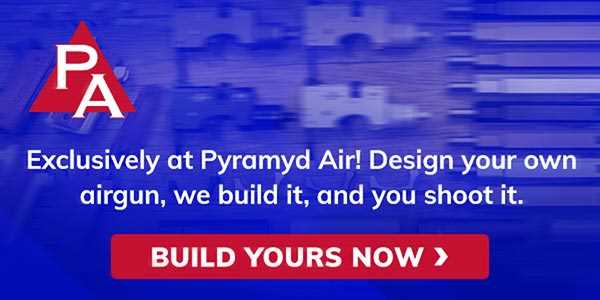 B-Square
For reasons I don't exactly remember I became friends with Dan Bechtel, the founder and owner of B-Square. He was interested in expanding his line of firearm scope rings to the airgun market and came to me for advice. This was back in the Airgun Letter days.
The first thing he and I did was measure the width of as many different 11mm dovetails as we could find. We discovered that not only were the groove widths different, the angle of the grooves was also different and that made a huge difference in how deep the scope ring base jaws went into the grooves. Some were cut on a 45 degree angle and others on a 60 degree angle. We found "11mm" airgun dovetails that varied from 9.4mm to greater than 13.5mm wide. In all honesty Bechtel's people did most of the work, but he came to me to see whether I knew of anything else that he hadn't tried. I guess that is how we met.
We discovered that BSA and CZ had the widest dovetails. I forget who was the smallest, but it could have been some older Dianas like the 25/27/35. In fact I think it was. My point is, people don't think about things like this when they buy scope rings. They ought to fit — right? On the other side of the coin the folks at BSA probably said, "Let the rest of the world do it our way," and the folks at Diana said the same, only in German. So you end up with forty-leven different dovetail widths that scope ring manufacturers have to deal with and the folks at the Pyramyd Air call center get yelled at because they didn't correct your order when you bought a rifle, scope and rings from them last week. What is the matter with them? Don't they KNOW?
Quick — what's the castor angle of your vehicle's front wheels? No, they don't KNOW. They also don't know whether you are buying the rifle for yourself, the scope for your son and the rings for a friend. Get it?
The AA adjustable ring
Once the 11mm base issue was resolved (thank the Lord for Picatinny bases!) B-Square set about to design and manufacture their AA scope ring. It centers around a gimbal that can be adjusted both up and down and left and right.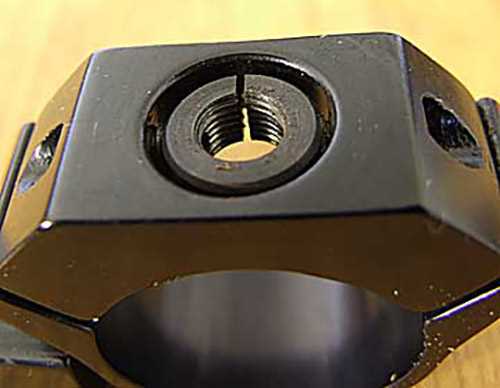 This split ring gimbal was the basis of the B-Square AA adjustable scope ring. You are looking at the bottom of a scope ring flipped upside-down. This steel split ring is a gimbal that threads onto a stud that sticks up from the mount base. There are two holes on opposite sides of the split ring/gimbal that the noses of two small adjusting screws enter, allowing this split ring/gimbal and the scope ring attached to it, to be pushed side-to-side and also to rock forward and back. This is why the scope ring will tilt when the rings make the scope tube change its elevation and angle.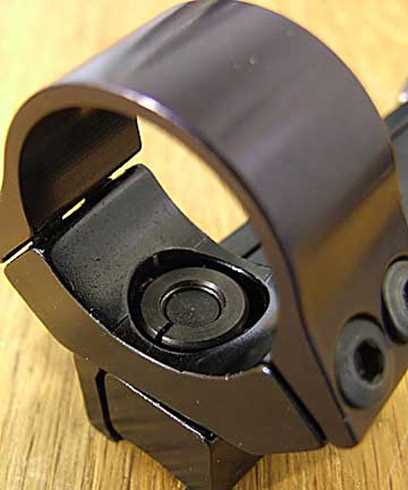 And here is the entire assembly, right side up. The oversized hole at the base of the ring allows it to be adjusted in all directions. Now that you see the gimbal in the scope ring you understand how this system works.
B-Square AA rings are no more
B-Square AA rings were difficult to mount correctly and many people had problems with them coming loose. I did all I could for folks, but the blog wasn't as well-known at the time so many folks didn't know where to turn. I even edited and rewrote the installation instructions that came packaged with the rings, but as I said, it was just too difficult for a lot of people. If you read that three-part blog report I linked to above and here you will see that Paul Capello used to be an active blog reader and that was where the inspiration for the television show American Airgunner came from.
Sadly B-Square AA rings are no longer available new because B-Square is no longer in business. When Dan Bechtel became too old, he no longer managed his company day to day and no path of succession had been established. The company went on for a short time but eventually ceased doing business.
Dan passed away several years ago and the AA rings are history. But they did establish an important thing. The gimbal principal allowed for the scope rings to tip forward and back, as well as swiveling side-to-side, without putting a strain on the scope tube. Later manufacturers did this in different ways but they all learned from the genius of Bechtel.
Summary
Wow! Shoot fire, and cowabunga! I had no idea there was so much to tell when I started this series — especially on adjustable rings! I forgot that I was there for a lot of the beginning. We ain't done with adjustable rings yet!