This report covers:
The test
Crosman Copperhead
SNR sights
Daisy Match Grade Avanti Precision Ground Shot
Hornady Black Diamond
H&N Smart Shot
Dust Devils
Labradar
Summary
Today we look at the accuracy of the Crosman SNR 357 revolver when shooting BBs. Let's get right to it.
The test
I shot the revolver off a benchrest with my hands resting on a sandbag. The target was a BB gun target placed 5 meters away. I shot 6-shot groups because that's how many cartridges the cylinder holds. I shot with a two-hand hold and I wore my reading glasses with +1.25 diopter correction.
Crosman Copperhead
First up were Crosman Copperhead BBs. Since the SNR is a Crosman gun it seemed fitting. Six BBs went into 2.857-inches between centers. This was the largest group of the test.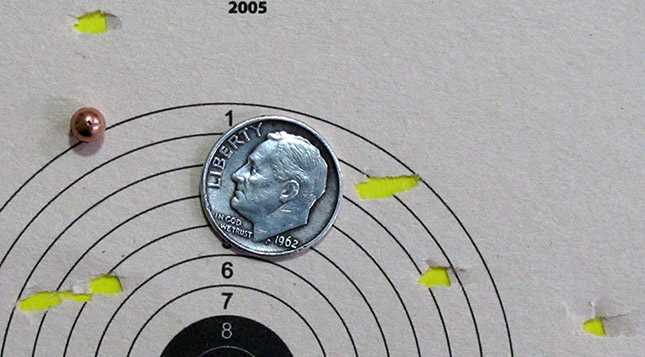 The Crosman SNR 357 put six Crosman Copperhead BBs into a 2.857-inch group at 5 meters.
This group hit the target high and to the right. I purposely did not adjust the sights in this test because other BBs might go elsewhere.
The Copperhead BB has never been the equal of other premium BBs when it comes to accuracy. I knew they were one of the smallest steel BBs on the market so I measured one for you today. It measured between 0.168 and 0.1695-inches in diameter, when other premium BBs start around 0.1715-inches and go up to 0.173-inches. I have seen how Crosman makes their BBs and, given the process, it wouldn't be easy or cheap to modify the line to make them larger. But at least they no longer have the divots that used to abound.
SNR sights
I will note at this point that I like the SNR's sights a lot. They are large and crisp and easy to hold on target. They are adjustable but as I stated I didn't adjust them for this test.
Daisy Match Grade Avanti Precision Ground Shot
Next to be tested were six Daisy Match Grade Avanti Precision Ground Shot. They went to the same general place as the Copperheads but produced a 1.244-inch group. It was the smallest group of the test.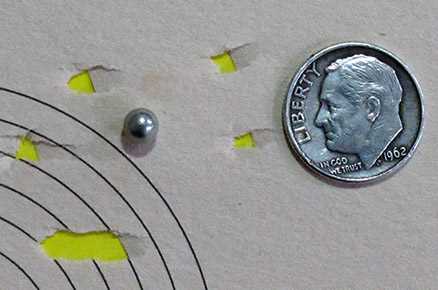 Six Daisy Match Grade Avanti Precision Ground Shot made this 1.244-inch group at 5 meters.
This group deserves a comment. With the right BB the SNR is minute of feral soda can at 20 feet for sure.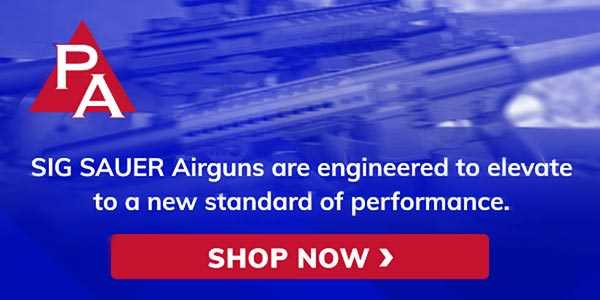 Hornady Black Diamond
Next up were Hornady Black Diamond BBs. They are a premium BB that usually does quite well in accuracy tests. In the SNR six of them went into a group that measures 2.206-inches between centers. It landed in the same general place as the first two BBs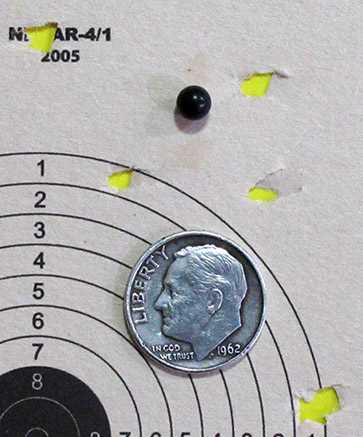 The SNR put six Hornady Black Diamond BBs into a 2.206-inch group at 5 meters. I think two BBs passed through the bottom hole.
H&N Smart Shot
The last BB I tested for accuracy was the lead H&N Smart Shot. We know they are a little larger than most steel BBs and I expected them to group well. Six went into a group that measures 1.683-inches between centers. It's the second-smallest group of this test.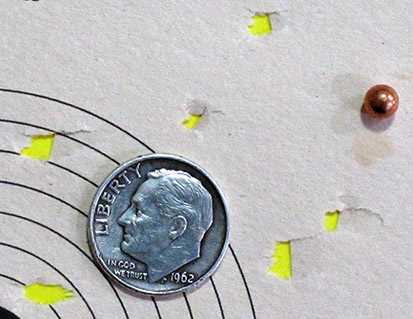 Six H&N Smart Shot BBs went into a 1.683-inch group at 5 meters.
Dust Devils
If you look at Part 2 you will see that I tested the velocity of Air Venturi Dust Devils too. Why didn't I test them for accuracy, too? Well, when I discovered that the Labradar wasn't recording the velocities of the BBs correctly I stopped the test and set up a different chronograph to rerun the velocity test. Therefore I never shot the Dust Devils for accuracy.
That being said, we know that Dust Devils are smaller than other steel BBs. Copperhead BBs are smaller, as well, so I imagined that Dust Devils would group poorly in the SNR which seems to have a preference for larger BBs.
The reason I didn't test them is I forgot. This tells me that when I try to do two things with the Labradar — testing both velocity and accuracy — I need to keep my wits about me.
Labradar
Looking at the readouts that the Labradar gave me I also wonder whether it was the closeness to the target (5 meters) and not the size of the BB that caused the problem. The result is still the same, because BBs need to be tested at a closer distance. If I back up very much the groups will start becoming horrible. I chose 5 meters because that is the international BB gun competition distance. It is arbitrary for me, but it's still nice to have a standard and 5 meters is the standard for BBs when I test them. If I ever find a super accurate BB gun, I will back up and test it from farther away like I did the Diana Oktoberfest, but until then 5 meters it is.
Summary
The Crosman SNR revolver is a decent BB shooter, so long as the ranges are reasonable. It's no target gun, but we didn't expect it to be.
Remember that this revolver also came with 6 pellet cartridges, so those tests still lie ahead. I think pellets will do better because they are larger. Remember my recent report on The ubiquitous BB? Size does matter with airguns. I will back up a little (20 feet?) for that test, in the hopes that the Labradar will work as it should. I may even try testing a BB's velocity from that distance to see if it makes a difference. We shall see.