This report covers:
Umarex
Airguns for self defense
Why?
Hammer carbine
Notos CRK
Was there anything else?
One last item
Summary
Well guys for some reason my editing permissions have been curtailed. I can no longer post images. This report has many images that I will post when my editing permission is restored.
Well, it was supposed to rain on Monday for Industry Day at the Range. It did rain before I arrived and after I left but while I was there the sky was overcast but dry. But it was cold. It was in the high 30s when I arrived and the wind was around 25 mph, but after a hour the temp was up to 40 and the wind was gusting to 35. Yeah, but it was a dry cold!
Umarex
The bus let me out near the Umarex booth which was a good thing because they were the only airgun manufacturer at Industry Day. That was also a good thing, because I might have wasted a lot of my time at another manufacturer's range, but fortunately Umarex was the only game in town. So I spent most of my time with them. Go figure!
Airguns for self defense
I have heard somewhere that you shouldn't use an airgun for self defense. Oh, wait, that was me. Well, here is an exception to that guideline. Umarex has two new self defense airguns. They shoot .50 caliber pepper balls (think pepper spray) that at 21 feet are quite accurate. The pistol is called the HDP (home defense pepper/pistol?) and it comes in a short and a longer version.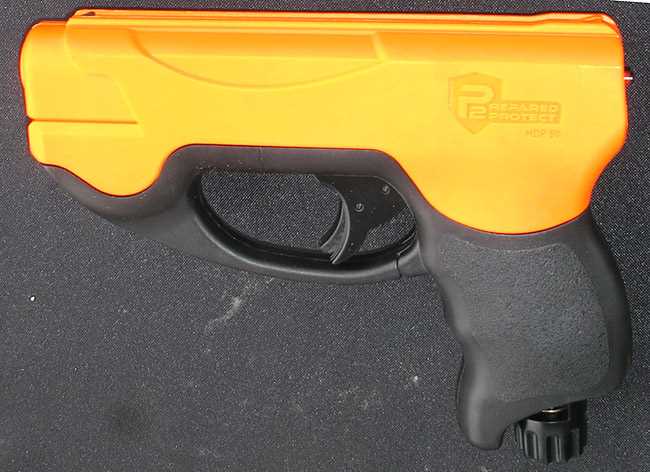 The short HDP pistol.
I shot both pistols, the short and the long. I like the size of the shorter one that's called the Compact but the longer one has fiberoptic sights front and rear and this is one set of glowy thingies I really like! Here, let's see what BB did on a silhouette target at 21 feet.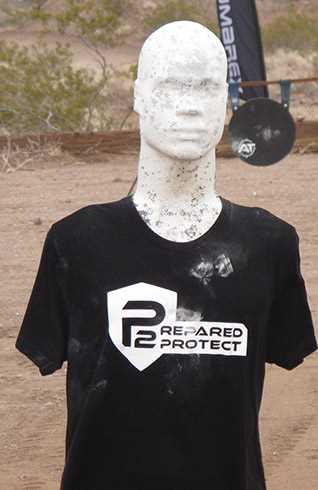 That's 13 shots on the dummy at 21 feet in a 30 mph wind. The 10 in the center are on his breastbone where the pepper will get into his nose quick!
I missed the dummy with one shot because I thought I had to throw a curve ball because of the wind. No sweaty-da, because they all went straight where I aimed.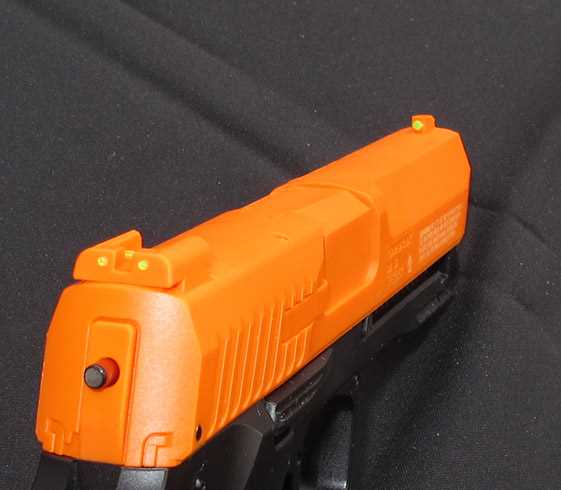 How about them puppies? You can't miss at 21 feet with those bad boys.
Why?
Why is BB touting this pepperball shooter so much? Because over the years he has had numerous inquiries asking what airgun was good for self defense. Until now — none of them. At least none of the ones BB knows of. But this one is the real deal. It can shoot rubber bullets, pepperballs or the powder balls that we shot at the range. They are the practice rounds. And let me tell you a story.
I was shown the HDP by Breanna, an Umarex employee who is a competition pistol shooter herself. Of course she was too modest to mention that to me, but Justin Biddle gave me the full scoop.
There is so much more to tell, but BB plans to test this one and Pyramyd — buy these! We have many readers who don't want to shoot firearms or can't, yet they want something for home defense. Until now all I had for therm was a tactical flashlight.
Breanna told me that a man who was an anti-gunner but lives in a rough neighborhood had one of these for defense while walking his dog. He used it in a real threat, plus he practiced with it before that and now he wants to get a firearm. Way to go, Umarex!
Hammer carbine
Oh, yeah — they also had the new Hammer carbine on the range. Didn't I mention that?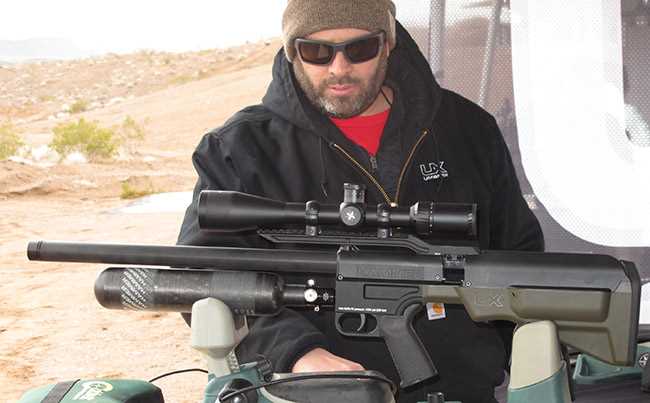 The new Umarex .50-caliber Hammer carbine with Umarex employee Kyle Bruso behind it and looking ever-so-cool.
BB watched while many others shot it, then he took his turn. A 350-grain lead slug took out a paddle on a reactive target at 50 yards with 780 foot-pounds of energy. And BB was surprised to NOT get a glaucoma test (blast of high-pressure air in the eye) when the rifle fired! Umarex fixed it by putting seals in the front and back of the magazine chambers. The air pressure blows them out and seals the chamber and you don't get blasted in the eye anymore. I sure hope they do that to the rifle as well!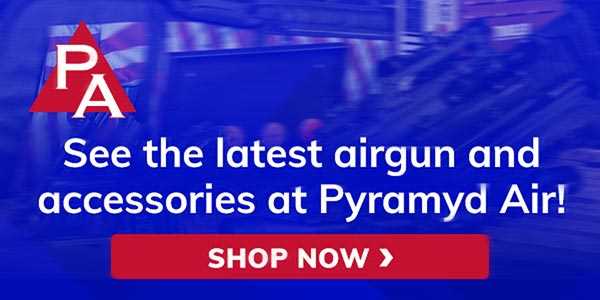 Notos CRK
The .22-caliber Notos CRK compact precharged pneumatic (PCP) sidelever repeater is new but the Notos is not. It's getting a lot of press for being lightweight and accurate. And now there is a carbine. At $265 retail it is definitely in the PPP category. It was on the Umarex range but I didn't shoot it — mostly because of the wind. Umarex, who gave us the world's first price-point PCP in 2017 (the Gauntlet) just keeps on doing it!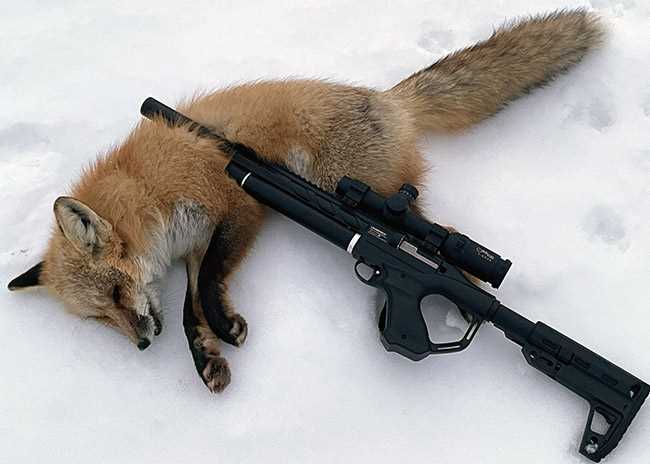 Justin Biddle shared this recent photo of a fox that was harvested at 52 yards with a Notos PCP.
Was there anything else?
Okay, BB isn't shilling for Umarex. They were just the only guys out on the range. And I do have a couple other things I saw while I was there, but let's move on.
There were other things at Media Day, thank you very much. Try this highly adjustable benchrest that RETAILS for under $200!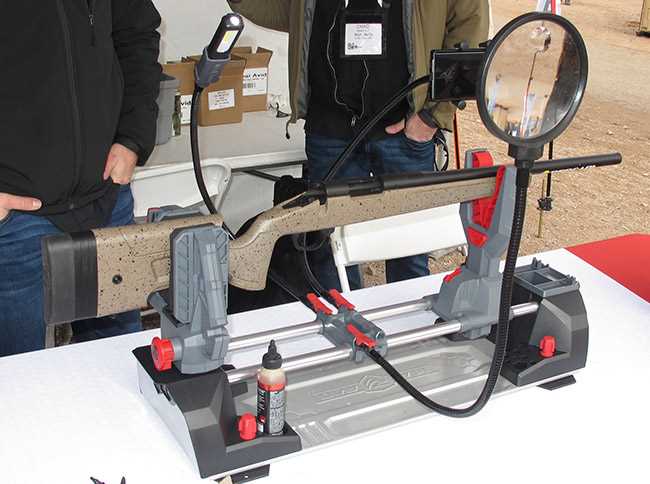 Real Avid benchrest.
BB is going to try to get Pyramyd Air to carry this one. It's too good to pass up!
One last item
It's from Poland and it's called Rubox. It's a rubber block backstop wall that you build on-site, fill with stones and it will stop a .50 caliber BMG! BB saw a man fire 40 rounds of 5.56 at point blank range and barely leave a hole!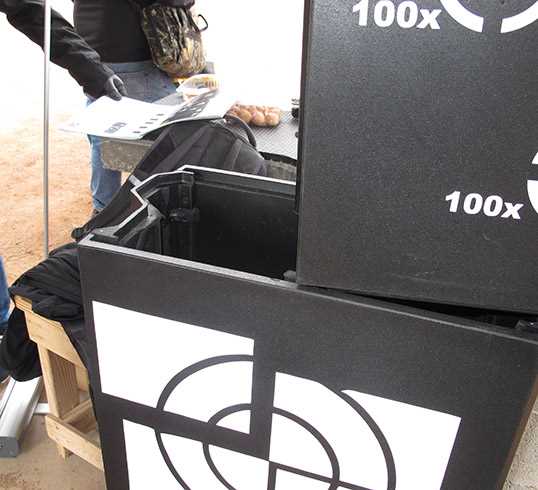 Stack them, then fill them with small stones.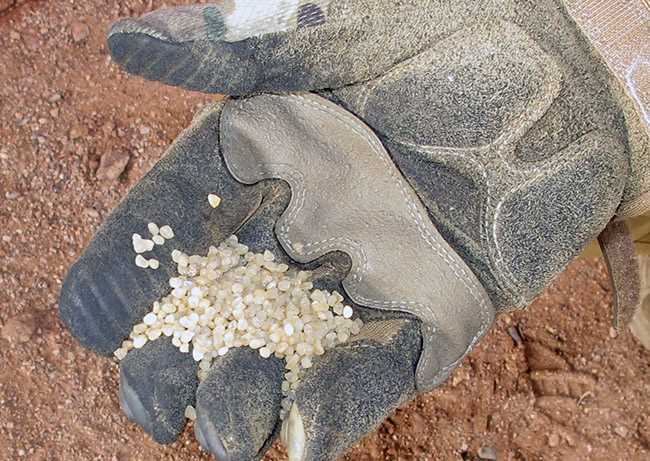 Small stones.

One-hundred shots from an M16 at point blank range (maybe a foot?).
This one isn't for most of you, but I thought it is too cool to pass up!
Summary
It was cold, windy and wet. But there were an exciting number a great new products to see! Tomorrow we go inside to the SHOT Show!